More carvings in the choir, St Nicholas Cathedral, Newcastle — the work of Ralph Hedley (1848-1913) in the late 1880s. This one, a winged lion or griffin, is similar to one already shown [see image here] but it is not the same: its wings are folded downwards instead of half extended upwards.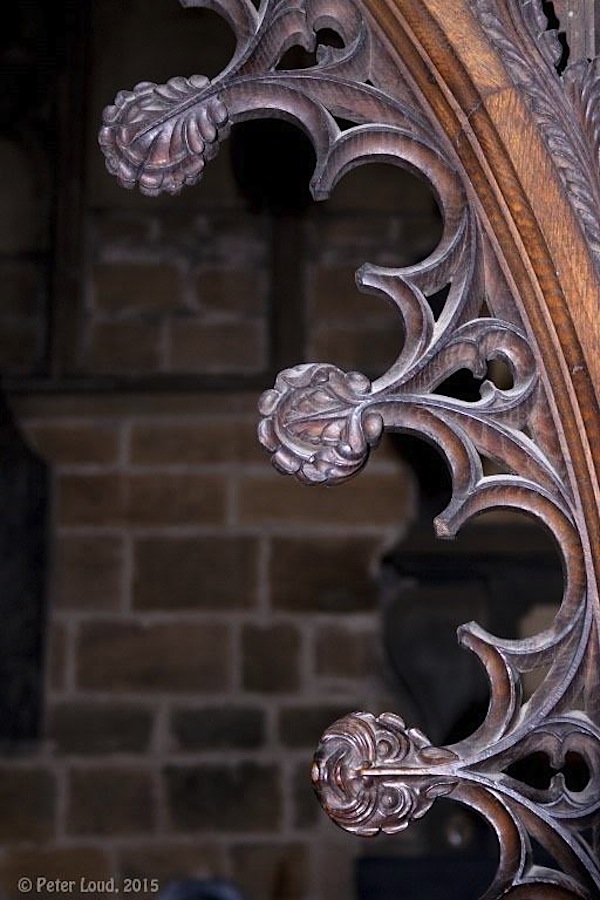 Other details, such as the disposition of the tail, are different too. Nothing is carbon-copied here, in these imaginative figures.
The other fine piece of carving, on the right, comes from the wooden arch between the choir and the south aisle, similar to that on the north side [see image here]. Look closely at the lower part of the curve. Peter Loud writes, "At first glance the arch appears to have flowers or foliage in the carving, but if you look carefully Hedley has slipped in a few faces." These are among the almost hidden "green men" dispersed in the choir, helping to give it its highly authentic medieval ambience.
Photographs kindly contributed by (offsite link) Peter Loud. They remain his copyright; please ask permission if you wish to reuse them. Text by Jacqueline Banerjee. Click on the images to enlarge them.
Related Material
---
Created 16 October 2015