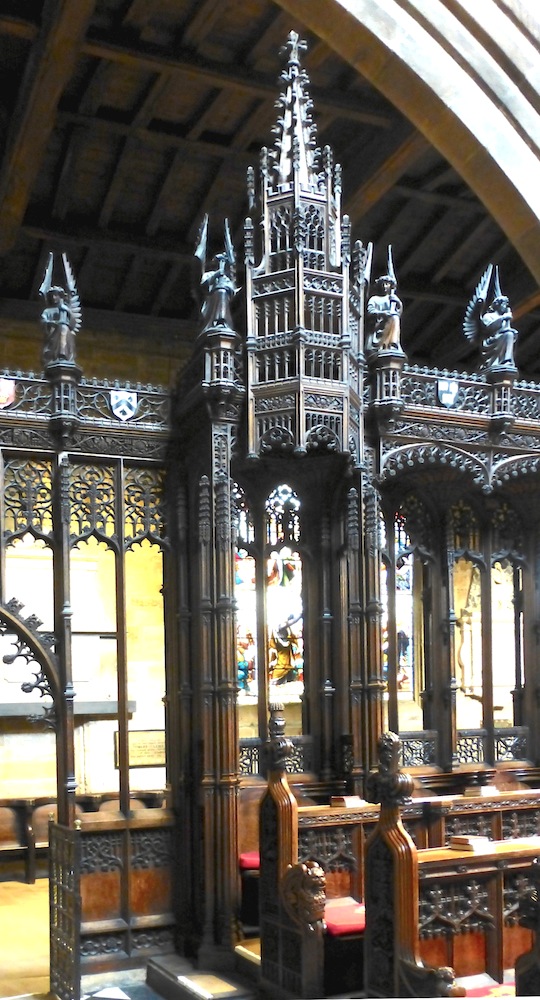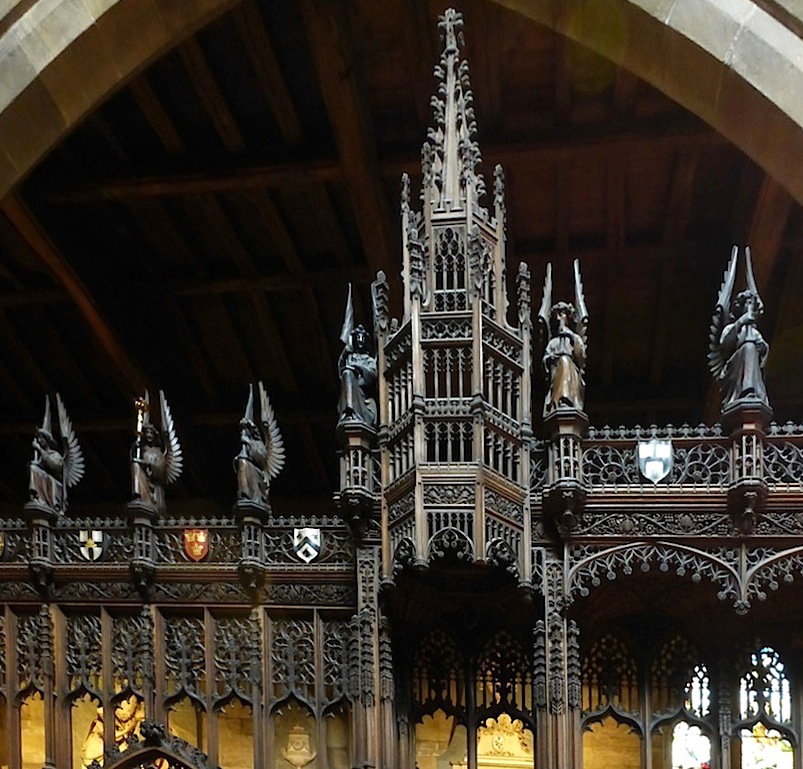 Left: The Bishop's Throne in St Nicholas Cathedral, Newcastle upon Tyne. Right: The tall Gothic superstructure, with heraldic shields and carved angels adorning the tracery at either side. [Click on the images to enlarge them.]
The Bishop's Throne was designed by the architect Robert James Johnson (1832-1900) and executed by Ralph Hedley (1848-1913) in 1882. The act forming the new diocese of Newcastle was passed in 1878, but it took four years to raise the funds to support a bishop. Then at last Bishop Ernest Wilberforce (1840-1907), third son of the famous Samuel Wilberforce, was appointed the first Bishop of the city. He was enthroned in Durham Cathedral on 25 July 1882. The Bishop's Throne for St Nicholas, the church now designated as Newcastle's own cathedral, was designed by Johnson in his role of surveyor to the Archdeaconry (see Brown, and Pevsner et al., 421). Hedley was commissioned to produce it, and he duly delivered it in time for Christmas of the same year.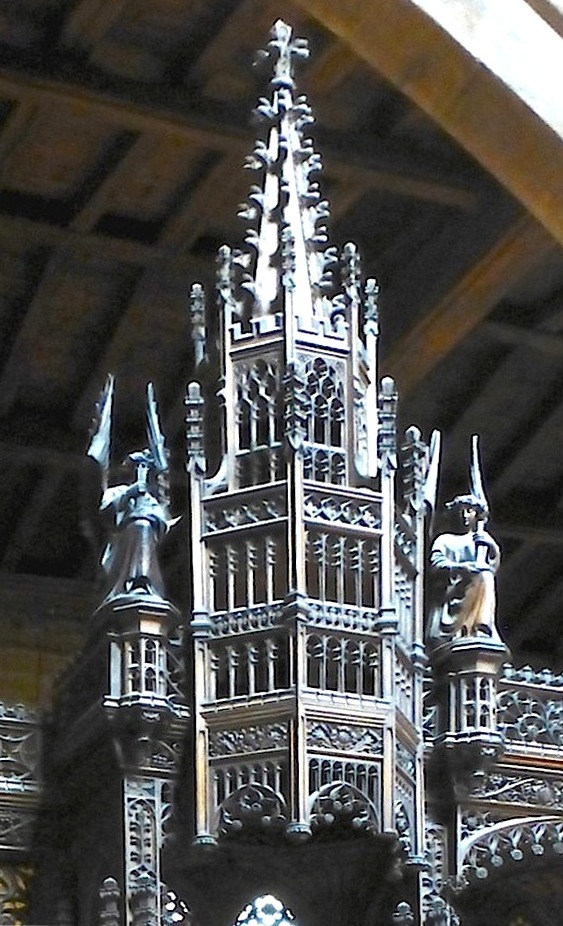 This was several years before plans for the whole design, for enhancing the church to suit its new status, were settled:
After much deliberation between the architect, R. J. Johnson, and the various ecclesiastical, lay and civic committees, the final designs for the converting St Nicholas church into a Cathedral were approved in December 1886 and put out to tender in February 1887. [Brown]
Hedley, having already displayed his skills, would play a large part in executing these plans, incorporating the elaborately carved Bishop's Throne, with its soaring Gothic superstructure (seen in close-up on the left here), into an appropriate setting. Matching the tall lid of St Nicholas's fifteenth-century font, The Rood Screen and canopied sides of the choir, as well as the choir-stalls, would reflect the same vision of late medieval splendour.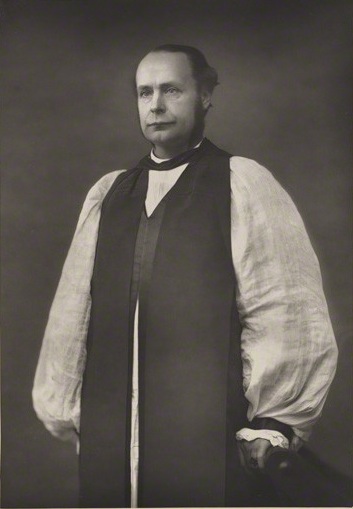 All this was not simply a matter of appropriate grandeur. "The 1881 census had shown a town of nearly 150,000 persons, but a contemporary local religious census revealed that fewer than 6500 attended Anglican services, a decline even on the 1851 figure. Wilberforce realized that the key to restoration was financial, and his Bishop of Newcastle's Fund raised nearly £250,000 in its first five years" (Herring). The idea was for Newcastle to have a cathedral to be proud of; for new churches and vicarages to be built in the diocese; and for clergy and congregations to become active forces for good inside this great industrial hub. Thanks to the terrific drive and commitment of the new bishop, the plan achieved a large measure of success.
Photographs, captions, and commentary by Jacqueline Banerjee, except for the carbon print of Ernest Roland Wilberforce, first Bishop of Newcastle, © National Portrait Gallery (this is by Samuel Alexander Walker, printed by Waterlow & Sons Ltd, April 1890; NPG Ax38361). You may use the first three images without prior permission for any scholarly or educational purpose as long as you (1) credit the photographer and (2) link your document to this URL in a web document or cite it in a print one.
References
Brown, Clodagh. "Ralph Hedley (1848-1913), Wood-Carver and Painter." In Cathedral in the Making. Leaflet of 2013, kindly sent in by the author, Ralph Hedley's great grand-daughter.
Herring, George. "Wilberforce, Ernest Roland (1840–1907), bishop of Chichester." Oxford Dictionary of National Biography. Online ed. Web. 25 July 2015.
Pevsner, Nikolaus, and Ian Richmond. The Buildings of England: Northumberland. 2nd ed., revised by John Grundy et al. New Haven and London: Yale University Press, 2002.
---
Created 22 July 2015