I: Henry Holiday (1896)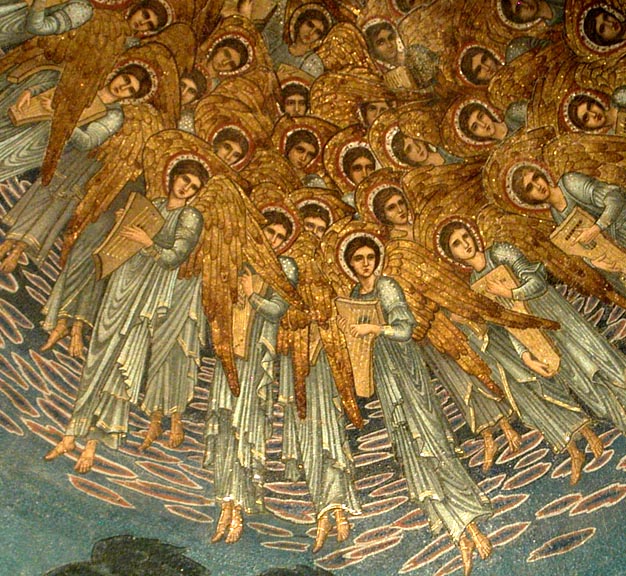 Edward Burne-Jones's A Vision of Angels, St Paul's Within-the-Walls, Rome.
This form of decorative art should, from the point of view of its purpose and destination, be included rather in a work on mosaic; but as its methods bear no resemblance to mosaic proper, and are almost identical with those of stained glass, I thought it desirable to describe it briefly here.
I understand that it was suggested by a form of inlaid marble work practised by Roman artists, but in its present form it consists of pieces of opaque coloured glass, cut into the required shapes, with lines and tones painted on them and fired, exactly corresponding to those in stained glass. But these are laid in a bed of cement upon a wall, instead of being united by leads to form a window.
The difference between this work and mosaic proper will be at once evident. In ordinary mosaic the forms and colours are entirely obtained by the insertion in the cement of small tesserae of coloured pottery of a vitreous character. There is no work on these enamels, and it is only by the varieties in them that forms, tints, and shadows are expressed. In the opus sectile the broad distinctions of colour are obtained by the varieties in the material, but the forms and shadows are painted on the surface, so that "opaque stained glass" is a more accurately descriptive name for this branch of decorative art than "mosaic."
Messrs. Powell & Sons have produced some admirable glass for this purpose, possessing great charm of colour and surface, and I hope when its proper use is understood it may be much used as a very durable form of wall decoration.
Opus sectile has been a good deal misused at present, owing to the facility it offers for painting the surface with enamel colours, which strike at the root of its native beauty as much as in transparent stained glass, and produce an effect somewhat like poor china painting.
When treated broadly and simply in its natural colours, with very little work on the surface, the material has a dignity and a certain severity which render it peculiarly suitable for mural decoration. This dignity is entirely destroyed by enamel painting, which gives it a prettified appearance, and wholly unfits it for any serious purpose.
Opus sectile cannot compare with mosaic proper for richness and splendour of colour, but it is available where mosaic would be out of place. Mosaic can only be used, or ought only to be used on a large scale, and at a considerable distance from the eye. Opus sectile can be successfully treated on as small a scale as stained glass, and looks well at any distance.
Moreover, mosaic is, from the elaborate nature of the process, the most costly kind of decoration, while opus sectile, from the simplicity of the method of working it, costs less than stained glass. [164-65]
II. Arthur Louis Duthie (1908)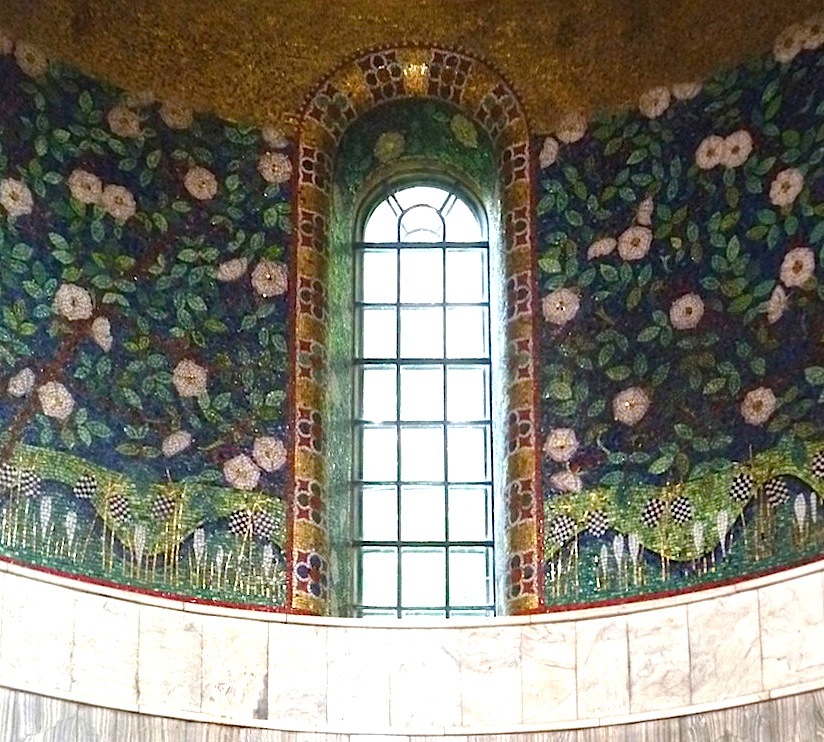 Sidney Barnes's work on the walls of the apse at The Church of the Wisdom of God, Lower Kingswood, Surrey.
Opus Sectile is the name given to a process worked by Messrs. Powell & Sons, of Whitefriars Glass Works, London. It may be described as standing half-way between tile painting and stained glass. The material used is an opaque glass of a peculiar nature in which the ingredients appear to be only half vitrified. It is made in slabs of about &frac1/4; inch thick, the bulk of the slab being coarse in quality and grey in colour, and bearing on its surface a thin coating of a finer quality in a variety of colours. The ingredients of which this glass is made are sifted into moulds in powdered form and fired in a kiln, from which they emerge in the slab form. These slabs are capable of being cut with the diamond with as much freedom as ordinary antique glass, though requiring a little more care in handling. They are then painted with enamel colours, and fired, at a somewhat lower temperature than ordinary glass, in the gas kiln. Silver stain is used on the whites in the same way as on transparent glass. The process is largely used by Messrs. Powell for reredos and mural monument work in churches, and figure designs, similar in character to stained glass windows, are executed in it. The [222/223] colours are mostly pale, and the texture of the surface somewhat similar to that of a large, coarse egg-shell. The pieces of which the design is composed are affixed by means of cement to the wall of the building, and the whole is generally enclosed in a species of niche or canopy work of marble or alabaster, with occasionally the addition of a little mosaic work in gold and colour. In design it is sub- ject to much the same restrictions with regard to outline, shapes of pieces, etc., as leaded glass, only the outline is not so broad and heavy, there being only the heart of the lead, so to speak, to consider, and not the flanges.
III. Some points from Teresa Sladen (2011)
William Blake Richmond's mosaic, "The Days of Creation: God creates the dry land" in St Paul's, London.
Writing about the richly decorated church interiors inspired by the Byzantine Revival, Teresa Sladen finds that James Powell & Sons' "breakthrough" in manufacturing glass for mosaics came in 1863 (81). Other firms soon started supplying it too, alongside ceramic mosaic — but, since it was expensive, it was used for smaller items like altar fronts. However, Sladen says, glass mosaic work boomed with the discovery, in the 1870s, that the tiny pieces could be produced from clippings of discarded stained glass. This made it cheaper, and "also closer in character to the type of decoration traditionally associated with Gothic churches" (Sladen 82). Sladen continues,
In fact in some ways it resembled stained glass since a separate piece of the material was required for each colour and the linear detail was painted and then fired on to the glass. As a result the level of detail produced was similar to that of stained glass, while its opaque colour had something in common with that of the painted decoration found in Gothic churches. Even so, its lack of translucency gave it, especially in the early years, a rather dingy appearance that was only accentuated by the addition of detail picked out in gold mosaic. [82]
Sladen notes that Powell & Sons went on experimenting to the end of the Victorian period, and even after it, and she gives several stunning examples of the use of this technique, including William Blake Richmond's mosaics in St Paul's, London; Sidney Barnsley's in Lower Kingswood Church, Surrey; and Henry Wilson's in St Bartholomew's, Brighton — all supplied by James Powell & Sons. The same firm also put in place Robert Anning Bell's west entrance mosaic at Westminster Cathedral. Among the other suppliers the best known was Salviati (89): Edward Burne-Jones in St Paul's Within-the-Walls, Rome, worked with the Venice and Murano Glass and Mosaic Company, which Sladen describes as an "offshoot" of Salviati's (89). — Jacqueline Banerjee
Related Material
Bibliography
Duthie, Arthur Louis. "Propriety Processes" (Ch. VIII). Decorative Glass Processes. London: Constable, 1908. Internet Archive. Contributed by the Getty Research Institute. Web. 30 May 2019.
Holiday, Henry. Appendix: Note 2. Stained Glass as an Art. London: Macmillan, 1896. Internet Archive. Contributed by Smithsonian Libraries. Web. 30 May 2019.
Sladen, Teresa. "Byzantium in the Chancel: Surface Decoration and the Church Interior." In Churches 1870-1914, the Victorian Society's journal, Studies in Victorian Architecture & Design. Vol. III. 2011. 81-99.
---
Created 30 May 2019