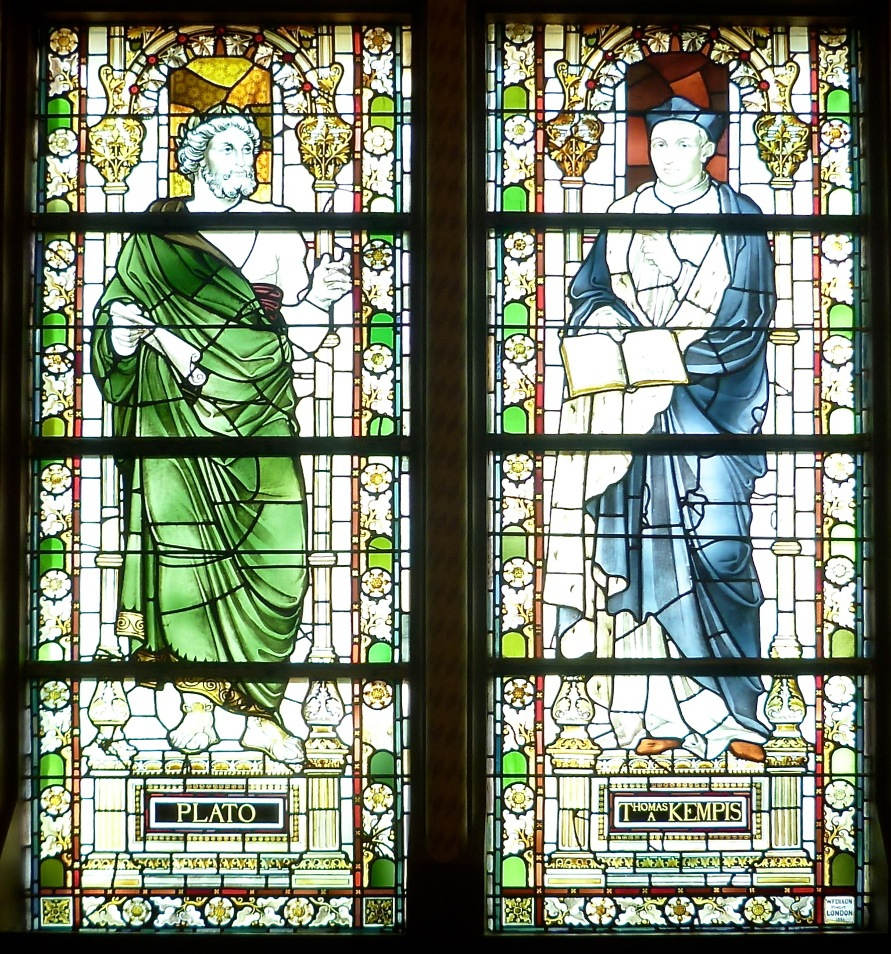 The lower two lights of the "Philosophy and Theology" window in the former entrance hall of the Rijksmuseum, Amsterdam, by W. F. Dixon (1847-1928). This window is one of the two smaller rectangular ones between the tall, much more complex Gothic ones celebrating Painting, Architecture and Sculpture. Shown here are the familiar figures of Plato and Thomas à Kempis. The bearded bearded Plato holds a parchment scroll, while Thomas à Kempis holds an open book, most likely his own Imitation of Christ.
The upper two lights of the same window, depicting scenes of teaching and study. The window honours the intellectual and spiritual aspects of culture, from which women are notably absent, as of course might be expected in these earlier times.
Photographs and accompanying text by Jacqueline Banerjee. The photographs are reproduced here by kind permission of the Rijksmuseum. Click on the images for larger pictures.
Related Material: Dixon's Other Windows in the Rijksmuseum
Source
Obreen, Frederik Daniel Otto. Guide to the National Museum of Amsterdam. 2nd ed., enlarged. Schiedam: H. A. M. Roelants, 1890. Internet Archive. Web. 28 July 2013.
---
Last modified 28 July 2013