John Dawson Watson's biography has been charted in detail. However, one period of his life is under-researched: his time in Conwy, North Wales, where he lived sporadically from 1877 until his death in 1892. The limited commentaries on this time have been negative, viewing his move to a small provincial centre as evidence of disappointment and declining self-confidence. According to the Dalziels (173–74) he regarded his talent as a "fatal facility" that allowed him to create images effortlessly, and on the face of it his withdrawal to Conwy bespeaks an unwillingness to stretch himself in the dynamic atmosphere of the London art-world. It could also be that his failure to become an Associate of the Royal Academy was a determining factor.
Simon Houfe reads this event as a serious blow to Watson's self-esteem, compounded by the Academy's rejection of one of his paintings. His time in North Wales, Houfe suggests, was a matter of semi-retirement, "living a self-imposed exile," "broken" in "health and spirit" and overwhelmed with "bitterness" (26). But Watson's withdrawal was not as negative as it might seem. He may have taken himself away from the centre of his profession, but his activities in Conwy were far from the expression of fatigue or disappointment. On the contrary, his re-location was accompanied by vigorous and interesting work and forms a distinctive "Welsh period" in the development of his art.
Watson's Activities in Conwy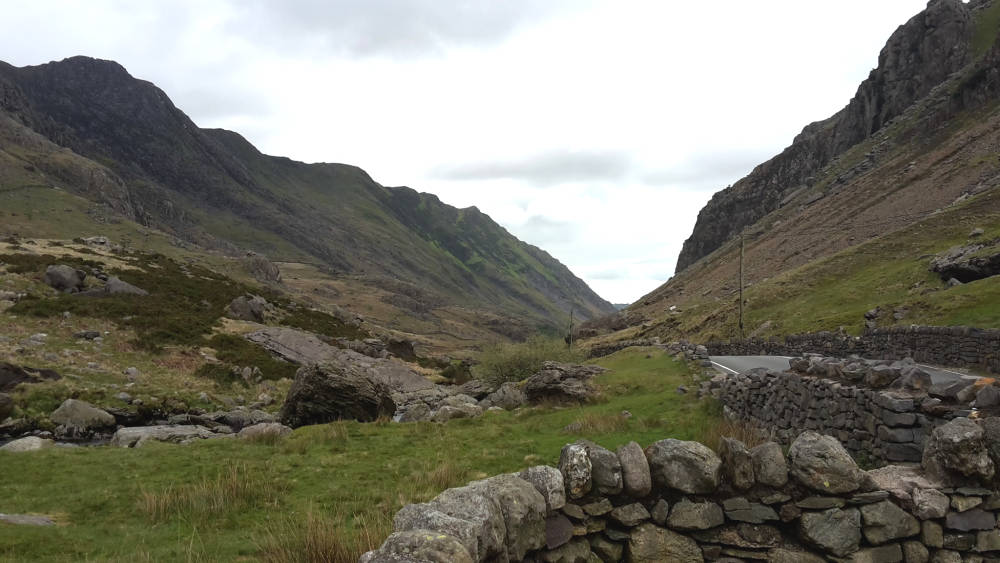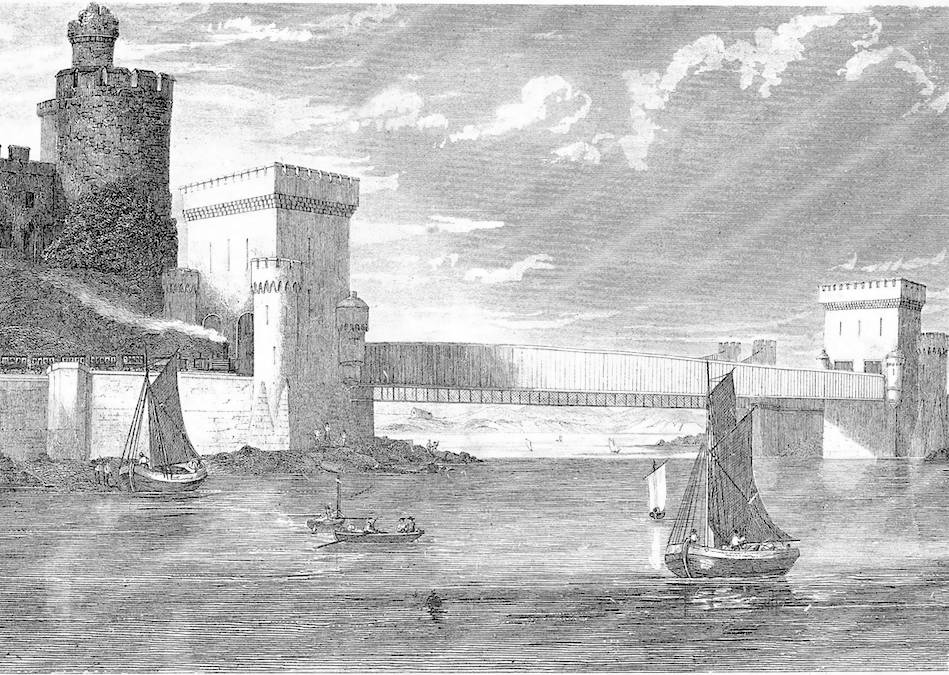 Left: Conwy Castle. Right: The Conwy tubular bridge. [Click on the images to enlarge them, and for more information about them.]
Houfe's notion of Watson's "exile" makes the assumption that living in a small town such as Conwy was necessarily a matter of self-banishment, foregoing metropolitan life for the everyday routine of living in a place with relatively few resources and known only for its Edwardian castle and picturesque views.
Of course, Watson's move to Conwy was a bold move – especially as his family remained at his English address – and his re-location necessarily involved some changes. There must, first of all, have been some cultural adjustments. Wales was largely regarded by the English middle-classes as an undeveloped country; politically annexed by its neighbour in 1536 after centuries of uprising against its colonial opponent, it was commonly viewed as foreign and unfamiliar, where Welsh was the first language and Englishmen, such as Watson, regarded as outsiders. This notion was widely voiced in popular literature: for example, Elizabeth Gaskell wrote of Wales as a alienating and distant culture in a number of short stories, and J. S. Le Fanu, a regular visitor from Dublin, explored the country's distinctive "strangeness" in his sensational novels of the sixties, The Tenants of Malory and Willing to Die. Watson may have read such texts and must have been aware of the contrast between Wales and living in Godalming and the capital, where he had lived most of his life.
Yet he did not isolate himself in a remote wilderness. Conwy Castle was an attraction visited by English tourists, especially those from the north-western cities of Manchester (where Watson trained) and Liverpool; the railway was extended in 1850 to carry travellers to resorts in Llandudno and Colwyn Bay and holidays were taken by middle-class families in and around Snowdonia and the coast. In other words, late-Victorian Conwy was more diverse and cosmopolitan than its location suggests. In fact, Watson's new home was essentially a hybrid culture, a fusion of Welsh and English, rural and urban, the ancient and the modern. Stephenson's tubular railway bridge below the walls of the castle was a reminder of the accessibility of every part of the United Kingdom, and the artist was never more than a few hours from the capital. All in all, Wales may have been alien but Conwy was less than threateningly strange.
It was also, perhaps surprisingly, a place in which artistic activity could flourish. North Wales had been a favourite destination for English painters since the 1840s; landscape artists such as David Cox (of Birmingham) and B. W. Leader (of Worcester) had visited near-by Bettws-y-Coed and its surroundings in pursuit of dramatic landscapes, and Watson's move to Conwy was part of this tradition. By the end of the seventies the Conwy Valley attracted numerous amateur and professional artists, and Watson found a ready-made milieu he could inhabit.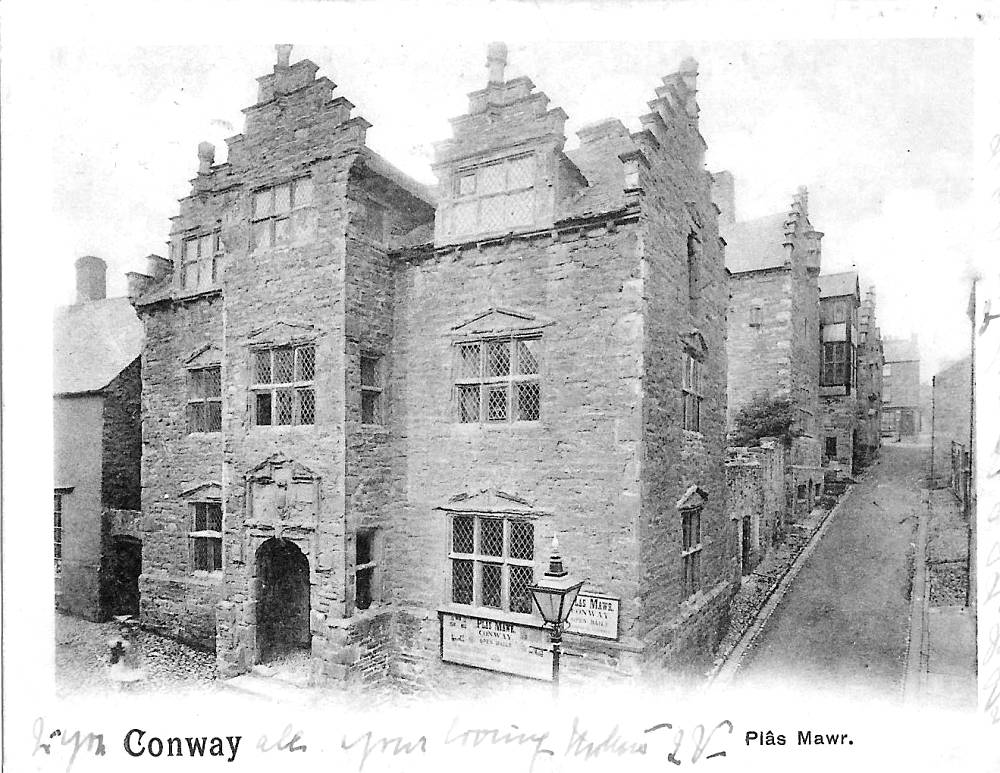 Left: Plâs Mawr. Right: Castle Street. [Click on the images to enlarge them, and for more information about them.]
Indeed, he did his best to consolidate this informal colony. In 1881 he became one of the founder members of The Royal Cambrian Academy, which was housed in Plâs Mawr, a building in Conwy's High Street. Having failed to secure Associateship of the R.A., Watson re-aligned his career by becoming an associate of an alternative academy and was part of flourishing institution. Honorary members included Frederick Leighton and J. E. Millais, and in 1887 the status of the Academy was confirmed by the showing of two outstanding paintings – Leighton's Cimabue (1853 –56; The National Gallery, London) and Millais's The Blind Girl (1856, Birmingham Museum Art Gallery), which was owned by the Mayor of Conwy (Royal Cambrian Academy 11, 17).
Watson was able to move in this elite circle and as a founding member was accorded the respect and status he did not attain in England. His association with the Academy bolstered his career economically and he continued to gain commissions from existing patrons and gained new ones from Conwy, Caernarfon and the surrounding area. Always versatile, willing to turn his hand to whatever was required to make a living and never prosperous in the general sense of the term – his surviving letters being mostly concerned with his shortness of cash – he painted a number of portraits for local residents. Amongst these was a half-length of William Hughes, the Mayor of Conwy (1878, Guildhall, Conwy), who is represented as a Renaissance prince, resplendent in crimson robes, rather than a minor dignitary. That Watson was commissioned by the town council is itself a reflection of his standing within the local community. Other portraits and small-scale landscapes were done for residents in Conwy and Caernarfon.
However, his most substantial work was undertaken for the Castle Hotel, Conwy, a luxurious residence facing Plâs Mawr where he lived on several occasions in the 1880s and 90s. Commissioned by the proprietor, the brewer Henry Boddington of Manchester, who was the artist's loyal friend and who purchased all he produced (Houfe 26), Watson created a decorative scheme of eight oils on canvas representing Shakespearean and other scenes with characters dressed in the manner of the sixteenth century. The images were painted in 1891 when he re-modelled the building's façade in the style of a Renaissance palace. His brief, it seems, was to create a unifying decorative scheme: the exterior presents architectural devices in imitation of Italian models made with Welsh materials, and the interior extends the allusion in the form of its bold and imposing murals. Both project the idea of sophistication and luxury. Watson's work converts a provincial hotel into a place of high culture – the very branding Boddington approved and one that appealed to English tourists by reinforcing the notion of Conwy as a refined and appealing destination.
Indeed, Watson's paintings provide an elegance otherwise lacking in what is essentially an under-illuminated building. The resplendent palette of the murals, with the figures painted in bright colours against a golden ground, animates the wood-panelled downstairs rooms; and the splendid portico of the entrance hall suggests a much grander hotel than is actually the case. Dawson's work inside and out contributes to a genteel ambience, projecting a comfortable space, and it is interesting to note that in working on The Castle he was once again engaging with new challenges. He had no previous experience of architectural design and, despite doing some mural work in The Hill (Reynolds 105), the house of his brother-in-law Myles Birket Foster, he was essentially unversed in the effects of large-scale decorative painting. Though he failed to win the commission for murals in Manchester Town Hall (Houfe 26), he remedied that situation, we might say, by doing the canvases in The Castle. The success of this work is further evidence of his time in Conwy being a period of development, rather than stagnation.
Watson's commitment to his new home had a personal dimension as well. Although he had a house in Conwy and only stayed some of his time in The Castle, the hotel now contains in addition to the murals about fifty of his works along with works by other painters relating to the artist. Several of Watson's pictures appear to have originated in the collection of the brewer Henry Boddington. Among the finer pieces is an unlabelled historical portrait of a medieval character (probably of Edward V, one of the Princes in the Tower overhearing his fate), some comic scenes in pencil, picturesque studies of landscapes and trees and a number of sketches from the artist's earliest career. Most telling is a study of a Newfoundland dog dated 16 December 1839, by "John Dawson Watson, Sedburgh, aged 7." This precocious drawing must have been one of his most intimate possessions.
Watson died on 3 January 1892 aged 59, and was buried in Conwy Cemetery. In the absence of documentation it has not been possible to identify his grave, even assuming that the stone still stands. The Victorian section of the burial ground is over-grown and ill-kept and his last resting place remains to be found. The artist is remembered, however, in The Castle. One of the dining rooms is called "The Watson Lounge" and his drawings and paintings are well-framed and presented. Then, as now, the art-work contributes to a pleasant ambience.
Watson's Art Works in The Castle Hotel
The Watson Collection at The Castle Hotel is only partially catalogued. Likenesses of Watson by himself and other artists are detailed in the catalogue of the National Portrait Gallery, London. The remainder of the work, a collection of paintings on oil and drawings, is catalogued in outline in the following section. This is essentially base-line information: the collection would benefit from a more detailed assessment which would involve removing the works from their frames.
Drawings and Associated – all by J. D. Watson
Character cutting the hair of another. Dated 1888. Pastel.
5 topographical views in pencil, dated 1860 –62 and labelled "Guildford" and "Exeter."
4 topographical studies of trees, dated 1858–68. Pencil.
Old woman giving a man piggy back. Dated 1889. Pen and pencil.
Equestion drawing. Undated. Pencil.
Rustic courting couple. Dated 1889. Pencil.
Standing figures in 18th century costume.
Standing figures in 17th century costume. Dated 1 February 1864.
Studies of male figures. Dated 1 March 1863.
Study of a drummer-boy. Pencil Inscribed Manchester School of Design, 1849.
13 pencil drawings, all dated 1858, including a pen and ink drawing of a Newfoundland dog, inscribed "J D Watson, Sedberg, aged 7" and dated 16 December 1839.
2 standing figures in 17th century costume. Date 1 February 1864.
2 studies of foals, inscribed "Kitty's foal, 14 June 1870." Pencil.
Historical Scene – by J. D. Watson
Portrait of Edward V [?] Watercolour and bodycolour. Dated 1871.
Decorative Murals, Oil on Canvas, 1891 – by J. D. Watson
Hamlet.
Hermione.
Romeo and Juliet.
Romeo.
Unidentified Shakespearean scene.
Wedding procession.
Medieval procession.
Architectural Painting
2 standing figures painted on wooden panelling on either side of main door.
Portraits and Self-portraits
Geflowski, Edward. Painted plaster bust of Watson [1870s].
[Unidentified artist]. Portrait of Watson. Pencil [1850s].
[Unidentified artist]. Portrait of Watson. Oil on canvas [1880s]. Painted in the manner of Rembrandt [probably from the Boddington Collection].
J.D. Watson. Portrait of Alfred Brook. Dated 1850.
J. D. Watson. Self-portrait. Inscribed "J.D.Watson se Bpse [?] del 1848." Chalk drawing.
J.D. Watson. Three quarter length self-portrait in multi-figure mural [subject unidentified]. Inscribed and dated "JDW 1891." Oil on canvas.
Acknowledgements
I am grateful to the management and staff of The Castle Hotel, Conwy, for granting me free access to Watson's art-works.
Works Cited
[Dalziel]. The Brothers Dalziel, A Record of Work, 1840-1890 . Foreword by Graham Reynolds. 1901; reprinted London: Batsford, 1978.
Houfe, Simon. "J.D. Watson: Pre-Raphaelite Illustrator of Childhood." Imaginative Book Illustration Society Newsletter. 20 (Spring 2002): 16–26.
Reynolds, Jan. Birket Foster. London: Batsford, 1984.
Royal Cambrian Academy of Art: Fifth Annual Exhibition of Works. Conwy: RCA, 1887.
---
Last modified 22 May 2017