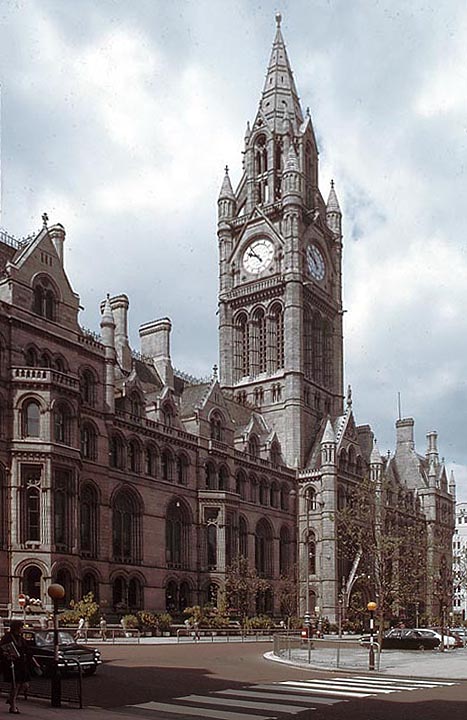 Manchester Town Hall
Architect: Alfred Waterhouse (1830-1905)
1868-77
Albert Square, Manchester
Photograph 1968 by George P. Landow, and text by Jacqueline Banerjee.
[You may use this image without prior permission for any scholarly or educational purpose as long as you (1) credit the photographer and (2) link your document to this URL or cite the in a print one.]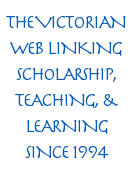 Built to occupy a triangular space, the structure has three storeys and attic rooms, and is actually in the shape of a triangle. The front elevation is on Albert Square, while the two side elevations stretch back along Princess Street on the left, and Lloyd Street on the right, practically converging in a short rear elevation on Cooper Street. The main civic rooms are on the first floor. Running acrosss the the triangular courtyard in the nidddle, from Albert Square at the front towards Cooper Street at the rear (but not right up to it), is the rectangular Great Hall. Originally, the police station occupied the area below it.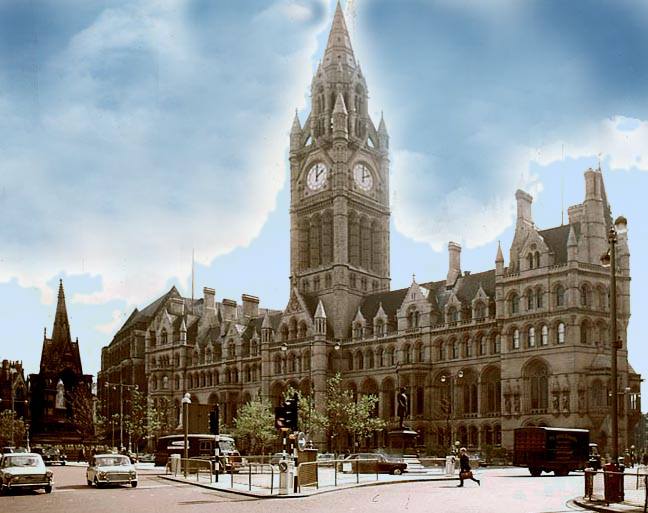 Since the sooty air of industrial Manchester made polychromy pointless, the town hall's brick frame is completely faced with local greyish Spinkwell sandstone, and variety is achieved instead by an interesting skyline, especially by the clock-tower, spire, and spirelets of which Waterhouse was so fond (see Cunningham and Waterhouse 184) — and also by a modest amount of statuary, and subtleties of detailing and stone-carving. The slate roof was originally patterned in two tones (Hartwell 74); however, the pattern can no longer be discerned.
James Stevens Curl describes Manchester Town Hall as "a mixture of English and French First Pointed," but sees it as something much more than that. To him it is a building that seems to grow naturally both from its site and the architect's plan, and one "that is of its period, a High-Victorian Gothic secular masterpiece that combines eclectic elements to form a style that can only be Victorian" (62). Technically speaking, too, the town hall is very much of its age, since it is of fireproof construction, with iron beams spanning the wider areas, and state-of-the-art hot-water heating, gas-lighting, and communication arrangements. While the whole building is bold and impressive from a distance, the details of the exterior and the riches and skilful planning of the interior demand closer attention.
Other Views and Related Material
Bibliography
Cunningham, Colin. Victorian and Edwardian Town Halls. London: Routledge, 1981. Print.
Cunningham, Colin, and Prudence Waterhouse. Alfred Waterhouse, 1830-1905: Biography of a Practice. Oxford: Clarendon, 1993. Print.
Curl, James Stevens. Victorian Architecture. Newton Abbot: David & Charles, 1990. Print.
"Ford Madox Brown Murals." Manchester City Council. Web. 18 April 2012.
Hartwell, Clare. Manchester. Pevsner Architectural Guides. London: Penguin, 2001. Print.
"A History of Manchester Town Hall." Manchester City Council. Web. 18 April 2012.
Parkinson-Bailey, John J. Manchester: An Architectural History. Manchester: Manchester University Press, 2000. Print.
"Town Hall, Manchester." British Listed Buildings. Web. 18 April 2012.
---

Victorian
Web

Archi-
tecture

Manchester

Alfred
Water-
house

Next
Last modified 18 April 2012