"Mr Gordon Thomson." Source: Review of Reviews, Vol. 28 (April 1892): 337.
John Gordon Thomson (1841-1923), was – after Sir John Tenniel at Punch – the longest-serving chief cartoonist on a major satirical paper during the Victorian era. Succeeding noted illustrator Fred Barnard, Thomson contributed the "big cut" for Fun for almost twenty-three years, from 1870 to 1893, when he was in turn succeeded by Wallis MacKay.
Called "Gordon" by most acquaintances, Thomson was born in Wakefield, Yorkshire, on 2 September 1841, and baptised at the Cathedral Church of All Saints there. The son of the Scottish railway agent and manager, George Thomson, he remained in the North until the family relocated to London by the time of the Great Exhibition of 1851 (a bumper year for the Great Northern Railway).
While Thomson's elder brother followed their father into the railways, Thomson joined a reformed civil service in the wake of the Northcote-Trevelyan Report, finding a post in the Stage Carriers and Duties Assessors' Office at Somerset House in 1863. As the department declined in importance, Thomson found time – like many contemporary journalist and critics also working as civil servants – to contribute drawings to the press. His first drawing was accepted by Punch while he was still a student in 1861, and "three-and-thirty socials" appeared thereafter (according to M. H. Spielmann's History). Other contributions appeared in the Boy's Own Magazine's version of "Silas the Conjuror" (1865), the Savage Cub Papers (1866), Beeton's Annual (1866), Sunday (1866), Broadway (1867) and London Society (1867), and – crucially – The Graphic (1870).
Thomson's work on the The Graphic came at the moment his civil service post (and the whole department) was abolished in the wake of Gladstone's reforms, allowing him both a government pension and the freedom to earn income as an artist. At the The Graphic, he briefly joined Henry Woods, Hubert Herkomer, and John Everett Millais, as well as his lifelong close friend Luke Fildes. It was on the strength of his The Graphic work that Thomson attracted the attention of Fun's new proprietors, the Dalziel brothers, and editor Thomas Hood the Younger. The timing was again ideal for Thomson, as Fun's cartoonist Fred Barnard was soon to depart (in order to concentrate on serious work, and the illustration for the Household Edition of Dickens). Thomson's fist "big cut" (showing the disastrous unfolding of the Franco-Prussian War for Napoleon III) appeared in the number for 20 August, before he finally took over from Barnard on 10 September.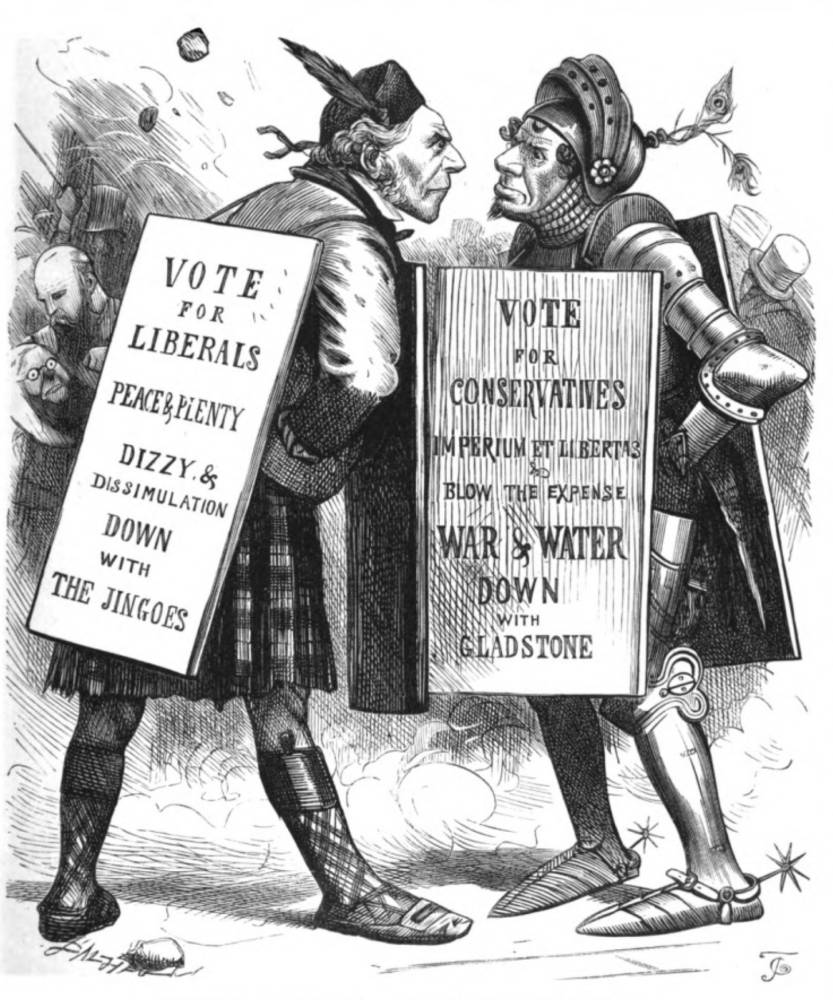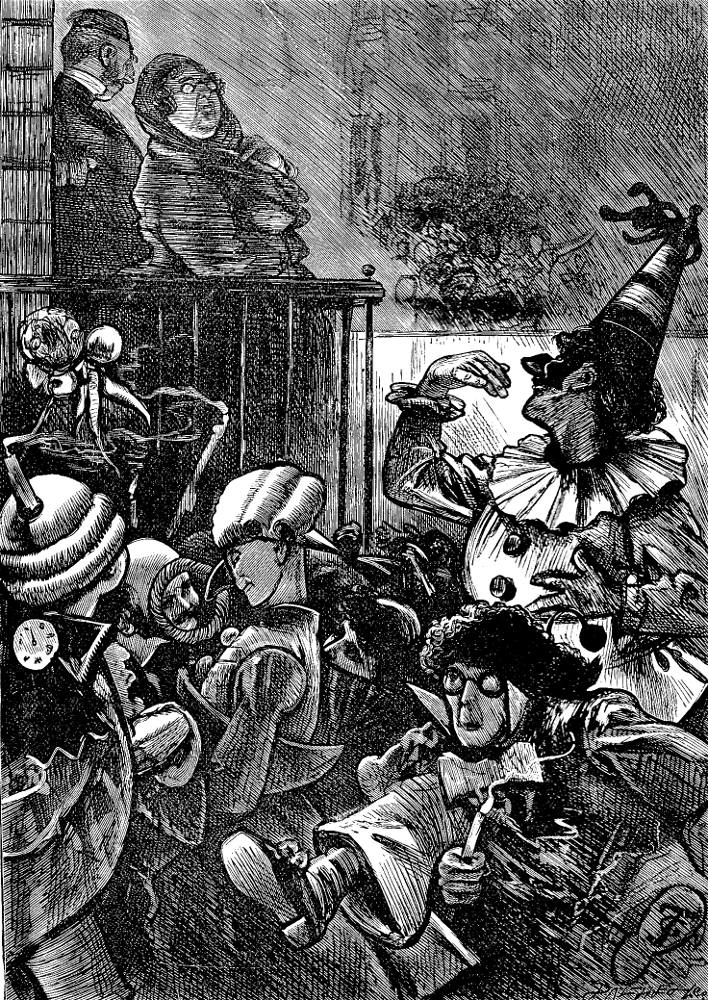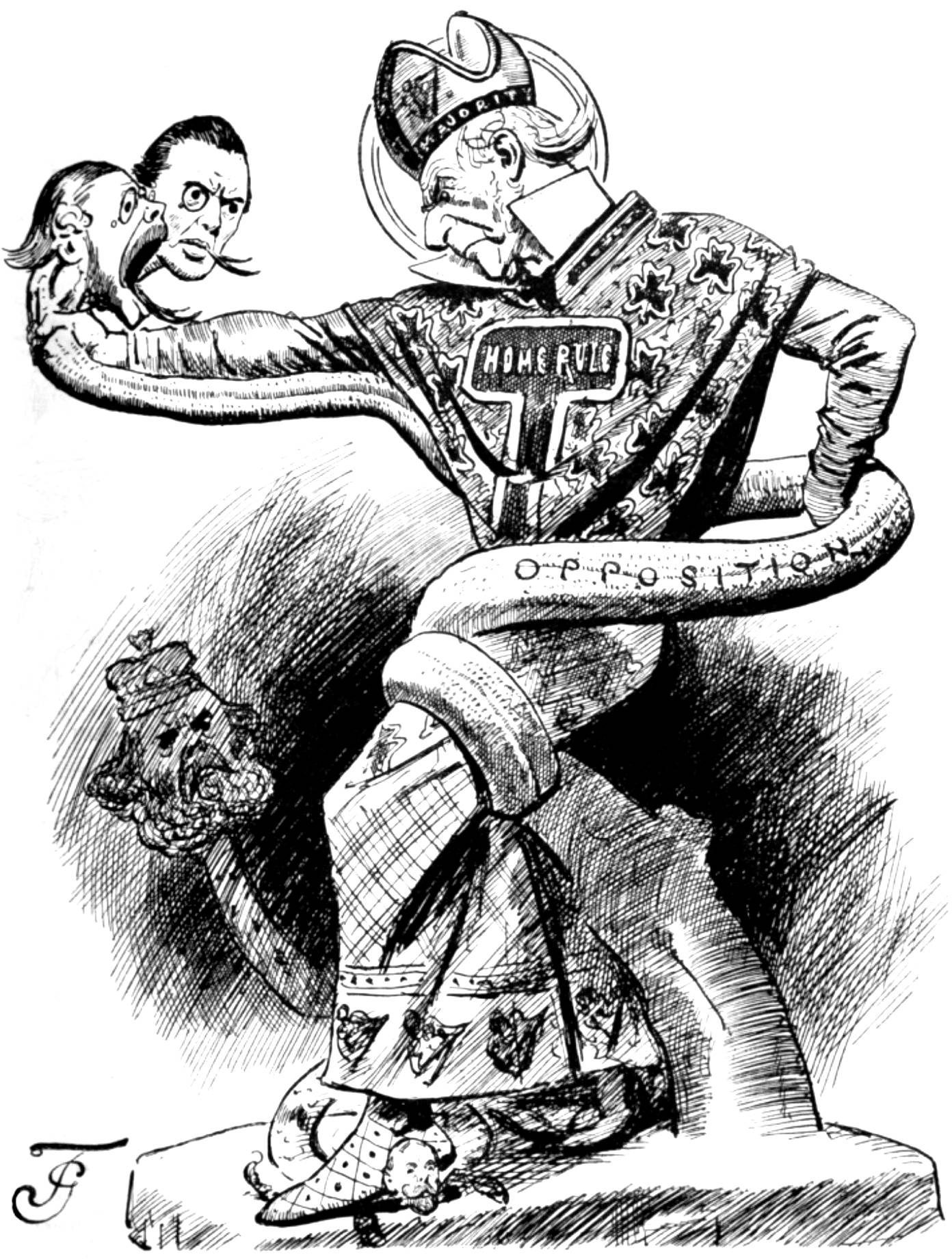 Left to right: (a) The Rival Sandwiches: A Slanging Duet, And the Battle of Hustings, Fun, 7 April 1880. (b)A Sketch at the Carnival — Rome, from Scenes and Characters from the Works of Charles Dickens... (1908). (c) St Patrick struggling with the reptiles, Fun, 15 March 1893.
According to the Proprietors' Copy of Fun (in the Huntington Library, CA), Thomson earned £4 for every weekly "big cut" cartoon for his first few years, before this rose to £6 from 1875. Additional, smaller cuts earned him around £1 5s each, depending on their dimensions; and more was to be had via Christmas bonuses and work for the annual Fun Almanac (in the region of £5-£7 for full-pages). He thus earned around £300-375 per annum, in addition to his civil service pension (Tenniel earning around £853, 5s in 1875 by comparison). This enabled him to live very comfortably, and he remained a bachelor his whole life.
The distinctive 'GT' of Gordon Thomson's monogram (modelled after the JT of Tenniel in Punch.
During Thomson's time, Fun was determinedly Liberal, and pro-Gladstone on almost every issue. Disraeli and Salisbury were demonised, and the Irish treated relatively benignly. Disraeli's Jewishness came in for some unpleasant caricature, as did colonial figures (such as Zulu King Cetewayo, imagined as a black-faced minstrel). His style produced "very angular" figures (in W. T. Stead's opinion)and – like John Leech – employed a single set of facial characteristics for all young women, real or imagined. Admirers complimented his "spirit and sparkle," but his cartoons attracted their fair share of criticism also.
Thomson contributed illustrations to Dickens' Pictures from Italy (1880) and exhibited at the Royal Academy in 1878. He was a member of a sketching club that included Marcus Stone, Henry Woods, Luke Fildes, and Charles Edward Perugini. Thomson's annual satirical imaginings of the Academy's summer show were major attractions for Fun, and inspired later burlesques by the likes of Linley Sambourne in Punch.
Thomson was particularly close to Fildes and his family, joining them on a regular basis for meals, and serving as a surrogate uncle "Gording" to the Fildes children (as well as godfather to Paul Fildes). Luke Fildes' friend served as a model for the famous state portrait of King Edward VII (1902), the king being unable to sit for Fildes on more than two occasions. Thomson's figure was apparently ideal to flatter the king without appearing untrue to life.
By the time of the royal portrait, Thomson had retired from Fun, at a time when the magazine was in decline, financially, and in turmoil, politically. The Home Rule crisis of 1893 split the Liberal readership of the paper, and while the Dalziels decided to stick to the Gladstonian cause, following their sale of Fun in August, and the arrival of a new editor in Henry T. Johnson, the magazine attached itself to Liberal Unionism until 1901. Thomson's final cartoon was an attack on Joseph Chamberlain on 19 July, before Wallis Mackay picked up with an anti-Gladstone piece the following September.
Thomson was long-lived, and not much is known of his long period of retirement save continued friendship with the Fildeses, and a brief stint on the board of The Graphic around 1906. He died of a heart attack at his home in Primrose Hill Studios, on 14 February 1923, leaving his estate (£7,946.12s.3d.) to Luke Fildes.
Bibliography
Bryant, Mark, "Behind the Lines – Fun and War in Afghanistan," History Today 57/11 (November 2007): 60-61.V
Dickens, Charles. American Notes for General Circulation and Pictures from Italy. Illustrated by J. Gordon Thomson and A. B. Frost. London: Chapman and Hall, 1880.
"John Gordon Thomson." Yesterday's Papers. Web. 2 April 2016.
Scully, Richard. Eminent Victorian Cartoonists – Volume II: The Rivals of "Mr Punch." London: Political Cartoon Society, 2018 (esp. pp.134-166).
Spielmann, M. H. The History of Punch. London: Cassell, 1895.
Thomson, John Gordon. "Engraved Title." Scenes and Characters from the Works of Charles Dickens; being eight hundred and sixty-six drawings, by Fred Barnard, Hablot Knight Browne (Phiz); J. Mahoney; Charles Green; A. B. Frost; Gordon Thomson; J. McL. Ralston; H. French; E. G. Dalziel; F. A. Fraser, and Sir Luke Fildes; printed from the original woodblocks engraved for "The Household Edition." London: Chapman and Hall, 1908.
---
Created 19 January 2022