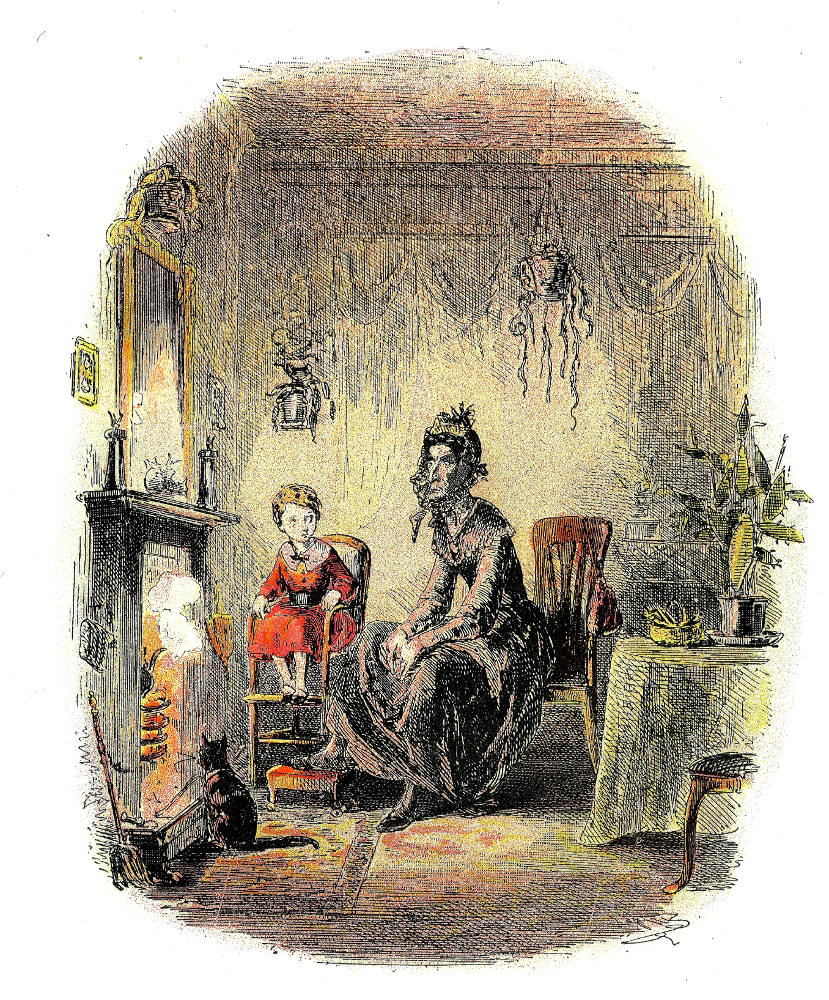 Paul and Mrs. Pipchin
Phiz (Hablot K. Browne)
Colour lithograph from Steel-engraving, facing p. 106 in the 1910 edition
12.6 cm high by 10.4 cm wide (5 inches by ¾ inches), vignetted
Originally published December 1846
Image scan and text by Philip V. Allingham.
[You may use this image without prior permission for any scholarly or educational purpose as long as you (1) credit the person who scanned the image, and (2) link your document to this URL in a web document or cite the Victorian Web in a print one. ]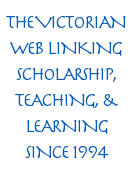 Passage Illustrated: Paul confounds the child-minding Ogress, Mrs. Pipchin
At this exemplary old lady, Paul would sit staring in his little arm-chair  by the fire, for any length of time. He never seemed to know what weariness was, when he was looking fixedly at Mrs. Pipchin. He was not fond of her; he was not afraid of her;  but in those old, old moods of his, she seemed to have a grotesque attraction for him.  There he would sit, looking at her, and warming his hands, and looking at her, until he sometimes quite confounded Mrs. Pipchin, Ogress as she was. Once she asked him, when they were alone, what he was thinking about.
"You," said Paul, without the least reserve.
"And what are you thinking about me?" asked Mrs Pipchin.
"I'm thinking how old you must be," said Paul.
"You mustn't say such things as that, young gentleman," returned the dame. "That'll never do."
"Why not?" asked Paul.
"Because it's not polite," said Mrs. Pipchin, snappishly.
"Not polite?" said Paul. [Chapter VIII, "Paul's Further Progress, Growth and Character," in the 1910 edition: p. 81]
Commentary: Paul puts the Ogress in her place
The best subject for the third number, Dickens had decided, was a "quiet odd thing, Paul, Mrs. Pipchin, and the Cat, by the fire." ["To Forster," 4 November 1846].  Unaware perhaps that Browne usually made two or three sketches for each one that he sent to Lausanne, Dickens earnestly but unfairly implored the artist to think this subject worth extra effort. Shortness of time probably forced Dickens to forward the relevant text directly to the artist this once and prevented him from seeing Browne's drawing before it was etched. [Cohen, 91]
Valerie Browne Lester, Jane Rabb Cohen, and Michael Steig all devote some considerable to space to discussing the justice of Dickens's highly condemnatory response to the illustration, made too late to John Forster to prevent its appearing in the third monthly number. The author's reaction is worth repeating in its entirety:
I am really distressed by the illustration of Mrs. Pipchin and Paul. It is so frightfully and wildly wide of the mark. Good Heaven! in the commonest and most literal construction of the text, it is all wrong. She is described as an old lady, and Paul's "miniature armchair" is mentioned more than once. He ought to be sitting in a little arm-chair down in a corner of the fireplace, staring up at her. I can't say what pain and vexation it is to be so utterly misrepresented. I would cheerfully have given a hundred pounds to have kept this illustration out of the book. He never could have got that idea of Mrs. Pipchin if he had attended to the text. Indeed I think he does better without the text; for then the notion is made easy to him in short description, and he can't help taking it in. [Pilgrim IV: 671; cited in Cohen, 122, and Lester, 131]
Related Material, including Other Illustrated Editions of Dombey and Son
Bibliography
Dickens, Charles. Dombey and Son. Illustrated by Hablot K. Browne ("Phiz"). With 8 coloured plates. London and Edinburgh: Caxton and Ballantyne, Hanson, 1910.
Vann, J. Don. Chapter 4. "Dombey and Son, twenty parts in nineteen monthly installments, October 1846-April 1848." Victorian Novels in Serial. New York: Modern Language Association, 1985. 67-68.
---

Victorian
Web

Illus-
tration

Phiz

Dombey
& Son

Next
Created 8 August 2015

Last modified 3 February 2021