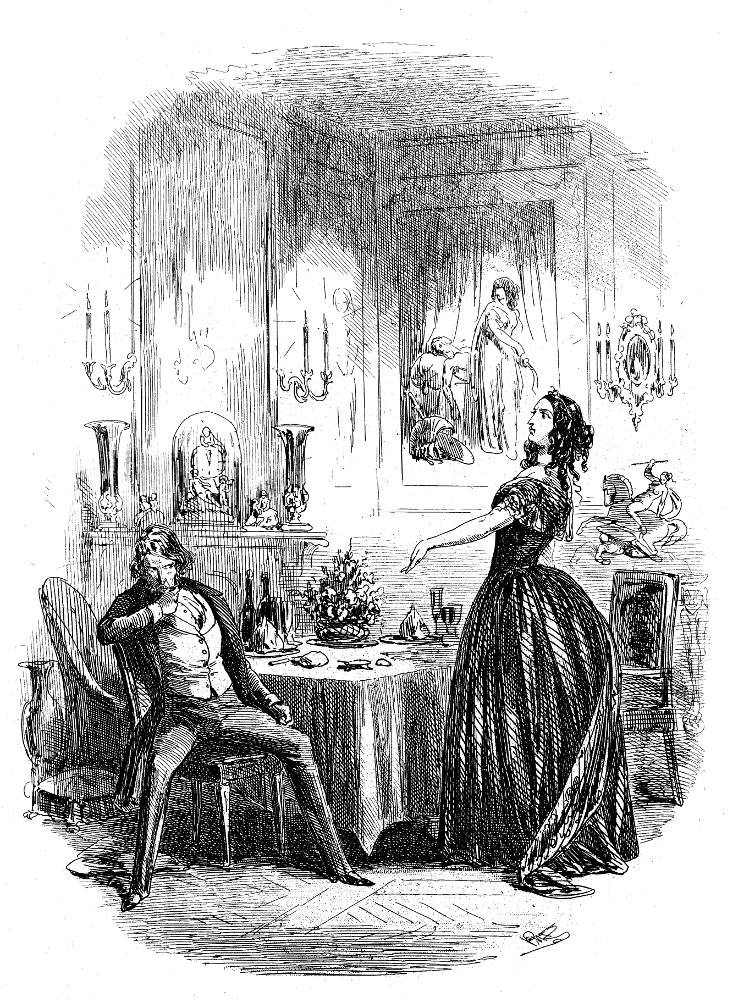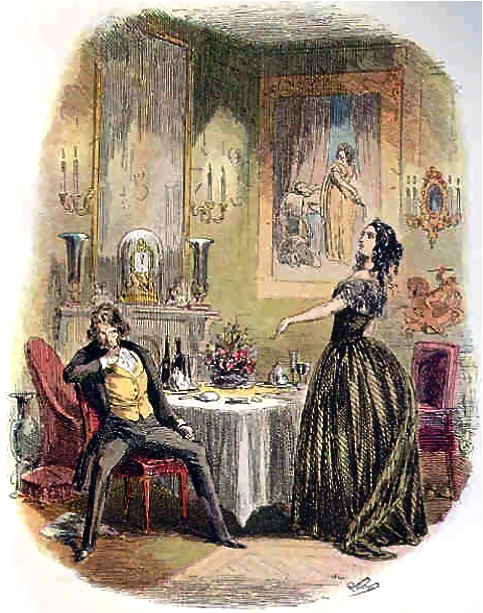 Mr. Carker in His Hour of Triumph in Chapter 54, "The Fugitives," Dombey and Son, first published by Chapman and Hall in the seventeenth serial instalment (February 1848). The colourized version of this illustration comes from the Caxton, Ballantyne, and Hanson edition (1910), facing p. 584. 13 cm high by 10.4 cm wide (3 ¼ x 4 inches. [Click on the image to enlarge it.]
Passage Illustrated
"I have never," resumed Carker, "seen you look so handsome, as you do to-night. Even the picture I have carried in my mind during this cruel probation, and which I have contemplated night and day, is exceeded by the reality."
Not a word. Not a look Her eyes completely hidden by their drooping lashes, but her head held up.
"Hard, unrelenting terms they were!" said Carker, with a smile, "but they are all fulfilled and passed, and make the present more delicious and more safe. Sicily shall be the place of our retreat. In the idlest and easiest part of the world, my soul, we'll both seek compensation for old slavery."
He was coming gaily towards her, when, in an instant, she caught the knife up from the  table, and started one pace back.
"Stand still!" she said, "or I shall murder you!" [Chapter LIV, "The Fugitives,"  584]
Commentary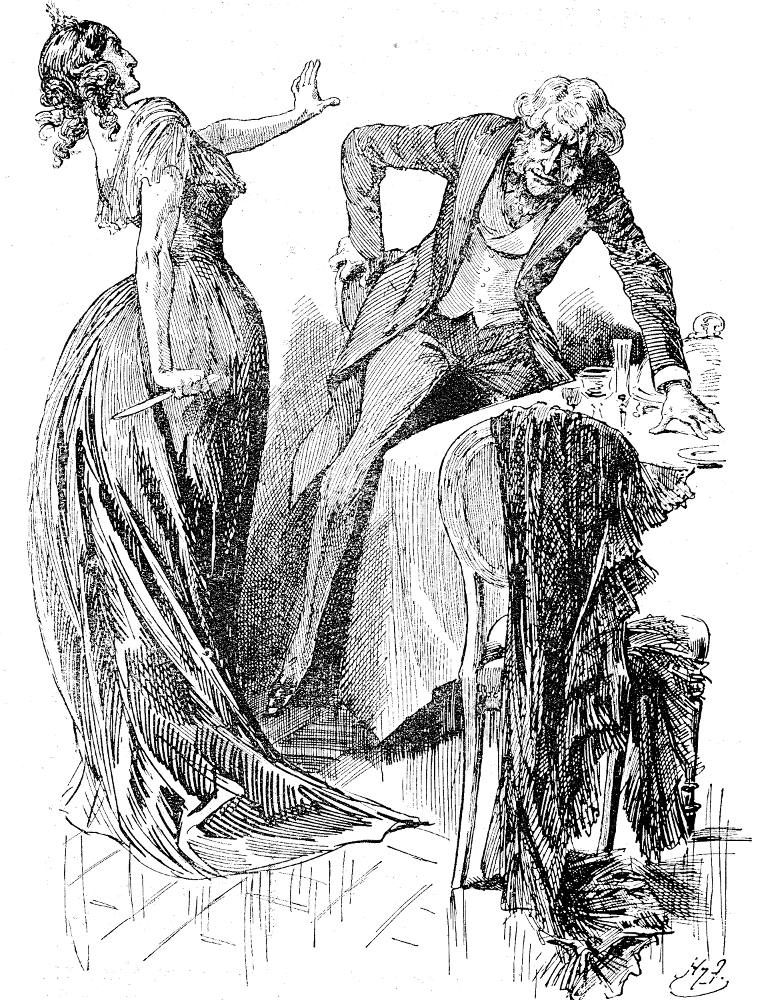 Harry Furniss's even more dramatic rendering of Edith's confronting Carker in France: Edith and Mr. Carker (1910).
A number of critics have paid special attention to the final pair of Carker illustrations, Mr. Carker in his hour of triumph (Ch. 54), and On a Dark Road (Ch. 55). These perceptive critics include Q. D. Leavis, John R. Reed, Michael Steig, and Jane Rabb Cohen. As Steig has noted, the meaning of the plate depicting confrontation of Carker and Edith Granger derives some context from the preceding plate, Secret Intelligence (Ch. 52) in its visual parallelism and layout, with the men on the left, and the women on the right), and what Steig terms "the inverted thematic parallelism of Dombey-Alice and Carker-Edith, each woman having used her partner in the illustration as a despised means of destroying the man with whom she has been linked" (104).
In this boudoir scene late in the novel and set in France rather than England, the perpetually-smiling villain of the piece, James Carker, formerly Dombey's business manager, no longer presents the same suave mask of self-confidence that he has worn heretofore. In this dramatic confrontation, Edith's melodramatic rejection of Carker here in Dijon sets up his escaping back to England, where he will suffer a horrible fate: being crushed under the wheels of a locomotive as he runs from the authorities. This second plate in the February 1848 instalment is rife with melodramatic emotion, complementing the rhetorical nature of Dickens's text here, in contrast to the tranquil but clandestine nature of the preceding plate, Secret Intelligence. Steig notes how the emblematic details such as the embedded bibical painting Judith and Holofernes contribute to the force of the operatic confrontation. Cohen has paid special attention to the embedded painting in her analysis of this plate: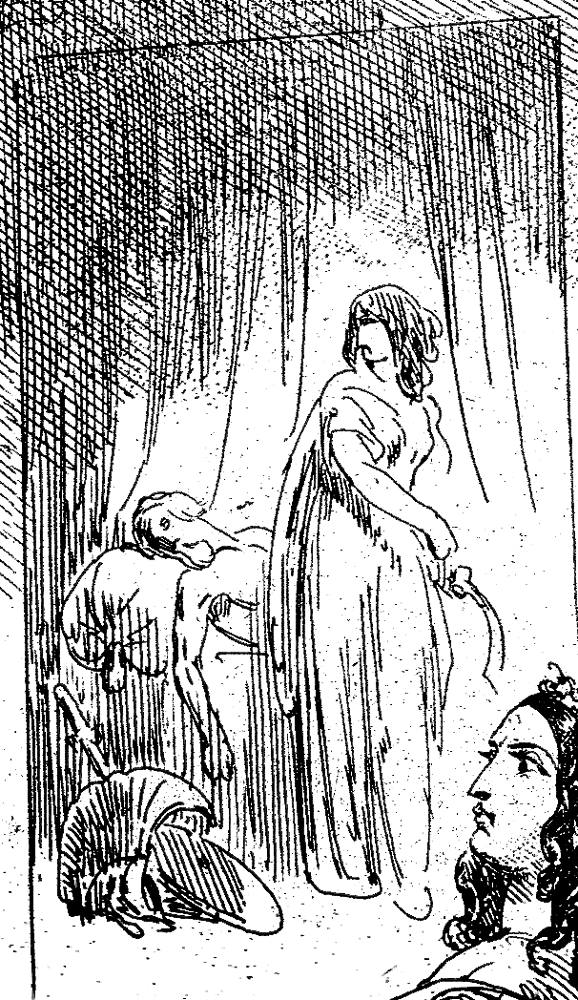 For Edith's untouched dishes further indicate, as Mrs. Leavis suggests, she has no thought of becoming Carker's mistress in the hotel room or anywhere else. Her outflung arm is notmerely a theatrical gesture, but rather an expression of herdearly bought freedom in its release from its previous cramped position (see figs. 80-83, 85). The pictures of Judith beheading Holofernes and the statue of an Amazon ridingover a prostrate male comment on her brave if unfemininebehavior as she undeceives Carker. Yet the sword in the picture and the raised lance in the sculpture, though theycomplement Edith's threatening — even castrating — gesture toward Carker, point toward her, reinforcing the fact thatshe pursues a self-destructive course. These ambiguous touches perfectly convey the moral complexity of her action.Dickens's unwillingness to pass final judgment on Edith maybe suggested by the fact that she does not die after all, contrary to the author's original intention and to the usual fate of such women in Victorian fiction. [Cohen 99]
Related Material, including Other Illustrated Editions of Dombey and Son
Image scan, caption, and commentary by Philip V. Allingham. [You may use this image without prior permission for any scholarly or educational purpose as long as you (1) credit the person who scanned the image and (2) link your document to this URL in a web document or cite the Victorian Web in a print one.]
Bibliography
Dickens, Charles. Dombey and Son. With illustrations by H. K. Browne. The illustrated library Edition. 2 vols. London: Chapman and Hall, c. 1880. Vol. II.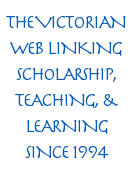 __________. Dombey and Son. Illustrated by Hablot K. Browne ("Phiz"). 8 coloured plates. London and Edinburgh: Caxton and Ballantyne, Hanson, 1910.
__________. Dombey and Son. Illustrated by Hablot K. Browne ("Phiz"). The Clarendon Edition, ed. Alan Horsman. Oxford: Clarendon, 1974.
__________. Dombey and Son. Illustrated by Sol Eytinge, Jr., and engraved by A. V. S. Anthony. 14 vols. Boston: Ticknor & Fields, 1867. III.
__________. Dombey and Son. Illustrated by Fred Barnard. 61 wood-engravings. The Household Edition. 22 vols. London: Chapman and Hall, 1877. XV.
_________. Dealings with the Firm of Dombey and Son: Wholesale, Retail, and for Exportation. Illustrated by Harry Furniss. The Charles Dickens Library Edition. London: Educational Book Company, 1910. IX.
Hammerton, J. A. "Chapter 16: Dombey and Son." The Dickens Picture-Book. The Charles Dickens Library Edition. Illustrated by Harry Furniss. 18 vols. London: Educational Book Co., 1910. Vol. 17, 294-337.
Kitton, Frederic George. Dickens and His Illustrators: Cruikshank, Seymour, Buss, "Phiz," Cattermole, Leech, Doyle, Stanfield, Maclise, Tenniel, Frank Stone, Landseer, Palmer, Topham, Marcus Stone, and Luke Fildes. Amsterdam: S. Emmering, 1972. Re-print of the London (1899) edition.
Lester, Valerie Browne. Ch. 12, "Work, Work, Work." Phiz: The Man Who Drew Dickens. London: Chatto and Windus, 2004. 128-160.
Steig, Michael. Chapter 4. "Dombey and Son: Iconography of Social and Sexual Satire." Dickens and Phiz. Bloomington & London: Indiana U. P., 1978. 86-112.
Vann, J. Don. Chapter 4. "Dombey and Son, twenty parts in nineteen monthly installments, October 1846-April 1848." Victorian Novels in Serial. New York: Modern Language Association, 1985. 67-68.
---
Created 8 August 2015

Last modified 16 January 2021