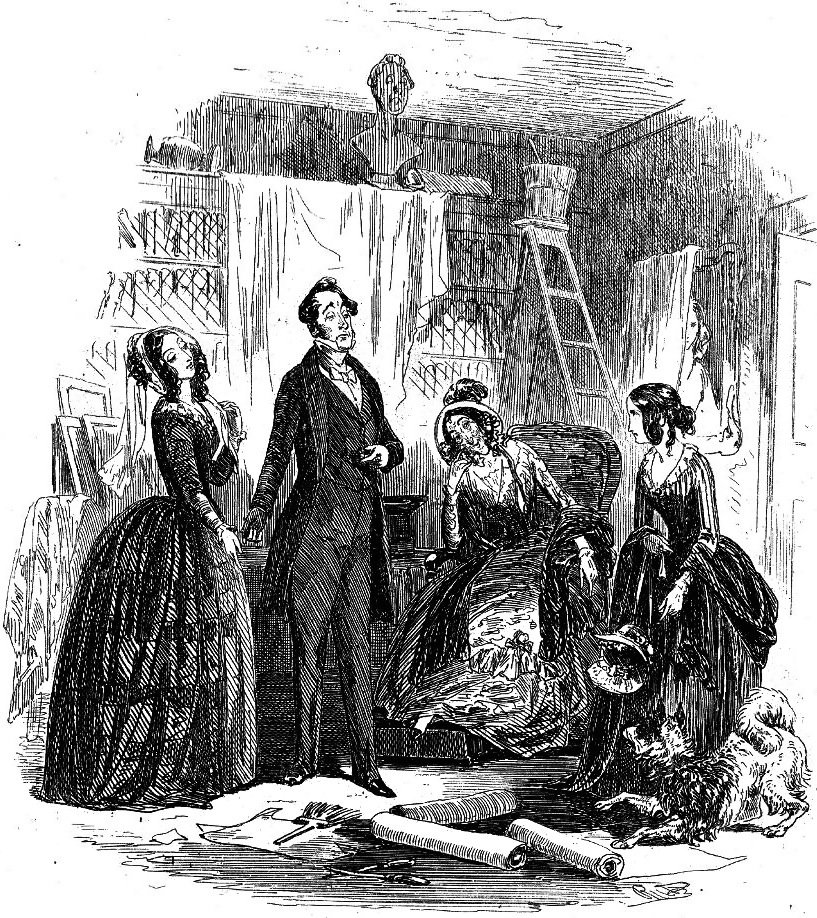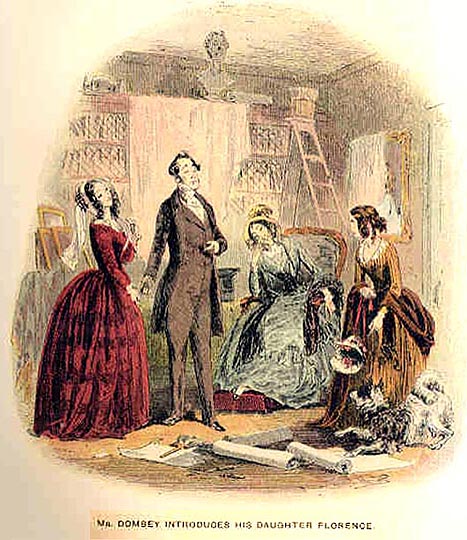 Mr. Dombey introduces his daughter Florence  in Chapter 28, "Alterations," ninth serial instalment (June 1847), facing p. 486. The colourized version of this illustration comes from the Caxton, Ballantyne, and Hanson edition (1910), facing p. 312. Original dimensions: 12 cm high by 10.2 cm wide (4 ½ x 4 ⅛ inches. [Click on the images to enlarge them.]
Passage Illustrated: Mr. Dombey's introducing the Future Step-mother
Her father might have heard that heart beat, when it came into his presence. One instant, and it would have beat against his breast.
But he was not alone. There were two ladies there; and Florence stopped. Striving so hard with her emotion, that if her brute friend Di had not burst in and overwhelmed her with his caresses as a welcome home — at which one of the ladies gave a little scream, and that diverted her attention from herself — she would have swooned upon the floor.
"Florence," said her father, putting out his hand: so stiffly that it held her off: "how do you do?"
Florence took the hand between her own, and putting it timidly to her lips, yielded to its withdrawal. It touched the door in shutting it, with quite as much endearment as it had touched her.
"What dog is that?" said Mr. Dombey, displeased.
"It is a dog, Papa — from Brighton."
"Well!" said Mr Dombey; and a cloud passed over his face, for he understood her.
"He is very good-tempered," said Florence, addressing herself with her natural grace and sweetness to the two lady strangers. "He is only glad to see me. Pray forgive him."
She saw in the glance they interchanged, that the lady who had screamed, and who was seated, was old; and that the other lady, who stood near her Papa, was very beautiful, and of an elegant figure.
"Mrs Skewton," said her father, turning to the first, and holding out his hand, "this is my daughter Florence."
"Charming, I am sure," observed the lady, putting up her glass. "So natural! My darling Florence, you must kiss me, if you please." [Chapter 28, "Alterations," 486 in the 1880 edition; 312 in the 1910 edition]
Michael Steig's Analysis of
Mr. Dombey introduces his daughter Florence
. . . Mr. Dombey introduces his daughter Florence (ch. 28) is notable for the skill with which Phiz has delineated the characters without a touch of caricature except in the case of Mrs. Skewton, who is, after all, caricatured in the text. Browne directs no emblematic ammunition against her here, but in 1848, as one of a set of eight "extra" portrait illustrations to Dombey and Son — one group of eight etchings, and another of four engravings, were published separately after the novel's completion — he depicts her in much the same pose, but in more detail, as a pathetic grotesque with one scrawny, stockinged foot emerging from beneath her skirts, a bonnet with wilted flowers, and a thin hand toying with a heart locket. On the floor is a magazine open to "La Mode," and on the couch a book, The Loves of Angels, which has an ambiguous meaning to say the least — is Mrs. Skewton "angelic" in her sweetness or her deathliness? The vase of flowers under glass suggests the extreme care necessary to keep her looking more alive than dead, while the cupid decorating the mirror regards her archly, as though to say, "You'd better not look in here, my dear." (The motif of the looking glass ominously predicting a woman's death is sketched several times in Browne's 1853 notebook.) At the very top of the composition is a Watteau-like pastoral scene of men and women in seventeenth-century dress, and immediately over the old lady's head, a clock with Father Time in a most threatening pose looks down upon his nearly conquered victim. [Steig, Ch. 4, p. 96]
Commentary
Jane Rabb Cohen singles out the character of Edith Granger for comment because she develops in the Phiz illustrations as she does in the text from an elegant but merely externally described second wife for Dombey, through a reluctant step-mother for Florence, and finally a rebellious and emotionally volatile mistress for Carker. Cohen speculates that, at least initially, Dickens was "uncertain what Edith's precise function would turn out to be, merely wished the artist to convey to the reader a sense of her importance" (96). Dickens gives his illustrator little to work with, other than Edith's being a member of upper-middle-class society and a young widow. Thus, in her initial appearances Browne has been unable to communicate much more about her than attitude and the contexts in which she appears, as when Dombey icily introduces her to his daughter. "For instance, when Edith is introduced to Florence by Dombey (at his most  Pecksniffian, complete with pompous bust overhead) (XXVIII, facing p. 408) (fig. 81), the fact that she will become the girl's stepmother is suggested by the portrait, possibly of the first Mrs. Dombey, that peers out from behind its drapery, as will similar portraits at other crucial moments in Dombey's life (LI, facing p. 718; LIX, facing p. 840). An ominous funeral hearse suggests past as well as future events attendant on Edith's marriage to Dombey, while the Punch and Judy performance in the background parodies its quality in a picture whose special importance is signified by the fact that it is in oblong form — the first of the many that would appear in Dickens's subsequent novels. . . ." (Cohen 96).
Related Material, including Other Illustrated Editions of
Dombey and Son
Bibliography
Dickens, Charles. Dombey and Son. With illustrations by H. K. Browne. The illustrated library Edition. 2 vols. London: Chapman and Hall, c. 1880.
__________. Dombey and Son. Illustrated by Hablot K. Browne ("Phiz"). 8 coloured plates. London and Edinburgh: Caxton and Ballantyne, Hanson, 1910.
__________. Dombey and Son. Illustrated by Hablot K. Browne ("Phiz"). The Clarendon Edition, ed. Alan Horsman. Oxford: Clarendon, 1974.
__________. Dombey and Son. Illustrated by Sol Eytinge, Jr., and engraved by A. V. S. Anthony. 14 vols. Boston: Ticknor & Fields, 1867. III.
__________. Dombey and Son. Illustrated by Fred Barnard. 61 wood-engravings. The Household Edition. 22 vols. London: Chapman and Hall, 1877. XV.
_________. Dealings with the Firm of Dombey and Son: Wholesale, Retail, and for Exportation. Illustrated by Harry Furniss. The Charles Dickens Library Edition. London: Educational Book Company, 1910. IX.
Hammerton, J. A. "Chapter 16: Dombey and Son."The Dickens Picture-Book. The Charles Dickens Library Edition.Illustrated by Harry Furniss. 18 vols. London: Educational Book Co., 1910. Vol. 17, 294-337.
Kitton, Frederic George. Dickens and His Illustrators: Cruikshank, Seymour, Buss, "Phiz," Cattermole, Leech, Doyle, Stanfield, Maclise, Tenniel, Frank Stone, Landseer, Palmer, Topham, Marcus Stone, and Luke Fildes. Amsterdam: S. Emmering, 1972. Re-print of the London (1899) edition.
Lester, Valerie Browne. Ch. 12, "Work, Work, Work." Phiz: The Man Who Drew Dickens. London: Chatto and Windus, 2004, pp. 128-160.
Steig, Michael. Chapter 4. "Dombey and Son: Iconography of Social and Sexual Satire." Dickens and Phiz. Bloomington & London: Indiana U. P., 1978. 86-112.
Vann, J. Don. Chapter 4. "Dombey and Son, twenty parts in nineteen monthly installments, October 1846-April 1848." Victorian Novels in Serial. New York: Modern Language Association, 1985. 67-68.
---
Last modified 31 December 2020