Having taken a short walk through the city by Thomas Nast (1873), Chapter XXXV, p. 214.
Bibliographical Note
The illustration appears in the American Edition of Charles Dickens's The Posthumous Papers of The Pickwick Club, as the first illustration for the Bath chapters in Chapter XXXV, "In Which Mr. Pickwick thinks he had better go to Bath; and goes accordingly," page 213. Wood-engraving, 3 ½ inches high by 5 ¼ inches wide (9.6 cm high by 13.4 cm wide), framed, half-page; referencing text on the previous page, when Pickwick repair to the Assembly-rooms on ball-night; descriptive headlines: "Mr. Pickwick and His Friends Register Their Names" (p. 213) and "Fashionable Society" (p. 215). New York: Harper & Bros., Franklin Square, 1873.
Scanned image, colour correction, sizing, caption, and commentary by Philip V. Allingham. [You may use this image without prior permission for any scholarly or educational purpose, as long as you (1) credit the person who scanned the image, and (2) link your document to this URL in a web document or cite the Victorian Web in a print one.]
Passage Illustrated: Wandering around Ba-ath
At the appointed hour, Mr. Pickwick and his friends, escorted by Dowler, repaired to the Assembly Rooms, and wrote their names down in the book — an instance of condescension at which Angelo Bantam was even more overpowered than before. Tickets of admission to that evening's assembly were to have been prepared for the whole party, but as they were not ready, Mr. Pickwick undertook, despite all the protestations to the contrary of Angelo Bantam, to send Sam for them at four o'clock in the afternoon, to the M. C.'s house in Queen Square. Having taken a short walk through the city, and arrived at the unanimous conclusion that Park Street was very much like the perpendicular streets a man sees in a dream, which he cannot get up for the life of him, they returned to the White Hart, and despatched Sam on the errand to which his master had pledged him. [Chapter XXXV, "In Which Mr. Pickwick thinks he had better go to Bath; and goes accordingly," page 213]
Commentary: Pickwick solaces himself with a trip to the eighteenth-century spa town
After the trial, Pickwick's companions try to help him shake off his depression at facing the prospect of a long-term incarceration in the Fleet Prison. One of the chief stops on the itinerary of Matthew Bramble and his party in Tobias Smollett's Expedition of Humphry Clinker (a Dickens favourite) becomes the Pickwickians'next port of call: the fashionable spa town of Bath in Somerset, or "Ba—ath" as Angelo Cyrus Bantam, Esquire, Master of Ceremonies, pronounces it.
Instead of re-visiting the somewhat stilted steel-engravings of Robert Seymour and Phiz, Nast's illustrations for the Harper and Brothers Household Edition often strive for originality, but his innovative approach does not always succeed. In this plate, for instance, the Pickwickians might be wandering down the High Street of any English town because Nast has omitted geographical nor architectural markers such as Queen Square, which Dickens specifically mentions. To demonstrate that the scene is set in Bath, in contrast, Phiz has focussed upon the punctilious figure of the brash Master of Ceremonies and relegated Pickwick and his fellow card-players to the left rear in the April 1837 illustration. Comparing Nast's illustrations to Phiz's fifty-seven woodcuts for the new Chapman and Hall Household Edition (1873) shows that Phiz succeeds best when adapting his earlier illustration, such as "The card-room at Bath," to the new Sixties style of illustration inaugurated by George Du Maurier and Fred Walker, which made the rather old-fashioned, Cruikshankian figures look more substantial by exchanging a few characters in a close-up for panoramic treatments.
Other Illustrations of Pickwick at Bath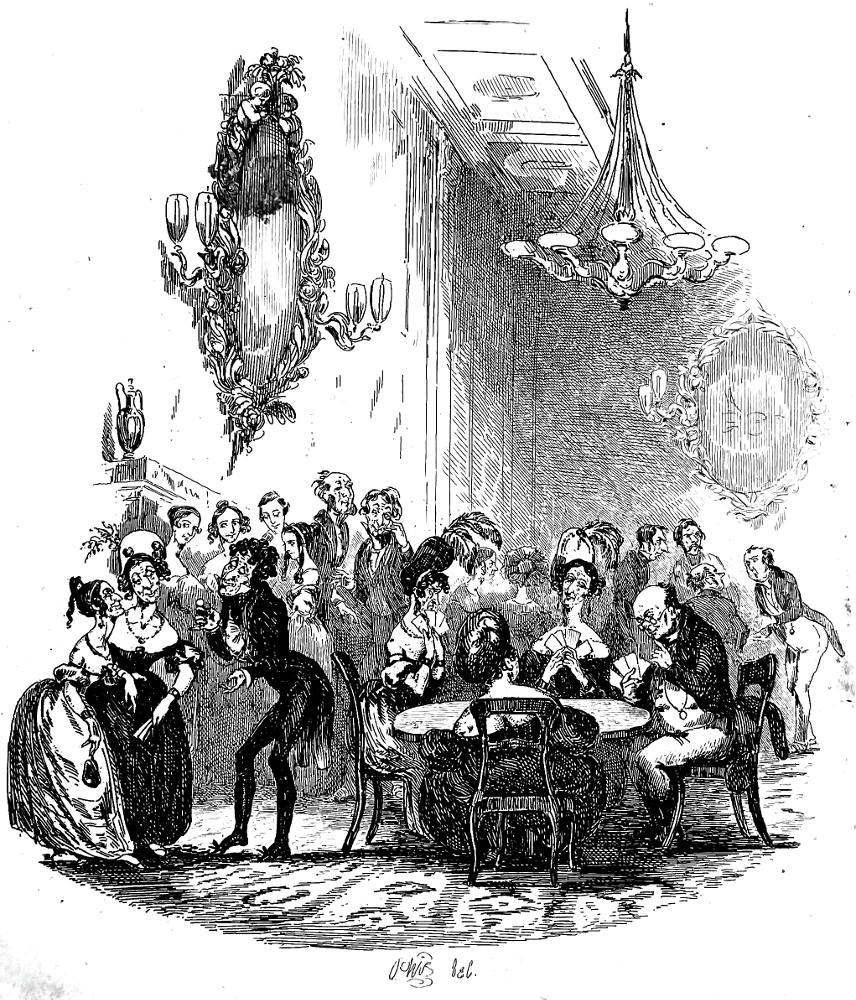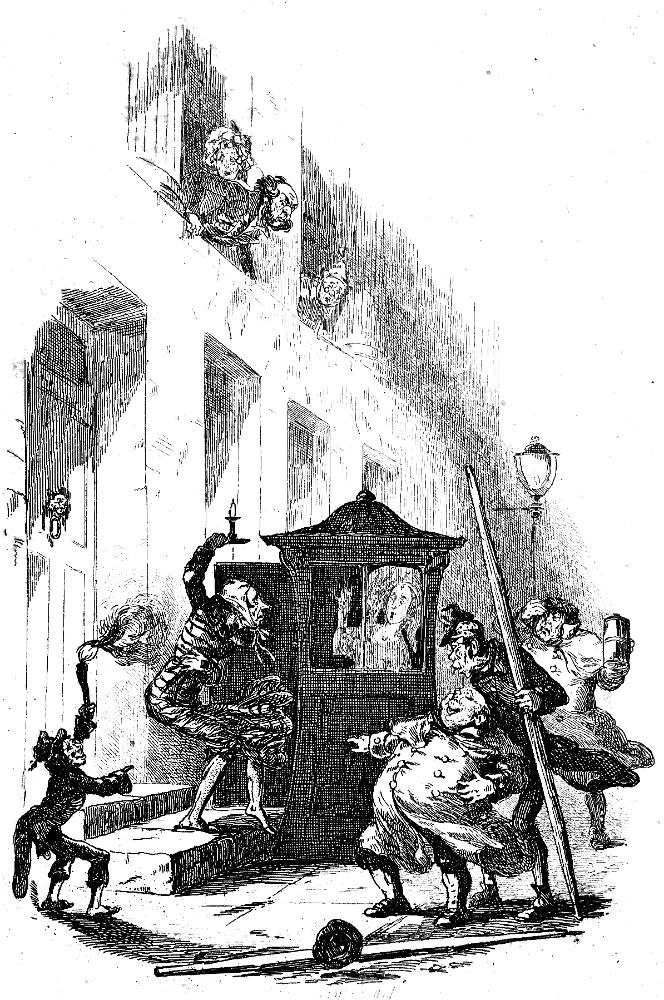 Left: Phiz's original conception of the card-playing scene in Bath, The Card-room at Bath (April 1837); right: Phiz's second Bath scene, focussing on the misadventures of Winkle: Mr. Winkle's Situation when the Door Blew-to (April 1837). [Click on the images to enlarge them.]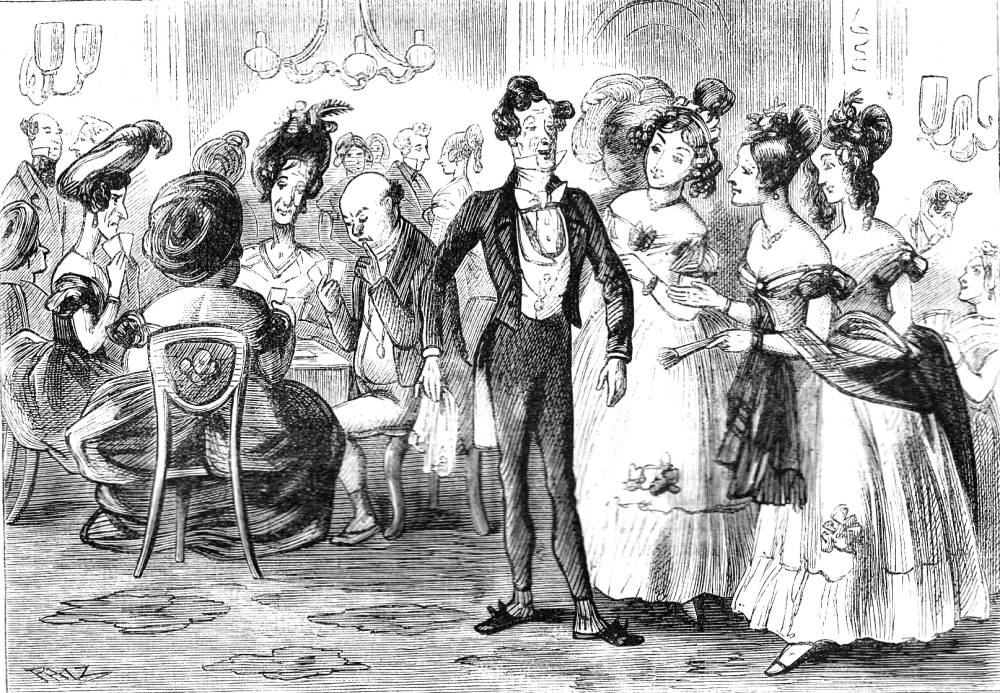 Above: Phiz revises his approach to the card-playing scene to present Pickwick in larger scale, Poor Mr. Pickwick! He had never played with three thorough-paced female card-players before (1874). [Click on the images to enlarge them.]
Other artists who illustrated this work, 1836-74
Related Material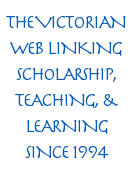 Bibliography
Dickens, Charles. "Pickwick Papers. Illustrated by Robert Seymour and Hablot Knight Browne. London: Chapman & Hall, 1836-37.
Dickens, Charles. The Posthumous Papers of the Pickwick Club. The Household Edition. Illustrated by Thomas Nast. New York: Harper and Brothers 1873.
Dickens, Charles. Pickwick Papers. Illustrated by Hablot Knight Browne ('Phiz'). The Household Edition. London: Chapman and Hall, 1874.
---
Last modified 20 November 2019