"Liberal terms, Mr. Sowerberry, liberal terms!"," James Mahoney's initial interpretation of George Cruikshank's officious, hypocritical parish beadle in Dickens's The Adventures of Oliver Twist, Household Edition, page 9. 1871. Wood engraving by the Dalziels, 9.4 cm high by 13.75 cm wide. Having failed in his attempt to have Oliver bound over as an apprentice, Bumble now approaches the local undertaker, dangling before him the five-pound emolument as he is very much aware of Sowerberry's interest in turning a profit on the coffins that he supplies to the Guardians of the workhouse — apparently, as he confides to Bumble, Sowerberry derives greater profits from supplying coffins for emaciated rather than well-fed boys: business has been brisk these past few months under the new starving regimen. Scanned image and text by Philip V. Allingham. [You may use this image without prior permission for any scholarly or educational purpose as long as you (1) credit the person who scanned the image and (2) link your document to this URL in a web document or cite it in a print one.]
Passage Illustrated
"By the bye," said Mr. Bumble, "you don't know anybody who wants a boy, do you? A porochial 'prentis, who is at present a dead-weight; a millstone, as I may say, round the porochial throat? Liberal terms, Mr. Sowerberry, liberal terms?" As Mr. Bumble spoke, he raised his cane to the bill above him, and gave three distinct raps upon the words "five pounds": which were printed thereon in Roman capitals of gigantic size.
"Gadso!" said the undertaker: taking Mr. Bumble by the gilt-edged lappel of his official coat; "that's just the very thing I wanted to speak to you about. You know — dear me, what a very elegant button this is, Mr. Bumble! I never noticed it before."
"Yes, I think it rather pretty," said the beadle, glancing proudly downwards at the large brass buttons which embellished his coat. "The die is the same as the porochial seal — the Good Samaritan healing the sick and bruised man. The board presented it to me on New-year's morning, Mr. Sowerberry. I put it on, I remember, for the first time, to attend the inquest on that reduced tradesman, who died in a doorway at midnight."
"I recollect," said the undertaker. "The jury brought it in, 'Died from exposure to the cold, and want of the common necessaries of life,' didn't they?"
Mr. Bumble nodded.
[. . . .] "Well; what about the boy?"
Oh!" replied the undertaker; "why, you know, Mr. Bumble, I pay a good deal towards the poor's rates."
"Hem!" said Mr. Bumble. "Well?"
"Well," replied the undertaker, "I was thinking that if I pay so much towards 'em, I've a right to get as much out of 'em as I can, Mr. Bumble; and so — and so — I think I'll take the boy myself."
[Chapter 4, "Oliver, Being Offered Another Place, Makes His First Entry into Public Life," p. 12-13]
Commentary
In a north of England town, the parish beadle, Mr. Bumble, again attempts to find a place for eleven-year-old Oliver Twist, having failed in his initial endeavour, namely placing the boy with a chimney-sweep as an apprentice. The dramatic courtroom scene in which Oliver begged not to be bound over to the chimney-sweep had been the subject of George Cruikshank's illustration for the second monthly instalment in Bentley's Miscellany in March 1837, Oliver Escapes Being Bound to a Sweep.
In James Mahoney's sequence, there is no equivalent to the scene in which Oliver pleads with the board of guardians that he not be placed with the local chimney-sweep, Mr. Gamfield, as he realizes how dangerous such a trade can be. In place, then, of this celebrated scene, in the Household Edition Mahoney has elected to describe the behind-the-scenes negotiations that proceed as a result of Oliver's successful appeal. Whereas Gamfield had knocked the board's premium to three pounds fifteen shillings (the textual scene surrounding the plate occurs in chapter 3), Bumble is able to extract the full premium of five pounds from the undertaker.
Although the scene is well realized in the particulars of Bumble's uniform, Sowerberry is altogether too dapper. In the text, he is merely
a tall, gaunt, large-jointed man, attired in a suit of threadbare black with darned cotton stockings of the same colour, and shoes to answer. His features were not naturally intended toi wear a smiling aspect, but he was in general rather given to professional jocosity. [12]
Mahoney has inserted an elderly woman with a cane into the background to suggest the poor upon whom both vultures in the foreground play. Here is one of those parish poor who die of "exposure to the cold, and want of the common necessaries of life" because the guardians run the reief system like a business. The illustrator captures well Bumble's hucksterism and Sowerberry's wavering in his decision to take Oliver. However, Mahoney's Bumble, although accoutred correctly, is far less hyperbolic than Cruikshank's in manner, and Mahoney's Sowerberry less interesting facially than Eytinge's in the Diamond Edition; in fact, the reader is left to surmise Sowerberry's facial expression as Mahoney has shown him only from the back — and Sowerberry does not appear again in the Household Edition volume.
Indeed, so marginal a character and visually uninteresting is the undertaker in need of an apprentice that he does not appear in Furniss's 1910 sequence at all; rather, Furniss relegates him, contemplating the five-pound poster, to a mere thumbnail in the upper left-hand register of Characters in the Story, the ornamental frame for the title-page.
Illustrations from the Serial (1837), the Diamond Edition (1867), and the Charles Dickens Library Edition (1910)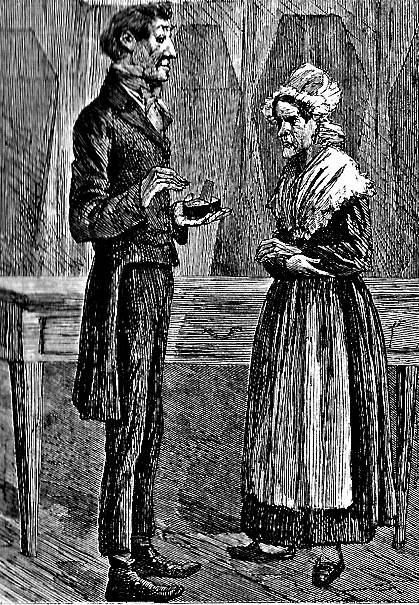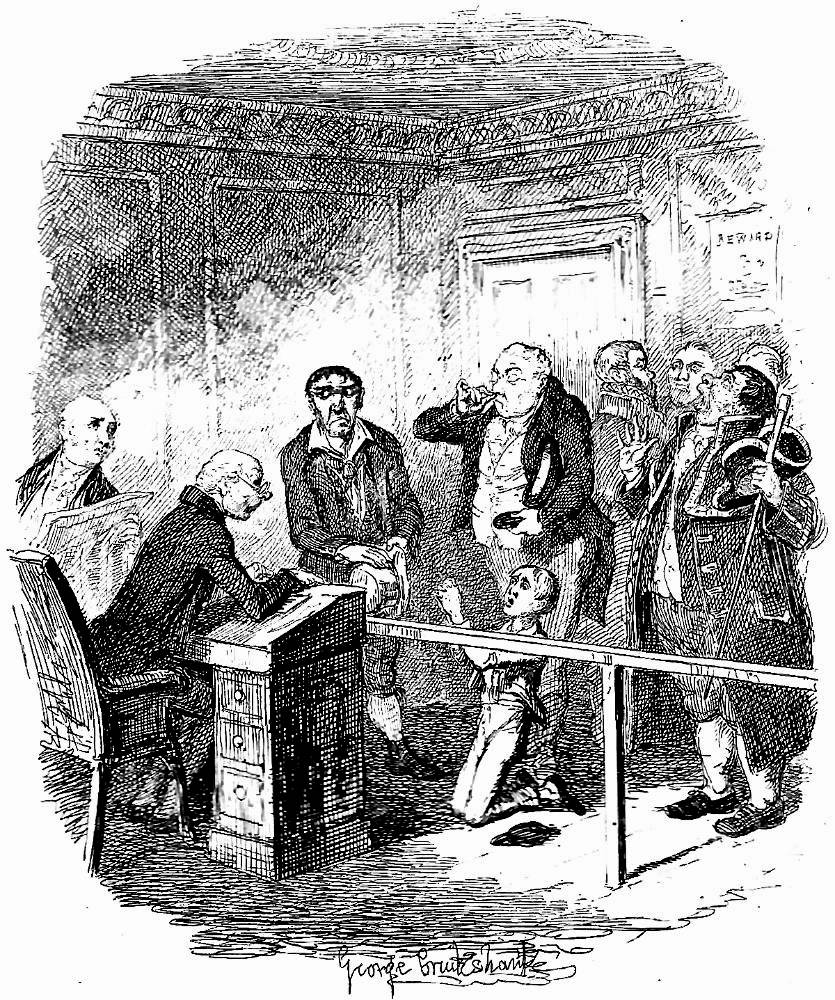 Left: Sol Eytinge, Junior's Mr. and Mrs. Sowerberry. Centre: George Cruikshank's original version of Oliver Escapes Being Bound to a Sweep. Right: Harry Furniss's Charles Dickens Library Edition illustration (1910) Oliver Refuses to be Bound to a Sweep. [Click on images to enlarge them.]
References
Bentley, Nicolas, Michael Slater, and Nina Burgis. The Dickens Index. New York and Oxford: Oxford U. P., 1990.
Darley, Felix Octavius Carr. Character Sketches from Dickens. Philadelphia: Porter and Coates, 1888.
Dickens, Charles. Oliver Twist. Illustrated by George Cruikshank. London: Bradbury and Evans; Chapman and Hall, 1846.
Dickens, Charles. Oliver Twist. Works of Charles Dickens. Household Edition. 55 vols. Il. F. O. C. Darley and John Gilbert. New York: Sheldon and Co., 1865.
Dickens, Charles. Oliver Twist. Works of Charles Dickens. Diamond Edition. 18 vols. Illustrated by Sol Eytinge, Jr. Boston: Ticknor and Fields, 1867.
Dickens, Charles. The Adventures of Oliver Twist. Works of Charles Dickens. Household Edition. Illustrated by James Mahoney. London: Chapman and Hall, 1871.
Dickens, Charles. Oliver Twist. Works of Charles Dickens. Charles Dickens Library Edition. Illustrated by Harry Furniss. London: Educational Book Company, 1910.
---
Last modified 1 February 2015