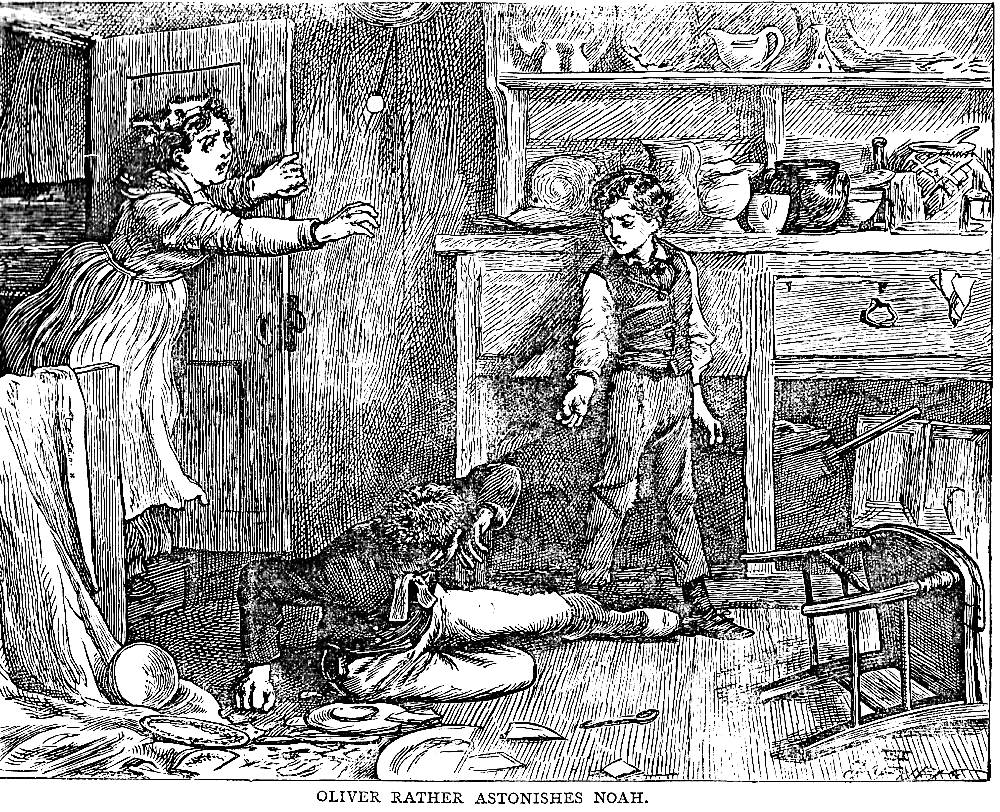 "Oliver rather astonishes Noah"," James Mahoney's re-interpretation of George Cruikshank's Oliver plucks up a spirit in Dickens's The Adventures of Oliver Twist, Household Edition, page 17. 1871. Wood engraving by the Dalziels, 10.6 cm high by 13.6 cm wide. Having listened to Sowerberry's other apprentice, the belligerent and hectoring Noah Claypole, disparage his mother, Oliver (whom Noah derisively terms "Work'us") in the sixth chapter ("Oliver, Being Goaded by the Taunts of Noah, Rouses into Action, and rather Astonishes Him") after a month under Sowerberry's roof, finally retaliates. The scene in which Oliver displays his righteous indignation is the kitchen, the other figure in the picture being the Sowerberrys' maid, Charlotte (entering, stage right). What provokes Oliver to a physical response surprising in so small and underfed a waif is Noah's intimating that Oliver's mother was a member of London's criminal underclass, and therefore would "have been hard labouring in Bridwell [Prison], or transported, or hung" (21), if she had survived childbirth in the workhouse. For Oliver, small as he is in relation to the well-fed, cosseted bully, enough is enough. Scanned image and text by Philip V. Allingham. [You may use this image without prior permission for any scholarly or educational purpose as long as you (1) credit the person who scanned the image and (2) link your document to this URL in a web document or cite it in a print one.]
Passage Illustrated
Intent upon this innocent amusement, Noah put his feet on the table-cloth; and pulled Oliver's hair; and twitched his ears; and expressed his opinion that he was a "sneak"; and furthermore announced his intention of coming to see him hanged, whenever that desirable event should take place; and entered upon various topics of petty annoyance, like a malicious and ill-conditioned charity-boy as he was. But, making Oliver cry, Noah attempted to be more facetious still; and in his attempt, did what many sometimes do to this day, when they want to be funny. He got rather personal.
"Work'us," said Noah, "how's your mother?"
"She's dead," replied Oliver; "don't you say anything about her to me!"
Oliver's colour rose as he said this; he breathed quickly; and there was a curious working of the mouth and nostrils, which Mr. Claypole thought must be the immediate precursor of a violent fit of crying. Under this impression he returned to the charge.
"What did she die of, Work'us?" said Noah.
"Of a broken heart, some of our old nurses told me," replied Oliver: more as if he were talking to himself, than answering Noah. "I think I know what it must be to die of that!"
"Tol de rol lol lol, right fol lairy, Work'us," said Noah, as a tear rolled down Oliver's cheek. "What's set you a snivelling now?"
"Not you," replied Oliver, sharply. "There; that's enough. Don't say anything more to me about her; you'd better not!"
"Better not!" exclaimed Noah. "Well! Better not! Work'us, don't be impudent. Your mother, too! She was a nice 'un she was. Oh, Lor!" And here, Noah nodded his head expressively; and curled up as much of his small red nose as muscular action could collect together, for the occasion.
"Yer know, Work'us," continued Noah, emboldened by Oliver's silence, and speaking in a jeering tone of affected pity: of all tones the most annoying: "Yer know, Work'us, it can't be helped now; and of course yer couldn't help it then; and I am very sorry for it; and I'm sure we all are, and pity yer very much. But yer must know, Work'us, yer mother was a regular right-down bad 'un."
"What did you say?" inquired Oliver, looking up very quickly.
"A regular right-down bad 'un, Work'us," replied Noah, coolly. "And it's a great deal better, Work'us, that she died when she did, or else she'd have been hard labouring in Bridewell, or transported, or hung; which is more likely than either, isn't it?"
Crimson with fury, Oliver started up; overthrew the chair and table; seized Noah by the throat; shook him, in the violence of his rage, till his teeth chattered in his head; and collecting his whole force into one heavy blow, felled him to the ground.
A minute ago, the boy had looked the quiet child, mild, dejected creature that harsh treatment had made him. But his spirit was roused at last; the cruel insult to his dead mother had set his blood on fire. His breast heaved; his attitude was erect; his eye bright and vivid; his whole person changed, as he stood glaring over the cowardly tormentor who now lay crouching at his feet; and defied him with an energy he had never known before.
"He'll murder me!" blubbered Noah. "Charlotte! missis! Here's the new boy a murdering of me! Help! help! Oliver's gone mad! Char—lotte!"
Noah's shouts were responded to, by a loud scream from Charlotte. . . .
[Chapter 6, "Oliver, Being Goaded by the Taunts of Noah, Rouses into Action, and rather Astonishes Him," p. 21]
Commentary
In a town seventy miles north of London, the parish beadle, Mr. Bumble, has placed eleven-year-old Oliver Twist as an apprentice with the lugubrious undertaker, Mr. Sowerberry. This dramatic confrontation between the other apprentice (a "charity boy") and Oliver has been building up over the month's trial, but Noah the bully and the victim are now equal, as Oliver has just been formally apprenticed. The altercation, and its interruption by both the maid, partial to Noah, and Mrs. Sowerberry, is the subject of George Cruikshank's illustration for the third monthly instalment in Bentley's Miscellany in April 1837, Oliver plucks up a spirit, so that Mahoney had a working model for the scene, had he chosen to use it. However, in a number of respects, the Household Edition illustrator has chosen to deviate from Cruikshank's handling of the scene, substituting a noble and triumphant Oliver for the earlier, highly-animated, grossly underfed waif.
In James Mahoney's engraving, for example, Oliver is not being restrained by a towering Charlotte and Mrs. Sowerberry has yet to come through the door, so that the focus in the Household Edition version is upon a victorious Oliver, standing coolly above the cowering and chastised bully, who lies on the floor amidst shards of shattered china. As is consistent with Mahoney's style, the wood-engraving constitutes a close-up which focusses upon the contrasting reactions of three actors rather than, as in Cruikshank, the chaotic background, or in Furniss, the violent action caught in a freeze-frame, and the sheer terror on Noah's face. Everything in the Mahoney plate seems solid and three dimensional, as if the reader is a member of an audience watching a theatrical action in which the mayhem has concluded and Oliver's indignation has subsided, so that the overall effect is realistic rather than, as in the other illustrators' treatments, hyperbolic and comical. There is no parallel scene in the 1867 Diamond Edition volume, in which Eytinge has elected instead to depict the falling out between Noah and his beast of burden, Charlotte, after the couple has robbed Sowerberry's till and run off to London later in the story.
Illustrations from the Serial (1837), the Diamond Edition (1867), and the Charles Dickens Library Edition (1910)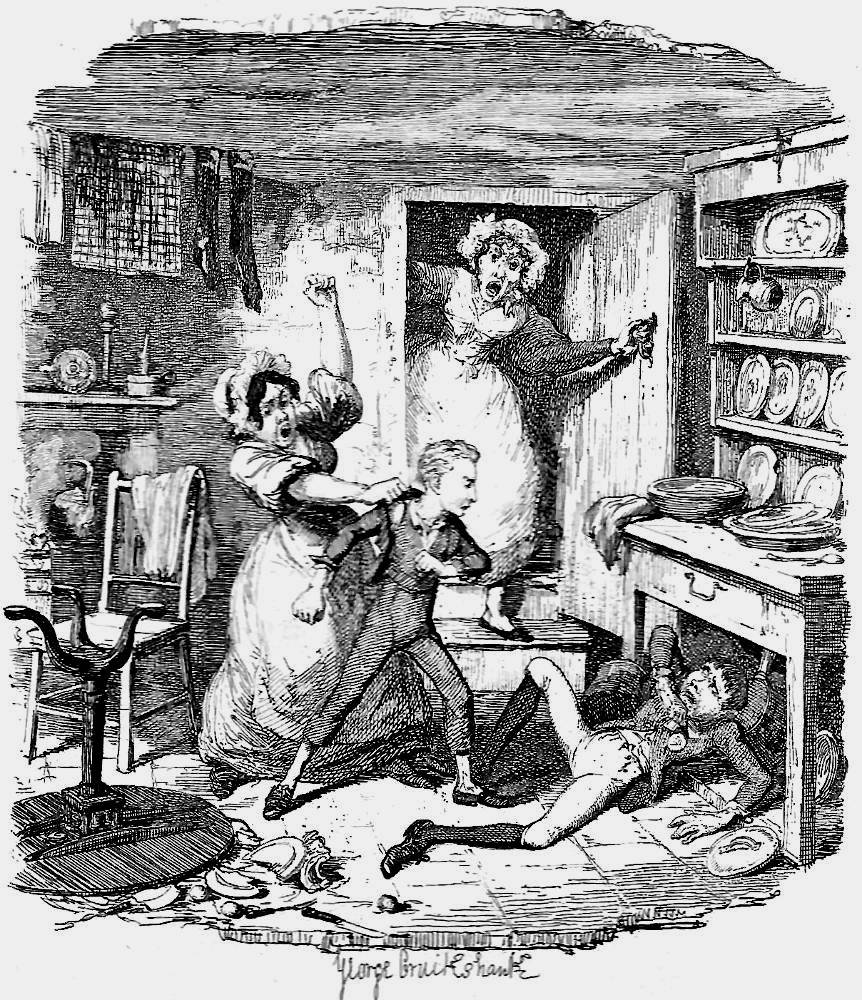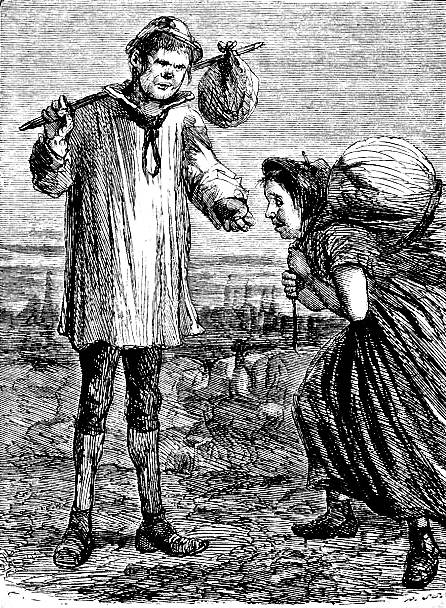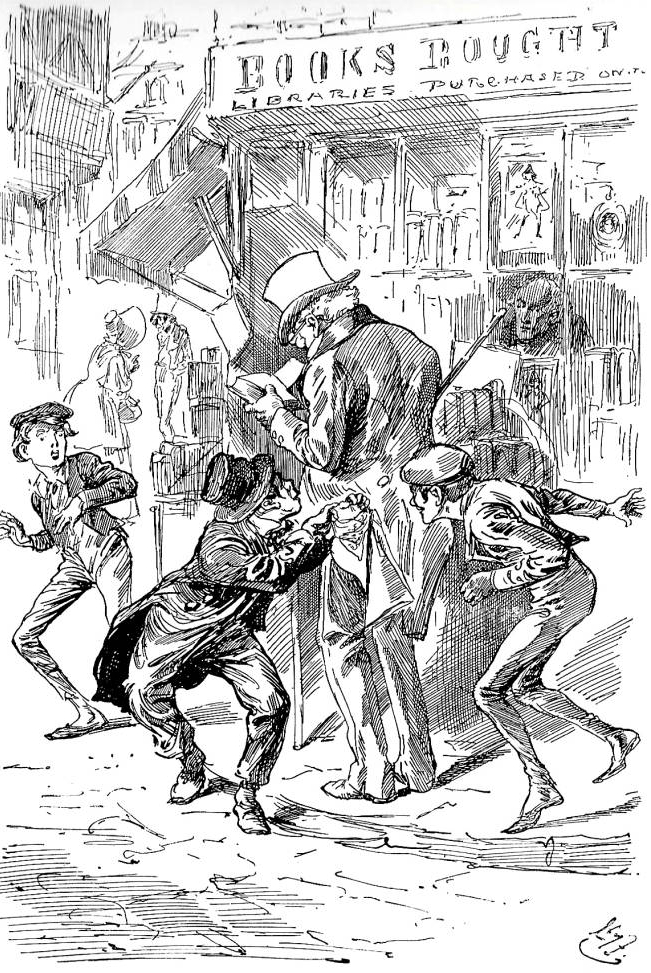 Left: George Cruikshank's original version of Oliver plucks up a spirit. Centre: Sol Eytinge, Junior's Noah and Charlotte. Right: Harry Furniss's Charles Dickens Library Edition illustration (1910) Oliver Aroused. [Click on images to enlarge them.]
References
Bentley, Nicolas, Michael Slater, and Nina Burgis. The Dickens Index. New York and Oxford: Oxford U. P., 1990.
Darley, Felix Octavius Carr. Character Sketches from Dickens. Philadelphia: Porter and Coates, 1888.
Davis, Paul. Charles Dickens A to Z: The Essential Reference to His Life and Work. New York: Facts On File, 1998.
Dickens, Charles. Oliver Twist. Illustrated by George Cruikshank. London: Bradbury and Evans; Chapman and Hall, 1846.
Dickens, Charles. Oliver Twist. Works of Charles Dickens. Household Edition. 55 vols. Illustrated by F. O. C. Darley and John Gilbert. New York: Sheldon and Co., 1865.
Dickens, Charles. Oliver Twist. Works of Charles Dickens. Diamond Edition. 18 vols. Illustrated by Sol Eytinge, Jr. Boston: Ticknor and Fields, 1867.
Dickens, Charles. The Adventures of Oliver Twist. Works of Charles Dickens. Household Edition. Illustrated by James Mahoney. London: Chapman and Hall, 1871.
Dickens, Charles. Oliver Twist. Works of Charles Dickens. Charles Dickens Library Edition. Illustrated by Harry Furniss. London: Educational Book Company, 1910.
---
Last modified 30 November 2014