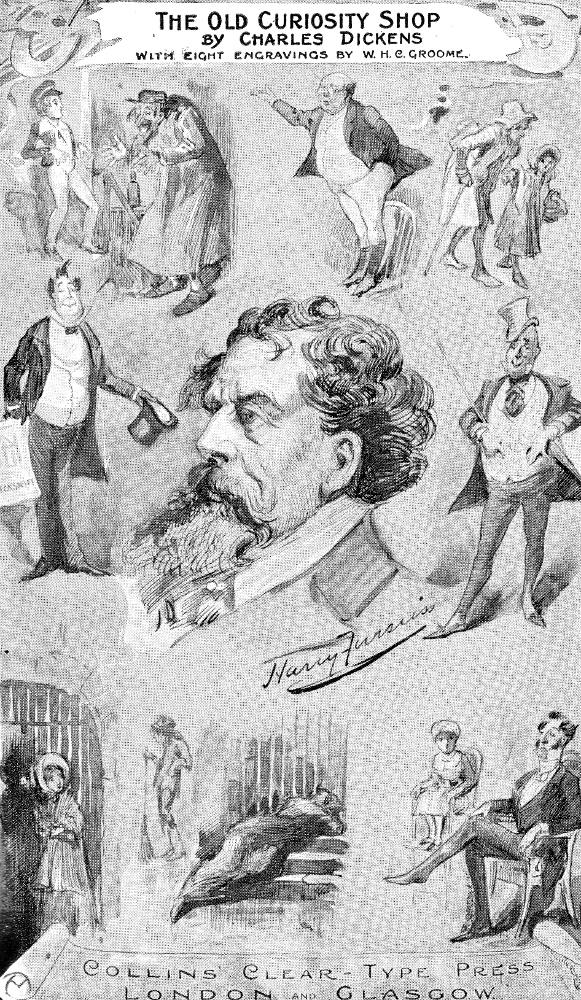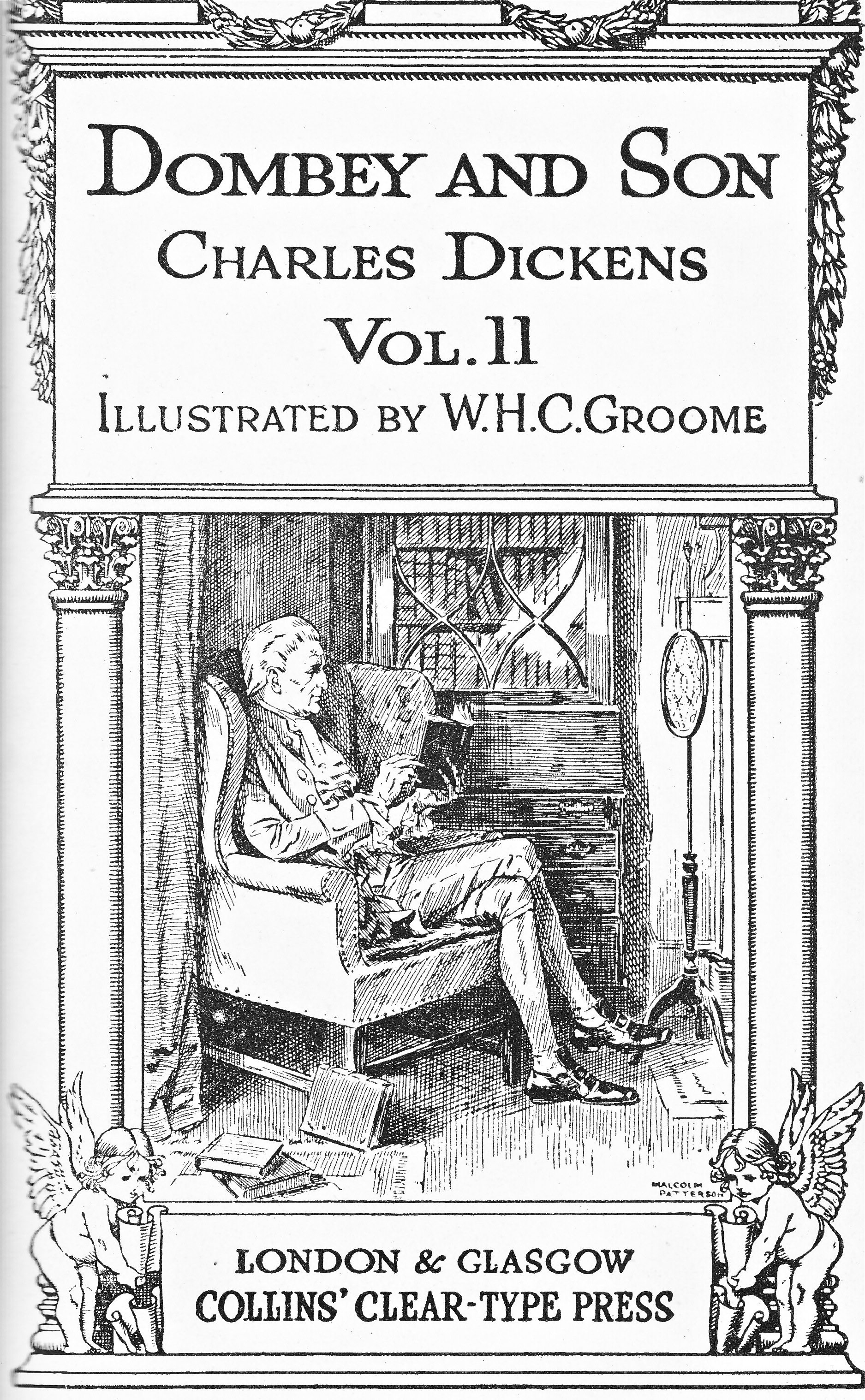 Title-pages for the Collins' Clear-type Press Pocket Editions (1900)
Left: David Copperfield (No. 1). Centre: The Old Curiosity Shop (No. 36). Right: Dombey and Son/span>, Volume Two (No. 40).
N. B. Groome illustrated eight Dickens titles in total for Collins, the others being Hard Times (No. 42), Nicholas Nickleby (No. 37), Bleak House (No. 47), Little Dorrit (No. 48), and Master Humphrey's Clock & Pictures from Italy (No. 49).
Biographical Note: William Henry Charles Groome (1854-1913)
The landscape painter and children's book illustrator William Henry Charles Groome was born in Westminster on 17 November 1854, and died of a cerebral haemorrhage in Brighton, Sussex, on 14 October 1913. He was buried in the Westminster Cemetery in Hanwell, Ealing, beneath a headstone bearing the simple inscription "He did his best." His estate, worth approximately £420 (about £40,000 in today's terms) indicates that he did indeed "do his best" in terms of productivity, having illustrated the works of Charles Dickens, O. F. Walton, and Amy Le Feuvre among many others during the period of 1895 through 1913. Between 1888 and 1913 Groome illustrated at least one hundred and thirty books, according to Kirkpatrick's handlist. Between 1895 and 1900 alone he illustrated twenty-nine works of volume length.
Collectors are still interested in Groome's realistic (almost photographic) treatment of such children's works as Mrs. George de Horne Vaizey's Pixie O'Shaughnessy (Religious Tract Society, 3 vols., 1902) and W. H. G. Kingston's The South Sea Whaler: A Story of the Loss of the "Champion" and the Adventures of her Crew (Thomas Nelson, 1875; rpt. 1896). Groome, a member of the Royal Society of British Artists, along with Sir William Blake Richmond, R. A. (1842-1921), was one of a small minority of late Victorian artists who devoted themselves to social and political causes.
Among his extensive list of children's and young adult literature titles of works illustrated were these Novels of Empire set during the Boer War: George Manville Fenn's Draw Swords! In the Horse Artillery (W. & R. Chambers, 1898), Charge! A Story of Briton and Boer (W. & R. Chambers, 1900), Shoulder Arms! A Tale of Two Soldiers' Sons (Thomas Nelson, 1905), and Fix Bay'nets The Regiment in the Hills ((W. & R. Chambers, 1899). Indeed, Groome was as productive an illustrator as Fenn was a writer of boys' adventure stories, and was one of the most prolific juvenile book illustrators of the late nineteenth century. A highly skilled and respected water-colourist, Groome was almost entirely self-taught, for, being of relatively humble origins, he had never had the opportunity to study at such prestigious institutes as the Royal Academy Schools.
Although his father was merely a waiter, Charles William Groome (1823-1900), and his mother Frances (neé Timpson, 1818-1868) a cook in the area of Charing Cross, he procured a position as a barrister's clerk in Westminster, married in 1878, and moved to Marleybone. Groome suddenly made a name for himself as a professional artist, exhibiting paintings in 1883 and 1884 at the Royal Institute of Painters in Watercolours at Piccadilly. Within five years he was receiving book illustration commissions. Although he described himself as a "black-and-white artist and sculptor" in the Census when he was living in Ealing, only in the mid-1890s did he actually make his living principally from book and magazine illustration with such publishers as W. & R. Chambers, S. W. Partridge, the Religious Tract Society, and Thomas Nelson and Sons. Among the juvenile periodicals in which his lithographs appeared were The Children's Friend, The Mother's Companion, The Friendly Visitor (all published by Partridge), The Boy's Own Paper, The Boys' Sunday Monthly, The Girl's Own Paper, Sunday at Home (all published by the Religious Tract Society), Chums, Little Folks (both published by Cassell & Co.), Boys (published by Sampson Low, Marston & Co.); however, he appeared as an illustrator for adult readers in The Illustrated London News. In 1892, he designed Christmas cards for Hildesheimer & Faulkner, signing his work either "WHC Groome" or simply "WHCG." The twenty-four Dickens illustrations which Collins published in 1907 in volumes 1, 36, and 40 of the Collins collection are fairly representative of his early work: well-finished but static character studies which are often lacking in action and drama. Fortunately in his work for the host of boys' adventure books he illustrated his lithographs, particularly his coloured-lithograph book covers, show dash, verve, and heightened action.
A Selection of Children's Books illustrated by W. H. C. Groome (1885-1913)
William Henry Giles Kingston's

On the Banks of the Amazon

(T. Nelson & Sons, 1885)
Charlotte Mary Yonge's

Fortunes of the Charlton Family

(Wells, Gardner, & Darton, 1898)
William Henry Giles Kingston's

Afar in the Forest: A Tale of Adventure in North America

(Thomas Nelson, 1903)
Mary Macleod's

Hilda at School

(Wells Gardner, & Darton, 1903)
Charles W. Whistler's

A Sea-Queen's Sailing

(Thomas Nelson & Sons, 1906)
Raymond Jacberns's

That Imp Marcella

(W. & R. Chambers, 1907)
Fenton Ash's

A Trip to Mars

(W. & R. Chambers, 1909)
Raymond Jacberns's

A Schoolgirl's Battlefield

(W. & R. Chambers, 1910)
Escott Lynn's

Blair of Balaclava: A Hero of the Light Brigade

(W. & R. Chambers, 1911)
May Baldwin's

Teddy and Lily's Adventures

(W. & R. Chambers, 1911)
Mrs. George de Horne Vaizey's

A College Girl

(Religious Tract Society, 1913)
Groome's Contributions to the Collins Clear-type Pocket Editions (1907)
Scanned images, colour correction, sizing, caption, and commentary by Philip V. Allingham. [You may use this image without prior permission for any scholarly or educational purpose, as long as you (1) credit the person who scanned the image, and (2) link your document to this URL in a web document or cite the Victorian Web in a print one.] Click on the image to enlarge it.
Bibliography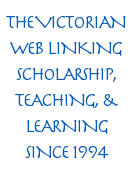 Dickens, Charles. David Copperfield. Illustrated by W. H. C. Groome. London and Glasgow, 1907.
_______. Dombey and Son. Illustrated by W. H. C. Groome. London and Glasgow, 1907, rpt. 1934. 2 vols. in one.
_______. The Old Curiosity Shop. Illustrated by William H. C. Groome. The Collins' Clear-Type Edition. Glasgow & London: Collins, 1907.
Kirkpatrick, Robert J. "W. H. C. Groome." 20 August 2017. Bear Alley. https://bearalley.blogspot.com/2017/08/w-h-c-groome.html
---
Created 4 July 2022