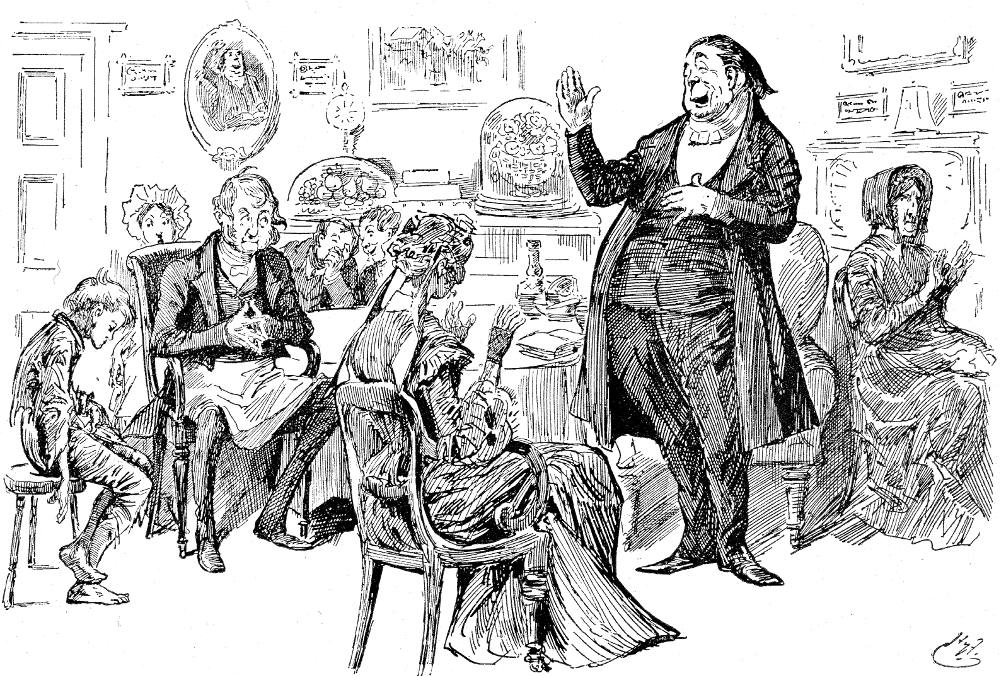 Chadband at the Snagsbys (361) — Chapter 25, 3 ½ by 5 ¼ inches (9 cm high x 13.5 cm wide), vignetted, fifteenth illustration in Charles Dickens's Bleak House, Charles Dickens Library Edition (1910), facing XI, 353. Original caption: Mr. Chadband holds up his flabby paw, and says, "Mr friends!" This is the signal for a general settlement of the audience. The 'prentices giggle internally and nudge each other. Guster falls into a staring and vacant state. [Click on the images to enlarge them.]
Passage Illustrated: In the Snagsbys' Drawing-Room
When he is at last adjusted like a lay-figure, Mr. Chadband, retiring behind the table, holds up his bear's-paw and says, "My friends!" This is the signal for a general settlement of the audience. The 'prentices giggle internally and nudge each other. Guster falls into a staring and vacant state, compounded of a stunned admiration of Mr. Chadband and pity for the friendless outcast whose condition touches her nearly. Mrs. Snagsby silently lays trains of gunpowder. Mrs. Chadband composes herself grimly by the fire and warms her knees, finding that sensation favourable to the reception of eloquence.
It happens that Mr. Chadband has a pulpit habit of fixing some member of his congregation with his eye and fatly arguing his points with that particular person, who is understood to be expected to be moved to an occasional grunt, groan, gasp, or other audible expression of inward working, which expression of inward working, being echoed by some elderly lady in the next pew and so communicated like a game of forfeits through a circle of the more fermentable sinners present, serves the purpose of parliamentary cheering and gets Mr. Chadband's steam up. From mere force of habit, Mr. Chadband in saying "My friends!" has rested his eye on Mr. Snagsby and proceeds to make that ill-starred stationer, already sufficiently confused, the immediate recipient of his discourse.
"We have here among us, my friends," says Chadband, "a Gentile and a heathen, a dweller in the tents of Tom-all-Alone's and a mover-on upon the surface of the earth. We have here among us, my friends," and Mr. Chadband, untwisting the point with his dirty thumb-nail, bestows an oily smile on Mr. Snagsby, signifying that he will throw him an argumentative back-fall presently if he be not already down, "a brother and a boy. Devoid of parents, devoid of relations, devoid of flocks and herds, devoid of gold and silver and of precious stones. Now, my friends, why do I say he is devoid of these possessions? Why? Why is he?" Mr. Chadband states the question as if he were propounding an entirely new riddle of much ingenuity and merit to Mr. Snagsby and entreating him not to give it up. [Chapter XXV, "Mr. Snagsby Sees It All," 361-62]
Commentary: Another Extraneous Character inserted for the purposes of Social Satire
Dickens revels in having oily hypocrites such as the Mr. Chadband reveal themselves. Although he makes a great show of his religiosity, he always considers his own interests and is by no means underfed. Snagsby, the stationer, is naturally suspicious of the nonconformist preacher, but Mrs. Snagsby adores him. A significant association with the main plot is Mrs. Chadband's having once been the maid of Miss Barbary, Lady Dedlock's sister. The illustrators catch the dissenting minister in a tandard pose: he unctuously raises his hand whenever he is about to utter a homily, which he usually introduces with a rhetorical question. In contrast to his placid, well-rounded features, Mrs. Chadband is a severe-looking. Later he teams up with the Smallweeds in a plot to blackmail the Dedlocks about the illicit relationship between Lady Dedlock and Captain Hawdon.
The Original Serial and Diamond Edition versions of the Rhetorical Evangelical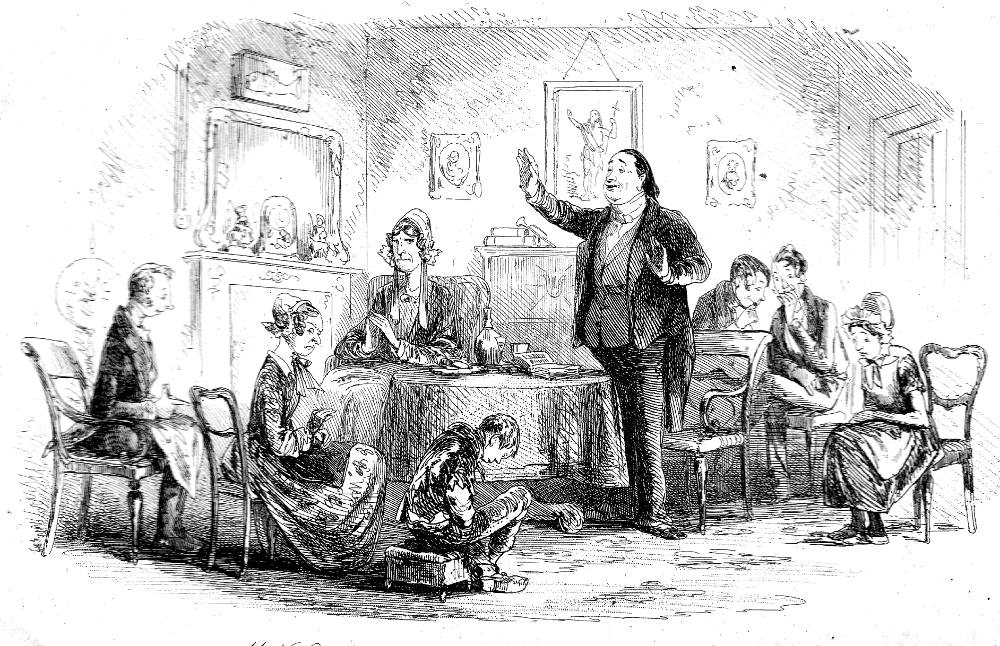 ​
​
Left: Hablot Knight Browne's interpretation of the evangelical preacher: Mr. Chadband 'Improving' a Tough Subject (October 1852). Right: Sol Eytinge, Jr.'s 1867 Diamond version of the fat and fatuous Chadband: Mr. and Mrs. Chadband and the Snagsbys.
Related Material, including Other Illustrated Editions of
Bleak House
Scanned image, colour correction, sizing, caption, and commentary by Philip V. Allingham. [You may use this image without prior permission for any scholarly or educational purpose, as long as you (1) credit the person who scanned the image, and (2) link your document to this URL in a web document or cite the Victorian Web in a print one.]
Bibliography
Bentley, Nicolas, Michael Slater, and Nina Burgis. The Dickens Index. New York and Oxford: Oxford U. P., 1990.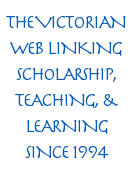 "Bleak House — Sixty-one Illustrations by Fred Barnard." Scenes and Characters from the Works of Charles Dickens, Being Eight Hundred and Sixty-six Drawings by Fred Barnard, Gordon Thomson, Hablot Knight Browne (Phiz), J. McL. Ralston, J. Mahoney, H. French, Charles Green, E. G. Dalziel, A. B. Frost, F. A. Fraser, and Sir Luke Fildes. London: Chapman and Hall, 1907.
The Characters of Charles Dickens pourtrayed in a series of original watercolours by "Kyd." London, Paris, and New York: Raphael Tuck & Sons, n. d.
Darley, Felix Octavius Carr. Character Sketches from Dickens. Philadelphia: Porter and Coates, 1888.
Davis, Paul. Charles Dickens A to Z: The Essential Reference to His Life and Work. New York: Facts On File, 1998.
Dickens, Charles. Bleak House. Illustrated by F. O. C. Darley and John Gilbert. The Works of Charles Dickens. The Household Edition. New York: Sheldon and Company, 1863. Vols. 1-4.
_______. Bleak House, with 61 illustrations by Fred Barnard. Household Edition. 21 vols. London: Chapman and Hall, 1873. IV.
_______. Bleak House. Illustrated by Harry Furniss [28 original lithographs]. The Charles Dickens Library Edition. 18 vols.​ London: Educational Book, 1910. XI.
Hammerton, J. A. "Chapter 18: Bleak House." The Dickens Picture-Book. The Charles Dickens Library Edition. London: Educational Book, 1910. XVII. 366-97.
Kyd [Clayton J. Clarke]. Characters from Dickens. Nottingham: John Player & Sons, 1910.
Vann, J. Don. "Bleak House, twenty parts in nineteen monthly instalments, March 1852 — September 1853." Victorian Novels in Serial. New York: Modern Language Association, 1985. 69.
---
Created 7 March 2021