Lady Dedlock and Jo (227) — Chapter 16, 3 ½ by 5 ¼ inches (9 cm high x 13.4 cm wide), vignetted, twelfth illustration in Charles Dickens's Bleak House, Charles Dickens Library Edition (1910), facing XI, 225. Original caption: "He was put there," says Jo, holding to the bars and looking in, while Lady Dedlock shrinks into a corner. [Click on the images to enlarge them.]
Passage Illustrated: Lady Dedlock and Jo and Bell Yard
Eytinge's study the Cockney crossing-sweeper includes his looking into the cemetary where Nemo has recently been interred: Jo (1867).
It is a longer walk to the next, but Jo, relieved of his first suspicions, sticks to the forms imposed upon him and does not look round. By many devious ways, reeking with offence of many kinds, they come to the little tunnel of a court, and to the gas-lamp (lighted now), and to the iron gate.
"He was put there," says Jo, holding to the bars and looking in.
"Where? Oh, what a scene of horror!"
"There!" says Jo, pointing. "Over yinder. Among them piles of bones, and close to that there kitchin winder! They put him wery nigh the top. They was obliged to stamp upon it to git it in. I could unkiver it for you with my broom if the gate was open. That's why they locks it, I s'pose," giving it a shake. "It's always locked. Look at the rat!" cries Jo, excited. "Hi! Look! There he goes! Ho! Into the ground!"
The servant shrinks into a corner, into a corner of that hideous archway, with its deadly stains contaminating her dress; and putting out her two hands and passionately telling him to keep away from her, for he is loathsome to her, so remains for some moments. Jo stands staring and is still staring when she recovers herself.
"Is this place of abomination consecrated ground?"
"I don't know nothink of consequential ground," says Jo, still staring.
"Is it blessed?"
"Which?" says Jo, in the last degree amazed.
"Is it blessed?"
"I'm blest if I know," says Jo, staring more than ever. . . .[Chapter XVI, "Tom-all-Alone's," 227]
Other​ Illustrations​ of Lady Dedlock's Clandestine Expedition, 1852-73
​
​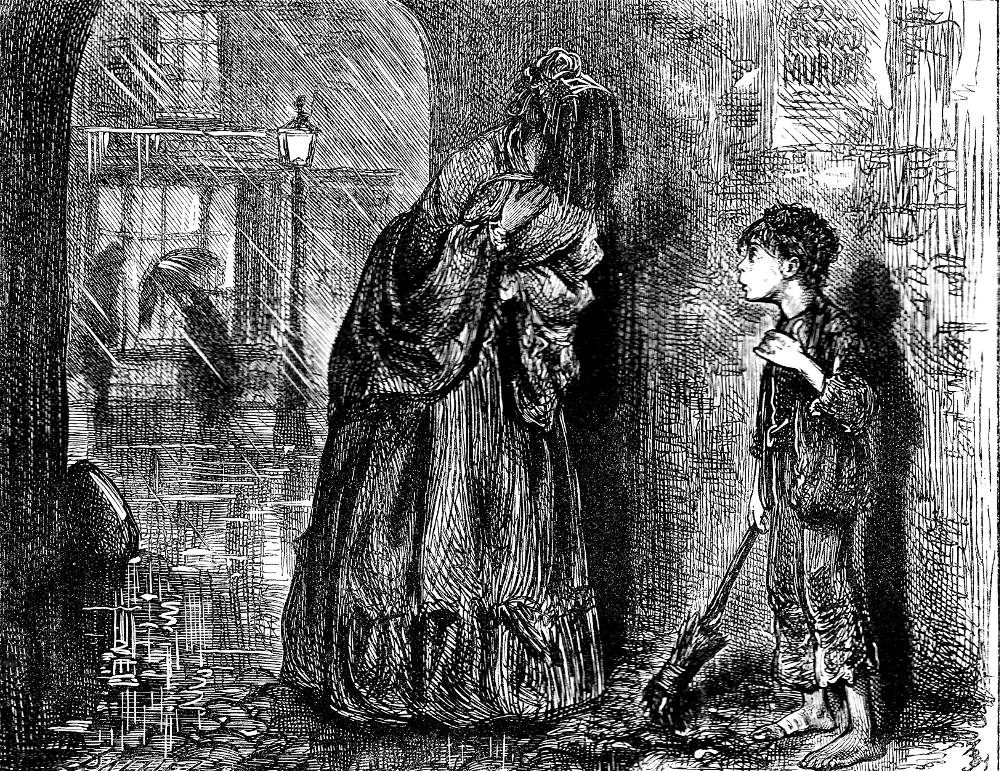 Left: Phiz's original serial illustration of Lady Dedlock's expedition with Jo in Bell Yard: Consecrated Ground (July 1852). Right: Fred Barnard's 1873 Household Edition full-page composite woodblock wood-engraving of the same scene: "I'm fly," says Jo. "But fen larks, you know. Stow hooking it!".
Related Material, including Other Illustrated Editions of
Bleak House
Scanned image, colour correction, sizing, caption, and commentary by Philip V. Allingham. [You may use this image without prior permission for any scholarly or educational purpose, as long as you (1) credit the person who scanned the image, and (2) link your document to this URL in a web document or cite the Victorian Web in a print one.]
Bibliography
Bentley, Nicolas, Michael Slater, and Nina Burgis. The Dickens Index. New York and Oxford: Oxford U. P., 1990.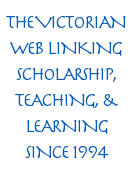 "Bleak House — Sixty-one Illustrations by Fred Barnard." Scenes and Characters from the Works of Charles Dickens, Being Eight Hundred and Sixty-six Drawings by Fred Barnard, Gordon Thomson, Hablot Knight Browne (Phiz), J. McL. Ralston, J. Mahoney, H. French, Charles Green, E. G. Dalziel, A. B. Frost, F. A. Fraser, and Sir Luke Fildes. London: Chapman and Hall, 1907.
The Characters of Charles Dickens pourtrayed in a series of original watercolours by "Kyd." London, Paris, and New York: Raphael Tuck & Sons, n. d.
Darley, Felix Octavius Carr. Character Sketches from Dickens. Philadelphia: Porter and Coates, 1888.
Davis, Paul. Charles Dickens A to Z: The Essential Reference to His Life and Work. New York: Facts On File, 1998.
Dickens, Charles. Bleak House. Illustrated by F. O. C. Darley and John Gilbert. The Works of Charles Dickens. The Household Edition. New York: Sheldon and Company, 1863. Vols. 1-4.
_______. Bleak House. Illustrated by Sol Eytinge, Jr, and engraved by A. V. S. Anthony. 14 vols. Boston: Ticknor & Fields, 1867. VI.
_______. Bleak House, with 61 illustrations by Fred Barnard. Household Edition. 21 vols. London: Chapman and Hall, 1873. IV.
_______. Bleak House. Illustrated by Harry Furniss [28 original lithographs]. The Charles Dickens Library Edition. 18 vols.​ London: Educational Book, 1910. XI.
Hammerton, J. A. "Chapter 18: Bleak House." The Dickens Picture-Book. The Charles Dickens Library Edition. London: Educational Book, 1910. XVII. 366-97.
Kyd [Clayton J. Clarke]. Characters from Dickens. Nottingham: John Player & Sons, 1910.
Steig, Michael. Chapter 6. "Bleak House and Little Dorrit: Iconography of Darkness." Dickens and Phiz. Bloomington & London: Indiana U. P., 1978. 131-172.
Vann, J. Don. "Bleak House, twenty parts in nineteen monthly instalments, October 1846—April 1848." Victorian Novels in Serial. New York: The Modern Language Association, 1985. 69.
---
Created 2 March 2021