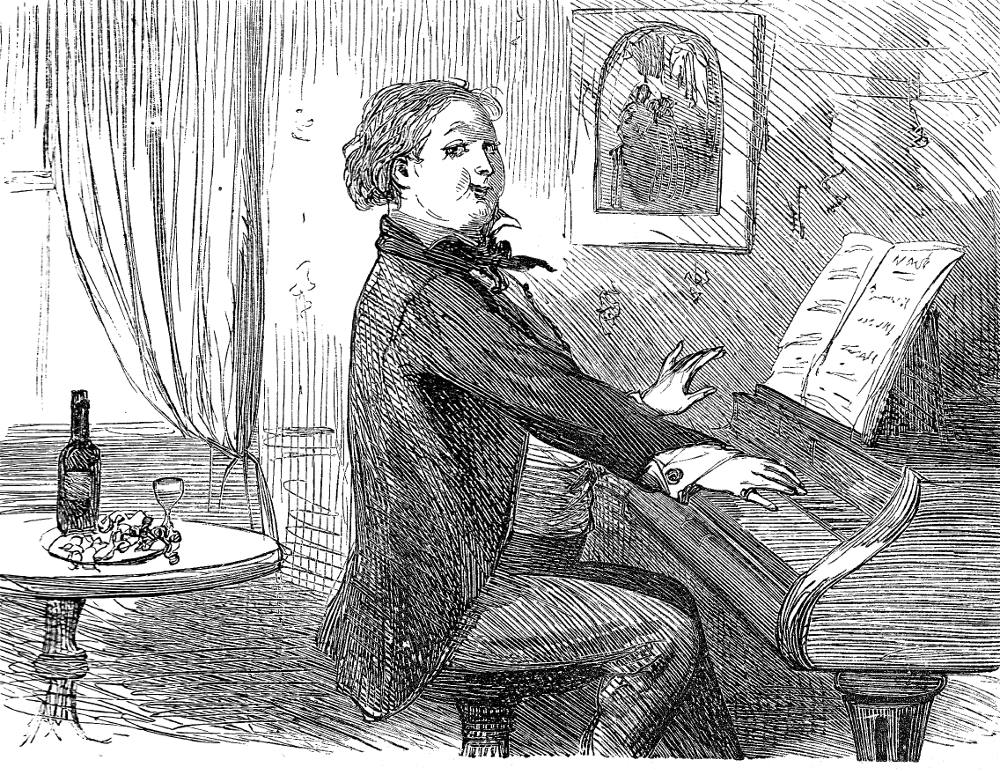 The fourth full-page illustration for Bleak House: Harold Skimpole, by Sol Eytinge, Jr. 7.3 cm high by 9.9 cm wide (2 ⅞ by 4 inches), framed. The Diamond Edition of Dickens's Works, Volume VI (Boston: Ticknor and Fields, 1867), facing page 45. [Click on the image to enlarge it.]
Passages Illustrated: The Thoroughly Engaging Mr. Skimpole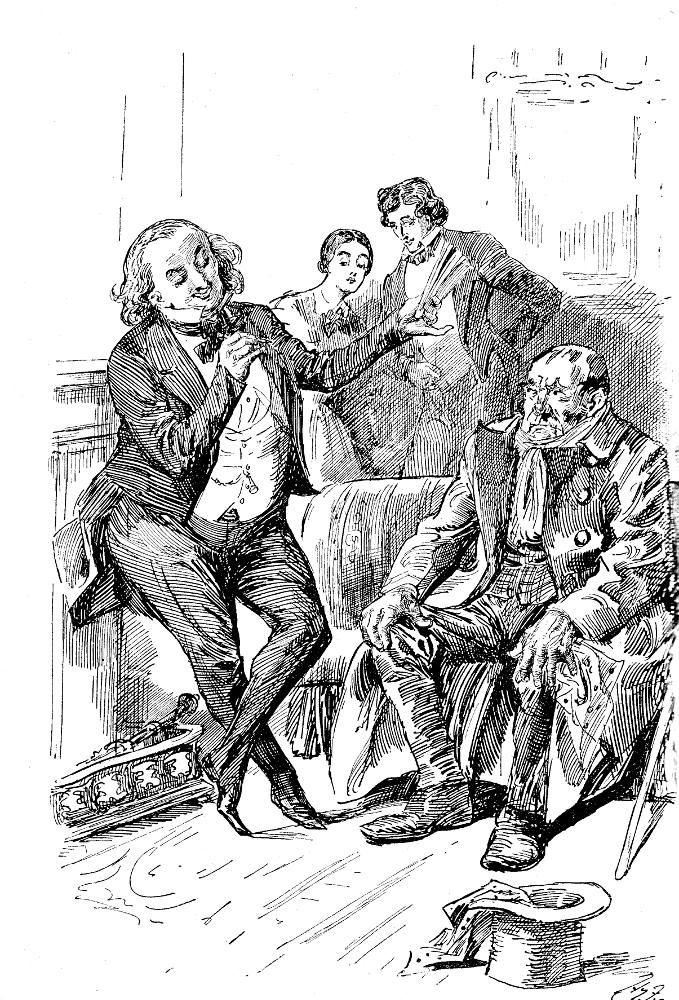 Harry Furniss presents Skimpole with the bailiff come to take him up for a trivial debt: Skimpole and the Stranger (1910).
Mr. Skimpole could play on the piano and the violoncello, and he was a composer — had composed half an opera once, but got tired of it — and played what he composed with taste. After tea we had quite a little concert, in which Richard — who was enthralled by Ada's singing and told me that she seemed to know all the songs that ever were written — and Mr. Jarndyce, and I were the audience. [Chapter 6, "Quite at Home," 42]
As our absence had been long enough already to seem strange downstairs, I returned at once and found Ada sitting at work by the fireside talking to her cousin John. Mr. Skimpole presently appeared, and Richard shortly after him. I was sufficiently engaged during the remainder of the evening in taking my first lesson in backgammon from Mr. Jarndyce, who was very fond of the game and from whom I wished of course to learn it as quickly as I could in order that I might be of the very small use of being able to play when he had no better adversary. But I thought, occasionally, when Mr. Skimpole played some fragments of his own compositions or when, both at the piano and the violoncello, and at our table, he preserved with an absence of all effort his delightful spirits and his easy flow of conversation, that Richard and I seemed to retain the transferred impression of having been arrested since dinner and that it was very curious altogether.
It was late before we separated, for when Ada was going at eleven o'clock, Mr. Skimpole went to the piano and rattled hilariously that the best of all ways to lengthen our days was to steal a few hours from night, my dear! [Chapter 6, "Quite at Home," 45]
Commentary: A Delightful but Spurious Secondary Character
Phiz's original illustration of Skimpole and the sheriff's bailiff: Coavinses (April 1852).
Eytinge emphasizes Skimpole's musical rather than his aesthetic disposition, showing him seated at John Jarndyce's pianoforte, and playing long into the evening. Eytinge suggests that the aesthete is never far from gustatorial delights, represented by the wine-bottle, glass, and hors d'oevres on the tray near him. Other illustrators have depicted him as an inveterate sponger who is being taken up for debt, and in the scene with the Stranger (bailiff) reveal him to be a shameless poser who has adopted an unworldly, artistic demeanour to relieve himself of fiscal responsibilities. The version of the charming reprobate which Eytinge offers American readers features a cherubic face and a twinkling smile which he flashes at his auditors as he self-consciously performs his own composition. Eytinge emphasizes the middle-aged dilettante's childlike gaiety rather than his tendency to evade adult responsibilities by his assumed air of innocence. Nevertheless, Eytinge implies something artful and even deceitful in Skimpole's gaze.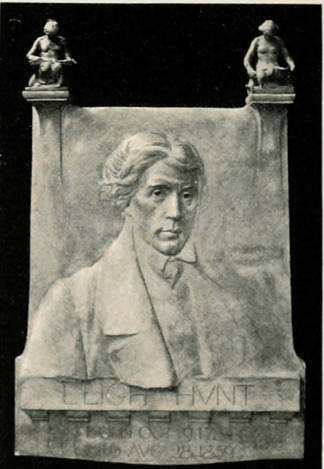 Sir George Frampton's realistic portrait of Hunt in a low-relief sculpture does not resemble various illustrators' versions of Skimpole: The Leigh Hunt Memorial (1897).
In a letter of 25 September 1853 to John Forster, Dickens admitted that Hunt had inspired the character of Harold (originally, "Leonard") Skimpole: "I suppose he is the most exact portrait that was ever painted in words! ... It is an absolute reproduction of a real man". A contemporary critic commented, "I recognized Skimpole instantaneously; ... and so did every person whom I talked with about it who had ever had Leigh Hunt's acquaintance" (cited in Page, p. 955: note 2 to Chapter 6). G. K. Chesterton suggested that Dickens "May never once have had the unfriendly thought, "Suppose Hunt behaved like a rascal!'; he may have only had the fanciful thought, "Suppose a rascal behaved like Hunt!'" (Chesterton 1906). Although everyone in their circle seems to have recognized Hunt in the character of Skimpole, whether Eytinge, an American utterly unfamiliar with the Dickens Circle, would have made the connection between the Romantic-era essayist and editor and Dickens's delightfully spurious secondary character.
Related material, including front matter and sketches, by other illustrators for
Bleak House

(1852-1910)

Scanned image and text by Philip V. Allingham. [You may use this image without prior permission for any scholarly or educational purpose as long as you (1) credit the person who scanned the image and (2) link your document to this URL in a web document or cite the Victorian Web in a print one.]
Bibliography
Ackroyd, Peter. Charles Dickens. London: Sinclair-Stevenson, 1990.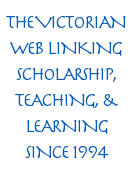 Bentley, Nicolas, Michael Slater, and Nina Burgis. The Dickens Index. New York and Oxford: Oxford U. P., 1990.
Chesterton, G. K. Charles Dickens. New York: Dodd, Mead, 1906.
Dickens, Charles. Bleak House. Illustrated by Hablot Knight Browne. London: Bradbury and Evans, 1853.
_______.  Bleak House. Illustrated by F. O. C. Darley and John Gilbert. The Works of Charles Dickens. The Household Edition. New York: Sheldon and Company, 1863. Vols. 1-4.
_______. Bleak House. Illustrated by Sol Eytinge, Jr, and engraved by A. V. S. Anthony. 14 vols. Boston: Ticknor & Fields, 1867. VI.
_______. Bleak House, with 61 illustrations by Fred Barnard. Household Edition, volume IV. London: Chapman and Hall, 1873.
_______. Bleak House. Illustrated by Harry Furniss. The Charles Dickens Library Edition. 18 vols. London: Educational Book, 1910. Vol. XI.
_______. Bleak House, ed. Norman Page. Harmondsworth: Penguin, 1971.
Hammerton, J. A. "Ch. XVIII. Bleak House."  The Dickens Picture-Book. London: Educational Book Co., [1910], 294-338.
Lester, Valerie Browne. Phiz: The Man Who Drew Dickens. London: Chatto and Windus, 2004.
Steig, Michael. Chapter 6. "Bleak House and Little Dorrit: Iconography of Darkness." Dickens and Phiz. Bloomington & London: Indiana U. P., 1978. 131-172.
Vann, J. Don. "Bleak House, twenty parts in nineteen monthly instalments, October 1846—April 1848." Victorian Novels in Serial. New York: The Modern Language Association, 1985. 69-70./
---
Created 12 February 2021