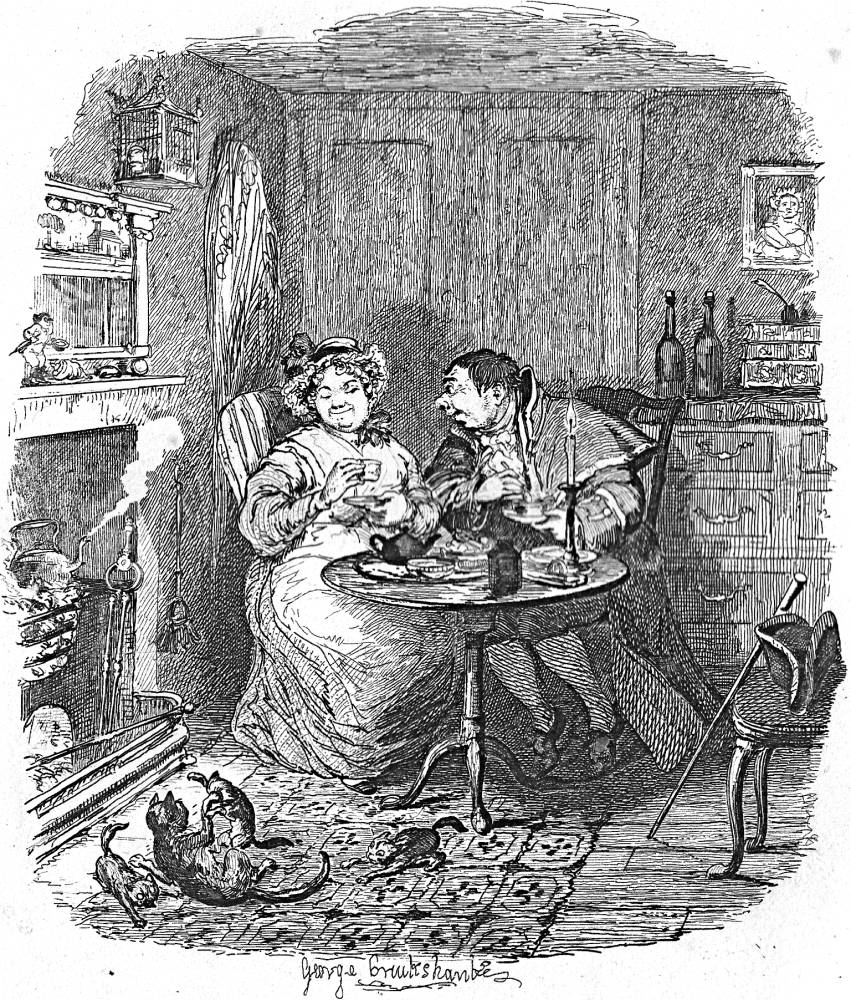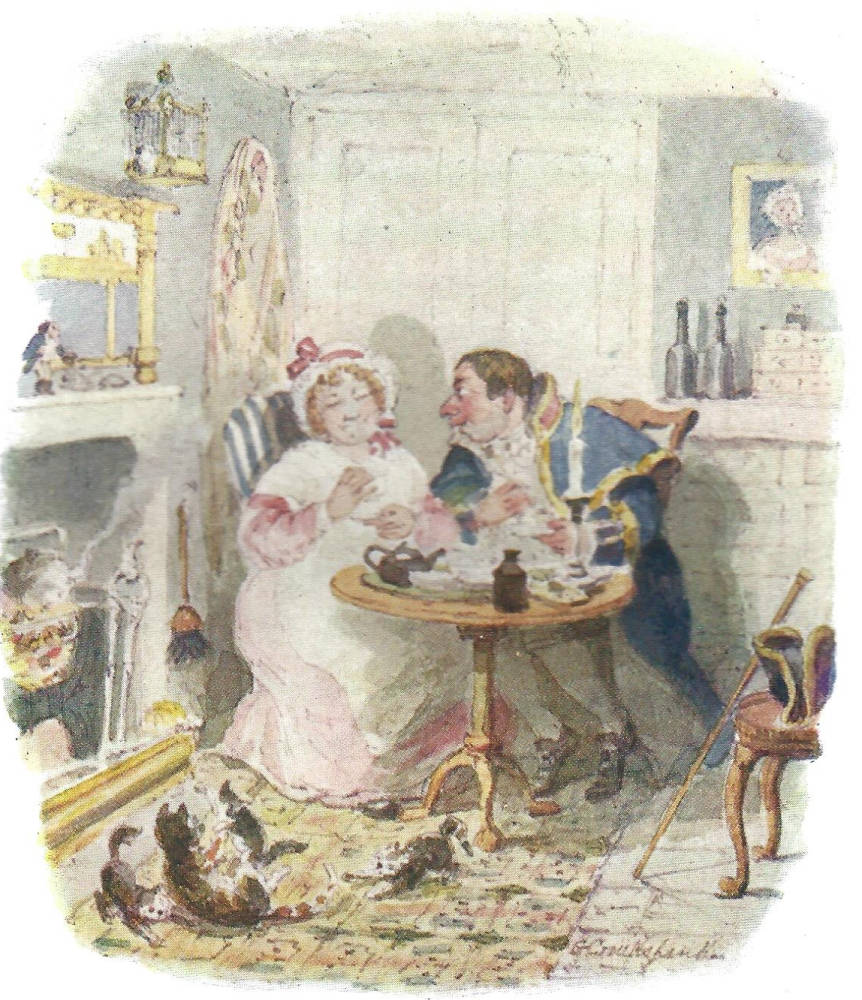 Mr. Bumble and Mrs. Corney taking tea — the eleventh steel engraving and later a watercolour for Charles Dickens's The Adventures of Oliver Twist; or, The Parish Boy's Progress, first published in volume by Richard Bentley after its February 1838 appearance in Bentley's Miscellany, Chapter XXIII (eleventh instalment). 4 ¼ by 3 ¾ inches (10.8 cm by 9.6 cm), vignetted, facing page 126 in the 1846 edition (originally leading off the monthly number). Cruikshank's own 1866 watercolour, commissioned by book-collector F. W. Cosens, is the basis for the 1903 chromolithograph. [Click on the images to enlarge them.]
Passage Illustrated
"The tea was made, and handed in silence. Mr. Bumble, having spread a handkerchief over his knees to prevent the crumbs from sullying the splendour of his shorts, began to eat and drink; varying these amusements, occasionally, by fetching a deep sigh; which, however, had no injurious effect upon his appetite, but, on the contrary, rather seemed to facilitate his operations in the tea and toast department.
"You have a cat, ma'am, I see," said Mr. Bumble, glancing at one who, in the centre of her family, was basking before the fire; "and kittens too, I declare!"
"I am so fond of them, Mr. Bumble, you can't think," replied the matron. "They're so happy, so frolicsome, and so cheerful, that they are quite companions for me."
"Very nice animals, ma'am," replied Mr. Bumble, approvingly; "so very domestic."
"Oh, yes!" rejoined the matron with enthusiasm; "so fond of their home too, that it's quite a pleasure, I'm sure."
"Mrs. Corney, ma'am," said Mr. Bumble, slowly, and marking the time with his teaspoon, "I mean to say this, ma'am; that any cat, or kitten, that could live with you, ma'am, and not be fond of its home, must be a ass, ma'am. [Chapter XXIII, "Which contains the substance of a pleasant conversation between Mr. Bumble and a lady; and shews that even a beadle may be susceptible on some points," pp. 126-127 in the 1846 edition]
Commentary: Dickens's Gallows Humour
Meanwhile, in the northern parish whose moral guardian is the self-indulgent beadle Mr. Bumble, Dickens advances our understanding of the workhouse matron, Mrs. Corney, a widow in search of a husband, and the parochial official last seen dragging Oliver to his apprenticeship hearing. Having enunciated his principle about outdoor relief of sturdy paupers, Bumble takes Mrs. Corney's invitation to tea as an invitation to romance. Accordingly we should regard Cruikshank's rendition of the domestic scene as comic relief. Dickens regards Mrs. Corney and Mr. Bumble as irresponsible public servants who exploit positions of trust for personal gain. For Dickens ultimately serves poetic justice by placing the couple as inmates into the workhouse they had once administered. They are justly punished for attempting to suppress the truth of Oliver's birth by secreting the locket that belonged to his mother.
Cruikshank had taken obvious delight in depicting the budding romance of the parish beadle and the workhouse matron (a match made in the bureaucracy of the Poor Law if not in Heaven), and had already depicted the self-satisfied humbug in Oliver Escapes Being Bound Apprentice to the Sweep (Part 2, March 1837); but he still repeats the felicity. With an eye for the grotesque, Cruikshank must have found the notion of the courtship of Mrs. Corney by the arrogant, ridiculous Bumble irresistible, a scene which he echoed in the domestic romance of Charlotte and Noah, Mr. Claypole as he appeared when his master was out (Part 12, March 1838), in which Bumble has a minor surveillance role, peering in at the window and scowling at the teenagers. Cruikshank in both instances undercuts the romance by the leering, smirking faces of the would-be lovers. Effective details include the furnishings and theatrical properties, as well as a kettle singing on the hob.
Cruikshank expands Dickens's description of the pair's mutually flirtatious behaviour by focussing on a mother cat and three kittens romping on the carpet before the fire, their frisky behaviour an analogue for that of amorous Bumble and simpering Mrs. Corney. And, of course, the cats suggest the sexual dimension of the scene that the writer of the early Victorian period could not directly address, although Cruikshank's animated beadle does not seem particularly "tender" in his appreciation of the widow. The bottles of freshly decanted port for the infirmary sit on Mrs. Corey's sideboard, but are not likely to be transferred to the sick ward. The style of chair in which each character sits is not covered in the text, but again Cruikshank extends the text by providing the matron with a padded easy-chair and the beadle a dining-chair; on a second such chair, the beadle has deposited those signs of office (the tri-corn hat and cane) that distinguish him from mere mortals. Another astute touch is Cruikshank's suggesting Mrs. Corney's vanity by the portrait of her hanging above the sideboard — one might have expected a portrait of the long-deceased Mr. Corney. And perhaps a hint of the entrapment of Bumble in an unhappy marriage is given in the birdcage hanging from the ceiling, above the fireplace. As is consistent with the text, the teapot and cups are rather small, although the kettle does not strike the viewer as "the smallest of all possible kettles" (124). Dickens mentions "crumbs," presumably from toast, but the table is so small in the drawing that it can accommodate only the teapot, sugar bowl and tongs, milk pot, tray, and (not specified by the writer) a candle, which does not quite rise to the level of phallic symbol, to externalise Bumble's describing himself "hard!" as in "hard-hearted" (127), since he vows he would drown any cat who could not live with such a comfortable woman in such a pleasant situation. Shortly the amorous encounter will be disrupted by the knocking of a female pauper who announces that "Old Sally is a-going fast" (128), introducing the inevitable picaresque plot element, the missing locket that belonged to Oliver's mother.
Subsequent illustrators, too, have enjoyed to varying degrees the opportunity for visual satire that the pompous Bumble presents. Sol Eytinge, Junior, in the 1867 Diamond Edition volume that Dickens himself may very well have perused on his second American reading tour, depicts Bumble in full uniform presenting Mrs. Corney with the bottle of port, but the dual study lacks the amorous overtones of the Cruikshank plate. In contrast, Household Edition illustrator James Mahoney realised the same room and figures, although not precisely the same scene as Cruikshank's in the round, but transforms the playful cats into tranquil felines dozing before the fire as Mr. Bumble prepares to propose to the widow, tearfully considering her single marital status. Sentiment has unfortunately replaces humour, and Bumble in this illustration seems genuinely concerned about the lachrymose widow (when in fact he has just scrutinized her silverware and china). However, in 1910 Harry Furniss reinjected the humorous element and the playful cats in his visual satire of the corpulent agents of the Poor Law. He even retains the background portrait and birdcage, adding, moreover, a grandfather clock, perhaps to represent Mrs. Corney's apprehension that, at her age, she is unlikely to replace the lamented Mr. Corney — certainly it implies her affluence. Conspicuous in his drawing, however, is the door to the rear at which the knocking will shortly come, interrupting the tender moment between two venial characters who very much deserve one another.
Commentary by Michael Steig
One of Cruikshank's illustrations for Dickens typifies his and and Browne's sense of the traditions [of English caricature as exemplified by the "progresses" of Hogarth]. In Plate11 of Oliver Twist, Mr. Bumble and Mrs. Corney taking tea The mantelpiece is graced by the ceramic(or wooden?) figure of a priggish-looking man, with knee boots, gaiters, beribboned spectacles, an umbrella under his arm, and a hat in his hand. This figure can be identified as "Paul Pry," who served for a few years (1827-29) as a hieroglyphic signature of the important Regency caricaturist William Heath. On the margins of Heath's caricatures this figure usually appears to be scrutinizing something closely, and sometimes he is given a few words to speak on the subject of the plate; he is clearly intended as an emblem of the caricaturist's "prying" into the foibles of society. That Cruikshank included Paul Pry in the Corney-Bumble plate suggests not only a general awareness by the artist of his heritage, but that in this particular etching he is functioning as a prying, caricaturistic exposer of Dickens's characters. Further, the presence of such a figure links Cruikshank directly to the tradition of using incidental emblematic details in satirical art, a practice of great importance in Hogarth's works as well as in those of his followers, Gillray and Rowlandson. Cruikshank's links to Hogarth are many, and he seems to have striven consciously for Hogarthian stature in his popular temperance sequences, The Bottle and The Drunkard's Children. [120-21]
Relevant Illustrations from the serial and later editions (1837-1910)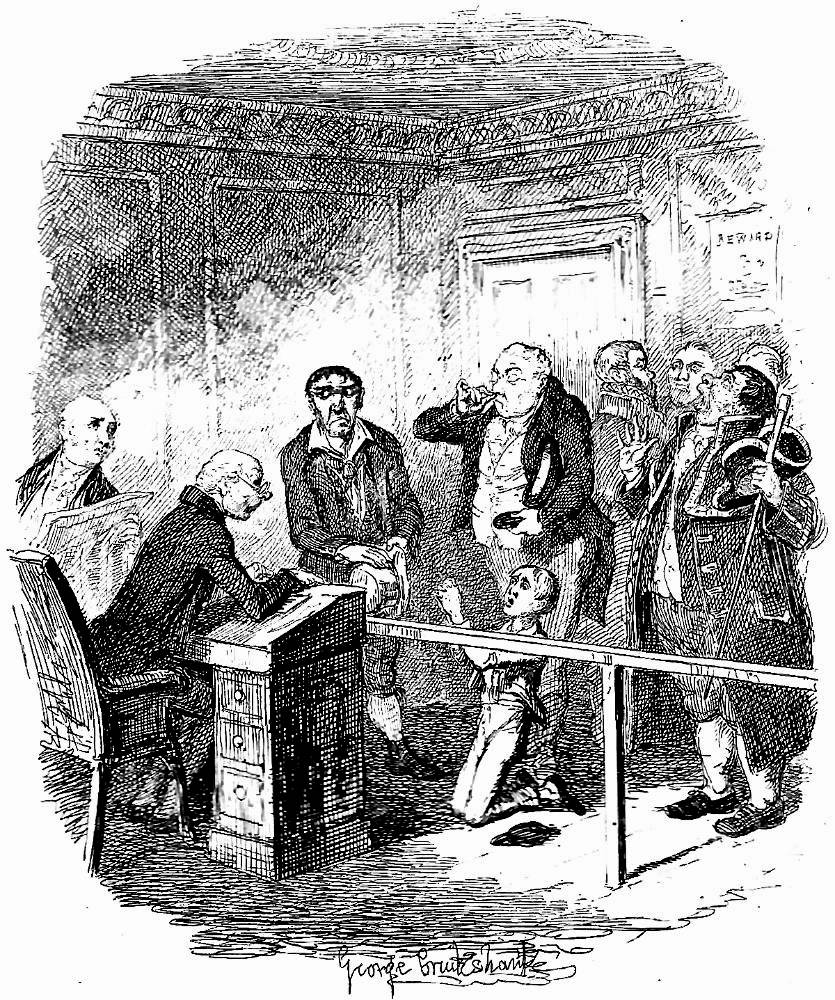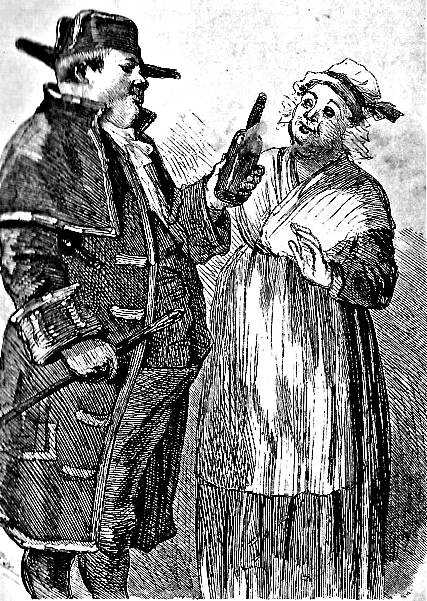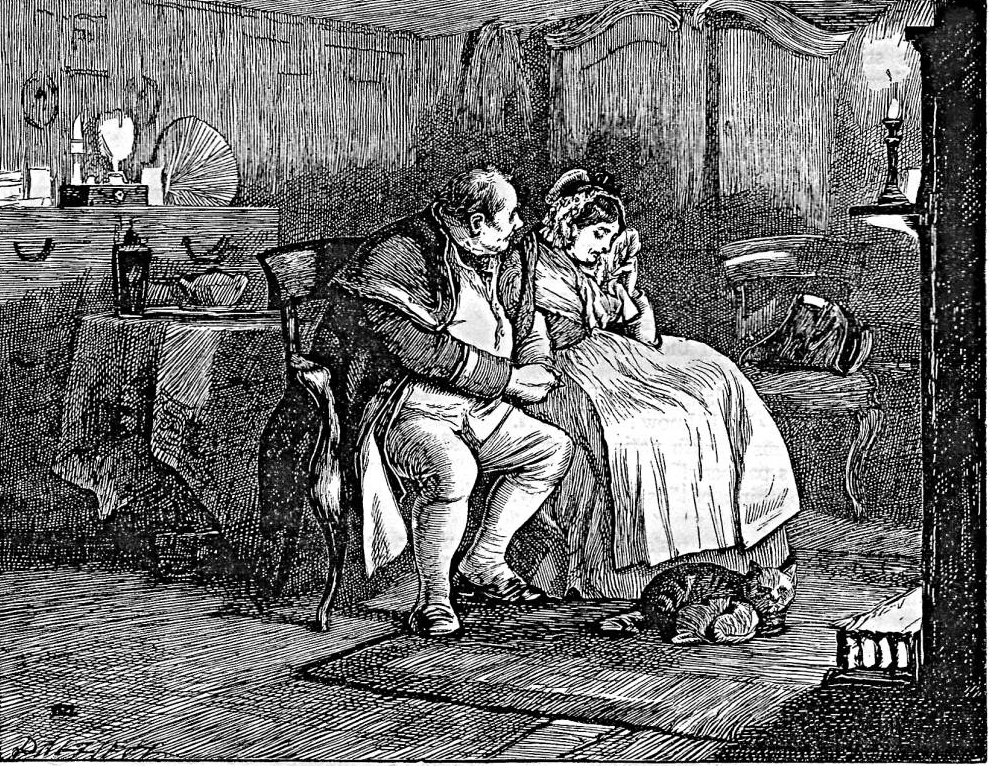 Left: George Cruikshank's Oliver escapes being bound apprentice to a Sweep. Centre: Sol Eytinge, Junior's Mrs. Corney and Mr. Bumble. Right: James Mahoney's Household Edition illustration (1871) "Don't sigh, Mrs. Corney". [Click on images to enlarge them.]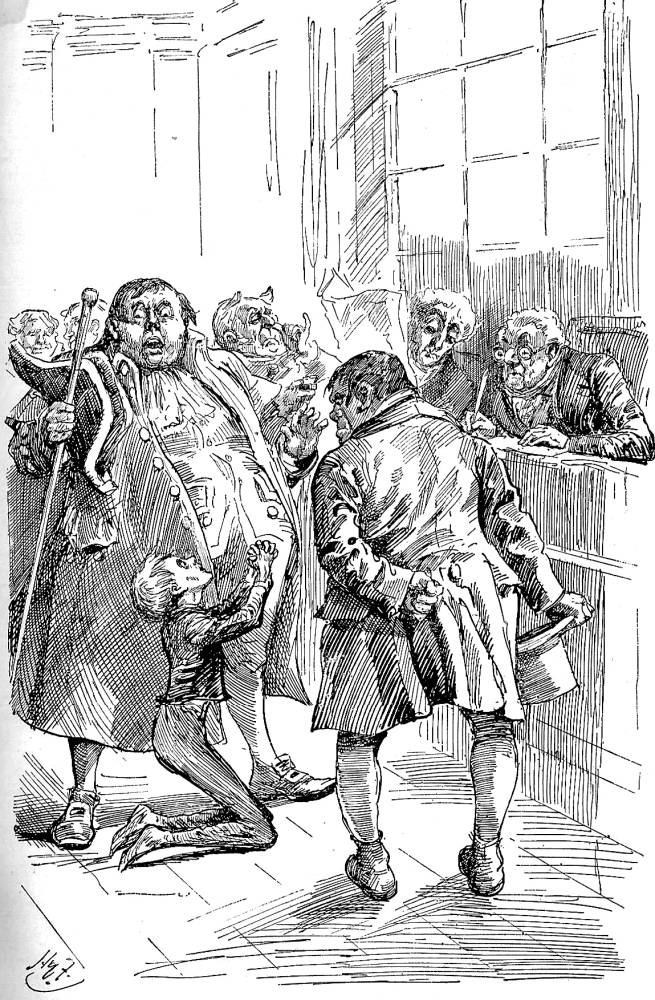 Left: Harry Furniss's Oliver Refuses to be Bound over to a Sweep" (1910). Centre: Harry Furniss's "Mr. Bumble and Mrs. Corney" (1910). Right: F. W. Pailthorpse's study of Bumble's contemplating becoming lord of Mrs. Corney's possessions as he does a jig: Inexplicable Conduct of Mr. Bumble (1886). [Click on images to enlarge them.]
Related Material
Scanned images and text by Philip V. Allingham. [You may use these images without prior permission for any scholarly or educational purpose as long as you (1) credit the photographer and (2) link your document to this URL in a web document or cite the Victorian Web in a print one.]
Bibliography
Bentley, Nicolas, Michael Slater, and Nina Burgis. The Dickens Index. New York and Oxford: Oxford U. P., 1990.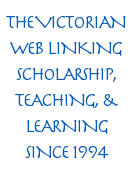 Cohen, Jane Rabb. "George Cruikshank." Charles Dickens and His Original Illustrators. Columbus: Ohio State U. P., 1980. Pp. 15-38.
Darley, Felix Octavius Carr. Character Sketches from Dickens. Philadelphia: Porter and Coates, 1888.
Davis, Paul. Charles Dickens A to Z: The Essential Reference to His Life and Work. New York: Facts On File, 1998.
Dickens, Charles. The Adventures of Oliver Twist; or, The Parish Boy's Progress. Illustrated by George Cruikshank. London: Bradbury and Evans; Chapman and Hall, 1846.
_______. Oliver Twist. Works of Charles Dickens. Household Edition. 55 vols. Illustrated by F. O. C. Darley and John Gilbert. New York: Sheldon and Co., 1865.
_______. Oliver Twist. Works of Charles Dickens. Diamond Edition. 14 vols. Illustrated by Sol Eytinge, Jr. Boston: Ticknor and Fields, 1867.
_______. Oliver Twist. Works of Charles Dickens. Household Edition. 22 vols. Illustrated by James Mahoney. London: Chapman and Hall, 1871. Vol. I.
_______. The Adventures of Oliver Twist. Works of Charles Dickens. Charles Dickens Library Edition. 18 vols. Illustrated by Harry Furniss. London: Educational Book Company, 1910. Vol. 3.
Forster, John. "Oliver Twist 1838." The Life of Charles Dickens. Ed. B. W. Matz. The Memorial Edition. 2 vols. Philadelphia: J. B. Lippincott, 1911. Vol. 1, book 2, chapter 3. Pp. 91-99.
Grego, Joseph (intro) and George Cruikshank. "Mr. Bumble and Mrs. Corney taking tea." Cruikshank's Water Colours. [27 Oliver Twist illustrations, including the wrapper and the 13-vignette title-page produced for F. W. Cosens; 20 plates for William Harrison Ainsworth's The Miser's Daughter: A Tale of the Year 1774; 20 plates plus the proofcover the work for W. H. Maxwell's History of the Irish Rebellion in 1798 and Emmetts Insurrection in 1803]. London: A. & C. Black, 1903. OT = pp. 1-106]. Page 44.
Kitton, Frederic G. "George Cruikshank." Dickens and His Illustrators: Cruikshank, Seymour, Buss, "Phiz," Cattermole, Leech, Doyle, Stanfield, Maclise, Tenniel, Frank Stone, Topham, Marcus Stone, and Luke Fildes. 1899. Rpt. Honolulu: U. Press of the Pacific, 2004. Pp. 1-28.
Pailthorpe, Frederic W. (Illustrator). Charles Dickens's Oliver Twist. London: Robson & Kerslake, 1886. Set No. 118 (coloured) of 200 sets of proof impressions.
Patten, Robert L. George Cruikshank's Life, Times, and Art, Volume Two: 1836-1878. New Brunswick, New Jersey: Rutgers University Press, 1996.
Patten, Robert L. George Cruikshank: A Revaluation. Princeton: Princeton U. P., 1992.
---
Created 20 April 2019 Last updated 11 January 2022