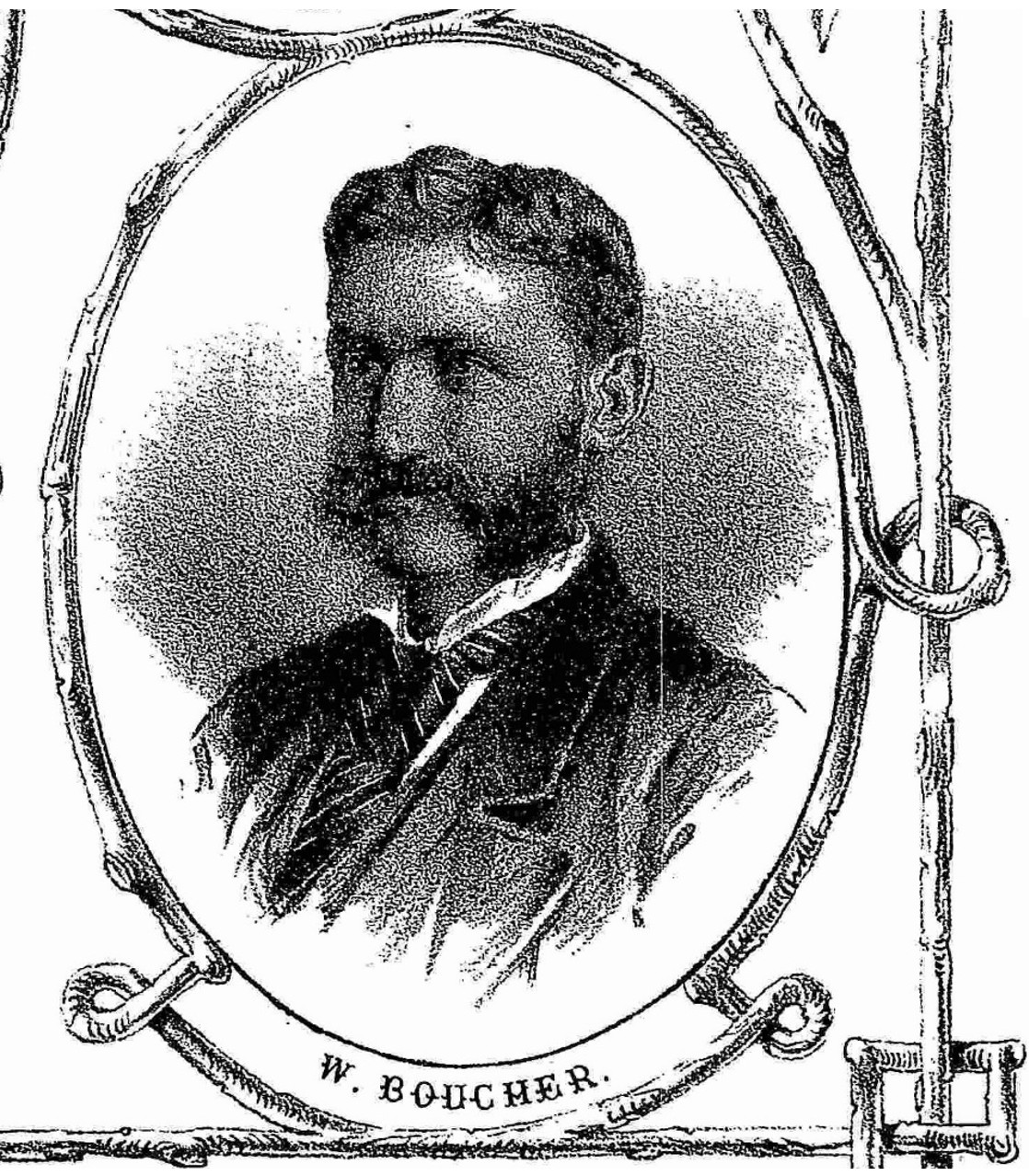 "W. Boucher." Source: "Portrait Supplement to Our Young Folks' Budget," n.p. Christmas Number (19 December 1874).
William Henry Boucher (1837-1906) was the longest-serving chief cartoonist on Judy, or the London Serio-Comic Journal. Succeeding his more famous colleague John Proctor, Boucher contributed the "big cut" for Judy for almost twenty years, from 1868 to 1888, when he was in turn succeeded by "Matt Morgan Junior" (Fred Morgan), and then Henry "Hal" Ludlow.
The cartoonist and illustrator known across Britain as "WB" (his surname sometimes rendered as "Bowcher"), was born in Bristol, in Gloucestershire, in 1837, and baptized at St Michael's Church. Although his surname may indicate a French or Continental origin, his early years are obscure, and all that can be reliably stated is that Boucher and his wife Ellen came to London around the early 1860s. Their children Alfred (b.1863), Frank (b.1864), Mary Ellen (b.1871) and Charles Henry (b.1873) were all born in London, so some form of domestic stability was probably Boucher's lot by this time. Although he no doubt contributed illustrations to the growing periodical press, the earliest definite work is dated to 1868: "The Mutiny of the Thunder," by William Stephens Hayward, for The Young Gentlemen of Britain.
Within months of this appearing, Boucher took over from Proctor as Judy's chief cartoonist. Given the dyed-in-the-wool Conservatism of Punch's nominal rival, it is no coincidence that Boucher's first cartoon depicted Benjamin Disraeli (The Loving Cup, Judy, December 16, 1868, pp.80-81). Boucher faithfully chronicled Disraeli's career in Opposition and government for the next decade or so, and continued to heroize him for quite a while thereafter.
Boucher's cartoons were well-received in the press, and critically praised by R. W. Buss; their regular double-page spread setting them apart from the more usual single-page cuts of Punch. After the return of Charles H. Ross to the editorship of Judy in 1869, Boucher became part of a remarkable team including "Marie Duval," and the two produced a regular "dance" in their respective cartoons (Boucher deadly serious; Duval playful).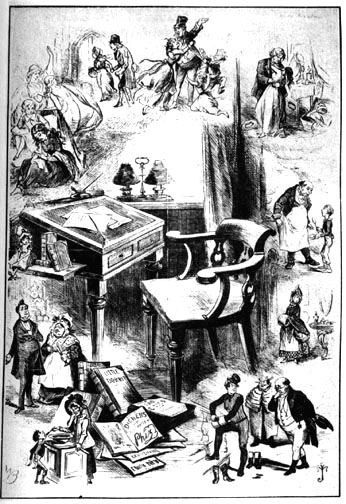 The Empty Chair from Judy, 22 June 1870.
Boucher's usual fare – baiting Gladstone, demonising the Prussian King, Russian Tsar, or simianizing the Irish – while unattractive to the present-day observer, was delivered with remarkable skill and talent. More palatable is his influential "The Empty Chair." commemorating the death of Charles Dickens. Appearing in Judy for June 22, 1870, this study preceded, and may have inspired, Luke Fildes' better-known work, as well as R. W. Buss's unfinished Dickens Dream.
The heyday of Judy was the heyday of Boucher the cartoonist. Edited by Ross (1869-1887), owned and run by the Dalziel Brothers (1872-1887), and featuring work by Duval, A. B. Frost, Adelaide Claxton, Hablot Knight Browne, and Ross himself, Judy was a formidable magazine and Boucher was its artistic mainstay.
Boucher supplemented his income by also working on Our Young Folks' Weekly Budget, published by James Henderson, out of Red Lion Court, Fleet Street. There, he joined Proctor, who excelled in illustrating the adventures of "Tim Pippin" (written by Roland Quiz). Boucher's greatest contribution was in providing the original illustrations for two successive serials by Robert Louis Stevenson: The Black Arrow (June-October, 1883) and Kidnapped (May-July, 1886). So impressed was Stevenson, that he retained the original sketches for The Black Arrow to the end of his life, and worked closely with Boucher on the Kidnapped drawings.
Originally working "on the woodblock," by the mid-1880s, Boucher had begun using "process" to produce cartoons for Judy. This enabled the publishers to use Boucher's originals as weekly prizes; while other of his work attracted attention for the wrong reasons. Judy's proprietor and publisher (William John Sinkin) appeared in December 1883 at the Central Criminal Court charged with libel over one of Boucher's cartoons. Although the judge found for the defendants, this is an important example of late-Victorian controversy over cartoons.
By the late 1880s, Boucher's editor had fallen out with the younger Dalziel – Gilbert – and become estranged from Marie Duval. The launch of a dedicated magazine for Judy's (and Duval's and Ross') most famous creation – Ally Sloper, in 1884 – seems to have been the final straw for the established Judy staff, with Duval, Ross, and then Boucher all departing in the course of 1887-1888. Boucher was succeeded by "Matt Morgan Junior" (Fred Morgan), then Henry 'Hal' Ludlow, then William Parkinson.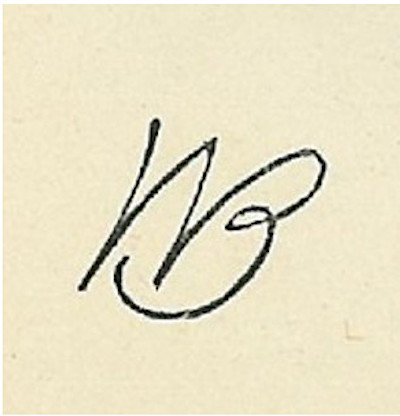 The distinctive "WB" of W. H. Boucher's monogram.
Boucher now flourished as an illustrator of very fine work: popular adventure stories by George Manville Fenn (Diamond Dyke, 1895; and The Kopje Garrison, 1901), as well as David Lawson Johnstone's The Rebel Commodore (1894) and Quiz's The Prince of Giantland (1898). His highest-profile work was for the "Border Edition" of Sir Walter Scott's stories (1892-1894), and the J. M. Dent & Co. complete edition of Balzac's novels (1895-1899).
Boucher also collaborated with Walter Dendy Sadler on a highly-successful, and lucrative series of engravings of Sadler's works. Popular on both sides of the Atlantic, the prints on domestic and homely historical themes included several images of the literary haunt Ye Olde Cheshire Cheese tavern on Fleet Street, drawn from life.
Boucher was an Associate of the Royal Society of Painter-Etchers and Engravers (1890), and a committee man of the Whitefriars' Club (contributing to The Whitefriars' Chronicles, 1900). He retired to Berkhampstead, Hertfordshire, around the turn of the century, and died at home on 5 March 1906. His small estate (£345 8s. 9d.) was divided amongst his surviving sons: the famous medallist Frank Bowcher and Charles (Albert, a sculptor, having died tragically young in 1890).
Bibliography
Gangnes, Madeline B. "Material Romance: Kidnapped in and out of Young Folks Paper." Victorian Periodicals Review 53, no.2 (Summer 2020): 183-213.
Grennan, Simon. Marie Duval: Maverick Victorian Cartoonist. Manchester: Mancheser University Press, 2020.
Kunzle, David. Rebirth of the English Comic Strip: A Kaleidoscope, 1847-1870. Jackson: University Press of Mississippi, 2021.
Obituary: "W. H. Boucher." The Athenaeum. 10 March 1906: 306.
Scully, Richard. "William Henry Boucher (1837-1906): Illustrator and Judy Cartoonist." Victorian Periodicals Review 46, no.4 (Winter 2013): 441-474.
Scully, Richard. Eminent Victorian Cartoonists – Volume II: The Rivals of "Mr Punch." London: Political Cartoon Society, 2018 (esp. pp.52-92).
---
Created 19 January 2022