Tilly Slowboy
Fred Barnard
1878
Vignetted, 14 x 11 cm
[Click on image to enlarge it.]
Scanned image and text by Philip V. Allingham
[You may use this image without prior permission for any scholarly or educational purpose as long as you (1) credit the person who scanned the image, and (2) link your document to this URL in a web document or cite the Victorian Web in a print one.]
Barnard's notion of Tilly compared to those of E. A. Abbey and John Leech
Barnard's illustration of Tilly rocking the Peerybingles' baby in the nursing chair distinguishes her from a mere "natural" (a person of low intellect) or "cony" (a country bumpkin) and individualises her in a realistic manner so different from the cartoon figure of the 1845 first edition of the novella. While E. A. Abbey in the American Household Edition two years earlier communicated the odd-looking adolescent's fascination with the "precious" infant, Barnard extended his sympathy to the young nurse from the foundling home, making her gangly and awkward but also animated by utter devotion to her charge. As with so many of the Dickens characters that Barnard inherited from Dickens's original illustrators, with the aptly named Tilly Slowly Barnard takes a grotesque or whimsical, one-dimensional comic figure and renders her worthy of the readers' sympathy. As the preface to the 1908 Chapman and Hall anthology of the Household Edition's illustrations describes Barnard's creative process:
Barnard seemed destined by nature to illustrate Dickens; the spirit of "Boz" ran again in his veins. And nothing in his work is more impressively ingenious than the skill with which he took the types already created by his predecessors, preserved [x/xi] their characteristics, so that each was unmistakably himself, and yet by the illuminating touch of genius transferred them every one from the realm of caricature to that of portraiture. [pp. x-xi]
Barnard's approach, in other words, differs markedly from those of Punch cartoonist John Leech in the 1845 Bradbury & Evans edition in that he completely abandons caricature in favour character study. Whereas the first edition begins with an ornamental title-page and frontispiece establishing the motif of the domestic hearth and the fairy dimension of the story, the Chapman and Hall Household Edition focuses on the Peerybingles as a family unit — including the mentally slow but utterly faithful nursemaid.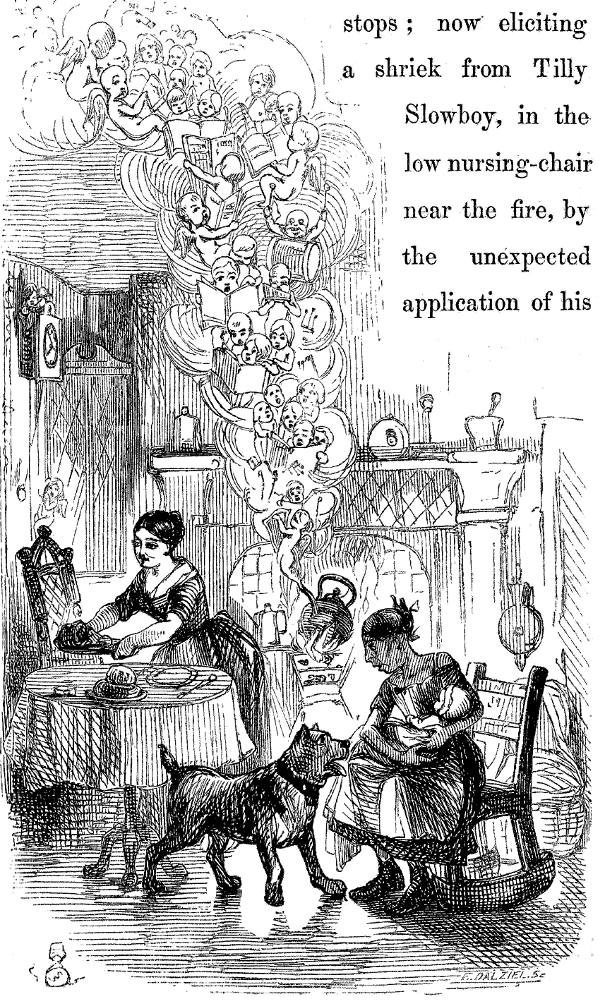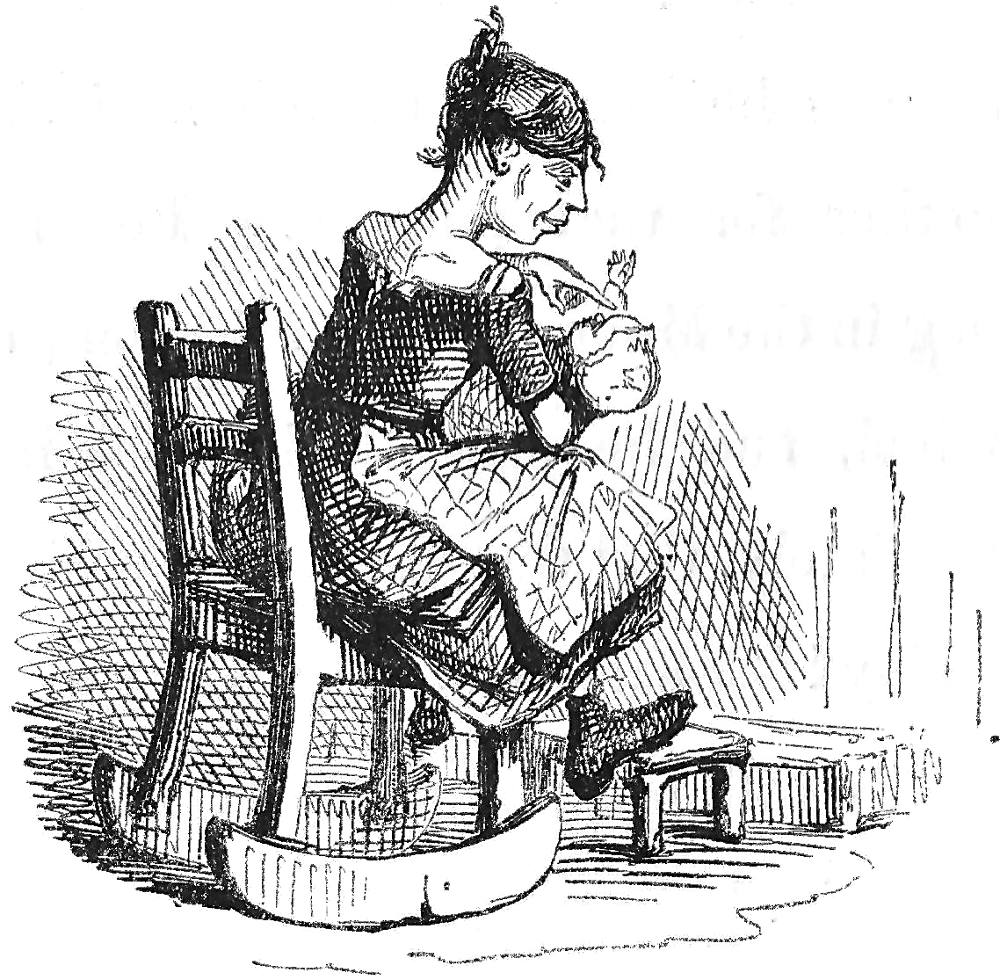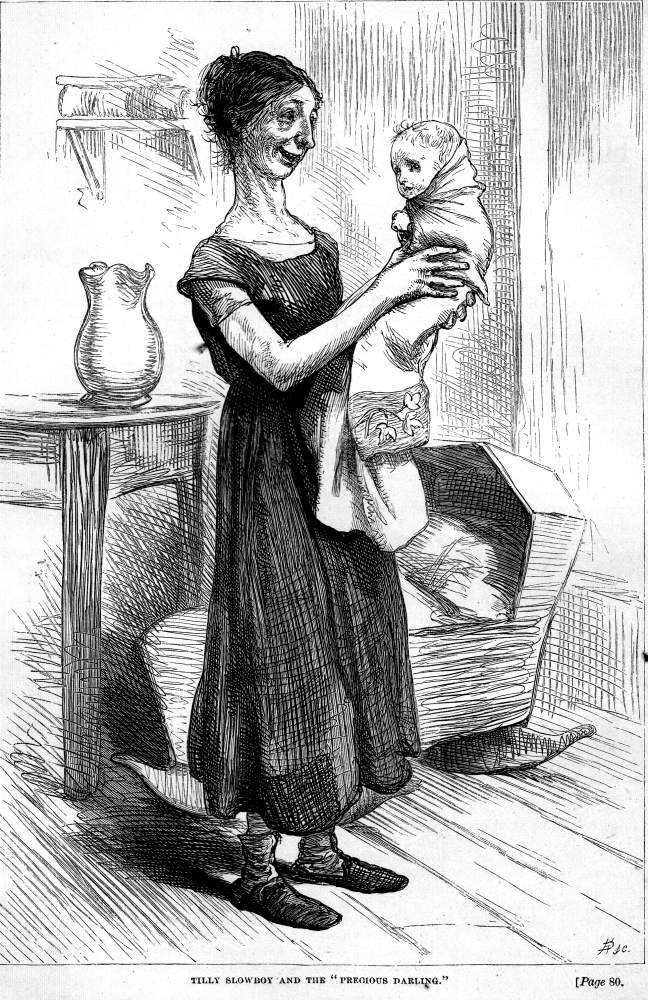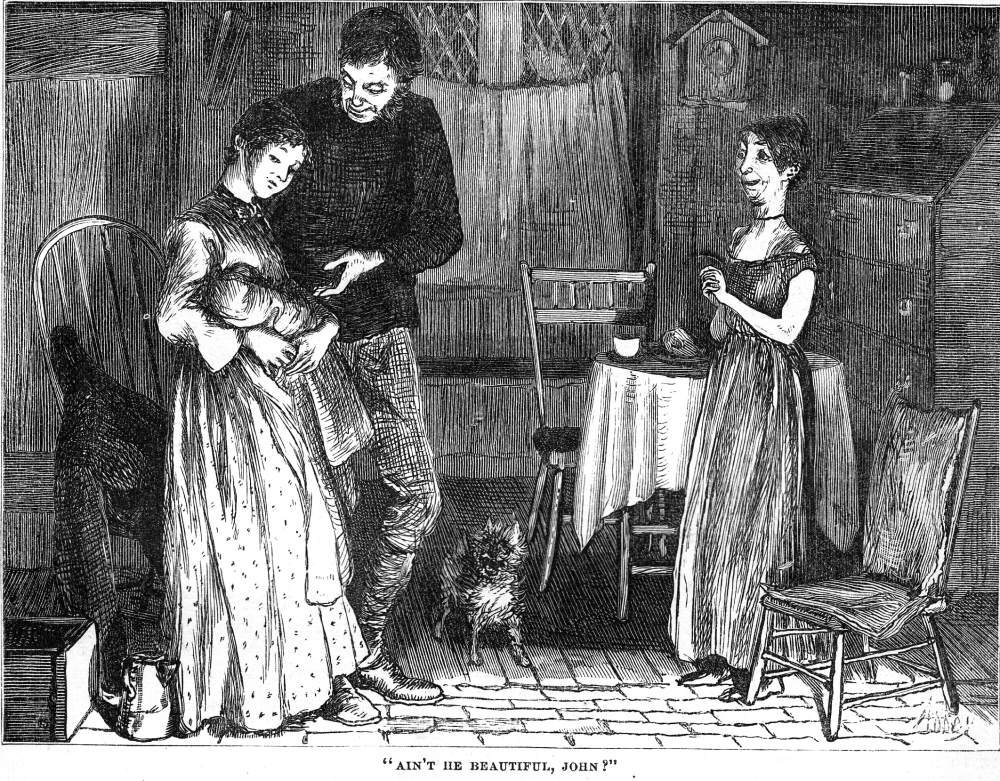 Four illustrations depicting Tilly Slowboy — Left: Leech's "John's Arrival." Centre: Leech's "Tilly Slowboy." Centre: Abbey's "Tilly Slowboy and the 'Precious Darling'." Right: Abbey's "Ain't he beautiful, John?"
Now examine Fred Barnard's 1878 woodblock engraving of much greater scale and far less fanciful construction than Leech's illustrations. In the opening woodcut, the gawking Tilly Slowboy (left) happily looks on, decidedly a full member of the carrier's lower middle class family. The second illustration, occupying three-quarters of a page, focuses intensely on the juvenile nurse's contentment with her role as surrogate mother and care-giver. Barnard through her devoted gaze suggests her sense of fulfilment and even joy as she transforms into babytalk Dot's hurried exit to make up a bed for the old stranger whom her husband has brought home in his van:
"Did its mothers make it up a Beds then!" cried Miss Slowboy to the Baby; 'and did its hair grow brown and curly, when its caps was lifted off, and frighten it, a precious Pets, a-sitting by the fires!"
With that unaccountable attraction of the mind to trifles, which is often incidental to a state of doubt and confusion, the Carrier as he walked slowly to and fro, found himself mentally repeating even these absurd words, many times. So many times that he got them by heart, and was still conning them over and over, like a lesson, when Tilly, after administering as much friction to the little bald head with her hand as she thought wholesome (according to the practice of nurses), had once more tied the Baby's cap on.
"And frighten it, a precious Pets, a-sitting by the fires. What frightened Dot, I wonder!" mused the Carrier. [Household Edition, p. 87]
Barnard's realistic three-quarter-page woodcut assimilates all of the information Dickens provides about Tilly Slowboy, as well as the images of the juvenile nurse in the 1845 Bradbury and Evans edition. The gawky adolescent is as Dickens describes her: full of "gaping admiration," "in her earliest teens," and possessing "a spare and straight shape" (80-81) — a devoted and well-meaning "natural" in the tradition of the Comic Woman of Victorian melodrama. Although Leech focusses on the carrier's comfortable parlour, his seven contributions to the sequence of fourteen illustrations include three instances in which the comic nurse is present; indeed, in "Tilly Slowboy" (p. 89), he focuses on the girl's awkwardness in handling the infant — but he fails to distinguish her as an individual or study her psychology, aspects of Barnard's and Abbey's illustrations that strike the modern reader immediately.
Signalling her devotion and status within the family through her juxtaposition with the sleeping Boxer, Barnard adds subtle dimensions to Tilly's character through her position relative to the fireplace (right, as identified by the bellows hanging to one side) and clothing that hangs loosely upon her gaunt frame, suggesting that until recently she has had a meagre diet — in contrast to the obviously well-fed and content family dog. Barnard, then, communicates to the viewer what it means to be a foundling. John Leech, on the other hand, fails even to suggest Tilly's age, making her form compact and her wizened visage that of a homunculus whose her is worn up in order for her to attend better to household chores. Capturing her in a relaxed mood, by herself in the family parlour attending to the baby, Barnard literally lets Tilly's hair down, utilizing her rocking chair from Leech's drawings to provide continuity but making her very much an individual rather than a type. Abbey's treatment is markedly more realistic than Leech's, but identifies her role in the household only by the large rocker-cradle in the background.
Although Abbey chose to devote only four illustrations to The Cricket on the Hearth (in contrast to Barnard's half-dozen), Tilly appears in half of the American Household Edition's plates, Barnard also shows her twice. Since his range of characters is greater than Abbey's (nine characters as opposed to Abbey's seven) and Barnard devotes a total of six plates to scenes and characters in the novella, no character has a dominant role in his Household Edition illustrations, whereas Abbey devotes a greater proportion of his Cricket illustrations to the young nurse, as if she is the exemplar of the family values that his illustrations for Christmas Stories celebrate. By virtue of her quirkiness, she is the story's most "Dickensian" character, and affords considerable character comedy. Leech saw her as a mere adjunct to the plot, a property rather than a character, somebody to fill out the domestic scenes and complement Caleb in the culminating illustration, the celebratory "Dance" that concludes the little book. Treating her more realistically, Abbey sees her as both devoted, awkward, and funny, but Barnard sees her as something more. A refugee from a foundling home, she has discovered that the Peerybingles' baby has conferred upon her a valued role and a meaningful identity.
References
Dickens, Charles. The Cricket on the Hearth. Christmas Books. Il. Fred Barnard. The Household Edition. London: Chapman and Hall, 1878.
Cohen, Jane Rabb. Charles Dickens and his Original Illustrators. Columbus: University of Ohio Press, 1980.
Cook, James. Bibliography of the Writings of Dickens. London: Frank Kerslake, 1879. As given in Publishers' Circular The English Catalogue of Books.
Hammerton, J. A. The Dickens Picture-Book. London: Educational Book, 1912.
Kitton, Frederic G. Dickens and His Illustrators. 1899. Rpt. Honolulu: U. Press of the Pacific, 2004.
Parker, David. "Christmas Books and Stories, 1844 to 1854." Christmas and Charles Dickens. New York: AMS Press, 2005. Pp. 221-282.
Patten, Robert L. Charles Dickens and His Publishers. University of California at Santa Cruz. The Dickens Project, 1991. rpt. from Oxford U. p., 1978.
Scenes and Characters from the Works of Charles Dickens being eight hundred and sixty-six drawings by Fred Barnard, Hablot K. Browne (Phiz), J. Mahoney, Charles Green, A. B. Frost, Gordon Thomson, J. McL. Ralston, H. French, E. G. Dalziel, F. A. Fraser, and Sir Luke Fildes; Printed from the Original Woodblocks Engraved for "The Household Edition". London: Chapman and Hall, 1908.
Slater, Michael. "Introduction to The Cricket on the Hearth." Dickens's Christmas Books. Harmondsworth, Middlesex: Penguin, 1971. Rpt., 1978. Vol. 2: 9-12.
Slater, Michael. "Notes to The Cricket on the Hearth." Dickens's Christmas Books. Harmondsworth, Middlesex: Penguin, 1971. Rpt., 1978. Vol. 2: 363-364.
Solberg, Sarah A. "'Text Dropped into the Woodcuts': Dickens' Christmas Books." Dickens Studies Annual 8 (1980): 103-118.
Thomas, Deborah A. Dickens and The Short Story. Philadelphia: U. Pennsylvania Press, 1982.
---

Victorian
Web

Illus-
tration

Christmas
Carol

Fred
Barnard

Next
Last modified 22 July 2012