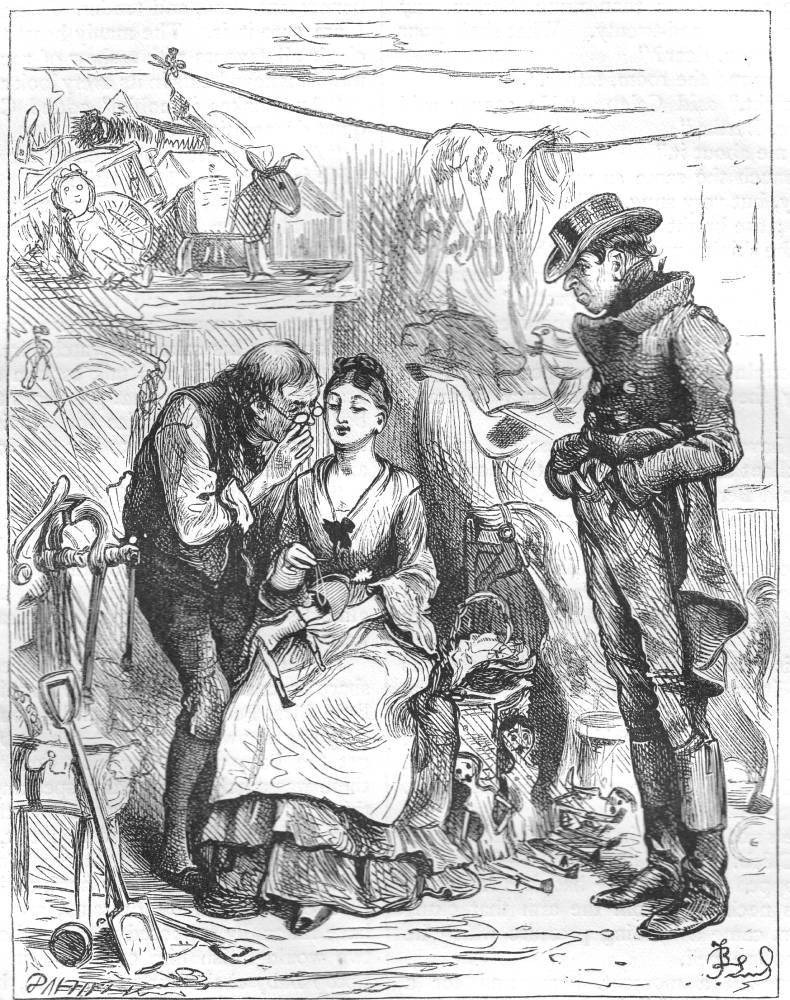 Caleb, Bertha, and Tackleton
Fred Barnard
1878
framed, 13.7 x 10.8 cm
[Click on image to enlarge it.]
Scanned image and text by Philip V. Allingham
[You may use this image without prior permission for any scholarly or educational purpose as long as you (1) credit the person who scanned the image, and (2) link your document to this URL in a web document or cite the Victorian Web in a print one.]
Barnard's depiction of these characters compared to those of Abbey, Doyle, and Leech
The problem of discontinuity in the handling of their subject by Richard Doyle in "Chirp the Second" (p. 54) and John Leech in "Caleb at Work" (p. 61) cannot have escaped the scrupulous Dickens, but time was brief and the differences in their depiction of these secondary characters not so great as to disrupt the narrative-pictorial sequence. No such problem occurs in the American and British Household Editions of the 1870s since a separate artist managed each program of illustration. While Abbey's "'Halloo! Halloo!' said Caleb. 'I shall be vain presently!'" (p. 88) adds little to the earlier volume's descriptions of the Plummers at work in their home, Barnard chooses a later moment in the second chapter that presents conflicting versions of the economic plight and standard of living that the toy-making widower and his blind daughter enjoy. Barnard also utilises the ironic moment to introduce the misanthropic capitalist Tackleton, a species of Ebenezer Scrooge, albeit somewhat underdeveloped.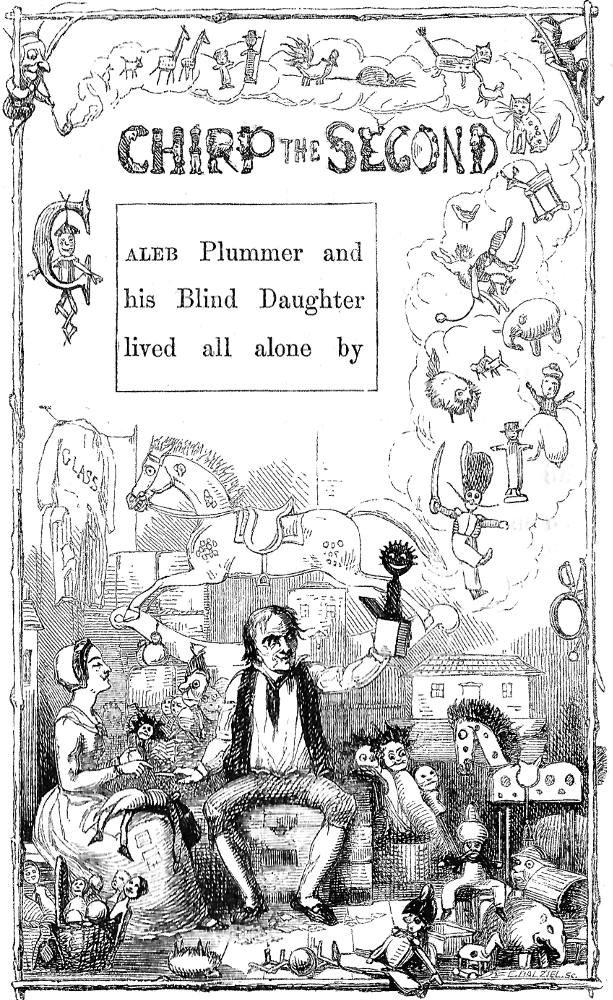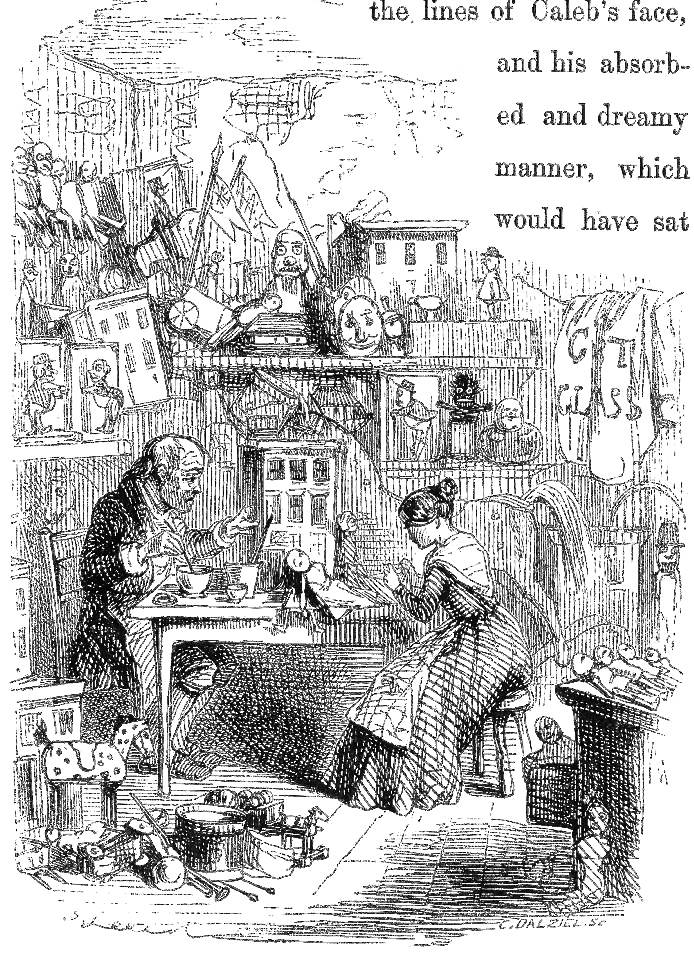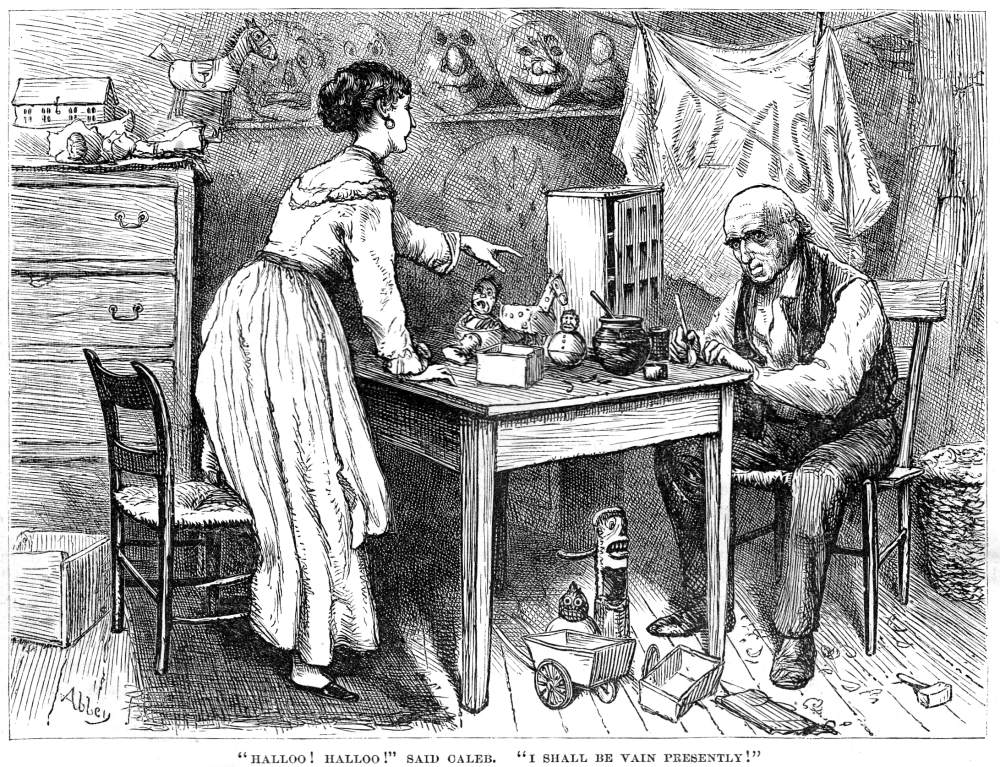 Three illustrations of Caleb and Bertha Plummer in their parlour, which doubles as their workroom: Left: Richard Doyle's "Chirp the Second". Centre: John Leech's "Caleb at Work". Right: E. A. Abbey's "'Halloo! Halloo!' said Caleb. 'I shall be vain presently!'" (1876).
Although the original illustrators operated under Dickens's supervision, Doyle's and Leech's conceptions of Caleb and Bertha, as well their workroom, differ in a great many particulars. Although both versions have situated the co-workers in the midst of toy production, Doyle emphasises a pair of rocking horses and the myriad of toy-making notions (upper right) that the father and daughter share. Doyle's Caleb works in his shirtsleeves, and his Bertha wears a cap — undoubtedly to keep her hair out of her work. To keep the small-scale illustration uncluttered, Doyle has eliminated the work table, around which Caleb and Bertha are seated in Leech's interpretation of the scene upon which Tackleton will shortly intrude. Both illustrators include Caleb's wonderful great-coat, in fact fashioned out of a sackcloth once used to pack fragile objects and labelled "glass" (upper left in Doyle, upper right in Leech). In Leech's, Barnard's, and Abbey's versions of the same scene, the great-coat hangs drying on a clothes-line, as Dickens's text specifies, while Bertha is busy as "a Doll's dressmaker" (90) — however, in order to make Caleb's and Bertha's heads the picture's focal point, Barnard has dispensed with "the four-pair front of a desirable family mansion" (90, and clearly evident in Leech's and Abbey's woodcuts) which Caleb has been decorating.
Despite Barnard's having a larger field with which to work than the 1845 illustrators, he has elected not to fill it with toys as his predecessors have done; rather, he gives over most of the illustration to the interaction of the three characters. Barnard has in mind the following passage, when, just after Caleb has sung has a Bacchanalian song, he whispers into Bertha's ear, Bertha continues sewing, and the cynical Tackleton provides sarcastic commentary:
"What! You're singing, are you?" said Tackleton, putting his head in at the door. "Go it! I can't sing."
Nobody would have suspected him of it. He hadn't what is generally termed a singing face, by any means.
"I can't afford to sing," said Tackleton. "I'm glad you can. I hope you can afford to work too. Hardly time for both, I should think?"
"If you could only see him, Bertha, how he's winking at me!" whispered Caleb. "Such a man to joke! you'd think, if you didn't know him, he was in earnest — wouldn't you now?"
The Blind Girl smiled and nodded.
"The bird that can sing and won't sing, must be made to sing, they say," grumbled Tackleton. "What about the owl that can't sing, and oughtn't to sing, and will sing; is there anything that he should be made to do?"
"The extent to which he's winking at this moment!" whispered Caleb to his daughter. "Oh, my gracious!"
"Always merry and light-hearted with us!" cried the smiling Bertha.
"Oh, you're there, are you?" answered Tackleton. "Poor Idiot!"
He really did believe she was an Idiot; and he founded the belief, I can't say whether consciously or not, upon her being fond of him. ["Chirp the Second," British Household Edition, p. 91-92]
Although the 1845 illustrations exerted considerable influence upon the illustrators of the Household Edition volumes, Barnard's singular innovation is including the emotionally aloof employer in the Plummers' workroom, in that his presence transforms the situation from mere visual exposition (the introduction of the poor toymaker and his daughter, whose labours enrich the misanthropic capitalist) to situational irony and conflict. Through Tackleton's posture, facial expression, and general demeanour Barnard communicates the melodramatic villain's disdain for the optimistic Bertha and her devoted father. Ironically, since Caleb has convinced his daughter that their employer's eccentricity prompts him to disguise his benevolence with an assumed sarcasm, Caleb must disguise his anguish at Tackleton's derisive remarks about his "idiot" daughter.
The compactness of the Christmas novellas often prevented Dickens from developing his minor characters as extensively as he would in the "loose baggy monster" of a nineteen-month serialisation such as Pickwick, so that readers of the Christmas Book for 1845 might well have wondered, "Who and what is Tackleton, apart from a 'merchant' and a toymaker by proxy?" The text suggests that he is something of a curmudgeon, feared by Caleb and (owing to her father's distorting the reality of their situation as Tackleton's employees) beloved by Bertha. Barnard's illustration, therefore is important in fleshing out the shadowy figure who has ordered the wedding cake and is using his wealth to compel May Fielding to accept his offer of marriage, even though she is still in love with the young sailor lost at sea on a South America voyage, Edward Plummer.
In "Chirp the First," the narrator describes John Peerybingle's friend Caleb Plummer at his first appearance as "a little, meagre, thoughtful, dingy-faced man, who seemed to have made himself a great-coat from the sack-cloth covering of some old box; for, when he turned to shut the door, and keep the weather out, he disclosed upon the back of that garment, the inscription G & T in large black capitals. Also the word GLASS in bold characters" (British Household Edition, p. 84). Abbey and Barnard offer slightly different interpretations of Caleb — but, then, so did Doyle and Leech in the original 1845 illustrations. Doyle shows a careworn, slightly balding, middle-aged man in waistcoat and knee-britches in "Chirp the Second" (p. 54), whereas Leech shows Caleb in a frock coat, his face in need of a shave.
Even though in the first edition Tackleton appears only in the final illustration, The Dance", the narrator also introduces Tackleton "the toy merchant" (85) early on:
Tackleton the Toy merchant, pretty generally known as Gruff and Tackleton — for that was the firm, though Gruff had been bought out long ago; only leaving his name, and as some said his nature, according to its Dictionary meaning, in the business — Tackleton the Toy merchant, was a man whose vocation had been quite misunderstood by his Parents and Guardians. If they had made him a Money Lender, or a sharp Attorney, or a Sheriff's Officer, or a Broker, he might have sown his discontented oats in his youth, and, after having had the full run of himself in ill-natured transactions, might have turned out amiable, at last, for the sake of a little freshness and novelty. But, cramped and chafing in the peaceable pursuit of toy-making, he was a domestic Ogre, who had been living on children all his life, and was their implacable enemy. He despised all toys. . . . ["Chirp the First," British Household Edition, p. 85]
The misanthropic toymaker first appears dressed in a long green cape (giving his verbal portrait a whiff of sulphur) and top boots, "his hat jerked over the bridge of his nose, and his hands tucked down into the bottom of his pockets" (85). This earlier description, then, has conditioned Barnard's image of "sarcastic, ill-conditioned" (85) and unlikely bridegroom who appears at Caleb Plummer's door to ask a favour — that Bertha arrange for his being invited to Dot's weekly "picnic" so that he can interact socially with the Fieldings. He appears cynical and disengaged, even as Bertha, her gaze not registering objects in the room, appears blind, and, indeed, is, both in terms of both her "comfortable" home and the "eccentric" nature of her employer.
References
Cohen, Jane Rabb. Charles Dickens and his Original Illustrators. Columbus: University of Ohio Press, 1980.
Cook, James. Bibliography of the Writings of Dickens. London: Frank Kerslake, 1879. As given in Publishers' Circular The English Catalogue of Books.
Dickens, Charles. The Cricket on the Hearth. Christmas Books. Il. Fred Barnard. The Household Edition. London: Chapman and Hall, 1878.
Dickens, Charles. The Cricket on the Hearth. Il. John Leech, Richard Doyle, Daniel Maclise, Clarkson Stanfield, and Edwin Landseer. London: Bradbury and Evans, 1845.
Hammerton, J. A. The Dickens Picture-Book. London: Educational Book, 1912.
Kitton, Frederic G. Dickens and His Illustrators. 1899. Rpt. Honolulu: U. Press of the Pacific, 2004.
Parker, David. "Christmas Books and Stories, 1844 to 1854." Christmas and Charles Dickens. New York: AMS Press, 2005. Pp. 221-282.
Patten, Robert L. Charles Dickens and His Publishers. University of California at Santa Cruz. The Dickens Project, 1991. rpt. from Oxford U. p., 1978.
Slater, Michael. "Introduction to The Cricket on the Hearth." Dickens's Christmas Books. Harmondsworth, Middlesex: Penguin, 1971. Rpt., 1978. Vol. 2: 9-12.
Slater, Michael. "Notes to The Cricket on the Hearth." Dickens's Christmas Books. Harmondsworth, Middlesex: Penguin, 1971. Rpt., 1978. Vol. 2: 363-364.
Solberg, Sarah A. "'Text Dropped into the Woodcuts': Dickens' Christmas Books." Dickens Studies Annual 8 (1980): 103-118.
Thomas, Deborah A. Dickens and The Short Story. Philadelphia: U. Pennsylvania Press, 1982.
---

Victorian
Web

Illus-
tration

Christmas
Carol

Fred
Barnard

Next
Last modified 27 July 2012