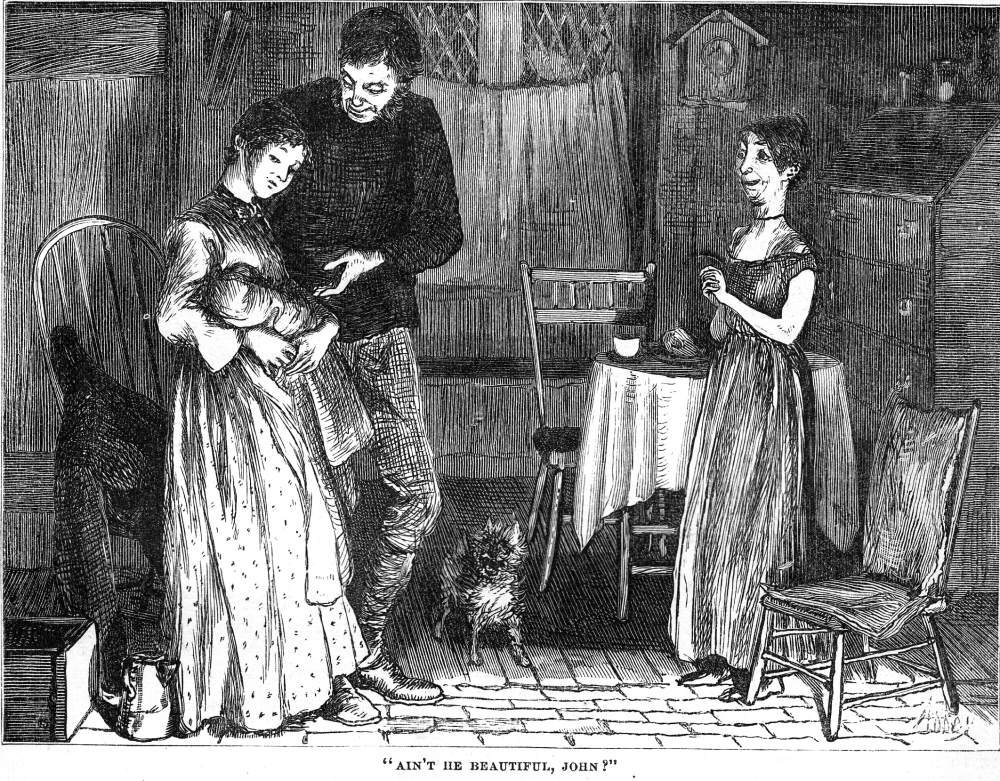 "Ain't he beautiful, John?" by E. A. Abbey. 10.1 x 13.4 cm framed. From the Household Edition (1876) of Dickens's Christmas Stories, p. 79. Dickens's The Cricket on the Hearth: A Fairy Tale of Home was first published for Christmas 1845. [Click on the image to enlarge it.]
Again the infant is the subject of Abbey's illustration, but on this occasion both parents and the juvenile nurse dote upon the child, forming a sort of Holy Family in working-class, Victorian garb. Curiously, Abbey has elected to depart entirely from the images he received from the novella's original illustrators, who consistently depict John Peerybingle in a Dorset labourer's line smock-frock, most notably in John Leech's "The Dance" (p. 173). Abbey has dressed his tall, youthful, slender John in a fisherman's sweater, put Dot in a more demure dress (retaining, nevertheless, the apron), and has even transformed the Peerybingles' mastiff, Boxer, into a wire-haired terrier. Whereas Dickens describes John as "a sturdy figure of a man, much taller and much older than" ("Chirp the First," p. 78) his young wife, Abbey has taken pains to bring their ages together as his Dot is far more mature and somewhat less petite than seen throughout the original sequence. Unless Abbey intentionally contradicted the conceptions of Leech and his fellow illustrators (including Edwin Landseer's fearsome "Boxer" on p. 82 in "Chirp the Second"), it is likely that he had never seen the fourteen illustrations from the 1845 Bradbury and Evans publication. Certainly he was not guided by them, nor does he seem to be responding to them as Barnard does in his narrative-pictorial sequence of 1878.
Passage Illustrated
It was pleasant to see Dot, with her little figure, and her baby in her arms: a very doll of a baby: glancing with a coquettish thoughtfulness at the fire, and inclining her delicate little head just enough on one side to let it rest in an odd, half-natural, half-affected, wholly nestling and agreeable manner, on the great rugged figure of the Carrier. It was pleasant to see him, with his tender awkwardness, endeavouring to adapt his rude support to her slight need, and make his burly middle-age a leaning-staff not inappropriate to her blooming youth. It was pleasant to observe how Tilly Slowboy, waiting in the background for the baby, took special cognizance (though in her earliest teens) of this grouping; and stood with her mouth and eyes wide open, and her head thrust forward, taking it in as if it were air. Nor was it less agreeable to observe how John the Carrier, reference being made by Dot to the aforesaid baby, checked his hand when on the point of touching the infant, as if he thought he might crack it; and bending down, surveyed it from a safe distance, with a kind of puzzled pride, such as an amiable mastiff might be supposed to show, if he found himself, one day, the father of a young canary.
"Ain't he beautiful, John? Don't he look precious in his sleep?"
"Very precious," said John. "Very much so. He generally is asleep, an't he?"
"Lor, John! Good gracious no!"
"Oh,' said John, pondering. "I thought his eyes was generally shut. Halloa!"
"Goodness, John, how you startle one!" ["Chirp the First," p. 79-80]
The "background" in which Tilly waits to receive the baby, her distorted visage reflecting her mental exceptionality, is somewhat detailed compared to many of Abbey's interior backdrops, in particular the three unornamented wooden chairs parallel the sizes of the cottage's occupants (the smallest, right, belonging to Tilly; the largest, left, presumably to accommodate John. The Dutch clock to which Dickens alludes and which is prominent in the second, third, and fifth illustrations in the 1845 edition, stands above Tilly. Beside her, the table is laid for a late dinner, exactly as in "John's Arrival". Again, as in Barnard's sequence of illustrations for the British Household Edition two years later (a program that in other respects is more consistent with the 1845 illustrations), what is noticeably absent is the supernatural dimension, so conspicuous in Daniel Maclise's frontispiece and ornamental title-page. For Barnard, the family united before the fireplace (and even including Tilly) are jolly rather than sweet in "John Peerybingle's Fireside". For Abbey, nothing must detract from the tenderness and even the sanctity of the domestic scene, which he imbues with a sense of the numinous by using the firelight to create a chiaroscuro that highlights the figures and the tablecloth, throwing the rest of the scene into subtle shadow. Significantly, he makes Tilly an observer rather than a full member of the holy family.
Scanned image and text by Philip V. Allingham. Formatting, color correction, and linking by George P. Landow. [You may use these images without prior permission for any scholarly or educational purpose as long as you (1) credit the photographer and (2) link your document to this URL in a web document or cite the Victorian Web in a print one.]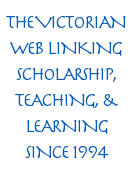 References
Davis, Paul. Charles Dickens A to Z: The Essential Reference to His Life and Work. New York: Facts On File, 1998.
Dickens, Charles. Christmas Books. Il. Fred Barnard. The Household Edition. London: Chapman and Hall, 1878.
Dickens, Charles. Christmas Stories. Il. E. A. Abbey. The Household Edition. New York: Harper and Brothers, 1876.
Dickens, Charles. The Cricket on the Hearth: A Fairy Tale of Home. Il. John Leech, Richard Doyle, Daniel Maclise, Clarkson Stanfield, and Edwin Landseer. London: Bradbury and Evans, 1845.
Thomas, Deborah A. Dickens and The Short Story. Philadelphia: U. Pennsylvania Press, 1982.
---
Last modified 17 December 2012