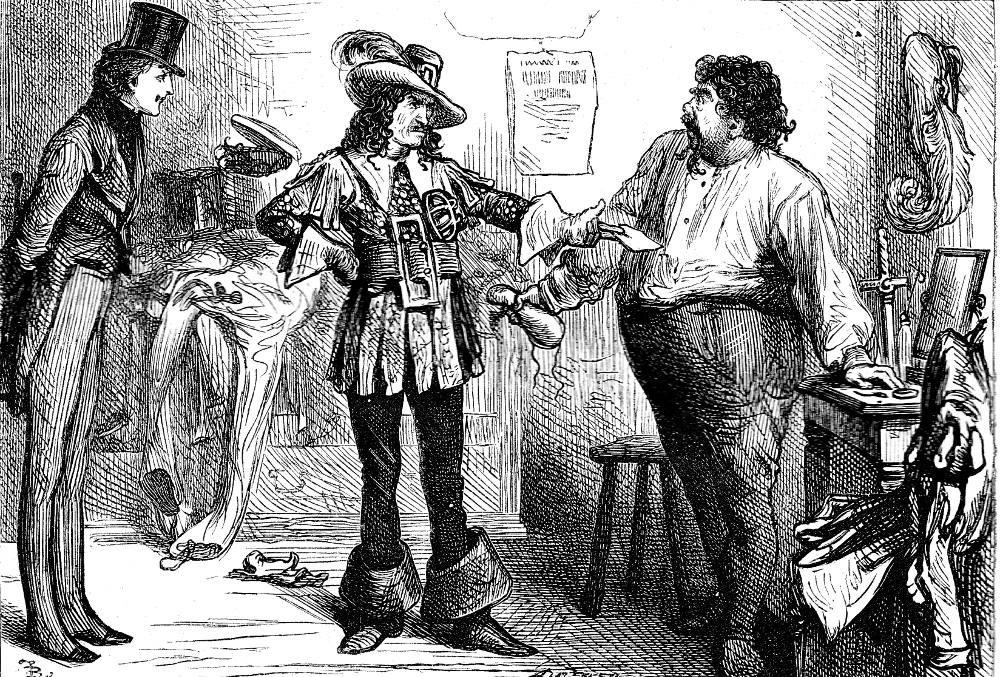 Was presently conducted by a robber, with a very large belt and buckle round his waist, and very large leather gauntlets on his hands, into the presence of the former manager from the forty-eighth chapter of the Household Edition of Charles Dickens's The Life and Adventures of Nicholas Nickleby, illustrated by Fred Barnard with fifty-nine composite woodblock engravings (1875). The figure is 9.6 cm high by 13.8 cm wide (3 ¾ by 5 ⅜ inches), framed, p. 320. Running head: "After Supper Speeches" (321). [Click on images to enlarge them.]
Passage Illustrated: Reverting to Vincent Crummles & Co.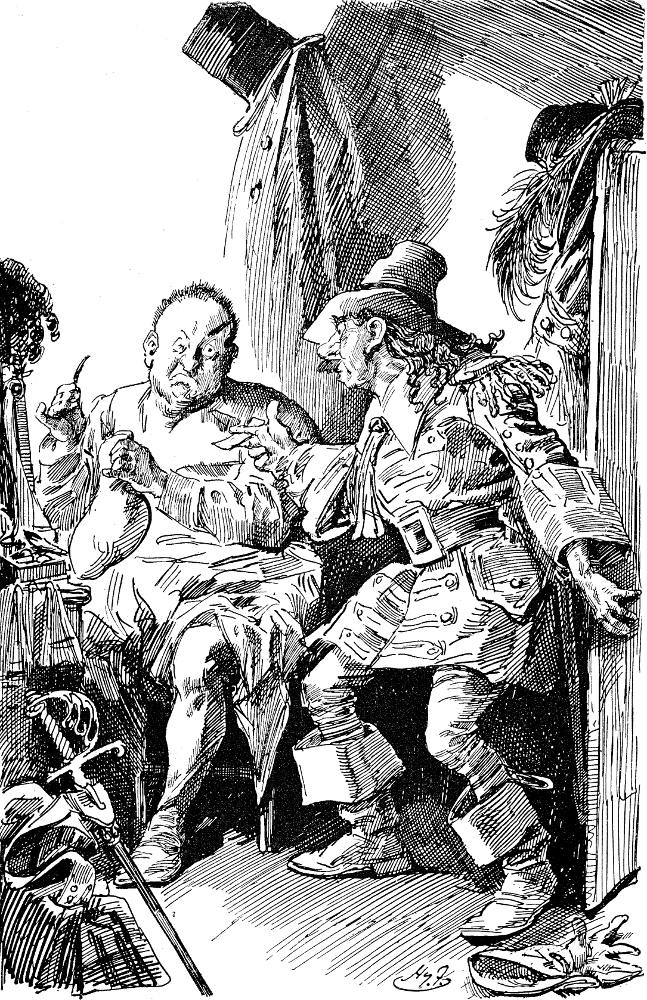 Mr. Crummles prepares for his Last Appearance (1910), in which Furniss complements Dickens's concluding the theatrical chapters involving the actor-manager "Vincent Crummles" (Thomas Davenport).
'Surely it must be the same man," thought Nicholas. "There can't be two Vincent Crummleses."
The better to settle this question he referred to the bill again, and finding that there was a Baron in the first piece, and that Roberto (his son) was enacted by one Master Crummles, and Spaletro (his nephew) by one Master Percy Crummles — their last appearances — and that, incidental to the piece, was a characteristic dance by the characters, and a castanet pas seul by the Infant Phenomenon — her last appearance — he no longer entertained any doubt; and presenting himself at the stage-door, and sending in a scrap of paper with "Mr. Johnson" written thereon in pencil, was presently conducted by a Robber, with a very large belt and buckle round his waist, and very large leather gauntlets on his hands, into the presence of his former manager.
Mr. Crummles was unfeignedly glad to see him, and starting up from before a small dressing-glass, with one very bushy eyebrow stuck on crooked over his left eye, and the fellow eyebrow and the calf of one of his legs in his hand, embraced him cordially; at the same time observing, that it would do Mrs. Crummles's heart good to bid him goodbye before they went. [Chapter XLVIII,  "Being for the Benefit of Mr. Vincent Crummles, and positively his last Appearance on this Stage," 317]
Commentary: Context of "The Last Appearance of Vincent Crummles"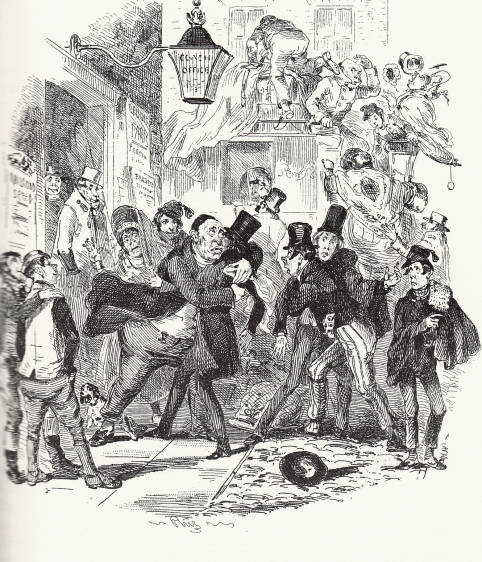 Theatrical Emotion of Mr. Vincent Crummles (January 1839), Chapter 30.
As he is strolling by a minor theatre in London, Nicholas notices a playbill advertising a forthcoming benefit performance. Prominent among the names of the actors and actresses was a familiar name: "Positively the last appearance of Mr. Vincent Crummles of Provincial Celebrity!!!"
When he presented himself at the stage door and sent in a note signed Johnson, he was shortly conducted by an actor accoutered in leather garments as a European robber. His former manager was heartily glad to see again the handsome, young who had been such a favourite with Portsmouth audiences months before. This is a farewell as Crummles is taking his troupe on an American tour.
Barnard exaggerates considerably the theatrical costumes of Crummles's assistant. Barnard gives the "robber" or "bandit," a stock character in early nineteenth century melodramatic romances such Isaac Pocock's The Miller and His Men (1813), an enormous buckle and top-boots. His hyperbolic appearance contrast the nattily dressed Nicholas in business attire, and the rather seedy appearance of the overweight, unshaven, bleary-eyed Crummles.
Introducing the Hyperbolic Vincent Crummles, Dickens's Version of Thomas Davenport
A Note on the American Tour of the Crummleses (Davenports')
Related material, including front matter and sketches, by other illustrators
Scanned image, colour correction, sizing, caption, and commentary by Philip V. Allingham. [You may use this image without prior permission for any scholarly or educational purpose, as long as you (1) credit the person who scanned the image, and (2) link your document to this URL in a web document or cite the Victorian Web in a print one.]
Bibliography
Barnard, J. "Fred" (il.). Charles Dickens's Nicholas Nickleby, with fifty-nine illustrations. The Works of Charles Dickens: The Household Edition. 22 vols. London: Chapman and Hall, 1875. XV. Rpt. 1890.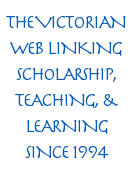 Bentley, Nicolas, Michael Slater, and Nina Burgis. The Dickens Index. Oxford and New York: Oxford U. P., 1988.
Davis, Paul. Charles Dickens A to Z: The Essential Reference to His Life and Work. New York: Facts On File, 1998.
Dickens, Charles. The Life and Adventures of Nicholas Nickleby. With fifty-two illustrations by C. S. Reinhart. The Household Edition. New York: Harper & Brothers, 1872. I.
__________. Nicholas Nickleby. With 39 illustrations by Hablot K. Browne ("Phiz"). London: Chapman & Hall, 1839.
__________. Nicholas Nickleby. Illustrated by Harry Furniss. The Charles Dickens Library Edition. 18 vols. London: Educational Book, 1910. Vol. 4.
__________. "Nicholas Nickleby." Scenes and Characters from the Works of Charles Dickens, being eight hundred and sixty-six drawings by Fred Barnard et al. Household Edition. London: Chapman and Hall, 1908.
Schweitzer, Maria. "Jean Margaret Davenport." Ambassadors of Empire: Child Performers and Anglo-American Audiences, 1800s-1880s. Accessed 19 April 2021. Posted 7 January 2015. http./childperformers.ca/jean-margaret-davenport/
---
Created 21 September 2021