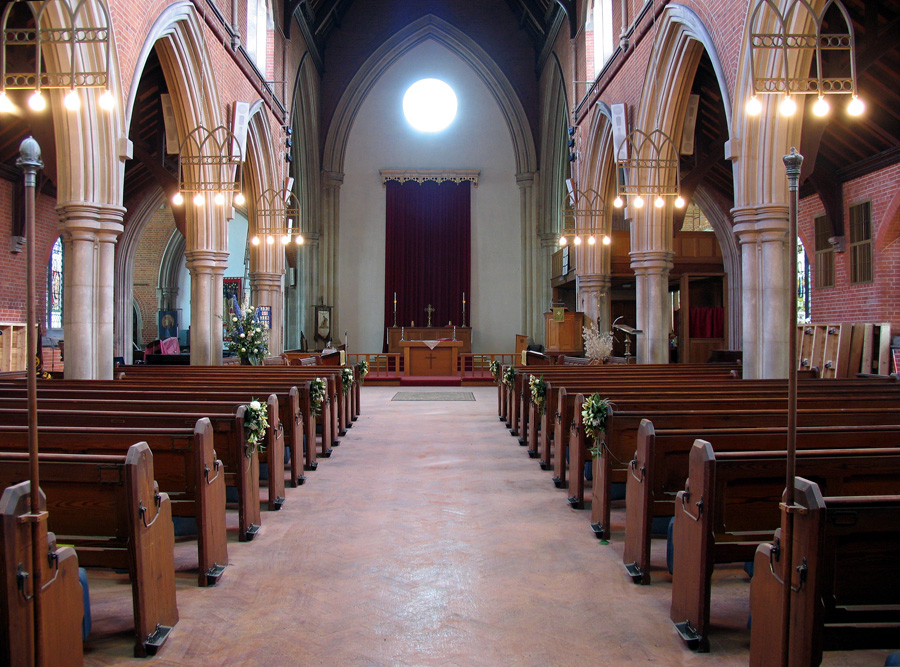 Looking east inside St. Martin's, Hale Gardens, West Acton.
St Martin's Church in Hale Gardens, a locally listed building of 1906 by Edward Monson & Sons, was never completed, and lacks a chancel (see "Acton: Churches"). But it is rightly described as "[l]ofty and ambitious" (Cherry and Pevsner 155).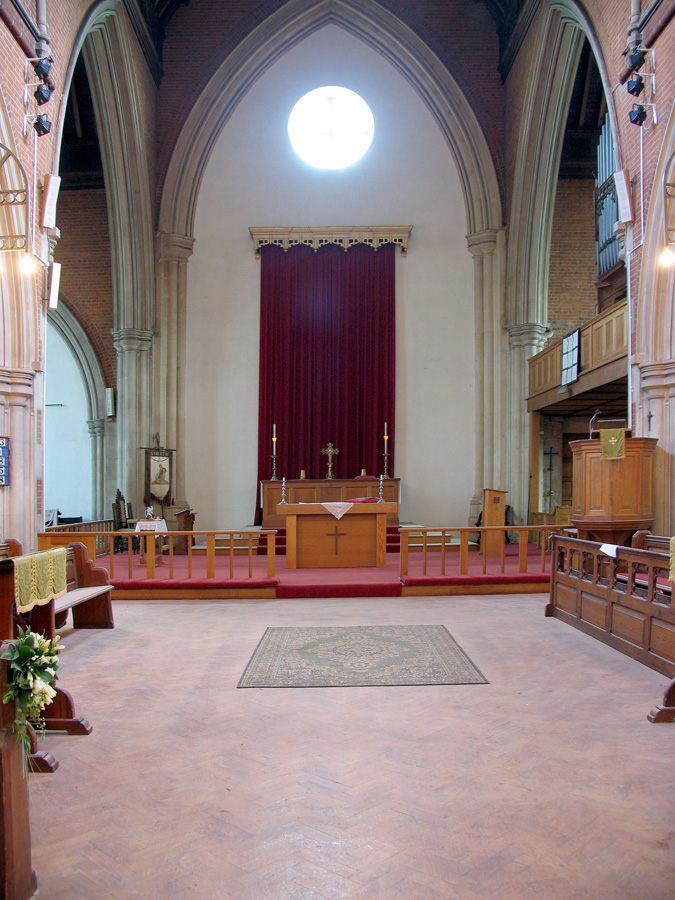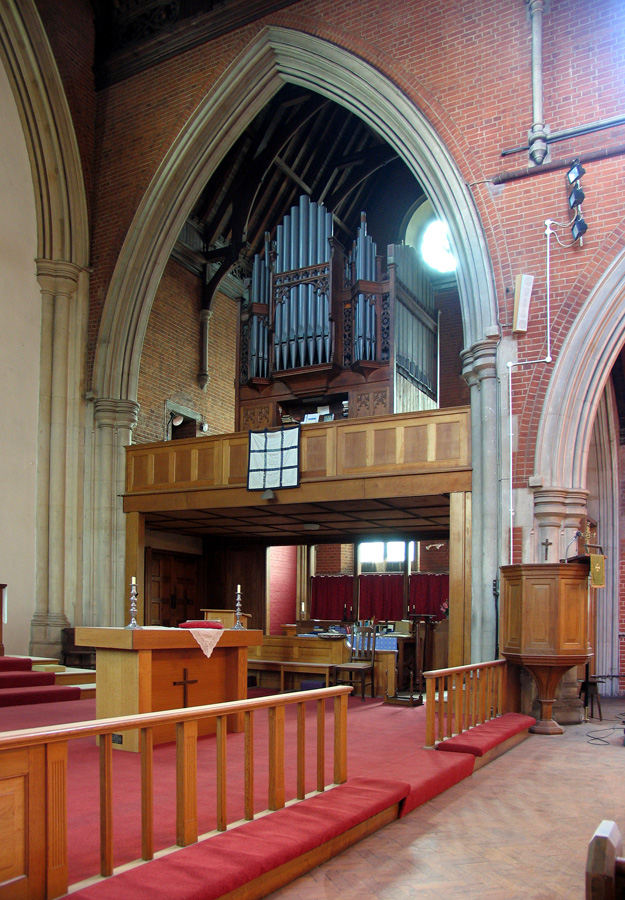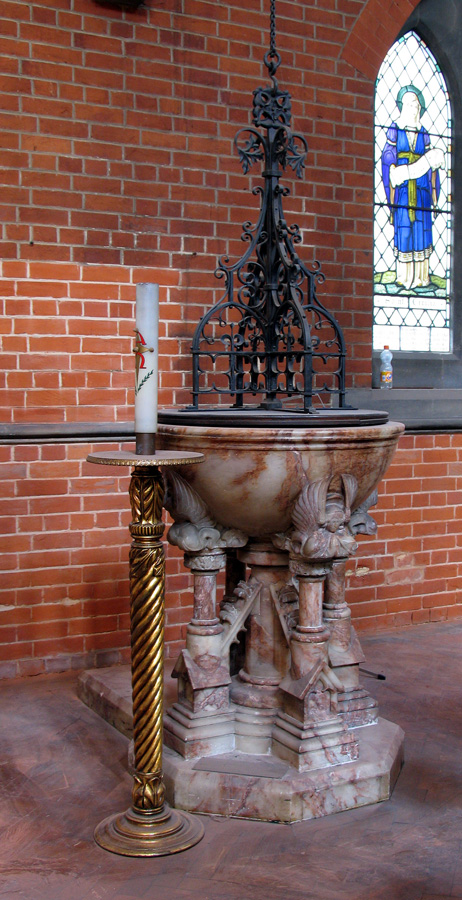 Left to right: (a) The east end. (b) The organ, organ gallery and pulpit. (c) Beautiful marble font, with carved angels and wrought iron cover.
In the background of the font is the lefthand light of the three-light stained-glass window by C. E. Moore shown in its entirety below. It depicts St Cecilia, holding a scroll of music, "In memory of MAUDE LEWIS RAYNER-SMITH 1880-1936, a singer in the congregation for 25 years. Also PERCY, 1884-1974, beloved husband and sidesman of this Church." There are other windows on a similar pattern by the same firm on both north and south walls, dedicated to other members of the church who died in the twentieth century, including a church warden (the window depicting St Martin); a teacher (the window depicting St Katherine); those who returned safely from war (a window depicting St Michael); a physician (a window depicting St Luke); and so on. This makes a very fine collection of the firm's glass.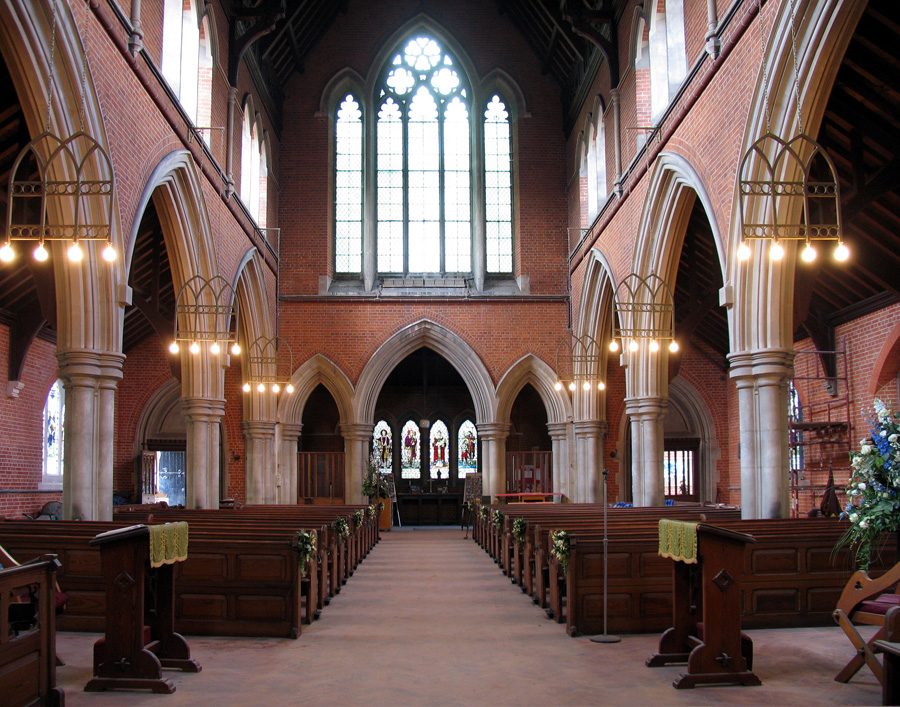 Left: St Cecilia with St Martin in the middle and St Katherine on the right. Right: The west end of the church, looking towards the welcome area.

The very attractive row of lancets at the west end area also mostly by C.E. Moore, but three are more recent windows by Goddard & Gibbs. Together, these are (from left to right): "He called the name of the place, "House of God" — a window commemorating the 60th anniversary of the church, by Goddard & Gibbs (1967); St. Ambrose & St. Augustine by C. E. Moore (1954); St. Christopher with the Christ child by C. E. Moore (1945); The Song of Simeon, by C. E. Moore (c. 1942); and two more windows by Goddard and Gibbs, both of 1967: "Jesus also was baptised" showing John the Baptist baptising Jesus, and "They brought young children unto Christ" (see Eberhard).
The individual windows all have something to tell us, teaching us about the church, the fathers of the church, and important Bible passages. They are also examples of the skills of their designers — here, in renowned stained-glass firms dating back to Victorian times. A whole row such as this, in the "welcome area" of the church, also makes a lovely contribution to the atmosphere of the church as a whole. As so often, these and other windows in St Martin's carry dedications, which may mean a great deal to the families of those commemorated by them. An example here is the "Song of Simeon" window, dedicated to members of the Dicker family, whose descendants recently returned to see it (see Davis 6-7).
Photographs by John Salmon, reproduced here by kind permission of the Rev. Nicholas Henderson; text by Jacqueline Banerjee. You may use the images without prior permission for any scholarly or educational purpose as long as you (1) credit John Salmon and (2) link your document to this URL in a web document or cite the Victorian Web in a print one. Click on the images to enlarge them.
Related Material
Sources
"Acton: Churches." A History of the County of Middlesex: Volume 7, Acton, Chiswick, Ealing and Brentford, West Twyford, Willesden. Ed. T. F. T. Baker and C. R. Elrington (London, 1982): 35-39. British History Online. Web. 27 June 2017.
Cherry, Bridget, and Nikolaus Pevsner. London: 3: North West. New York and London: Yale University Press, 2002.
Davis, Clive. "The Dicker Memorial Window." St Martin's Monthly. May 2014: 6-7. Web. 27 June 2017.
Eberhard, Robert. "St Martin's, West Acton." Church Stained Glass Windows, Web. 27 June 2017.
---
Created 27 June 2017.