Photographs by the author and our contributing photographer, John Salmon, unless otherwise indicated. We are most grateful to Steve Britnell for the first photograph (slightly modified here) and Brian Elliott for the photographs of the organ pipes. [You may use these images without prior permission for any scholarly or educational purpose as long as you (1) credit the photographer and (2) link your document to this URL in a web document or cite it in a print one. Click on the thumbnails for larger images.]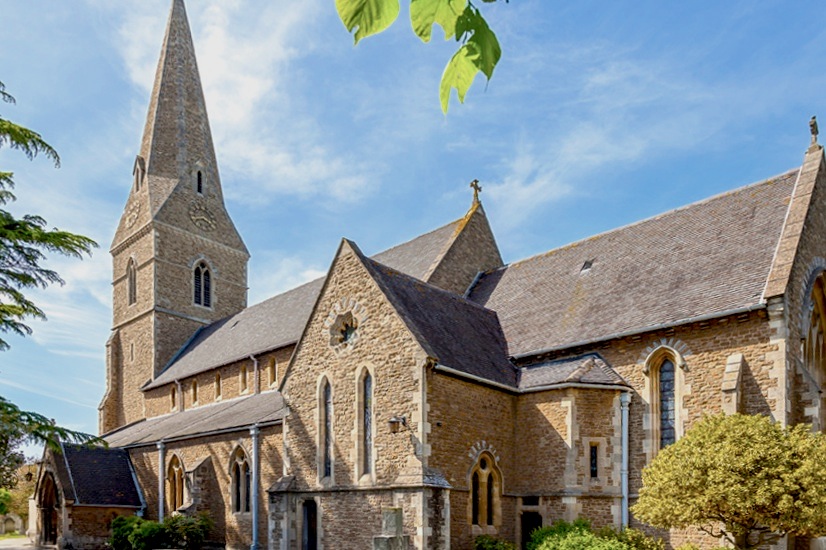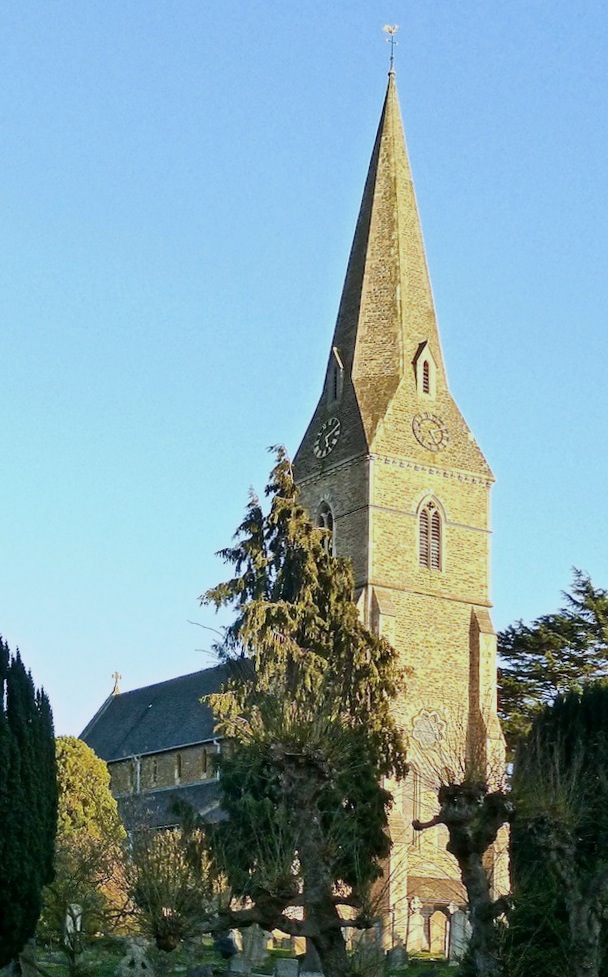 Left: Christ Church [with thanks to Steve Britnell]. Right: Christ Church from Llamas Lane [by JB].
Christ Church, Esher, Surrey, by Benjamin Ferrey (1810-80). Completed in 1853, Christ Church is built of coursed buff rubblestone with stone dressings, and has a stone broach spire and thirteenth-century details (see listing text, and Nairn and Pevsner 221). It stands on a height, beside Esher Green on the corner of Lammas Lane and Church Street, Esher. By the beginning of the Victorian period the little mid-sixteenth century church of St George's on the other side of Esher High Street had become too small to serve as the parish church, but was too special, and perhaps too awkwardly located, to be extended. Ferrey was commissioned to provide a new one, which he built on this spot: as "an architect with a sense of place.... [he put] a fine building on a rise overlooking The Green and with a spire that signals the location of Esher for miles around" (Howkins 65-66).
Interior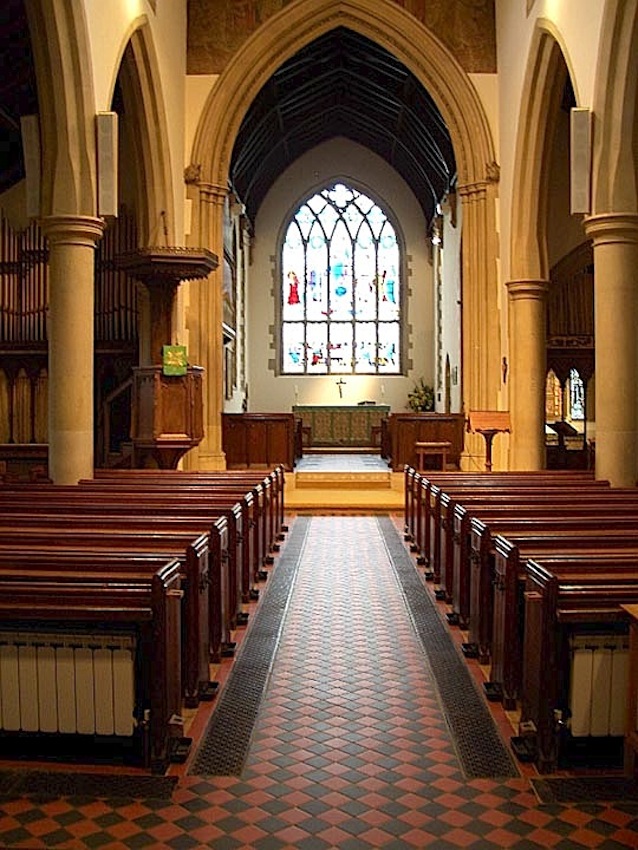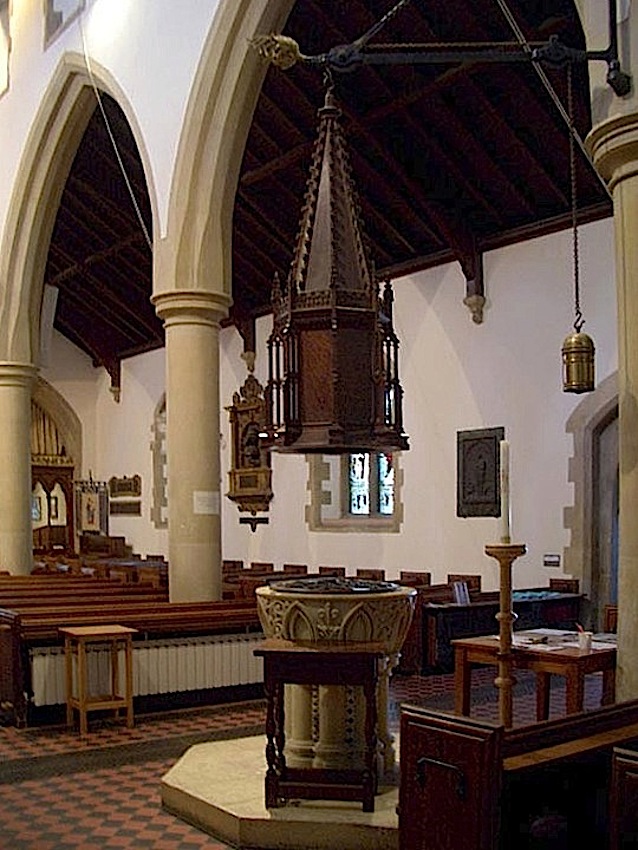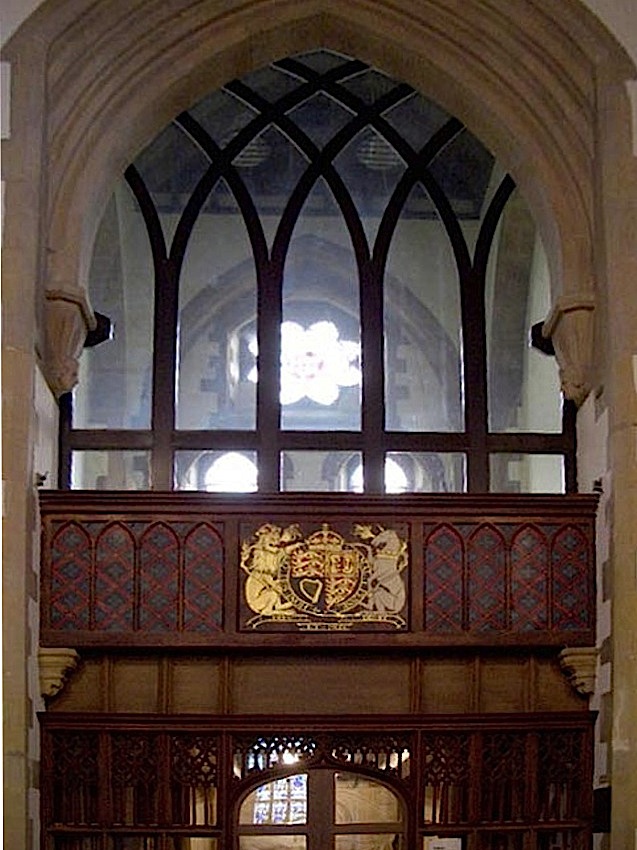 Left to right [all by JB]: (a) The nave, looking east. (b) Looking past the font towards the south aisle. (c) Tower arch with gallery and royal arms.
The interior of the church is impressive too, and, despite the fact that it lacks the highly decorated chancel of some other local churches, "fulfils expectations" raised by the exterior (Howkins 66). It has transepts and a clerestory with lancets, a chancel arch with angels looking down from the top of the columns, a tower arch with screen below and gallery above, and a fine stone font with a carved wooden Gothic crocketed lid. [Click here for Close-up of font]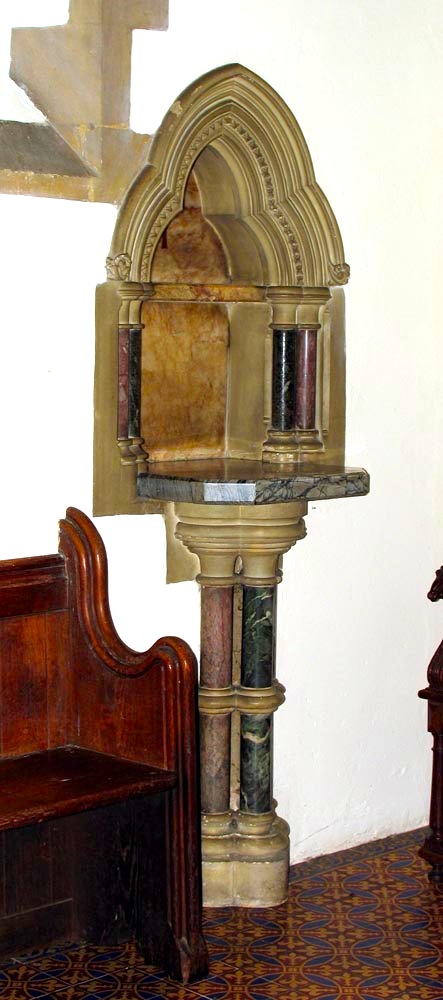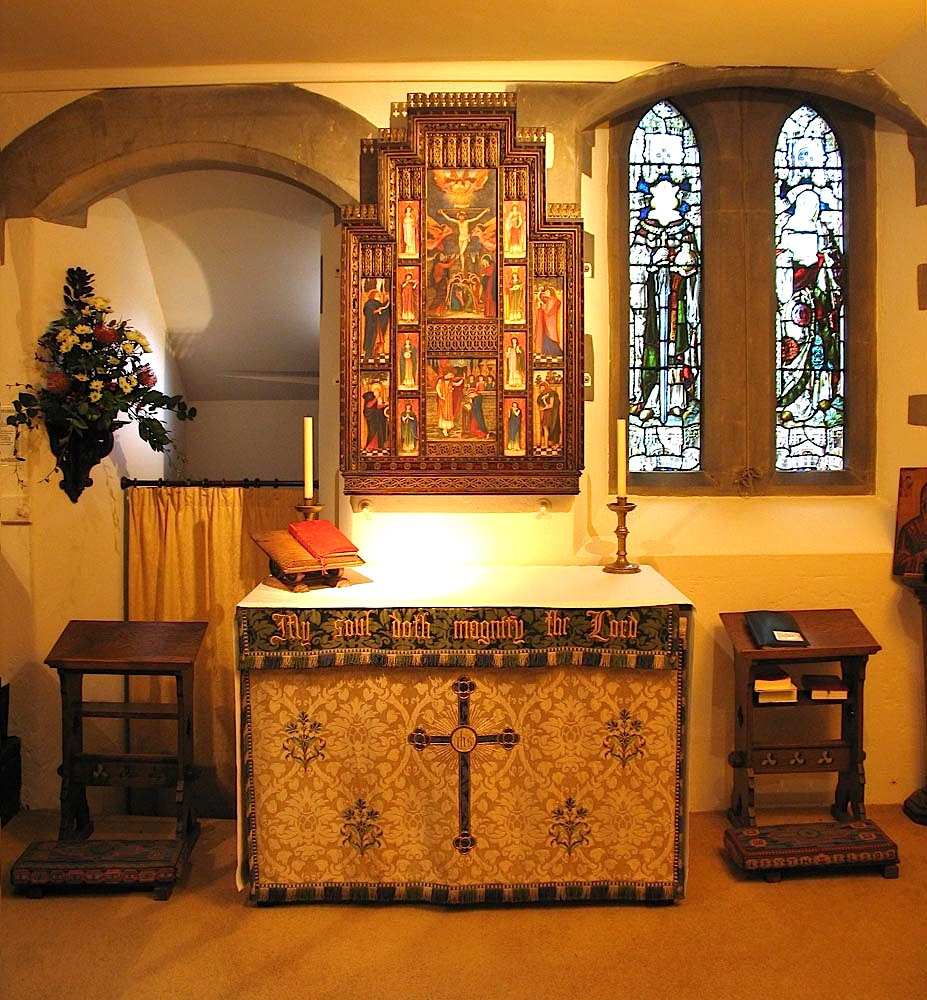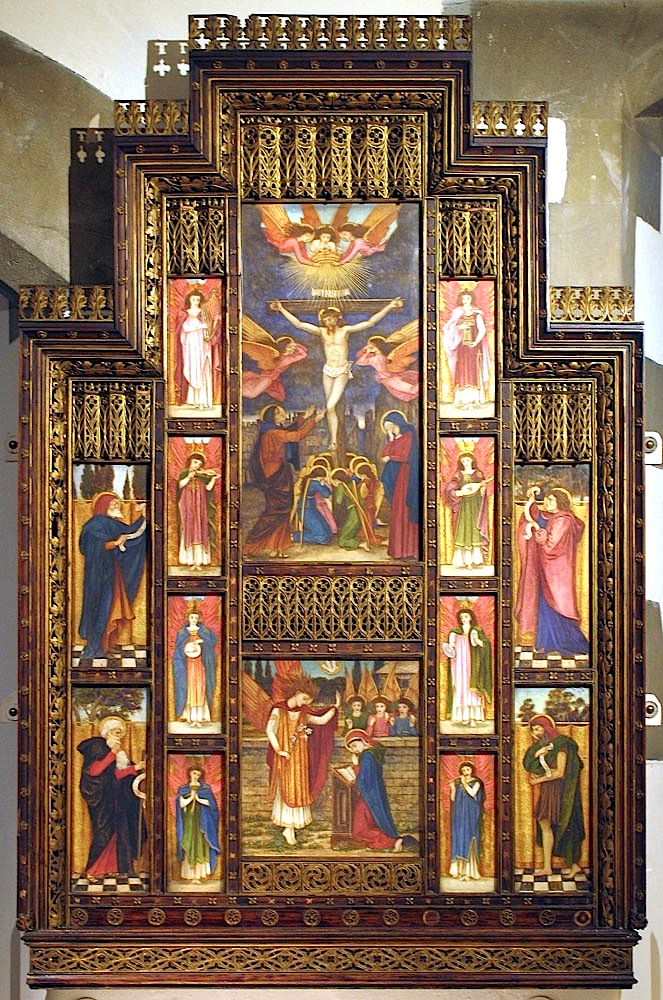 Left to right [all by JS]: (a) The piscina. (b) The Lady Chapel altar. (c) Reredos, by John Roddam Spencer Stanhope (since moved and sold).
Interestingly, the reredos seen here, which once graced the Lady Chapel, was painted by the artist John Roddam Spencer Stanhope. It was not, as sometimes stated (e.g. in Nairn and Pevsner 221), a copy of the one in Holy Trinity, the English Church in Florence, which Stanhope painted in the 1890s. Rather, it is the very highly finished study for that work, which he bequeathed to his stepdaughter and which she presented to the church in 1936. Stanhope lived in the Esher/Cobham area though his poor health sent him to Florence in the winters, and he finally moved there permanently — he died there in 1908. This elaborate, detailed and colourful design shows the Crucifixion at centre top, with angels above and the Annunciation below, and eight musician angels flanking these two main scenes. Prophets stand at either side. It can no longer be seen, at least not in situ. According to Esher parish's own site, this beautiful work was moved to the Treasury of Guildford Cathedral, and it now appears as "sold" on an auction website.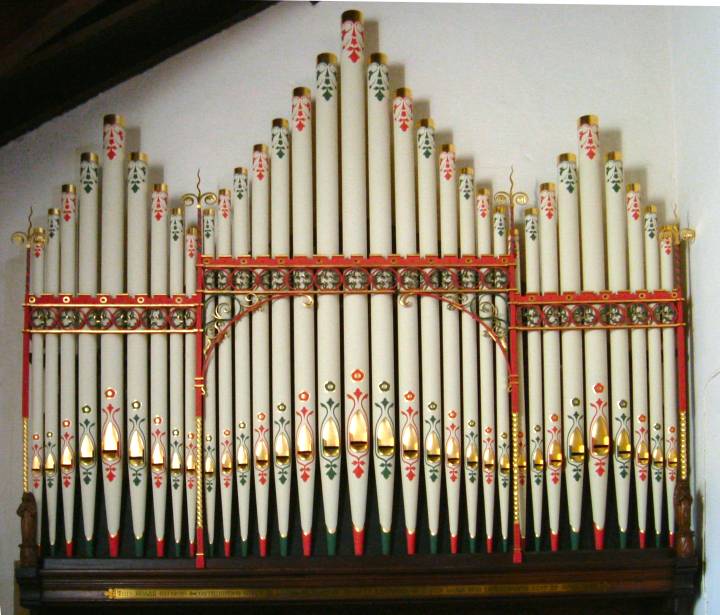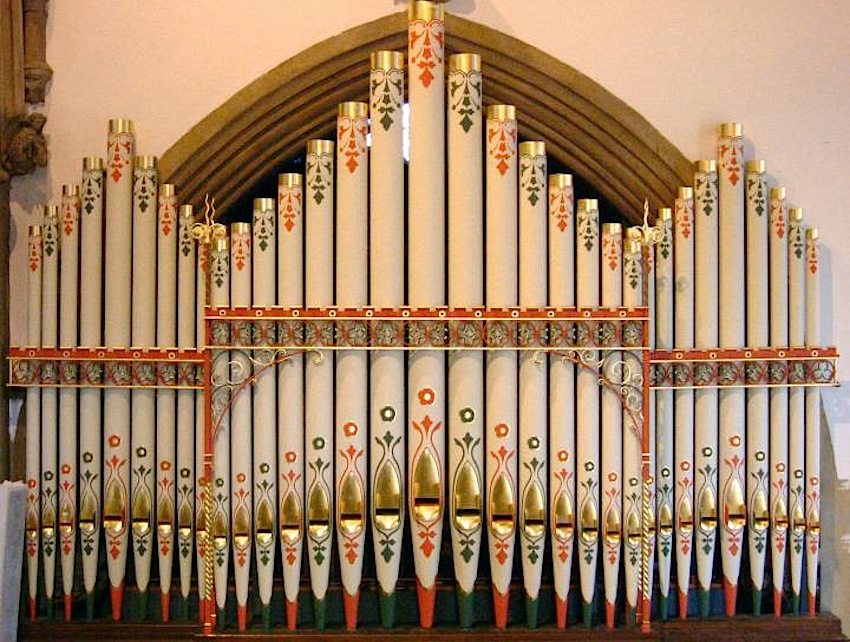 Left: Chancel organ pipes. Right: West-facing pipes.
Brian Elliott kindly wrote to our webmaster on 5 December 2006 to remind readers of the original version of this webpage that "the church has several points of interest, including a fine memorial to Leopold (who had become King of the Belgians), stained glass by Ninian Comper, and a pipe organ built in 1886 by J. W. Walker and Sons Ltd, and renovated over the last two years at a cost of around £187,000, to maintain it as an outstanding example of the Victorian organ." A selection of the stained glass, including Comper's, can be seen by clicking on the links in "Related Material" below.
Churchyard Monument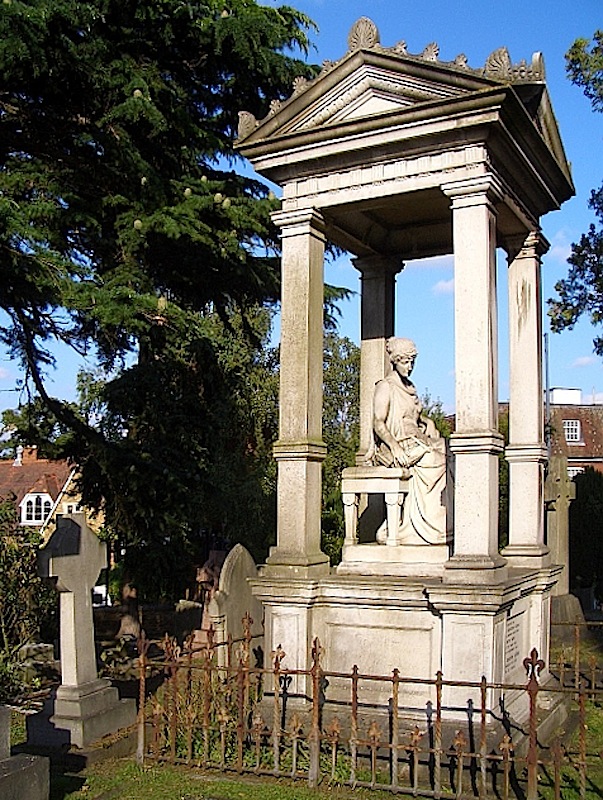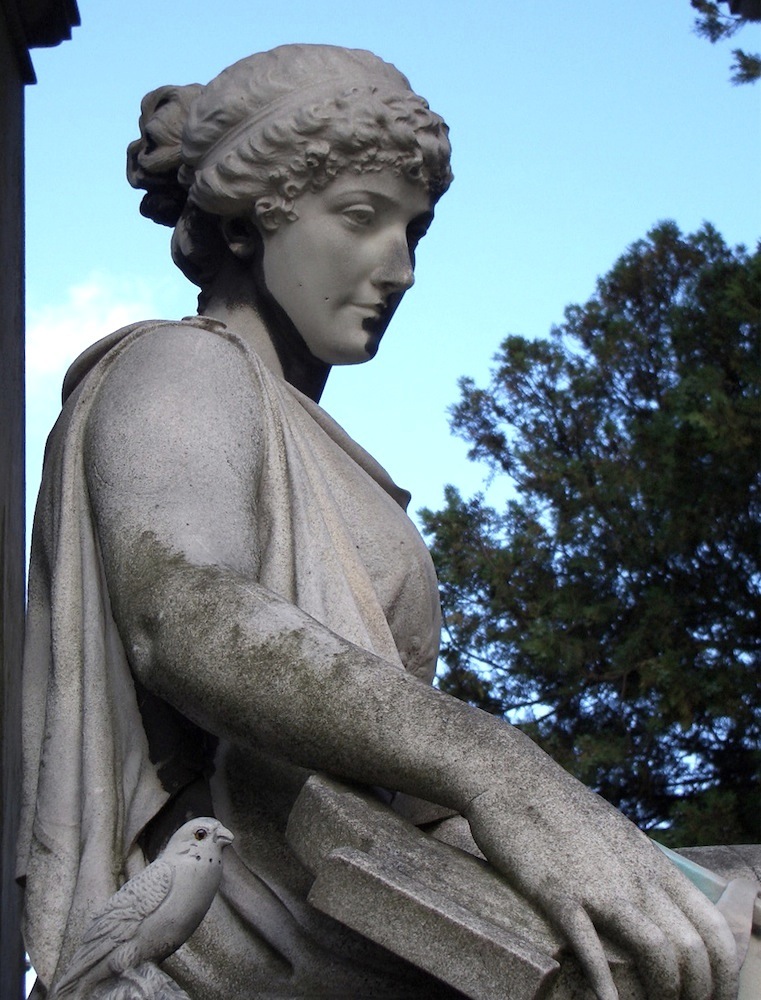 Left to right [all by JB]: (a) Whole monument to Edith Amy Clarke, by an unknown sculptor (possibly Francis Williamson, who lived just a couple of minutes away?). (b) Seated figure, with harp. (c) Detail. Note the little pet bird perched beside her.
Arthur Doveton Clarke, who raised this memorial to his young wife, appears in the London Gazette of 1 July 1887 as one of those giving notice of the dissolution of a stockbroking firm, prior to the formation of a new partnership. He must have been well-off; Edith is remembered inside the church too, in the stained glass. This was, indeed, a "prosperous church" (Nairn and Pevsner 221). Yet Clarke's own apparent wealth could not forestall his family's tragedy, and he himself died a few years after his wife, in his early fifties. Other Victorian monuments inside and outside the church can be seen by following the links under "Related Material."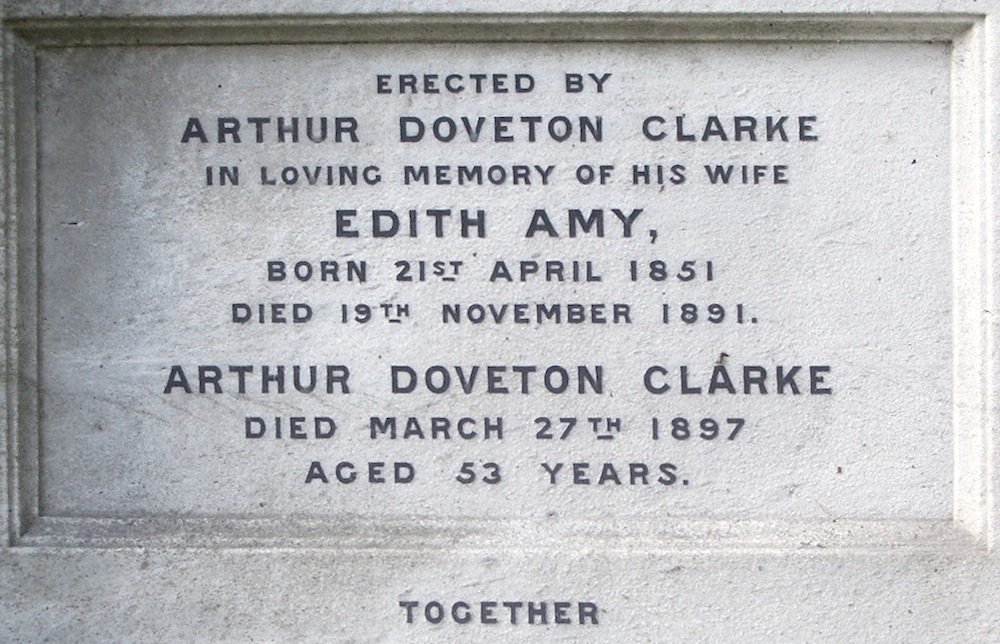 Inscription on monument.
Related Material
References
"Christ Church, Esher." British Listed Buildings. Web. 4 November 2015.
Howkins, Chris. Hidden Surrey: Town and Country. Newbury: Countryside, 1990.
"John Roddam Spencer Stanhope (1829-1908)." Invaluable: The World's Premier Auctions. Web. 4 November 2015.
Mee, Arthur. The King's England: Surrey. London: Hodder & Stoughton, 1938.
Mittler, Penny. ""The Church of England Chaplaincies in Florence from 1820". Web. 4 November 2015.
Nairn, Ian and Nikolaus Pevsner, rev. Bridget Cherry. The Buildings of England: Surrey. 2nd ed. London: Penguin, 1971.
Parish of Esher. Web. 4 November 2015.
Poë, Simon. "Strange, Dreamy Delight: Decorative Work in Churches by John Roddam Spencer Stanhope." Hoylandswaine Arts Group. Web. 4 November 2015.
---
Last modified 1 November 2015