[Information provided by Ayla Lepine, Visiting Lecturer, Courtauld Institute of Art, who also wrote the biography linked to this page.]
Biographical matters
Artistic Relations — Architects, Designers, and Movements: Sources, Influences, Confluences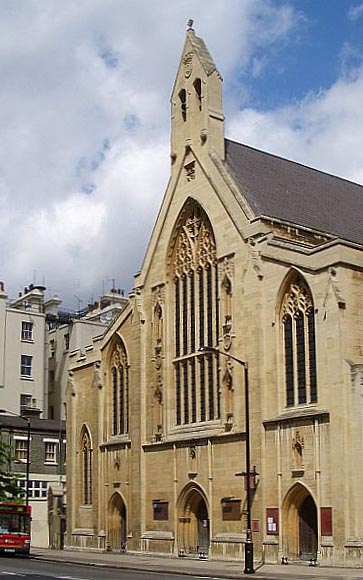 Works illustrated and discussed in the Victorian Web
Other Works
St Martin's, Scarborough, in Yorkshire (1860-63)
Holy Angels, Hoar Cross, Staffordshire, (1871-76)
St Augustine, Pendlebury, Lancashire (1870-74)
St Swithun's Quadrangle, Magdalen College, Oxford (1879-84)
St Mary's, Clumber, Nottinghamshire (1886-89)
The interiors for Ham House (1889-90)
Vestments for the Coronation of Edward VII (1902)
London School Board Offices (1872-76, demolished)
Master's Lodge at University College (1877-82), Oxford
Classical reredos for St Paul's Cathedral, London (1887, destroyed in WWII and removed).
Cathedral in Hobart, Tasmania
Related Manufacturers
References
Cole, David. Handlists of the Work of British Architects: G. F. Bodley, T. Garner and C. G. Hare. London, 1972.
Crellin, David and Ian Dungavell (eds.). Architecture and Englishness 1880-1914, papers from the 2003 Annual Symposium of the Society of Architectural Historians of Great Britain. Oxford, 2006.
Fawcett, Jane, ed. Seven Victorian Architects. London, 1976.
Bodley, G. F., 'On Some Principles and Characteristics of Ancient Architecture and Their Application to the Modern Practice of the Art'. The Builder 108 (28 February 1885): 294-96.
Norman Shaw, Richard and Thomas Graham Jackson (eds.), Architecture, a Profession or an Art? Thirteen Short Essays on the Qualifications and Training of Architects. London, 1892.
Smart, C. M., Muscular Churches: Ecclesiastical Architecture of the High Victorian Period. London, 1989.
Warren, E. P., 'The Life and Work of George Frederick Bodley', RIBA Journal, 3rd series, vol. 17 (1910): 305-40.
---
Last modified 4 June 2013