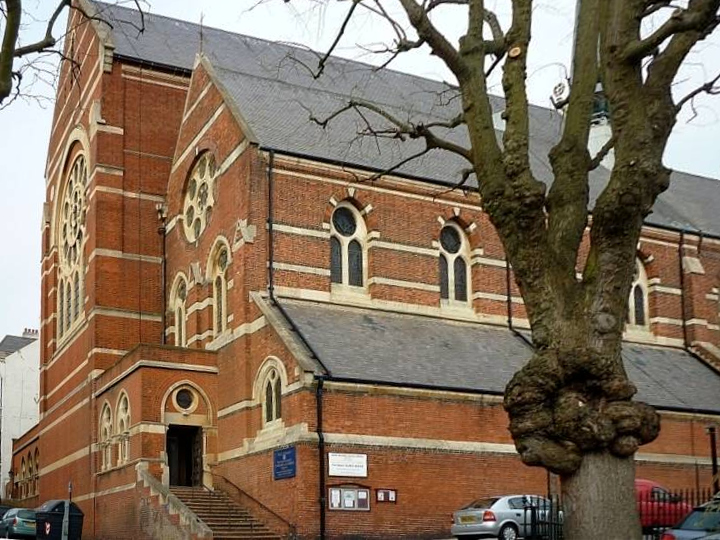 St Michael and All Angels, Brighton. Original church designed by G. F. Bodley in 1858, and constructed 1860-61. Parallel church incorporating Bodley's building as its south aisle; designed by William Burges in 1865, and constructed after Burges's death 1893-95. Red brick with contrasting sandstone banding and dressings. Facing Victoria Road, Powis Road and St Michael's Place.>
This unusual church looks like two churches rolled into one, which is exactly what it is, since the north aisle of G. F. Bodley's original church had to be demolished when Burges's larger and higher extension was built. Despite or perhaps because of having no apse or tower, and no south transept, the whole is rather uncompromising from the outside, especially in its unbroken rise up the slope of Victoria Road. As Ecclesiologist pointed out, "the plan almost errs on the side of simplicity" (qtd. in Muthesius 689), and is not really relieved by the rather flimsy-looking spire. However, the structure is Grade 1 listed, and there are only 24 Grade 1 listed buildings in the whole of Brighton and Hove, a city area exceedingly rich in notable architecture. Indeed, Simon Jenkins considers it to be the most important church in Sussex, placing it among the top hundred churches in the country as a whole, along with, for example, William Butterfield's All Saints, Margaret Street in London (xxxvii-iii; note that Jenkins's list is for churches of all periods, not just Victorian).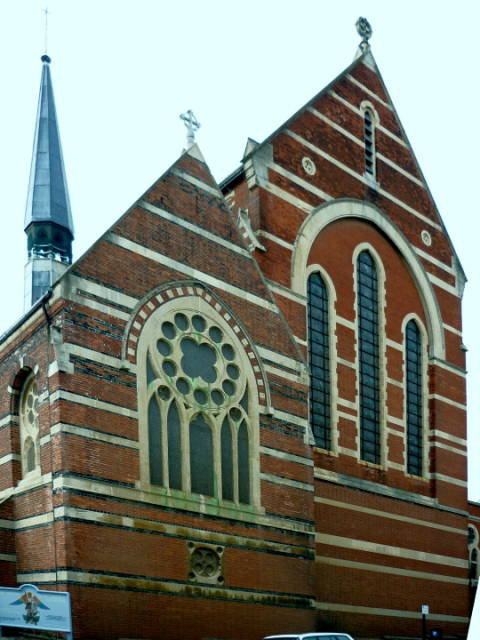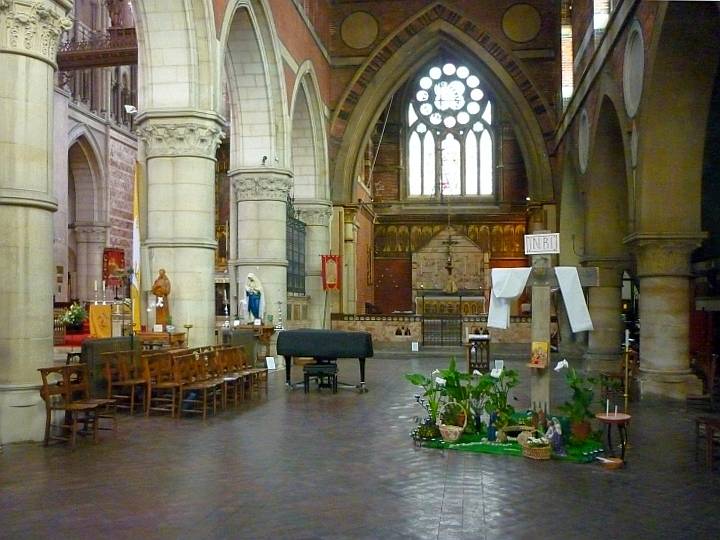 Left: East end of the church with Burges's extension. Right: Interior of the "old" church by Bodley. [Click on images to enlarge them.]
St Michael and All Angels is of special interest for several reasons. It was Bodley's first important church, and shows him striking out on his own. According to Reginald Turnor, the polychromatic interior in particular represented "Bodley's rebellion against the [George Gilbert] Scott technique and Bodley himself called it 'a boyish and antagonistic effort'" (70; compare it with his later, much more refined Holy Trinity Church in Prince Consort Road, Kensington). Also, the interior contains a beautiful Lady Chapel, and memorable features by other hands. Its decoration was one of the Morris firm's first commissions (Noyes 35), and it has stained glass by a galaxy of designers, including Morris, Rossetti, Burne-Jones and Ford Madox Brown. Morris, together with Philip Webb and Charles Faulkner, was involved in the painting of the chancel roof. Bodley himself designed the grey marble font and pulpit made of green serpentine and calcite. The interior view here shows the "old" part of the church by Bodley, with the West Window by Clayton & Bell, 1862, depicting the Crucifixion in the middle and the four archangels below (see "Stained Glass Windows").
Visible to the left of the interior view is the beginning of Burges's vast, cathedral-like extension, which Jenkins describes as "spectacular" ("Massive Gothic arcades with coupled columns rise to a triforium knitted by multiple shafts into the clerestory," 689). The most notable details here are the choir stalls designed by Burges, and the misericords carved by his favourite stone- and wood-carver and sculptor, Thomas Nicholls. Nicholls was also responsible for the sculpture at the west end, of St Michael and the dragon. The whole is brightly lit by the three tall lancet windows of the chancel, seen from the outside in the view of the east end of the church.
The original church needed to be extended because the congregation had swollen as the surrounding area was developed. Less clear is the reason for Burges's having been asked to redesign it instead of Bodley. The two architects were, after all, contemporaries, and Bodley had strong family connections with Brighton: his father was a doctor living not far from the church and practising in Brighton, and Bodley did other work locally — interior alterations to St Paul's near the seafront. He was, it seems, less than happy with the radical redesign of St Michael and All Angels (see "History").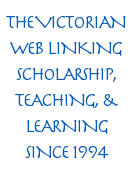 Related material
Photographs and text 2010 by Jacqueline Banerjee. [You may use this image without prior permission for any scholarly or educational purpose as long as you (1) credit the photographer and (2) link your document to this URL in a web document or cite the Victorian Web in a print one.]
References
"History: St Michael and All Angels, Brighton" (church website). Viewed 12 April 2010
Jenkins, Simon. England's Thousand Best Churches. London: Penguin, 2000.
Muthesius, Stefan.The High Victorian Movement in Architecture, 1850-1870. London: Routledge, 1972.
Noyes, Alfred. William Morris. Freeport, New York: Books for Libraries Press, rpt. 1972.
"Stained Glass Windows at St Michael &amp: All Angels — 'Old' 1862 church." Viewed 12 April 2010.
Turnor, Reginald. Nineteenth Century Architecture in Britain. London: Batsford, 1950.
---
Last modified 12 April 2010