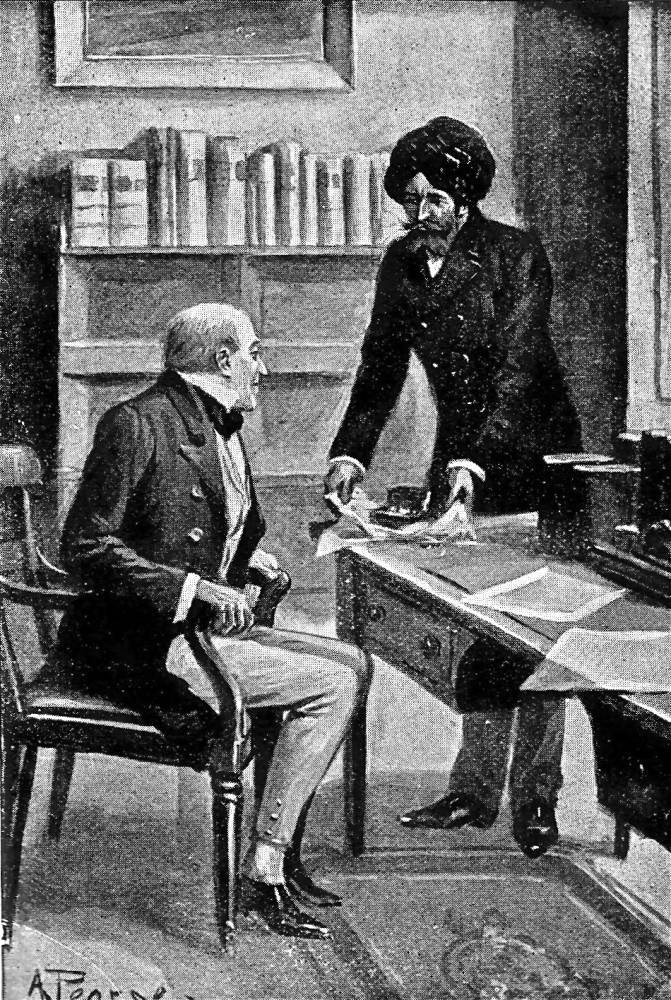 "Excuse my asking one question."
Alfred S. Pearse
Half-tone lithograph
12 x 8.2 cm
[Click on image to enlarge it.]
Scanned image and text by Philip V. Allingham.
[You may use these images without prior permission for any scholarly or educational purpose as long as you (1) credit the photographer and (2) link your document to this URL in a web document or cite the Victorian Web in a print one.]
Passage Illustrated
After first apologising​— in an excellent selection of English words​ — for the liberty which he had taken in disturbing me, the Indian produced a small parcel the outer covering of which was of cloth of gold. Removing this and a second wrapping of some silken fabric, he placed a little box, or casket, on my table, most beautifully and richly inlaid in jewels, on an ebony ground.
"I have come, sir," he said, "to ask you to lend me some money. And I leave this as an assurance to you that my debt will be paid back."
I pointed to his card. "And you apply to me," I rejoined, "at Mr. Luker's recommendation?"
The Indian bowed.
"May I ask how it is that Mr. Luker himself did not advance the money that you require?"
"Mr. Luker informed me, sir, that he had no money to lend."
"And so he recommended you to come to me?"
The Indian, in his turn, pointed to the card. "It is written there," he said.
Briefly answered, and thoroughly to the purpose! If the Moonstone had been in my possession, this Oriental gentleman would have murdered me, I am well aware, without a moment's hesitation. At the same time, and barring that slight drawback, I am bound to testify that he was the perfect model of a client. He might not have respected my life. But he did what none of my own countrymen had ever done, in all my experience of them — he respected my time.
"I am sorry," I said, "that you should have had the trouble of coming to me. Mr. Luker is quite mistaken in sending you here. I am trusted, like other men in my profession, with money to lend. But I never lend it to strangers, and I never lend it on such a security as you have produced."
Far from attempting, as other people would have done, to induce me to relax my own rules, the Indian only made me another bow, and wrapped up his box in its two coverings without a word of protest. He rose — this admirable assassin rose to go, the moment I had answered him!
"Will your condescension towards a stranger, excuse my asking one question," he said, "before I take my leave?"
I bowed on my side. Only one question at parting! The average in my experience was fifty.
"Supposing, sir, it had been possible (and customary) for you​to lend me the money," he said, "in what space of time would it have been possible (and customary) for me​to pay it back?"
"According to the usual course pursued in this country," I answered, "you would have been entitled to pay the money back (if you liked) in one year's time from the date at which it was first advanced to you."
The Indian made me a last bow, the lowest of all — and suddenly and softly walked out of the room. — "Second Period, Second Narrative. Contributed by Matthew Bruff, Solicitor of Grey's Inn Square," Chapter 2, p. 387-389.
Commentary
The ingenious Brahmin is not really trying to arrange a lone; rather, he is trying to understand the terms under which Godfrey Ablewhite has pawned the Moonston and when and under what terms at the expiry of a year he will be able to regain possession — and presumably take the diamond to be cut up in Amsterdam.
Having discussed the mysterious visitor with Septimus Luker, a well-known East End fence, Mr. Bruff concludes that his visitor was the same man who applied to Luker for a loan and, further, that this was the leader of the Indians who had been watching his house, and then had blinded, gagged, and robbed him of a banker's receipt for a highly valuable object that he had just placed on deposit — the Moonstone! The chief of the Brahmins, the successors to those who tracked Herncastle from India to Europe and kept him under surveillance, now knows (a) where the Moonstone is lodged, and (b) when it will be redeemed — all he cannot be sure of is who will be redeeming the gem when the loan on it has been paid off. Collins communicates all of this through an after-dinner conversation between Matthew Bruff and Mr. Murthwaite, the Indian traveller, whose knowledge of Asian "psychology" enables him to penetrate the motivation of Mr. Bruff's strange visitor:
By the prompt transport of the Moonstone to his banker's, he [Luker] took the conspirators by surprise before they were prepared with a new plan for robbing him. How the Indians, in this latter case, suspected what he had done, and how they contrived to possess themselves of his banker's receipt, are events too recent to need dwelling on. Let it be enough to say that they know the Moonstone to be once more out of their reach; deposited (under the general description of 'a valuable of great price') in a banker's strong room. Now, Mr. Bruff, what is their third chance of seizing the Diamond? and when will it come?"
As the question passed his lips, I penetrated the motive of the Indian's visit to my office at last!
"I see it!" I exclaimed. "The Indians take it for granted, as we do, that the Moonstone has been pledged; and they want to be certainly informed of the earliest period at which the pledge can be redeemed — because that will be the earliest period at which the Diamond can be removed from the safe keeping of the bank!"
"I told you you would find it out for yourself, Mr. Bruff, if I only gave you a fair chance. In a year from the time when the Moonstone was pledged, the Indians will be on the watch for their third chance. Mr. Luker's own lips have told them how long they will have to wait, and your respectable authority has satisfied them that Mr. Luker has spoken the truth. When do we suppose, at a rough guess, that the Diamond found its way into the money-lender's hands?"
"Towards the end of last June," I answered, "as well as I can reckon it."
"And we are now in the year 'forty-eight. Very good. If the unknown person who has pledged the Moonstone can redeem it in a year, the jewel will be in that person's possession again at the end of June, 'forty-nine. I shall be thousands of miles from England and English news at that date. But it may be worth your while to take a note of it, and to arrange to be in London at the time."
"You think something serious will happen?" I said.
"I think I shall be safer," he answered, "among the fiercest fanatics of Central Asia than I should be if I crossed the door of the bank with the Moonstone in my pocket. The Indians have been defeated twice running, Mr. Bruff. It's my firm belief that they won't be defeated a third time."
Those were the last words he said on the subject. The coffee came in; the guests rose, and dispersed themselves about the room; and we joined the ladies of the dinner-party upstairs.
I made a note of the date, and it may not be amiss if I close my narrative by repeating that note here:
June, 'forty-nine. Expect news of the Indians towards the end of the month.
And that done, I hand the pen, which I have now no further claim to use, to the writer who follows me next. — "Second Narrative, Contributed by Matthew Bruff, Solicitor, of Gray's Inn Square," Chapter 3, p. 403-404.
The Indian gentleman, whose dress combines the utmost of male sartorial fashion with an Eastern beard and turban is, as Mr. Bruff's clerk describes him. "rather a remarkable-looking man" (386): dark-skinned, "mysterious," and "carefully dressed in European costume" (387). Although his manner of speaking seems somewhat foreign, his English is perfectly idiomatic and even deferential. Here, then, was Pearse's task: to communicate this impression through a suitable image, which he does by contrasting the balding English attorney, sitting at his writing desk, with the bearded, somewhat stiff Indian standing beside the desk. Law books on the upper shelf behind Bruff, the Verinders' family lawyer, exemplify his profession. Bruff regards the ebony box with an interesting blend of curiosity and dismissal, for of course he does not intend to advance the bearer a groat on such outlandish "security." The meeting is more than that of a lawyer and a potential client; rather, western law and usage meet Eastern religious devotion, self-control, and self-sacrifice.
Related Materials
References
Collins, Wilkie. The Moonstone: A Romance. All the Year Round. 1 January-8 August 1868.
_________. The Moonstone: A Romance. Harper's Weekly: A Journal of Civilization. With 66 illustrations. Vol. 12 (1 January-8 August 1868), pp. 5-503.
_________. The Moonstone: A Romance. Illustrated by George Du Maurier and F. A. Fraser. London: Chatto and Windus, 1890.
_________. The Moonstone: A Romance. Illustrated by A. S. Pearse. London & Glasgow: Collins, 1910, rpt. 1930.
Leighton, Mary Elizabeth, and Lisa Surridge. "The Transatlantic Moonstone: A Study of the Illustrated Serial in Harper's Weekly." Victorian Periodicals Review Volume 42, Number 3 (Fall 2009): pp. 207-243. Accessed 1 July 2016. http://englishnovel2.qwriting.qc.cuny.edu/files/2014/01/42.3.leighton-moonstone-serializatation.pdf
Vann, J. Don. "The Moonstone in All the Year Round, 4 January-8 1868." Victorian Novels in Serial. New York: Modern Language Association, 1985. Pp. 48-50.
---

Victorian
Web

Wilkie
Collins

Illustra-
tion

Alfred
Pearse

Next
Last updated 19 August 2016