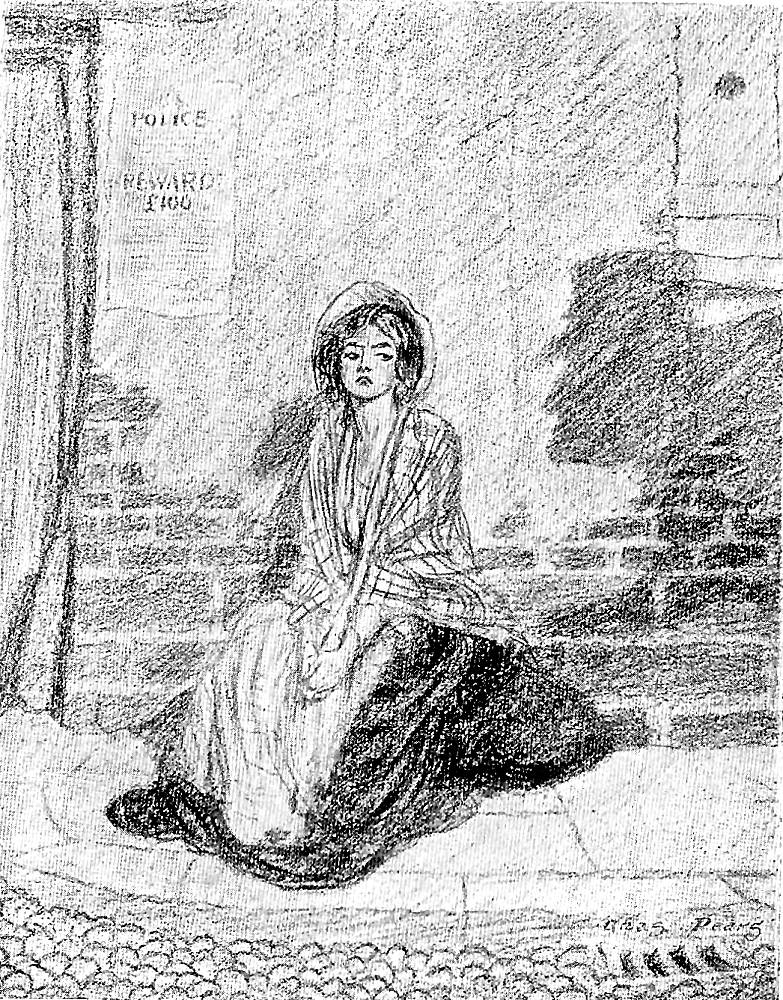 Nancy
Charles Pears
1912
11.3 x 8.8 cm framed
In contrast to Dickens's original illustrator, George Cruikshank, who depicts Nancy as an uncouth, aggressive woman of the streets and Sikes's willing companion in the gang's re-capture of Oliver, Charles Pears, like other later illustrators, makes her a conscience-stricken victim of Sikes's brutality. [continued below]
[Click on illustration to enlarge it.]
Scanned image and text by Philip V. Allingham.
[You may use these images without prior permission for any scholarly or educational purpose as long as you (1) credit the photographer and (2) link your document to this URL in a web document or cite the Victorian Web in a print one.]
Passage Illustrated
"I have been a liar, and among liars from a little child," said the girl after another interval of silence, "but I will take your words."
After receiving an assurance from both, that she might safely do so, she proceeded in a voice so low that it was often difficult for the listener to discover even the purport of what she said, to describe, by name and situation, the public-house whence she had been followed that night. From the manner in which she occasionally paused, it appeared as if the gentleman were making some hasty notes of the information she communicated. When she had thoroughly explained the localities of the place, the best position from which to watch it without exciting observation, and the night and hour on which Monks was most in the habit of frequenting it, she seemed to consider for a few moments, for the purpose of recalling his features and appearances more forcibly to her recollection.
&nbsp [Chapter 46, "The Appointment Kept," p. 266]
Commentary
By the time that Frederic W. Pailthorpe developed his narrative-pictorial sequence for the Robson and Kerslake edition in 1886, the rehabilitation of Nancy as the conscience-stricken victim of Sikes's brutality was well under way, and is certainly reflected in the treatments of Nancy by both late Victorian illustrators Harry Furniss in 1910 and Charles Pears in 1912.
In the Household Edition sequence by James Mahoney, the reader is prepared for Nancy's westward journey by night to keep her appointment with Mr. Brownlow and Rose Maylie by the illustration Then, stooping softly over the bed, she kissed the robber's lips. What is not immediately apparent, however, in Mahoney's treatment of her departure is that Nancy has, in fact, drugged Sikes, to ensure that she can keep her appointment with Rose Maylie at her West End hotel in Chapter 40 — an anxious journey that F. W. Pailthorpe describes in his 1886 hand-tinted engraving "Has it long gone the half-hour?", which gives us a much more sympathetic Nancy, fearful that she is being followed. However, the Pears illustration of Nancy seated outdoors does not occur near the textual description of her interview at London Bridge in Chapter 46; rather, Pears' study of an attractive but pensive Nancy is juxtaposed with the scene in which in Chapter 44 she pleads with Fagin to be permitted to go outside for some air. She does not, in fact, go outside at this point; Sikes attributes her behaviour to her having been "shut up here so long [that she has become] . . . restless" (257). Thus, the illustration may refer to what Nancy has in mind, but it does not address the passage against which it is juxtaposed. In Chapter 45, at Fagin's behest, new-comer Noah Claypole follows her through the streets at night, and overhears some of her conversation under London Bridge on the south steps. However, this outdoor setting — at the side of a street — does not precisely correspond with any particular moment in the text.
Pears is by far the most sympathetic of Nancy's illustrators, rendering her as a slender, sensitive beauty rather than a heavy-set slattern. Even as Nancy sits at the side of street or walkway (identified as such by the grating of the sewer) she fears detection by Sikes, whose shadow hangs over her as if he were death itself, casting his shadow on the wall as she glances nervously to the right. The picture thus is a psychological study rather than a realisation of a precise textual moment as it establishes Nancy's apprehensiveness even as it suggests her determination to escape the precincts of the gang long enough to warn Oliver's friends of Monks' plot against him. That the gang may construe her behaviour as consistent with that of a police informant the illustrator implies by positioning the official-looking poster to her left, which appears to be advertising a reward in exchange for information useful to the authorities — by implication, information concerning the whereabouts of Fagin and Sikes.
Illustrations from the original 1837-38 serial publication and later editions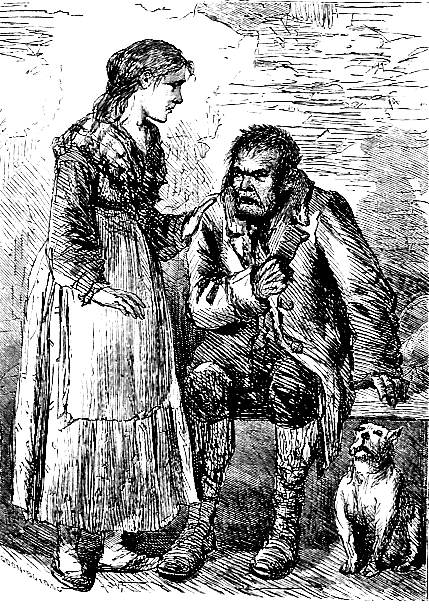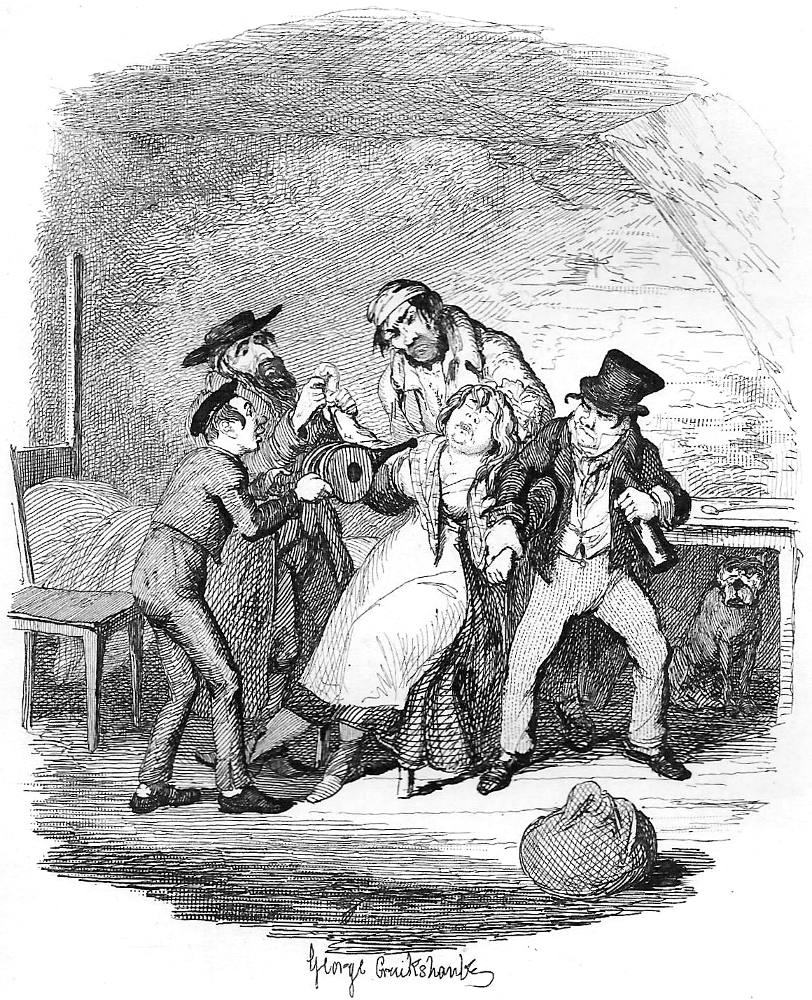 Left: Sol Eytinge, Junior's Bill Sikes and Nancy (1867). Centre: Felix Octavius Carr Darley's Sikes, Nancy, and Oliver Twist (1888). Right: George Cruikshank's illustration Mr. Fagin and his pupils recovering Nancy (Part 18, October 1838). [Click on images to enlarge them.]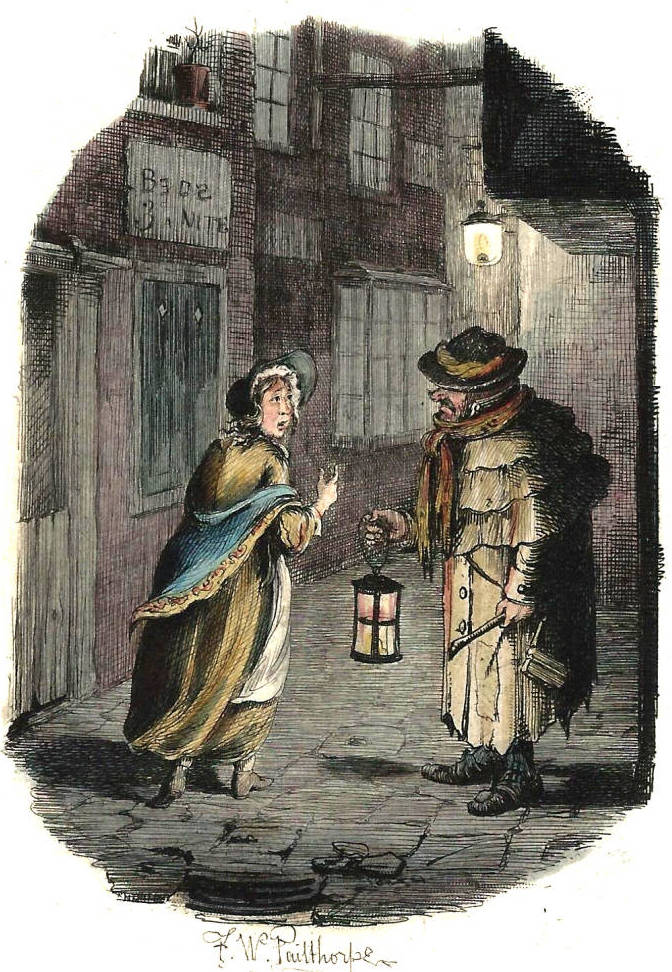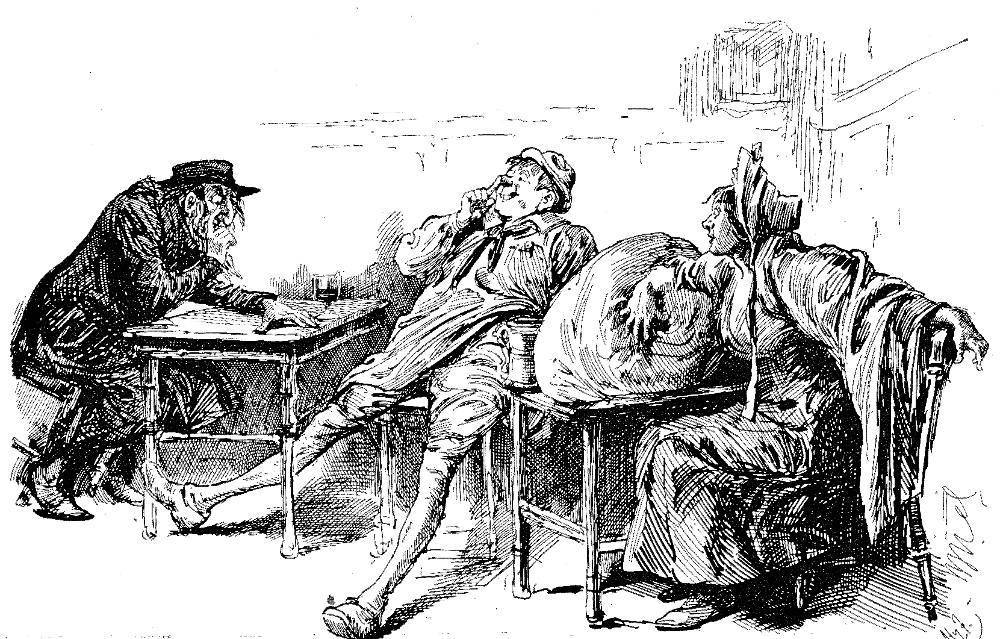 Left: F. W. Pailthorpe's "Has it long gone the half-hour?" (1886). Centre: Harry Furniss's pen and ink study of the repentant girl of the streets, Rose and Nancy. Right: Kyd's original watercolour study of a rough-and-ready woman of the streets rather than a reformed prostitute, Nancy (c. 1900). [Click on images to enlarge them.]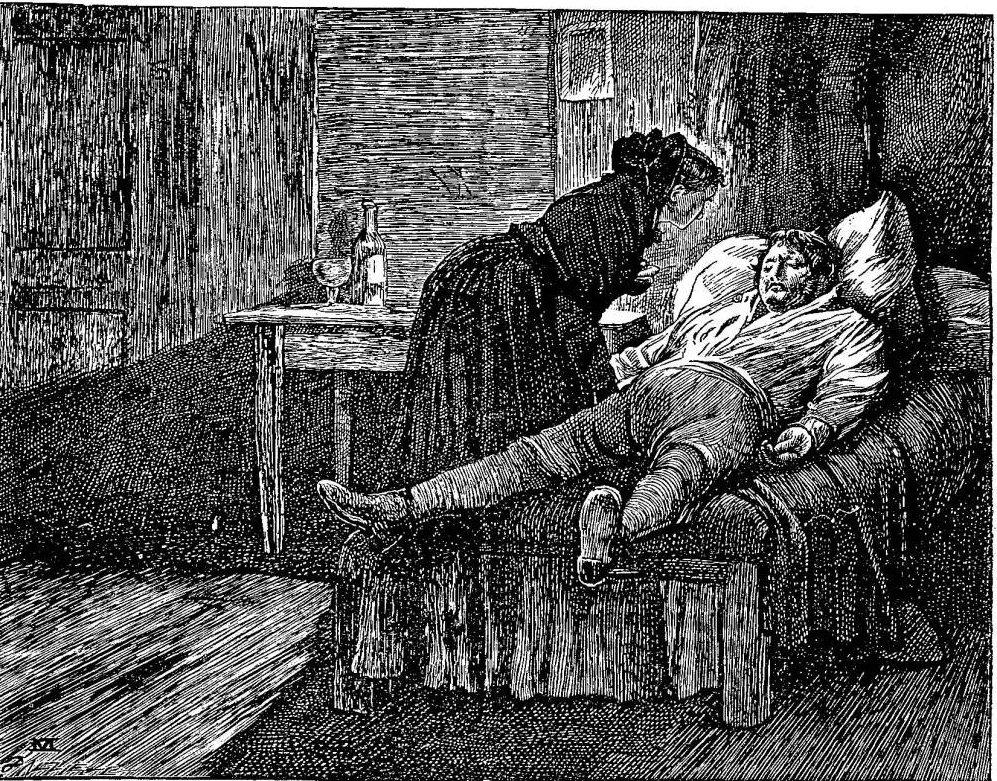 Above: James Mahoney's 1871 engraving of Nancy ministering to Sikes, whom she has just drugged, Then, stooping softly over the bed, she kissed the robber's lips. [Click on the image to enlarge it.]
References
Bentley, Nicolas, Michael Slater, and Nina Burgis. The Dickens Index. New York and Oxford: Oxford U. P., 1990.
Clarke, J. Clayton. The Characters of Charles Dickens pourtrayed in a series of original watercolours by "Kyd.". London: Raphael Tuck, 1890.
Cohen, Jane Rabb. "George Cruikshank." Charles Dickens and His Original Illustrators. Columbus: Ohio State U. P., 1980. Pp. 15-38.
Darley, Felix Octavius Carr. Character Sketches from Dickens. Philadelphia: Porter and Coates, 1888.
Davis, Paul. Charles Dickens A to Z: The Essential Reference to His Life and Work. New York: Facts On File, 1998.
Dickens, Charles. The Adventures of Oliver Twist; or, The Parish Boy's Progress. Illustrated by George Cruikshank. London: Bradbury and Evans; ​Chapman and Hall, 1846.
Dickens, Charles. The Letters of Charles Dickens. Ed. Madeline House and Graham Storey. The Pilgrim Edition. Oxford: Clarendon, 1965. Volume One (1820-29).
Dickens, Charles. Oliver Twist. Works of Charles Dickens. Household Edition. 55 vols. Illustrated by F. O. C. Darley and John Gilbert. New York: Sheldon and Co., 1865.
Dickens, Charles. Oliver Twist. Works of Charles Dickens. Diamond Edition. 14 vols. Illustrated by Sol Eytinge, Jr. Boston: Ticknor and Fields, 1867.
Dickens, Charles. Oliver Twist. Works of Charles Dickens. Household Edition. Illustrated by James Mahoney. London: Chapman and Hall, 1871.
Dickens, Charles. The Adventures of Oliver Twist. Works of Charles Dickens. Charles Dickens Library Edition. Illustrated by Harry Furniss. London: Educational Book Company, 1910. Vol. 3.
Dickens, Charles. The Adventures of Oliver Twist. Works of Charles Dickens. The Waverley​ Edition. Il​lustrated by Charles Pears. London: Waverley, 1912.
Forster, John. "Oliver Twist 1838." The Life of Charles Dickens. Edited by B. W. Matz. The Memorial Edition. 2 vols. Philadelphia: J. B. Lippincott, 1911. Vol. 1, book 2, chapter 3.
Kitton, Frederic G. "George Cruikshank." Dickens and His Illustrators: Cruikshank, Seymour, Buss, "Phiz," Cattermole, Leech, Doyle, Stanfield, Maclise, Tenniel, Frank Stone, Topham, Marcus Stone, and Luke Fildes. 1899. Rpt. Honolulu: U. Press of the Pacific, 2004. Pp. 1-28.
Kyd. Characters of Charles Dickens. Nottingham: John Player & Sons, 1910.
Pailthorpe, Frederic W. (Illustrator). Charles Dickens's Oliver Twist. London: Robson & Kerslake, 1886. Set No. 118 (coloured) of 200 sets of proof impressions.
---

Victorian
Web

Visual
Arts

Illustration

Harry
Furniss

Next
Last modified 15 March 2015