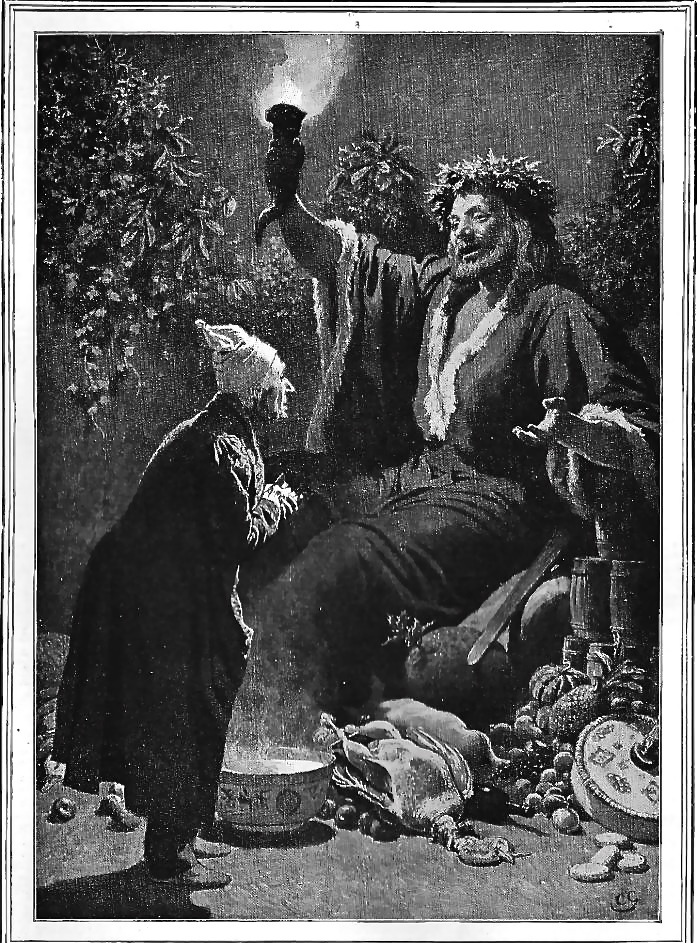 The Second of the Three Spirits: "a jolly Giant, glorious to see"
Charles Green
c. 1912
15.4 x 10.8 cm. (full page) framed
Dickens's A Christmas Carol, The Pears' Centenary Edition of The Christmas Books, vol. 1, page 72.
Scanned image and text by Philip V. Allingham.
[You may use this image without prior permission for any scholarly or educational purpose as long as you (1) credit the person who scanned the image and (2) link your document to this URL in a web document or cite the Victorian Web in a print one.].
Passage Illustrated
The moment Scrooge's hand was on the lock, a strange voice called him by his name, and bade him enter. He obeyed.
It was his own room. There was no doubt about that. But it had undergone a surprising transformation. The walls and ceiling were so hung with living green, that it looked a perfect grove; from every part of which, bright gleaming berries glistened. The crisp leaves of holly, mistletoe, and ivy reflected back the light, as if so many little mirrors had been scattered there; and such a mighty blaze went roaring up the chimney, as that dull petrifaction of a hearth had never known in Scrooge's time, or Marley's, or for many and many a winter season gone. Heaped up on the floor, to form a kind of throne, were turkeys, geese, game, poultry, brawn, great joints of meat, sucking-pigs, long wreaths of sausages, mince-pies, plum-puddings, barrels of oysters, red-hot chestnuts, cherry-cheeked apples, juicy oranges, luscious pears, immense twelfth-cakes, and seething bowls of punch, that made the chamber dim with their delicious steam. In easy state upon this couch, there sat a jolly Giant, glorious to see, who bore a glowing torch, in shape not unlike Plenty's horn, and held it up, high up, to shed its light on Scrooge, as he came peeping round the door.
"Come in!" exclaimed the Ghost. "Come in, and know me better, man."
Scrooge entered timidly, and hung his head before this Spirit. He was not the dogged Scrooge he had been; and though the Spirit's eyes were clear and kind, he did not like to meet them.
"I am the Ghost of Christmas Present," said the Spirit. "Look upon me." ["Stave Three: The Second of The Three Spirits," p. 70-71]
Commentary
Among the six scenes that Green has included for the third stave, the turn-of-the-century artist has attempted one of the best known scenes in English literature — so well realised in the 1843 edition that few nineteenth-century illustrators attempted it after John Leech, whose manner of executing the key moment was so absolutely suited to Dickens's textual description of Scrooge's encountering the jovial but socially critical Spirit of Christmas Present, otherwise simply "Scrooge's Third Visitor." Indeed, if George Cruikshank's February 1837 steel-engraving Oliver's Asking for More is the best known and most widely recognised Victorian illustration, serving almost as a metonymy for the entire work from which it is taken, the hand-coloured steel-engraving by Punch illustrator John Leech, arguably the creator of the political cartoon, is a close second. Indeed, the finely detailed Leech illustration appears in glorious colour on the cover of the Penguin Christmas Books, volume one, as the epitome of the spirit of these five seasonal novellas.
Whereas Leech takes a panoramic approach, depicting the transformed room with its surging fire and steaming cauldron of punch, as well as the Spirit's throne of game, a second punch bowl, and torch held aloft (all of which dwarf Scrooge), Green has adopted something a kin to the approach of American illustrator Sol Eytinge, Jr., some twenty-five years after the initial edition. Green, too, has moved in for the close-up, emphasizing the contrast between the small Scrooge in dressing-gown and nightcap, and the expansive giant who welcomes Scrooge to his own (formerly uninviting) drawing-room. However, whereas Leech had made the context of the metaphysical meeting perfectly clear, Charles Green has detached the figures from the setting, focussing on the expansive chest of Spirit in his fur-lined, green gown. With one significant background detail, however, Green, emphasizes not merely the culinary delights associated with this Spirit of Christmas, but also the abundant greenery (left), suggestive of physical and spiritual regeneration.
In contrast to Charles Green's engaging handling of the wondrous scene at the opening of Stave Three, Sol Eytinge, Jr., provides a crowded yuletide scene, with a caricatural Christmas Present hemmed in by a huge barrel of oysters to one side and the fireplace on the other, with Scrooge barely fitting into the composition; in other words, Eytinge has unwisely elected to cram the 12.8 by 9.5 cm black-and-white wood-engraving with far too many textual details, to the point where the jovial ghost is having to balance a steaming bowl of punch on his lap. The Green composition, on the other hand, devotes about one-third of the lithographic surface to an amazed and humbled Scrooge, who looks upon the laughing Giant with wonder and rapt attention, without the smile that has crept across the miser's visage in the Leech original. Green has subordinated such elements as the kegs of oysters and fruit (right) and the two specimens of poultry (down centre) to the three-dimensional figures to create an impression of openness in a slightly larger illustration, although that Scrooge and the Spirit are in Scrooge's drawing-room is not immediately obvious as there is neither fireplace nor mantelpiece as in the Leech and Eytinge plates. Thus, what Green has lost in terms of charm and delicacy in Leech's colourised steel engraving he has made up for with a luminous sense of wonder and awe, with the light from the torch of amity casting a chiaroscuro over the faces and hands of the mortal and immortal characters.
Illustrations from the original (1843) and the Ticknor & Fields Editions (1867)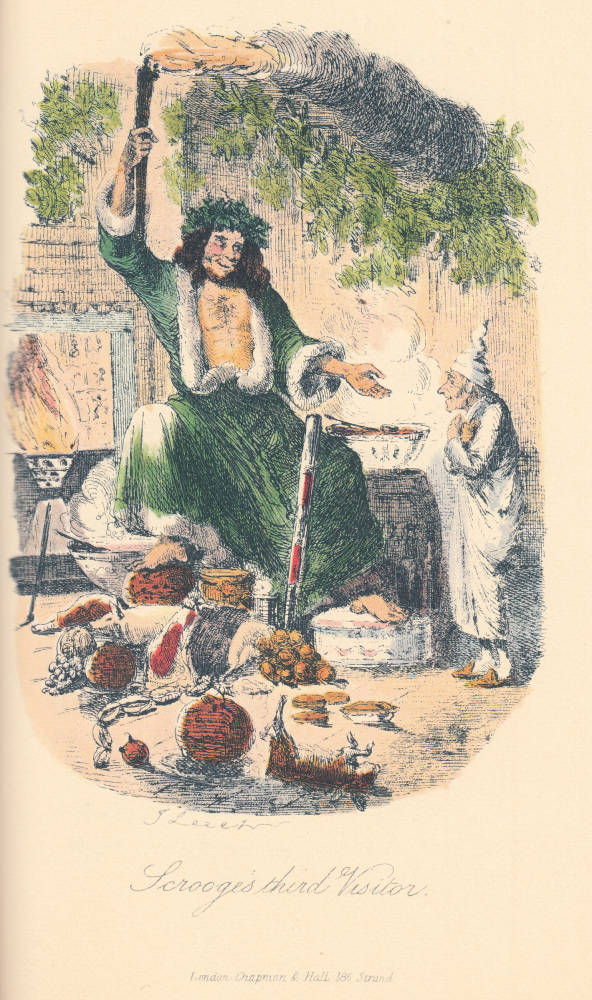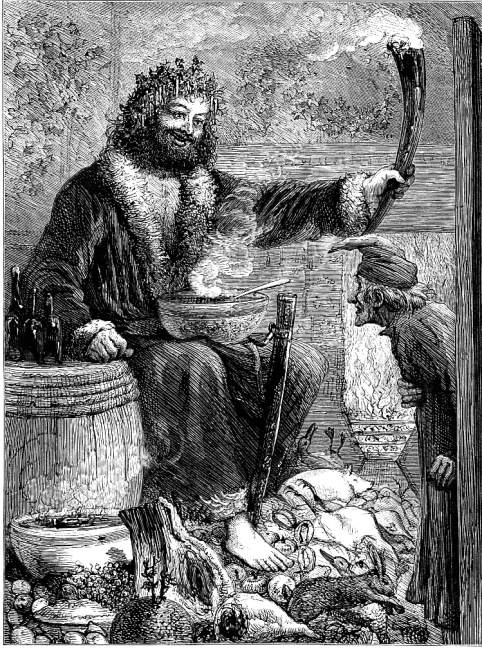 Left: John Leech's iconic treatment of Scrooge's third visitor, The Second of the Three Spirits. Right: Sol Eytinge, Junior's less whimsical version, Christmas Present. [Click on images to enlarge them.]
References
Dickens, Charles. Christmas Books. Illustrated by Sol Eytinge, Jr. The Diamond Edition. Boston: Ticknor and Fields, 1867.
____. Christmas Books. Illustrated by Fred Barnard. Household Edition. London: Chapman and Hall, 1878.
____. Christmas Books. Illustrated by A. A. Dixon. London & Glasgow: Collins' Clear-Type Press, 1906.
____. Christmas Books. Illustrated by Harry Furniss. The Charles Dickens Library Edition. London: Educational Book, 1910.
____. A Christmas Carol in Prose, Being a Ghost Story of Christmas. Illustrated by John Leech. London: Chapman and Hall, 1843.
____. A Christmas Carol in Prose: Being a Ghost Story of Christmas. Illustrated by Sol Eytinge, Jr. Boston: Ticknor & Fields, 1868.
____. A Christmas Carol in Prose, Being A Ghost Story of Christmas. Illustrated by John Leech. (1843). Rpt. in Charles Dickens's Christmas Books, ed. Michael Slater. Harmondsworth: Penguin, 1971, rpt. 1978.
____. A Christmas Carol. Illustrated by Charles Green, R. I. London: A & F Pears, 1912.
____. A Christmas Carol. Illustrated by Arthur Rackham. London: William Heinemann, 1915.
____. Christmas Stories. Illustrated by E. A. Abbey. The Household Edition. New York: Harper and Brothers, 1876.
---

Victorian
Web

Visual
Arts

Illustration

Charles
Green

A Christmas
Carol

Next
Last modified 12​ August 2015