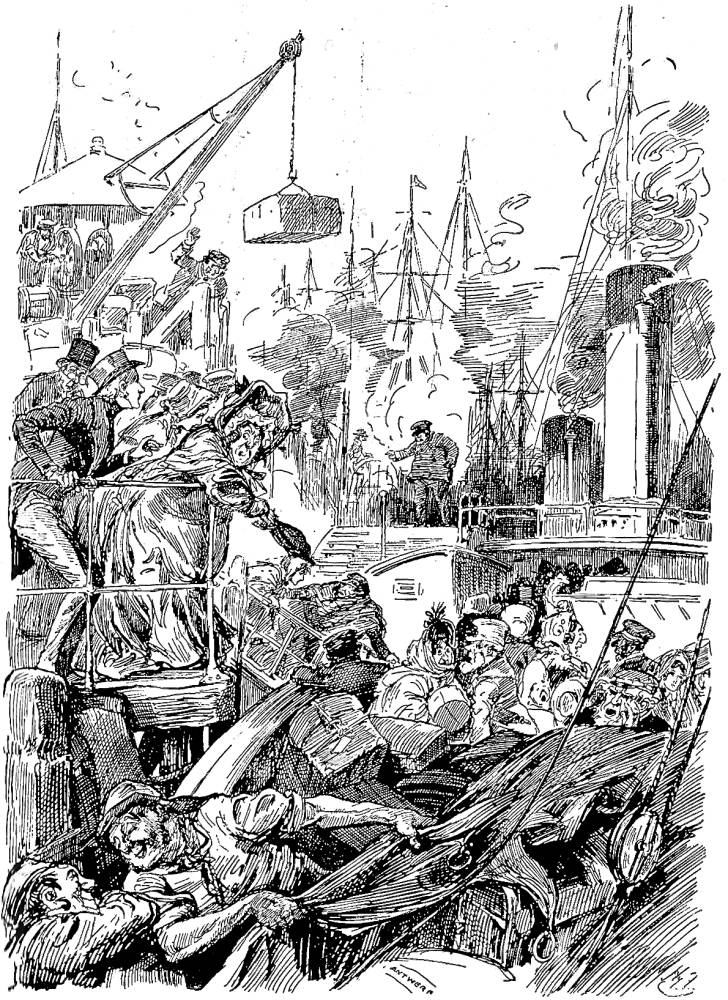 Mrs. Gamp at the Docks.
Harry Furniss
1910
13.2​ cm high​ by 9.7 cm wide vignetted
Dickens's Martin Chuzzlewit, Vol. 7 of The​ Charles​ Dickens Library Edition, Chapter​40, "The Pinches make a New Acquaintance, and have fresh occasion for Surprise and Wonder," facing p. 640.
[Click on image to enlarge it.]
Scanned image and text by Philip V. Allingham.
[You may use these images without prior permission for any scholarly or educational purpose as long as you (1) credit the photographer and (2) link your document to this URL in a web document or cite the Victorian Web in a print one.]
Passage Illustrated
Upon his turning round, he found the owner of the umbrella struggling on tip-toe, with a countenance expressive of violent animosity, to look down upon the steam-boats; from which he inferred that she had attacked him, standing in the front row, by design, and as her natural enemy.
"What a very ill-natured person you must be!" said Tom.
The lady cried out fiercely, "Where's the pelisse!" meaning the constabulary — and went on to say, shaking the handle of the umbrella at Tom, that but for them fellers never being in the way when they was wanted, she'd have given him in charge, she would.
"If they greased their whiskers less, and minded the duties which they're paid so heavy for, a little more," she observed, "no one needn't be drove mad by scrouding so!"
She had been grievously knocked about, no doubt, for her bonnet was bent into the shape of a cocked hat. Being a fat little woman, too, she was in a state of great exhaustion and intense heat. Instead of pursuing the altercation, therefore, Tom civilly inquired what boat she wanted to go on board of?
"I suppose," returned the lady, "as nobody but yourself can want to look at a steam package, without wanting to go a-boarding of it, can they! Booby!"
"Which one do you want to look at then?" said Tom. "We'll make room for you if we can. Don't be so ill-tempered."
"No blessed creetur as ever I was with in trying times," returned the lady, somewhat softened, "and they're a many in their numbers, ever brought it as a charge again myself that I was anythin' but mild and equal in my spirits. Never mind a contradicting of me, if you seem to feel it does you good, ma'am, I often says, for well you know that Sairey may be trusted not to give it back again. But I will not denige that I am worrited and wexed this day, and with good reagion, Lord forbid!"
By this time, Mrs. Gamp (for it was no other than that experienced practitioner) had, with Tom's assistance, squeezed and worked herself into a small corner between Ruth and the rail; where, after breathing very hard for some little time, and performing a short series of dangerous evolutions with her umbrella, she managed to establish herself pretty comfortably.
"And which of all them smoking monsters is the Ankworks boat, I wonder. Goodness me!" cried Mrs. Gamp.
"What boat did you want?" asked Ruth.
"The Ankw-orks package," Mrs. Gamp replied. "I will not deceive you, my sweet. Why should I?"
"That is the Antwerp packet in the middle," said Ruth.
"And I wish it was in Jonadge's belly, I do," cried Mrs. Gamp; appearing to confound the prophet with the whale in this miraculous aspiration. — Chapter 40, "The Pinches make a New Acquaintance, and have fresh occasion for Surprise and Wonder," p. 644-645.
Commentary
As he moves towards the resolution of the various plots, Dickens interweaves these, so that, for example, Mrs. Gamp and Mr. Nadgett, the Pinches' landlord in Islington, bump into Tom and Ruth Pinch out for a stroll on the London docks, where Jonas (disguised as an invalid) and his wife are attempting to escape from England on the Antwerp steamer. Amidst the smoke and confusion of the wharf, with passengers hurriedly boarding, Mrs. Gamp with her signature umbrella directs Tom's (and our) attention to the husband and wife on the gangway. Shortly, his landlord will ask Tom to give the muffled man the letter, the contents of which so startle Jonas Chuzzlewit (for he is the disguised traveller) that he suddenly cancels their trip.
Together Ruth and Tom Pinch have left her demeaning employer, the brass-and-copper founder of Camberwell, and have rented a flat in Islington, where Ruth becomes a model housekeeper, and Tom finds unexpected employment as the organizer and cataloguer of a private library in the law offices known as the Temple. In the Barnard illustration for Chapter 39, "I can't say; it's impossible to tell. I really have no idea. But," said Fips, taking off a very deep impression of the wafer-stamp upon the calf of his left leg, and looking steadily at Tom, "I don't know that it's a matter of much consequence", Tom is puzzled by the reticence of Mr. Fips, Austin Friars, about revealing the name of the library's owner. In the present scene, Furniss could have chosen the route taken by Fred Barnard by exploiting the scene's comic possibilities. He could, for example, have realised the comic moment that precedes Mrs. Gamp's noting the arrival of Jonas and Mercy, but, instead of exploiting the physical comedy of having Tom entangled in the umbrella, he focuses on the moment that contributes to the plot surrounding Jonas's murder of Montague Tigg.
It is unusual for Barnard, but his 1872 realisation of this same moment is full of distortions and inaccuracies, whereas Furniss's is a precise realisation of the scene that Dickens narrates through the medium of a "straight" narrator (essentially a limited omniscient, following evcents from Tom's perspective) and the boozy malapropisms of Sairey Gamp. Whereas Hablot Knight Browne in the original serial illustration for this chapter focussed on Tom's staring in confusion at the books surrounding him in the library in the Temple, Fred Barnard provided realisations of both scenes in Chapters 39-40, with Tom's inquiring of Fips about the owner of the library (Chapter 39), and Sairey Gamp's fortuitously bumping into Tom on the upper wharf when hoping to prevent Jonas from taking Mercy aboard the Antwerp packet-steamer, Mrs. Gamp creates a sensation with her umbrella (Chapter 39). However, Furniss's treatment of the wharfside scene is panoramic and suspenseful whereas Barnard's is focussed on Sairey and the Pinches — and is essentially comic. Furthermore, to establish the quayside setting Barnard has brought the trio down onto the dock, whereas the text clearly indicates that they are above the scene. Moreover, Furniss brilliantly synthesizes all the elements of the Antwerp steamer's berth, with longshoremen, sailors, bales being loaded by a crane — and both Nadgett and the Pecksniffs in the very centre of the composition, the reader's attention to the couple boarding the packet-boat being guided by a Baroque pointer, Sairey Gamp. In the Barnard illustration, in contradiction of the text, she has become caught up in a length of hempen rope at the gangway and grabs onto Tom for support as she jabs the handle of her umbrella into Tom's face, so that Dickens's character comedy, particularly Sairey's malapropisms, is transformed into the pratfalls of farce. Furniss restores the seriousness of the scene and yet allows Sairey's distinctive voice to inform the action by providing an illustration that is consistent with Dickens's narrative. Amidst the chaos one instinctively looks for the mysterious Mr. Nagett, who has the ability to blend into a crowd; shortly, after Montague has cautioned Jonas about abandoning the "beehive" while "honey" is to be made, the Pinches' landlord will vanish. However, in the Furniss illustration he is probably the man in the top-hat just behind Tom, who has finally freed himself from Mrs. Gamp's umbrella. In the Barnard illustration, he is almost certainly the bespectacled. middle-aged man holding a letter, upper right.
Relevant Illustrations, 1843-1924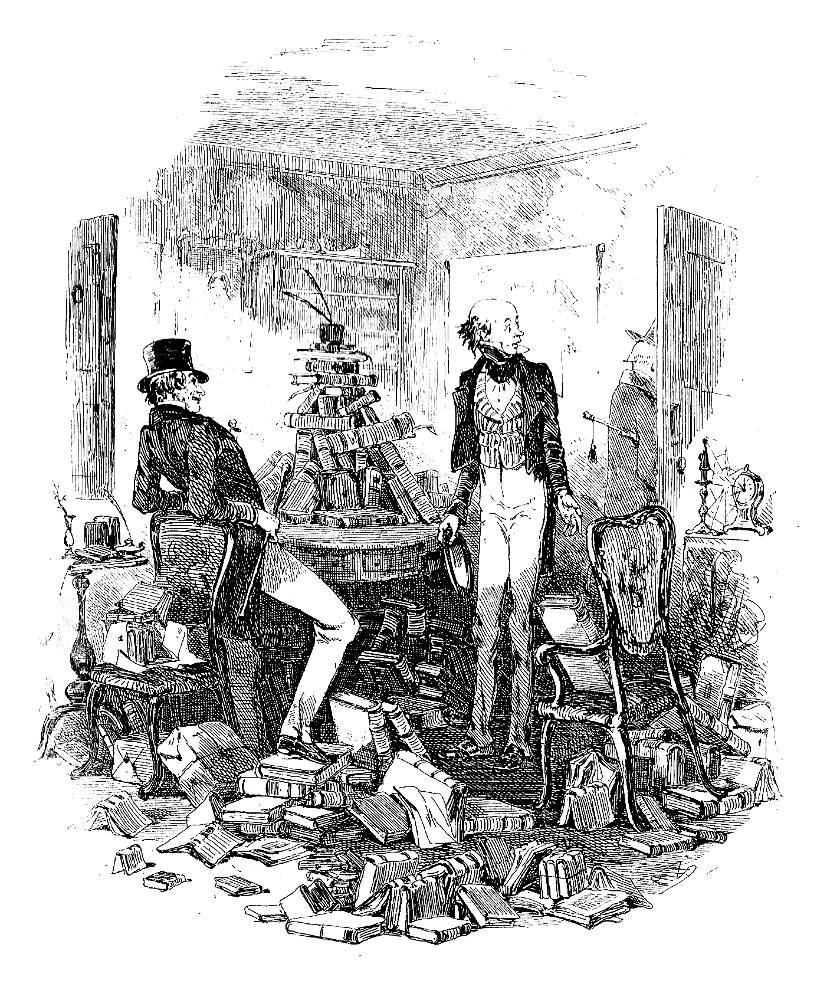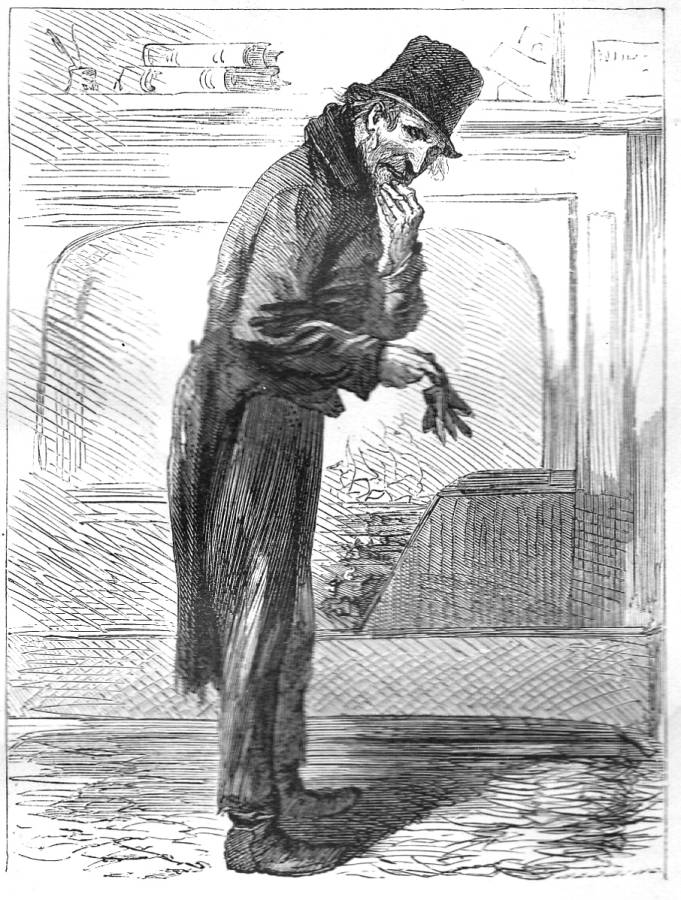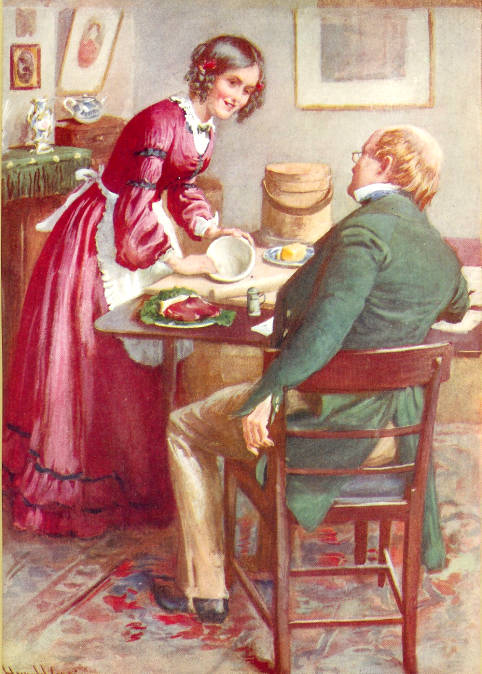 Left: Hablot Knight Browne's realisation of Tom's confusion as to where to start in organising the library, Mysterious Installation of Mr. Pinch (Chapter 39, March 1844). Centre: Sol Eytinge, Jr.'s secretive​observer of events in Montague Tigg's sumptuous suite, standing before the fire, Mr. Nadgett (1867). ​Right: Harold Copping's 1924 colour lithograph of Ruth Pinch and Tom in their Islington flat, Ruth Pinch Makes a Pudding ​(Chapter 39); little do they know who Nadgett, their landlord, really is in relation to Jonas and Montague Tigg. [Click on images to enlarge them.]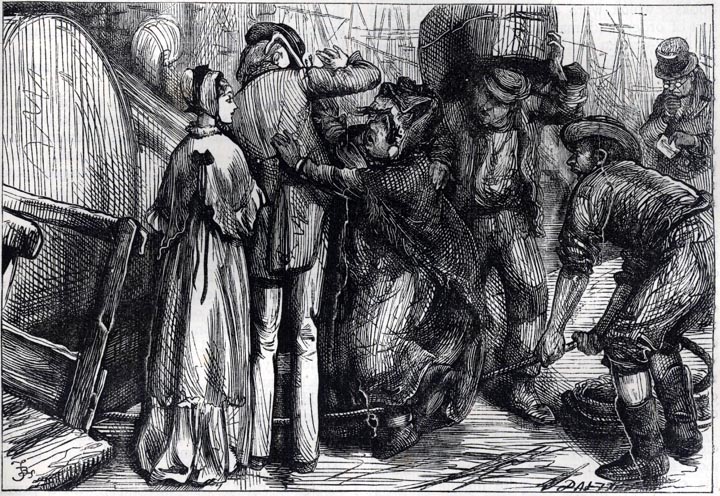 Above: Fred Barnard's realisation of the accidental meeting of the Pinches and Mrs. Gamp at the Antwerp packet-boat, Mrs. Gamp creates a sensation with her umbrella (1872). [Click on the image to enlarge it.]
References
Bentley, Nicolas, Michael Slater, and Nina Burgis. The Dickens Index. New York and Oxford: Oxford U. P., 1990.
Davis, Paul. Charles Dickens A to Z: The Essential Reference to His Life and Work. New York: Facts On File, 1998.
Dickens, Charles. The Life and Adventures of Martin Chuzzlewit. Illustrated by Hablot Knight Browne. London: Chapman and Hall, 1844.
Dickens, Charles. Martin Chuzzlewit. Works of Charles Dickens. Household Edition. 55 vols. Illustrated by F. O. C. Darley and John Gilbert. New York: Sheldon and Co., 1863. Vols. 1 to 4.
Dickens, Charles. The Life and Adventures of Martin Chuzzlewit. Illustrated by Sol Eytinge, Junior. The Diamond Edition. Boston: Ticknor and Fields, 1867.
Dickens, Charles. The Life and Adventures of Martin Chuzzlewit. Illustrated by Fred Barnard. The Household Edition. 22 vols. London: Chapman and Hall, 1872. Vol. 2.
Dickens, Charles. Life and Adventures of Martin Chuzzlewit. Illustrated by Harry Furniss. The Charles Dickens Library Edition. 18 vols. London: Educational Book, 1910. Vol. 7.
Guerard, Albert J. "Martin Chuzzlewit: The Novel as Comic Entertainment." The Triumph of the Novel: Dickens, Dostoevsky, Faulkner. Chicago & London: U. Chicago P., 1976. Pp. 235-260.
Hammerton, J. A. "Chapter 19: Little Dorrit." The Dickens Picture-Book. The Charles Dickens Library Edition. London: Educational Book, 1910. Vol. 17. Pp. 398-427.
Kyd [Clayton J. Clarke]. Characters from Dickens. Nottingham: John Player & Sons, 1910.
"Martin Chuzzlewit — Fifty-nine Illustrations by Fred Barnard." Scenes and Characters from the Works of Charles Dickens, Being Eight Hundred and Sixty-six Drawings by Fred Barnard, Gordon Thomson, Hablot Knight Browne (Phiz), J. McL. Ralston, J. Mahoney, H. French, Charles Green, E. G. Dalziel, A. B. Frost, F. A. Fraser, and Sir Luke Fildes. London: Chapman and Hall, 1907.
Steig, Michael. Dickens and Phiz. Bloomington and London: Indiana U. P., 1978.
_____. "Martin Chuzzlewit's Progress by Dickens and Phiz." Dickens Studies Annual 2 (1972): 119-149.
Vann, J. Don. Victorian Novels in Serial. New York: Modern Language Association, 1985.
---

Victorian
Web

Illustra-
tion

Martin Chuz-
zlewit

Harry
Furniss

Next
Last modified 2 February 2016