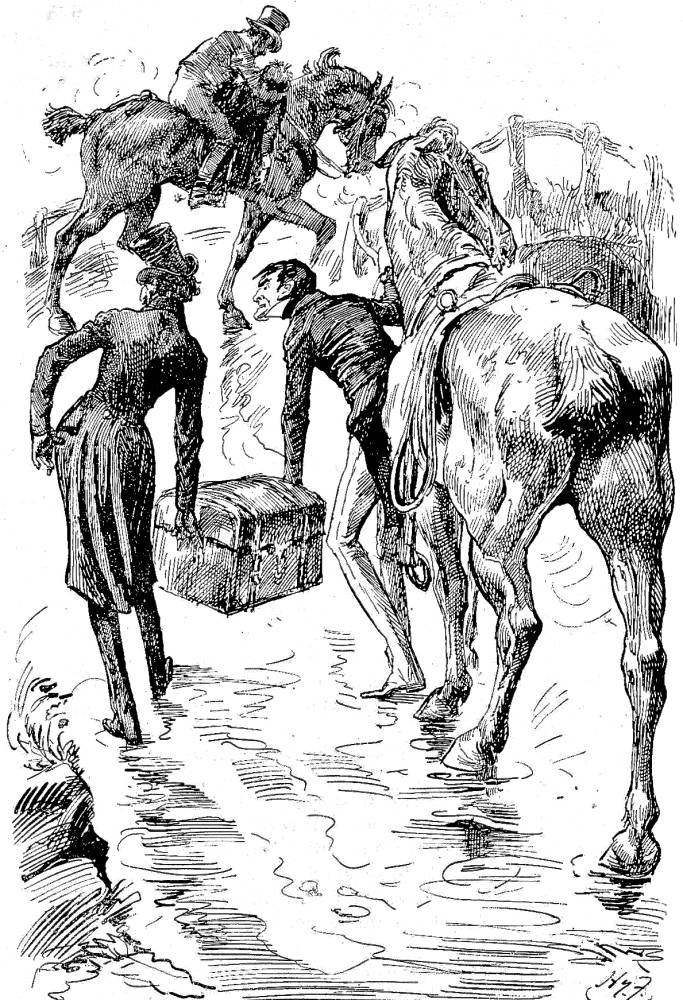 On the Road to Salisbury.
Harry Furniss
1910
14.6​ cm high​ by 9.6 cm wide vignetted
See below for the passage illustrated, commentary about the illustration, and work by other artists.
[Click on image to enlarge it.]
Scanned image and text by Philip V. Allingham.
[You may use these images without prior permission for any scholarly or educational purpose as long as you (1) credit the photographer and (2) link your document to this URL in a web document or cite the Victorian Web in a print one.]
Passage Illustrated
"What's the matter?" asked Montague. "Is anybody hurt?"
They raised him, and he tried to walk. He was a good deal shaken, and trembled very much. But with the exception of a few cuts and bruises this was all the damage he had sustained.
"Cuts and bruises, eh?" said Jonas. "We've all got them. Only cuts and bruises, eh?"
"I wouldn't have given sixpence for the gentleman's head in half-a-dozen seconds more, for all he's only cut and bruised," observed the post-boy. "If ever you're in an accident of this sort again, sir; which I hope you won't be; never you pull at the bridle of a horse that's down, when there's a man's head in the way. That can't be done twice without there being a dead man in the case; it would have ended in that, this time, as sure as ever you were born, if I hadn't come up just when I did."
Jonas replied by advising him with a curse to hold his tongue, and to go somewhere, whither he was not very likely to go of his own accord. But Montague, who had listened eagerly to every word, himself diverted the subject, by exclaiming: "Where's the boy?"
"Ecod! I forgot that monkey," said Jonas. "What's become of him?" A very brief search settled that question. The unfortunate Mr. Bailey had been thrown sheer over the hedge or the five-barred gate; and was lying in the neighbouring field, to all appearance dead.
"When I said to-night, that I wished I had never started on this journey," cried his master, "I knew it was an ill-fated one. Look at this boy!"
"Is that all?" growled Jonas. "If you call that a sign of it —"
"Why, what should I call a sign of it?" asked Montague, hurriedly. "What do you mean?"
"I mean," said Jonas, stooping down over the body, "that I never heard you were his father, or had any particular reason to care much about him. Halloa. Hold up there!"
But the boy was past holding up, or being held up, or giving any other sign of life than a faint and fitful beating of the heart. After some discussion the driver mounted the horse which had been least injured, and took the lad in his arms as well as he could; while Montague and Jonas, leading the other horse, and carrying a trunk between them, walked by his side towards Salisbury.
"You'd get there in a few minutes, and be able to send assistance to meet us, if you went forward, post-boy," said Jonas. "Trot on!"
"No, no," cried Montague; "we'll keep together."
"Why, what a chicken you are! You are not afraid of being robbed; are you?" said Jonas.
"I am not afraid of anything," replied the other, whose looks and manner were in flat contradiction to his words. "But we'll keep together."
"You were mighty anxious about the boy, a minute ago," said Jonas. "I suppose you know that he may die in the meantime?"
"Aye, aye. I know. But we'll keep together." — Chapter 42, "Continuation of the Enterprise of Mr. Jonas and His Friend," p. 671-672.
Commentary
The sense of dread anticipation intensifies as Jonas attempts to murder his business partner, making the death of "Mr. Montague" look like a traffic accident. As Dickens moves towards the resolution of the Anglo-Bengalee swindle, Dickens maintains a high degree of suspense after Tigg's preventing Jonas and Mercy Chuzzlewit from catching the Antwerp steamer in London, and Jonas's growing more and more determined to free himself from his partner's grip.
Once he has made his last big score, defrauding Seth Pecksniff, Montague Tigg intends to "decamp across the water" (669), enjoying his ill-gotten gains on the Continent, living the high life on the funds of numerous Anglo-Bengalee investors, while his partner, Jonas Chuzzlewit, suffers the legal consequences. He resolves to be wary of his partner, however, as he knows that "If he could kill me with a wish . . . I should not live long" (669). Their plan is to travel by chaise to Salisbury, then cross to Pecksniff's village the next morning. However, a lightning storm frightens the horses and leaves the carriage in a ditch, with both Jonas and Tigg temporarily unconscious. Awakening first, Jonas grabs the bridles of both steeds, hoping that in their anxiety they will trample his companion, lying senseless in the road. However, the driver's coming to consciousness foils Jonas's plan. However, although the three adults have survived with minor cuts and bruises, it appears that the accident has taken the life of Bailey, Montague's servant; mounting the horse that is uninjured, the driver takes the body of the boy in his arms, leaving Montague and Jonas to carry their heavy trunk as best as they can to Salisbury four miles away, leading the second horse. Jonas suggests that the driver ride off with Bailey to get him medical assistance, but Tigg is determined not to be left alone with his desperate partner. All three make their way slowly to their inn at Salisbury, where the tense mood of watchful suspicion intensifies.
The Furniss illustration is extremely low-key, as if, in contradiction to the violent action of Phiz's Mr. Jonas Exhibits his Presence of Mind for the same chapter in the original serial, Furniss means to let the text create the suspense and the illustration merely to set the scene, with a muddy, rain-soaked road and a gate to the right to suggest the London-to-Salisbury turnpike road. Far more dramatic is the April 1844 illustration of "Montague was lying senseless on the road when Jonas ran to the horses' heads; and, pulling at their bridles, set them struggling and plunging with such violence as brought their hoofs at every effort nearer to the skull of the prostrate man, and must have led in half a minute to his brains being dashed out on the highway" (Chapter 42, p. 670). Moreover, Harry Furniss has chosen a much less engaging scene when, the three adults having recovered from the accident, Bailey's life hangs in the balance as Montague Tigg (left) and Jonas Chuzzlewit (right), holding the trunk between them, trudge towards Salisbury, accompanied by the postillion on horseback (upper left). The artist creates considerable depth of field through the relative sizes of the horses along a lower-right-to-upper-left diagonal, with Jonas's head in the very centre of the composition.
The illustrator's challenge is to convey the inner tension between the two characters beneath the scene's tranquil surface. In the Household Edition, thirty-eight years prior to The Charles Dickens Library Edition, Fred Barnard aroused the reader's expectation that Jonas will be looking for an opportunity to murder his blackmailing partner in "Now, could you cut a man's throat with such a thing as this?" demanded Jonas. (ch. 41), thereby avoiding the possibility of competing with Phiz by attempting to deal with the carriage accident, for he knew that his old friend was a brilliant hand at drawing vigorous, prancing horses. Significantly, although Furniss reveals Jonas's expression in profile, he keeps from us the complicated emotions that the near-death experienced has aroused in Tigg.
Relevant Illustrations, 1843-1872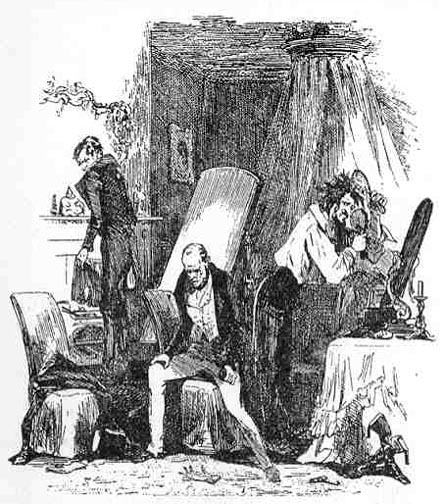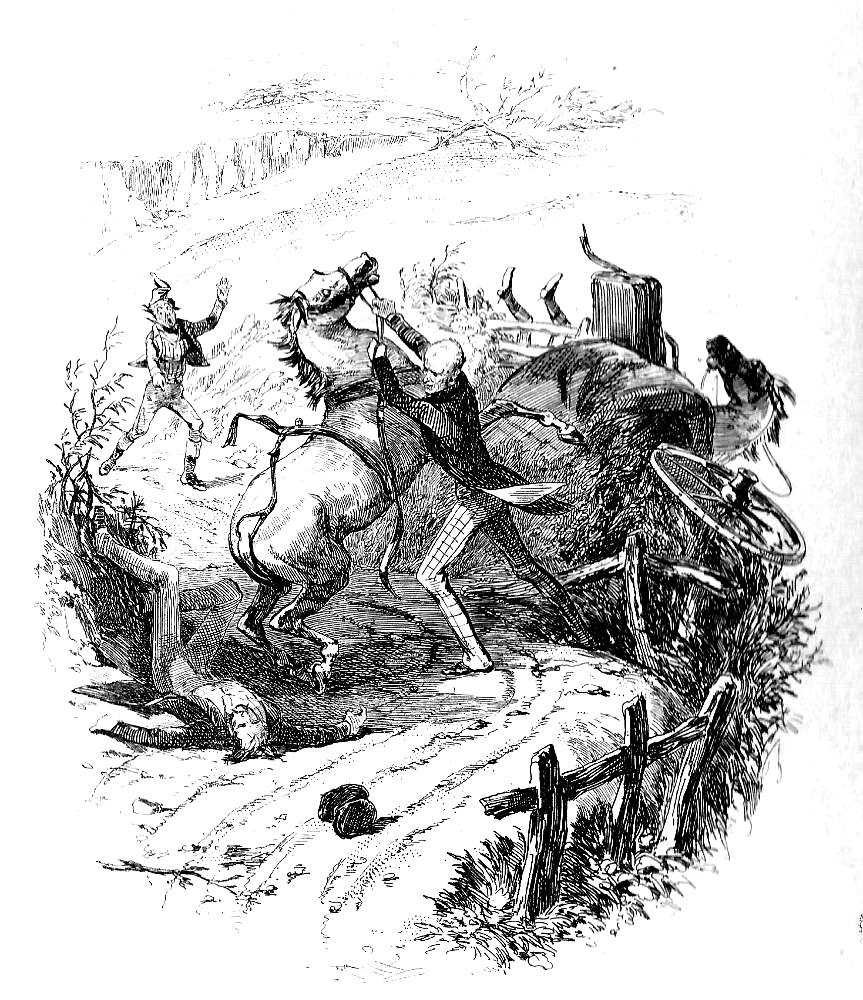 Left: Hablot Knight Browne's realisation of Jonas's immediate reaction to Tigg's blackmailing him, Mr. Nadgett Breathes, as Usual, an Atmosphere of Mystery (Chapter 38, February 1844). Right: Phiz's dynamic realisation of Jonas's attempting to murder Tigg by having the horses trample him, Mr. Jonas Exhibits his Presence of Mind (April 1844). [Click on images to enlarge them.]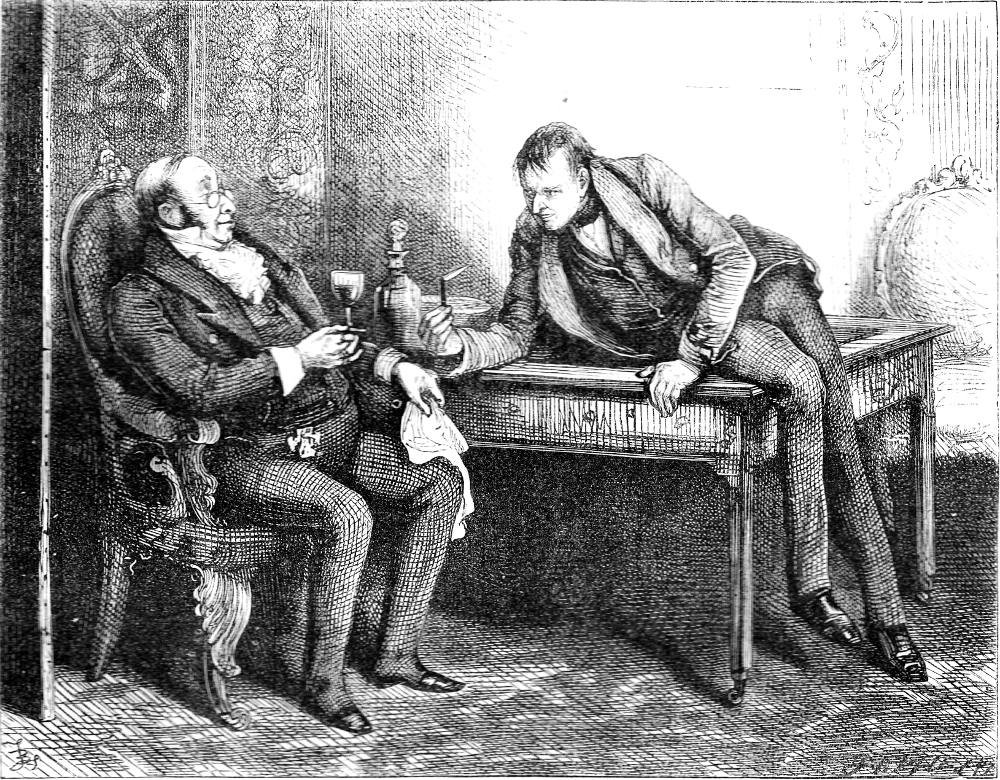 Above: Fred Barnard's realisation of the scene in which Jonas contemplates simply slitting Tigg's throat, "Now, could you cut a man's throat with such a thing as this?" demanded Jonas (1872). [Click on the image to enlarge it.]
References
Bentley, Nicolas, Michael Slater, and Nina Burgis. The Dickens Index. New York and Oxford: Oxford U. P., 1990.
Davis, Paul. Charles Dickens A to Z: The Essential Reference to His Life and Work. New York: Facts On File, 1998.
Dickens, Charles. The Life and Adventures of Martin Chuzzlewit. Illustrated by Hablot Knight Browne. London: Chapman and Hall, 1844.
Dickens, Charles. Martin Chuzzlewit. Works of Charles Dickens. Household Edition. 55 vols. Illustrated by F. O. C. Darley and John Gilbert. New York: Sheldon and Co., 1863. Vols. 1 to 4.
Dickens, Charles. The Life and Adventures of Martin Chuzzlewit. Illustrated by Sol Eytinge, Junior. The Diamond Edition. Boston: Ticknor and Fields, 1867.
Dickens, Charles. The Life and Adventures of Martin Chuzzlewit. Illustrated by Fred Barnard. The Household Edition. 22 vols. London: Chapman and Hall, 1872. Vol. 2.
Dickens, Charles. Life and Adventures of Martin Chuzzlewit. Illustrated by Harry Furniss. The Charles Dickens Library Edition. 18 vols. London: Educational Book, 1910. Vol. 7.
Guerard, Albert J. "Martin Chuzzlewit: The Novel as Comic Entertainment." The Triumph of the Novel: Dickens, Dostoevsky, Faulkner. Chicago & London: U. Chicago P., 1976. Pp. 235-260.
Hammerton, J. A. "Chapter 19: Little Dorrit." The Dickens Picture-Book. The Charles Dickens Library Edition. London: Educational Book, 1910. Vol. 17. Pp. 398-427.
Kyd [Clayton J. Clarke]. Characters from Dickens. Nottingham: John Player & Sons, 1910.
"Martin Chuzzlewit — Fifty-nine Illustrations by Fred Barnard." Scenes and Characters from the Works of Charles Dickens, Being Eight Hundred and Sixty-six Drawings by Fred Barnard, Gordon Thomson, Hablot Knight Browne (Phiz), J. McL. Ralston, J. Mahoney, H. French, Charles Green, E. G. Dalziel, A. B. Frost, F. A. Fraser, and Sir Luke Fildes. London: Chapman and Hall, 1907.
Steig, Michael. Dickens and Phiz. Bloomington and London: Indiana U. P., 1978.
_____. "Martin Chuzzlewit's Progress by Dickens and Phiz." Dickens Studies Annual 2 (1972): 119-149.
Vann, J. Don. Victorian Novels in Serial. New York: Modern Language Association, 1985.
---

Victorian
Web

Visual
Arts

Illustra-
tion

Martin Chuz-
zlewit

Harry
Furniss

Next
Last modified 3 February 2016