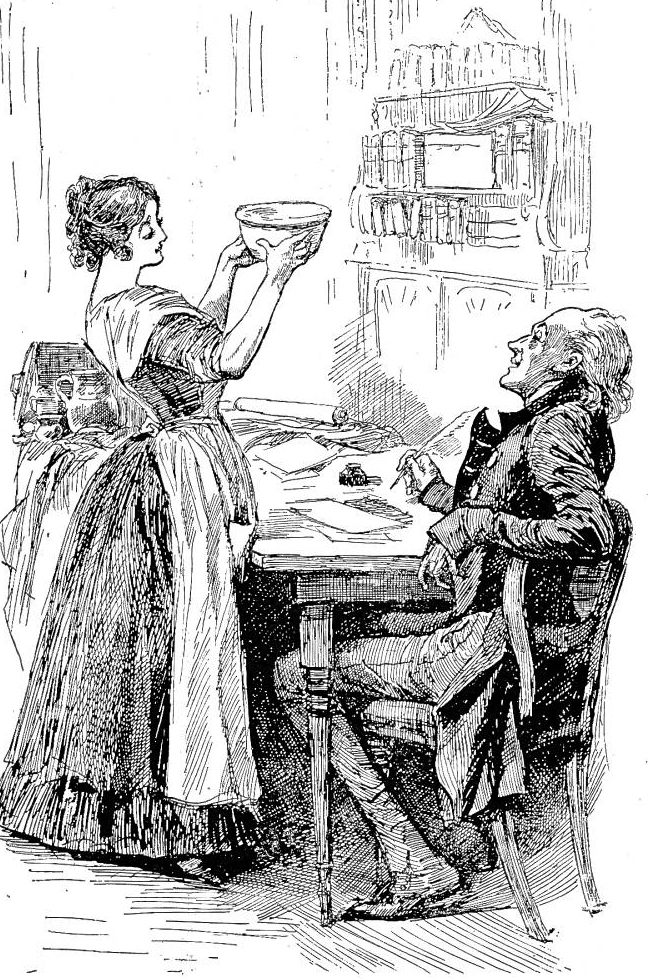 Ruth makes a Pudding.
Harry Furniss
1910
14.8​ cm high​ by 9.6 cm wide vignetted
Dickens's Martin Chuzzlewit, Vol. 7 of The​ Charles​ Dickens Library Edition, Chapter​ 39, "Containing some further particulars of the domestic economy of the Pinches; with strange news from the city, narrowly concerning Tom," facing p. 624.
[Click on image to enlarge it.]
Scanned image and text by Philip V. Allingham.
[You may use these images without prior permission for any scholarly or educational purpose as long as you (1) credit the photographer and (2) link your document to this URL in a web document or cite the Victorian Web in a print one.]
Passage Illustrated
"You will call it a pudding, Tom. Mind! I told you not!"
"I may as well call it that, till it proves to be something else," said Tom. "Oh, you are going to work in earnest, are you?"
Aye, aye! That she was. And in such pleasant earnest, moreover, that Tom's attention wandered from his writing every moment. First, she tripped down-stairs into the kitchen for the flour, then for the pie-board, then for the eggs, then for the butter, then for a jug of water, then for the rolling-pin, then for a pudding-basin, then for the pepper, then for the salt; making a separate journey for everything, and laughing every time she started off afresh. When all the materials were collected she was horrified to find she had no apron on, and so ran up-stairs by way of variety, to fetch it. She didn't put it on up-stairs, but came dancing down with it in her hand; and being one of those little women to whom an apron is a most becoming little vanity, it took an immense time to arrange; having to be carefully smoothed down beneath — oh, heaven, what a wicked little stomacher! and to be gathered up into little plaits by the strings before it could be tied, and to be tapped, rebuked, and wheedled, at the pockets, before it would set right, which at last it did, and when it did — but never mind; this is a sober chronicle. And then, there were her cuffs to be tucked up, for fear of flour; and she had a little ring to pull off her finger, which wouldn't come off (foolish little ring!); and during the whole of these preparations she looked demurely every now and then at Tom, from under her dark eyelashes, as if they were all a part of the pudding and indispensable to its composition.
Such a busy little woman as she was! So full of self-importance and trying so hard not to smile, or seem uncertain about anything! It was a perfect treat to Tom to see her with her brows knit, and her rosy lips pursed up, kneading away at the crust, rolling it out, cutting it up into strips, lining the basin with it, shaving it off fine round the rim, chopping up the steak into small pieces, raining down pepper and salt upon them, packing them into the basin, pouring in cold water for gravy, and never venturing to steal a look in his direction, lest her gravity should be disturbed; until, at last, the basin being quite full and only wanting the top crust, she clapped her hands all covered with paste and flour, at Tom, and burst out heartily into such a charming little laugh of triumph, that the pudding need have had no other seasoning to commend it to the taste of any reasonable man on earth.
"Where's the pudding?" said Tom. For he was cutting his jokes, Tom was.
"Where!" she answered, holding it up with both hands. "Look at it!"
"That a pudding!" said Tom.
"It will be, you stupid fellow, when it's covered in," returned his sister. Tom still pretending to look incredulous, she gave him a tap on the head with the rolling-pin, and still laughing merrily, had returned to the composition of the top crust, when she started and turned very red. Tom started, too, for following her eyes, he saw John Westlock in the room.
"Why, my goodness, John! How did you come in?" — Chapter 39, "Containing some further particulars of the domestic economy of the Pinches; with strange news from the city, narrowly concerning Tom," facing the illustration, p. 623-624.
Commentary
Having brought the reader up to date on the growing rift between Montague Tigg and Jonas Chuzzlewit, Dickens now shifts to the fortunes of Tom and Ruth Pinch after they have lost their "situations" and have to re-invent themselves. Ruth, a little younger than her brother, has been working as a governess for the family of an industrialist in Camberwell. Treated with disrespect by her demanding employers, Ruth is delighted when her brother gives the brass-and-copper founder a piece of his mind — and her notice. But now the brother and sister find themselves thrown on their own meagre resources as they set up housekeeping in an Islington flat.
​While Martin and Mark complete their American adventure by returning from the malarial swamps of Eden, Tom Pinch sets out from the Wiltshire village where he has served as Pecksniff's architectural apprentice. His destination is the Camberwell district of Southwark, south of the Thames, where his sister, Ruth, is a governess to the daughters of a wealthy industrialist, although Furniss depicts but one child. Discovering that her sister's employers are verbally abusive, demeaning in their attitude towards her, and unreasonable in their demands upon his sister, this new, assertive Tom dares to give the captain of industry a piece of his mind, and then to serve notice on his sister's behalf. Together they leave the upper-middle-class mansion and take rooms in Islington, where Ruth becomes a model housekeeper, and Tom finds unexpected employment as the organizer and cataloguer of a private library. In the Barnard illustration for this chapter, "I can't say; it's impossible to tell. I really have no idea. But," said Fips, taking off a very deep impression of the wafer-stamp upon the calf of his left leg, and looking steadily at Tom, "I don't know that it's a matter of much consequence.", Tom is pleasantly surprised by a job-offer he cannot refuse: one hundred pounds per annum, to be paid in regular instalments in the law offices of Mr. Fips, Austin Friars, for organizing and cataloguing a private library — whose owner precisely Tom cannot ascertain.
Here at last is a Tom Pinch who is thirty-five years of age, prematurely balding, and of an unprepossessing appearance, not the young Tom Pinch of the Phiz illustrations or the inconsistent Tom of the Barnard Household Edition who ranges between twenty-five and forty-something. Granted, this Tom like Bernard's is a bit too realistic, and not particularly naieve, which Phiz realised he must appear to be if he is to be effectively taken in by that old humbug Pecksniff for so much of the story. In the Furniss illustration, he is trying to write a promotional piece about himself to give to John Westlock to circulate so that the Pinches' Islington idyll will not come crashing down when their money runs out. But his sister's charmingly attempting to produce a beef-steak pudding totally disarms Tom, so that his biographical and professional sketch for the job market — "A respectable young man, aged thirty-five" (623) is as far as he gets, although Ruth's suggestion that he endeavour to market himself as "a civil engineer and land-surveyor" (a vocation certainly allied to his architectural studies) seems reasonable. Behind Tom is a case containing a modest library, suitable to Tom's being a poorly paid apprentice architect and bibliophile. But Tom's focus is not his self-advertisement or his few precious books. He is obviously enjoying his comic bantering with Ruth, who is, as the text suggests, holding aloft a pudding bowl as Tom, sitting at the kitchen table, gives up on writing. She is not the demure beauty of the Phiz series whose Ruth rsembles most of Phiz's petite, dark-haired young women, but one of Furniss's angular young women with a slender waist, and not the sultry beauty of Barnard's Chapter 51 illustration Brother and Sister.
The excessively sweet sentimentality of the domestic scene — of the asexual and thoroughly amiable household of brother and sister — is hardly to the taste of modern readers, but struck a cord with the early Victorians. If Vladimir Lenin detested the maudlin sentimentality of The Cricket on the Hearth, one can well imagine his scathing analysis of the sexual politics of "Ruth Pinch makes a Beaf-steak Pudding" since, despite their poverty, Tom as a good bourgeois insists that his respectable sister should not try to find work. As a young middle-class female, Ruth had but limited choices in the 1840s anyway, one of the few respectable jobs being that of a governess; by the time that Barnard was illustrating the Household Edition in the early 1870s, with the founding of women's colleges and the General Education Acts of 1852 and 1870, and the Crimean War behind her, Ruth might have become a teacher or a nurse, or, if extremely poor, a seamstress.
Relevant Illustrations, 1843-1924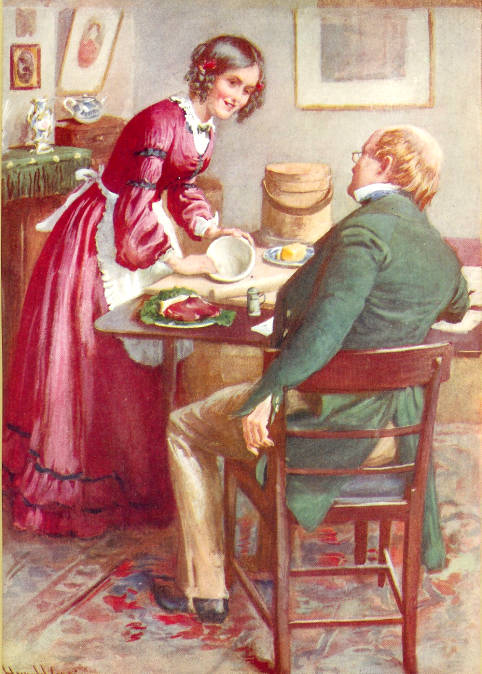 Left: Hablot Knight Browne's realisation of John Westlock's arrival at Tom and Ruth Pinch's apartment, Mr. Pinch and Ruth Unconscious of a Visitor (Chapter 39, March 1844). Right: Harold Copping's 1924 colour lithograph of Ruth Pinch's housekeeping idealized as Ruth Pinch Makes a Pudding​(Chapter 39). [Click on images to enlarge them.]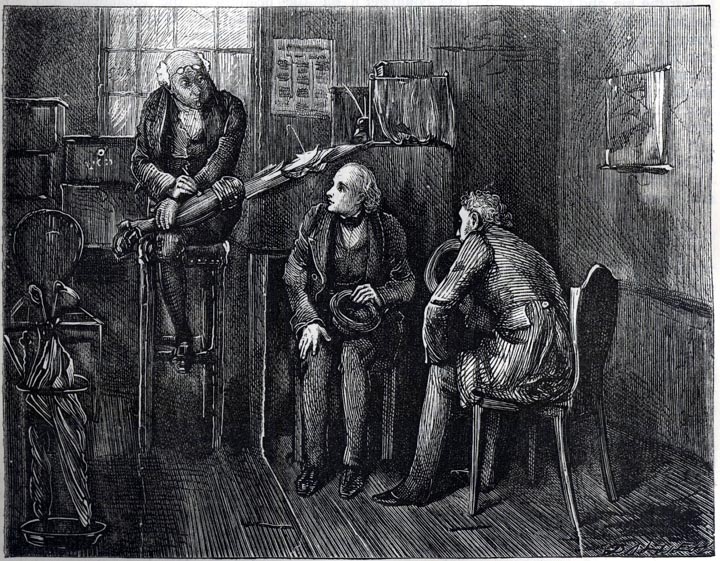 Above: Fred Barnard's realisation of Tom's landing his "dream job," organising a private library, "I can't say; it's impossible to tell. I really have no idea. But," said Fips, taking off a very deep impression of the wafer-stamp upon the calf of his left leg, and looking steadily at Tom, "I don't know that it's a matter of much consequence." (1872). [Click on the image to enlarge it.]
References
Bentley, Nicolas, Michael Slater, and Nina Burgis. The Dickens Index. New York and Oxford: Oxford U. P., 1990.
Davis, Paul. Charles Dickens A to Z: The Essential Reference to His Life and Work. New York: Facts On File, 1998.
Dickens, Charles. The Life and Adventures of Martin Chuzzlewit. Illustrated by Hablot Knight Browne. London: Chapman and Hall, 1844.
Dickens, Charles. Martin Chuzzlewit. Works of Charles Dickens. Household Edition. 55 vols. Illustrated by F. O. C. Darley and John Gilbert. New York: Sheldon and Co., 1863. Vols. 1 to 4.
Dickens, Charles. The Life and Adventures of Martin Chuzzlewit. Illustrated by Sol Eytinge, Junior. The Diamond Edition. Boston: Ticknor and Fields, 1867.
Dickens, Charles. The Life and Adventures of Martin Chuzzlewit. Illustrated by Fred Barnard. The Household Edition. 22 vols. London: Chapman and Hall, 1872. Vol. 2.
Dickens, Charles. Life and Adventures of Martin Chuzzlewit. Illustrated by Harry Furniss. The Charles Dickens Library Edition. 18 vols. London: Educational Book, 1910. Vol. 7.
Guerard, Albert J. "Martin Chuzzlewit: The Novel as Comic Entertainment." The Triumph of the Novel: Dickens, Dostoevsky, Faulkner. Chicago & London: U. Chicago P., 1976. Pp. 235-260.
Hammerton, J. A. "Chapter 19: Little Dorrit." The Dickens Picture-Book. The Charles Dickens Library Edition. London: Educational Book, 1910. Vol. 17. Pp. 398-427.
Kyd [Clayton J. Clarke]. Characters from Dickens. Nottingham: John Player & Sons, 1910.
"Martin Chuzzlewit — Fifty-nine Illustrations by Fred Barnard." Scenes and Characters from the Works of Charles Dickens, Being Eight Hundred and Sixty-six Drawings by Fred Barnard, Gordon Thomson, Hablot Knight Browne (Phiz), J. McL. Ralston, J. Mahoney, H. French, Charles Green, E. G. Dalziel, A. B. Frost, F. A. Fraser, and Sir Luke Fildes. London: Chapman and Hall, 1907.
Steig, Michael. Dickens and Phiz. Bloomington and London: Indiana U. P., 1978.
_____. "Martin Chuzzlewit's Progress by Dickens and Phiz." Dickens Studies Annual 2 (1972): 119-149.
Vann, J. Don. Victorian Novels in Serial. New York: Modern Language Association, 1985.
---

Victorian
Web

Visual
Arts

Illustra-
tion

Martin Chuz-
zlewit

Harry
Furniss

Next
Last modified 2 February 2016