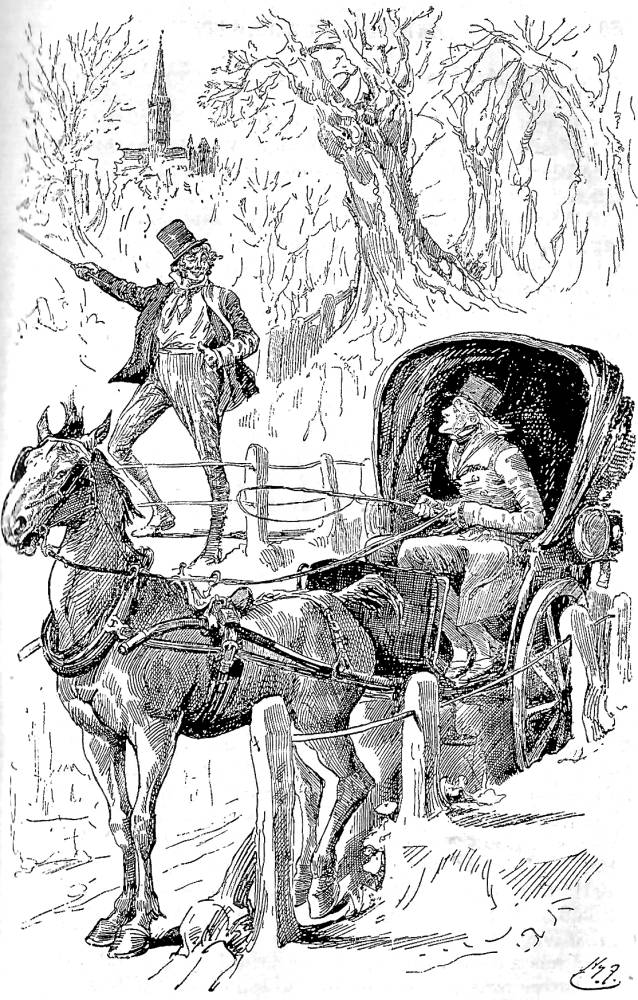 Mark Tapley and Tom Pinch
Harry Furniss
1910
14.5 x 9.4 cm vignetted
Dickens's Martin Chuzzlewit, Vol. 7 of Charles Dickens Library Edition, Chapter 5, "Containing a Full Account of the Installation of Mr. Pecksniff's New Pupil . . . ," facing p. 80.
Scanned image and text by Philip V. Allingham.
[You may use these images without prior permission for any scholarly or educational purpose as long as you (1) credit the photographer and (2) link your document to this URL in a web document or cite the Victorian Web in a print one.]
Passage Illustrated
"Why, I always supposed that Mrs. Lupin and you would make a match of it, Mark; and so did every one, as far as I know."
"I never," Mark replied, in some confusion, "said nothing as was in a direct way courting-like to her, nor she to me, but I don't know what I mightn't do one of these odd times, and what she mightn't say in answer. Well, sir, that wouldn't suit."
"Not to be landlord of the Dragon, Mark?' cried Mr. Pinch.
"No, sir, certainly not," returned the other, withdrawing his gaze from the horizon, and looking at his fellow-traveller. "Why that would be the ruin of a man like me. I go and sit down comfortably for life, and no man never finds me out. What would be the credit of the landlord of the Dragon's being jolly? Why, he couldn't help it, if he tried."
"Does Mrs. Lupin know you are going to leave her?" Mr. Pinch inquired.
"I haven't broke it to her yet, sir, but I must. I'm looking out this morning for something new and suitable," he said, nodding towards the city.
"What kind of thing now?" Mr. Pinch demanded.
"I was thinking," Mark replied, "of something in the grave-digging way.
"Good gracious, Mark!"cried Mr Pinch.
"It's a good damp, wormy sort of business, Sir," said Mark, shaking his head argumentatively, "and there might be some credit in being jolly, with one's mind in that pursuit, unless grave-diggers is usually given that way; which would be a drawback. You don't happen to know how that is in general, do you, sir?"
"No," said Mr. Pinch, "I don't indeed. I never thought upon the subject."
"In case of that not turning out as well as one could wish, you know," said Mark, musing again, "there's other businesses. Undertaking now. That's gloomy. There might be credit to be gained there. A broker's man in a poor neighbourhood wouldn't be bad perhaps. A jailor sees a deal of misery. A doctor's man is in the very midst of murder. A bailiff's an't a lively office nat'rally. Even a tax-gatherer must find his feelings rather worked upon, at times. There's lots of trades in which I should have an opportunity, I think."
Mr. Pinch was so perfectly overwhelmed by these remarks that he could do nothing but occasionally exchange a word or two on some indifferent subject, and cast sidelong glances at the bright face of his odd friend (who seemed quite unconscious of his observation), until they reached a certain corner of the road, close upon the outskirts of the city, when Mark said he would jump down there, if he pleased.
"But bless my soul, Mark," said Mr. Pinch, who in the progress of his observation just then made the discovery that the bosom of his companion's shirt was as much exposed as if it was Midsummer, and was ruffled by every breath of air, "why don't you wear a waistcoat?"
"What's the good of one, Sir?" asked Mark.
"Good of one?" said Mr. Pinch. "Why, to keep your chest warm."
"Lord love you, sir!" cried Mark, "you don't know me. My chest don't want no warming. Even if it did, what would no waistcoat bring it to? Inflammation of the lungs, perhaps? Well, there'd be some credit in being jolly, with a inflammation of the lungs."
As Mr. Pinch returned no other answer than such as was conveyed in his breathing very hard, and opening his eyes very wide, and nodding his head very much, Mark thanked him for his ride, and without troubling him to stop, jumped lightly down. And away he fluttered, with his red neckerchief, and his open coat, down a cross-lane; turning back from time to time to nod to Mr. Pinch, and looking one of the most careless, good-humoured comical fellows in life. His late companion, with a thoughtful face pursued his way to Salisbury. — Chapter 5, "Containing a Full Account of the Installation of Mr. Pecksniff's New Pupil . . . ," p. 72-73.
Commentary: Jolly Mark and Melancholy Tom
This situation in the sleepy Wiltshire was re-enacted again and again in nineteenth-century Europe as young men left the country village for the better wages and increased opportunities of the cities and of the colonies, as well as of America. The 1910 Furniss illustration is his re-interpretation of Hablot Knight Browne's March 1843 Mark Begins to be Jolly Under Creditable Circumstances for Chapter 7. However, whereas the scene in the serial plays out against the backdrop of the marketplace, traditional local inn, and finger-post indicating the distances to Salisbury and London, in the Furniss illustration the dialogue is realised with Tom Pinch in the driver's seat of his employer, Pecksniff's gig, and jolly Mark bestriding a fence, suggesting that he is going beyond the traditional boundaries and expectations of village life, dominated by the mediaeval church spire, rising above the green world of the rural village and pointing heavenward (upper left). Chomping at the bit for change and challenge, he eschews the restrictions of the traditional village life, just as the proud steed ready the pull the gig away at a double canter.
Although Mark has risen early, in part, one suspects, to avoid tearful farewells, already the villagers, in the Phiz steel-engraving their children, several dogs, Tom Pinch (left) and the Widow Lupin herself (in the window, centre) are up to see him off, the plate's realisation of the event paralleling Dickens's description, but for the crowd of young admirers that Dickens implies in "children enough to hand down human natur to the latest posterity" (Ch. 7, Penguin p. 172, Oxford p. 102). Though both a crowd scene and a set piece (a "departure" in a "progress"), the picture has both drama and pathos without any sense of crowding. Phiz has, as it were, filled in the blanks in Dickens's mere half-page description of the scene, adding the buildings and subtracting the garden. Something of the energy of the dashes and reiterated "good-by'es" in the letterpress is communicated through the waving hands of Tom Pinch, the conclave of wheelwrights, and the crowd in front of the inn, so vividly realised in the clear air that we are soon to exchange for the smog of Todgers's and vicinity. Phiz's humanizing touch is the lone child, right, whose posture, gesture, and facial expression reveal how much everyone in the little community will miss jolly Mark. His jacket blows in the stiff breeze from left to right, a wind of destiny that in agitating the bottom of his garment draws the eye to the significant words on the poster: "Lost, Stolen." Reiterating the left-to-right movement is the fingerpost above Mark's beaver, with the word "Salisbury" just decipherable. The church spire and the gables of the Blue Dragon reinforce the upward movement of Mark's figure, as if heaven, emigration, and the pursuit of jollity under trying circumstances are all connected.
Rather than attempt so profound a synthesis of sociological commentary and textual illustration, mid-nineteenth-century American illustrator Sol Eytinge, Jr., depicted Mark with young Martin outside their ramshackle log-cabin in the ironically named township of Eden on the banks of the pestilential Mississippi, Martin Chuzzlewit and Mark Tapley — a dual character study that, like the second American "Household" Edition frontispiece by Felix Octavius Carr Darley (1863), is based on the figure of Mark one sees throughout Phiz's steel-engravings. However, in "Jolly sort of lodgings," said Mark, Darley has made Mark a sharper dresser, his sporting clothing contrasting the more sober, professional and bourgeois clothing of his partner in misery, young Martin. The "flash" waistcoat and top-boots reference his having served as an hostler at the Blue Dragon Inn.
However, the direct source for Furniss's realisation of Mark's farewell to the comforts and limitations of village life is the vital image of the hostler in Fred Barnard's Household Edition wood-engraving He turned a whimsical face and a very merry pair of blue eyes on Mr. Pinch (1872). Having, like Harry Furniss and other later illustrators, read the entire text in advance and therefore having realized the importance of the jovial Mark to the subsequent narrative, the social realist and humorist Fred Barnard divides the focus of the composition between a full-length study of Mark Tapley, blocking our view of Pecksniff's horse (not nearly the nag of Dickens's description or Phiz's plate — and one of the surest indications that this illustration is Furniss's source), and a representation of a substantial gig, surmounted by another significant though secondary character, Tom Pinch, not previously introduced in Barnard's sequence. However, in Furniss's sequence, Tom Pinch has already appeared twice — in the full-page lithographic frontispiece with young Martin and in miniature beside Mark Tapley in the ornamental title-page, upper right, in Characters in the Story. The slouchy-brimmed hat and riding pants (not specified by the authorial voice) contribute to an overall impression of the whimsical character's jauntiness, and contribute to Furniss's "Go West, young man" interpretation of the ebullient Mark Tapley. The looming spire implies his immediate destination: Sailsbury, the nearest town of any size.
Relevant Illustrations, 1843-1910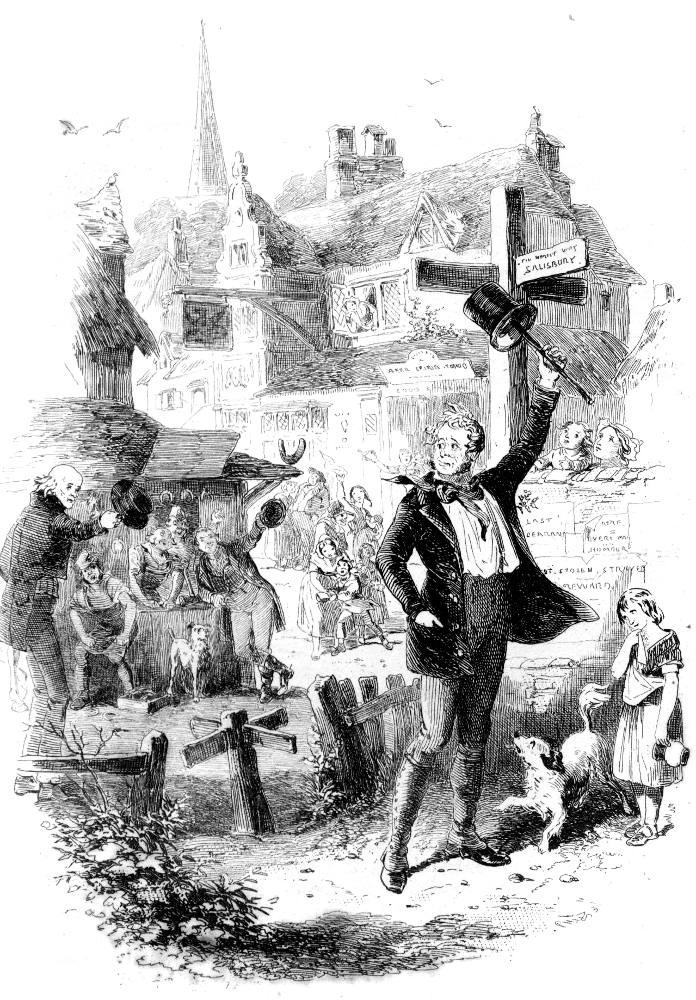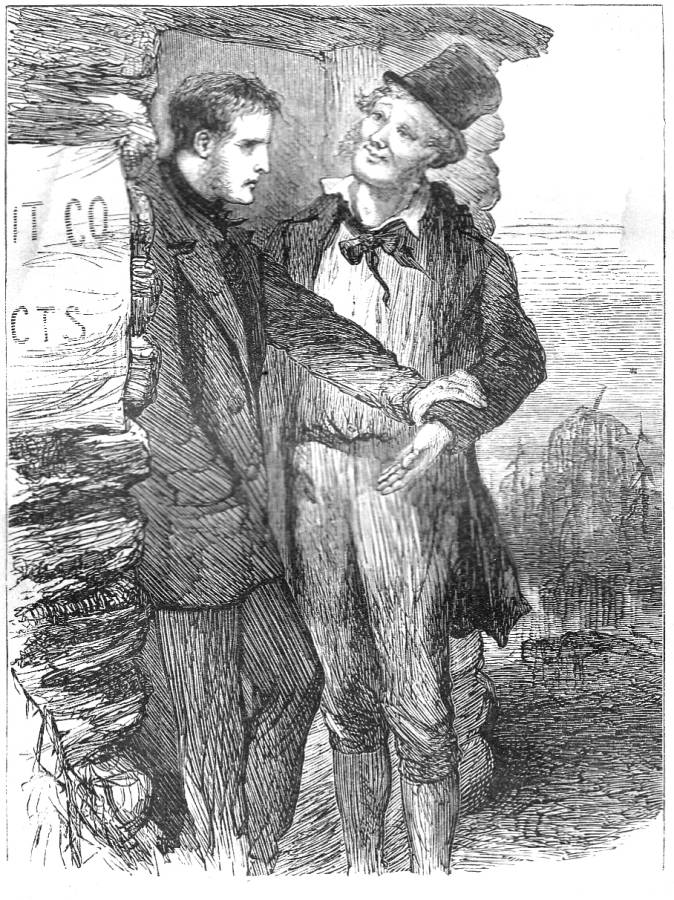 Left: Hablot Knight Browne's Mark Begins to be Jolly Under Creditable Circumstances (March 1843). Centre: Sol Eytinge, Jr.'s Martin Chuzzlewit and Mark Tapley (1867). Right: J. Clayton Clarke's (Kyd's) cigarette card image of the inveterate optimist, Mark Tapley (1910). [Click on images to enlarge them.]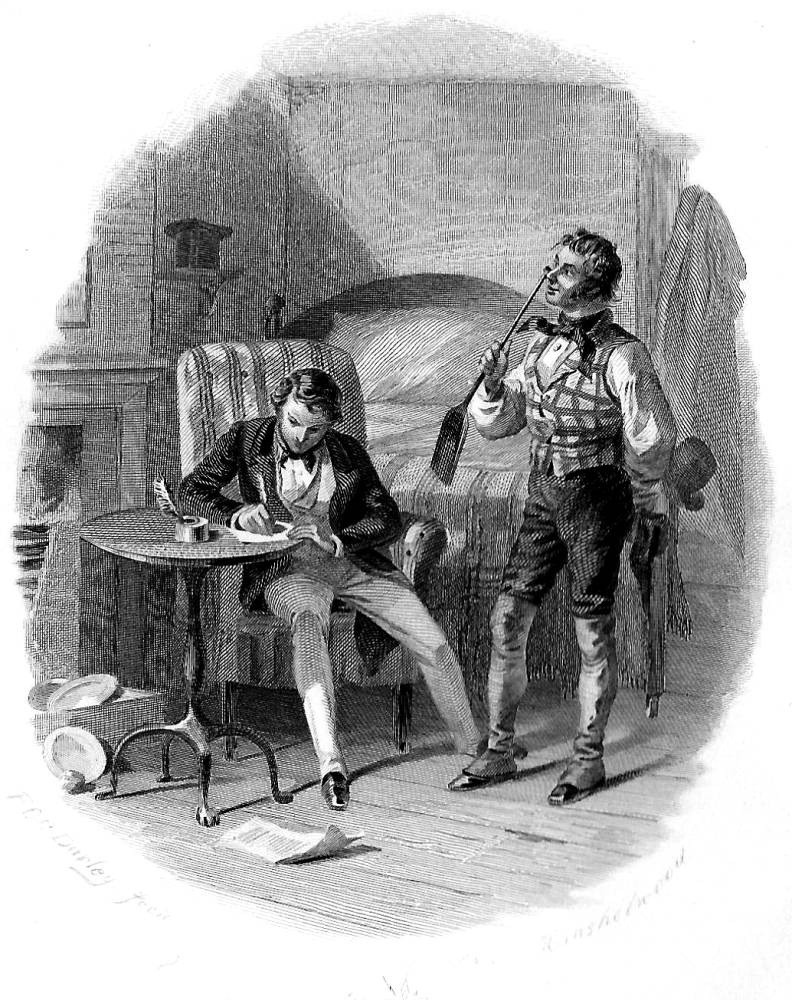 Left: F. O. C. Darley's frontispiece for volume two, "Jolly sort of lodgings", alluding to Mark's deciding to join young Martin on the voyage to America. Right: Furniss's own study of the jolly hostler, Mark Tapley, depicting Mark's cheerfully waving good-bye to all he has known. [Click on the images to enlarge them.]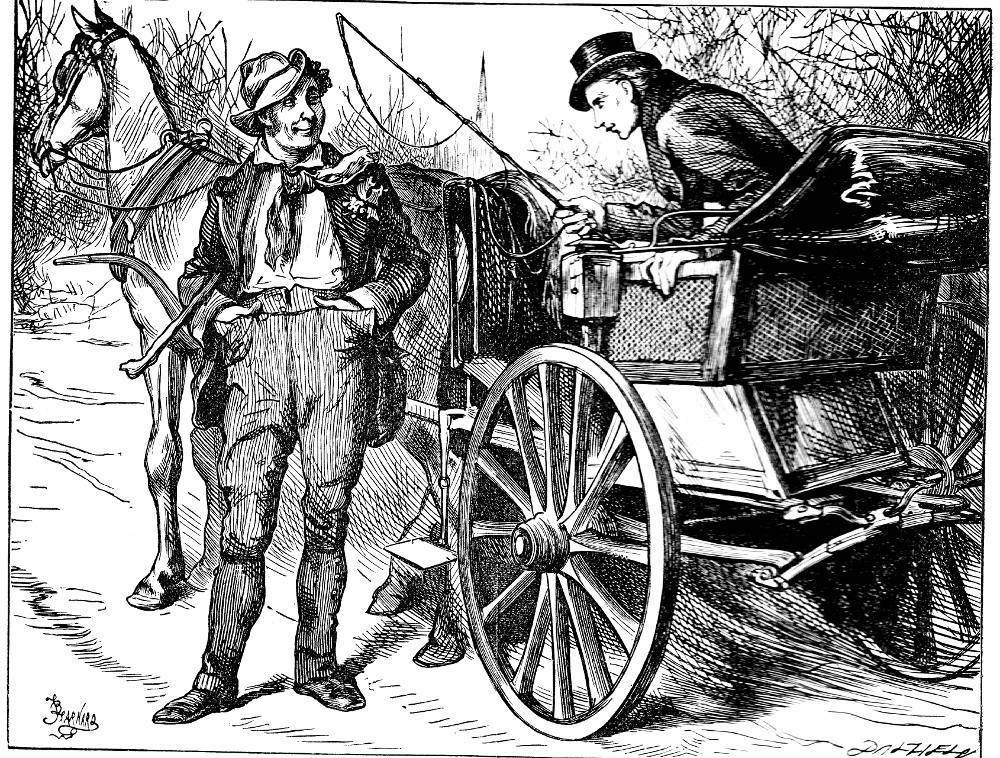 Above: Fred Barnard's He turned a whimsical face and a very merry pair of blue eyes on Mr. Pinch (1872). [Click on images to enlarge them.]
References
Bentley, Nicolas, Michael Slater, and Nina Burgis. The Dickens Index. New York and Oxford: Oxford U. P., 1990.
Dickens, Charles. The Life and Adventures of Martin Chuzzlewit. Il. Hablot Knight Browne. London: Chapman and Hall, 1844.
Dickens, Charles. Martin Chuzzlewit. Works of Charles Dickens. Household Edition. 55 vols. Il. F. O. C. Darley and John Gilbert. New York: Sheldon and Co., 1863. Vols. 1 to 4.
Dickens, Charles. The Life and Adventures of Martin Chuzzlewit. Il. Sol Eytinge, Junior. The Diamond Edition. Boston: Ticknor and Fields, 1867.
Dickens, Charles. The Life and Adventures of Martin Chuzzlewit. Illustrated by Fred Barnard. The Household Edition. 22 vols. London: Chapman and Hall, 1872. Vol. 2.
Dickens, Charles. Life and Adventures of Martin Chuzzlewit. Il. Harry Furniss. The Charles Dickens Library Edition. 18 vols. London: Educational Book, 1910. Vol. 7.
Guerard, Albert J. "Martin Chuzzlewit: The Novel as Comic Entertainment." The Triumph of the Novel: Dickens, Dostoevsky, Faulkner. Chicago & London: U. Chicago P., 1976. Pp. 235-260.
Hammerton, J. A. "Chapter 19: Little Dorrit." The Dickens Picture-Book. The Charles Dickens Library Edition. London: Educational Book, 1910. Vol. 17. Pp. 398-427.
Kyd [Clayton J. Clarke]. Characters from Dickens. Nottingham: John Player & Sons, 1910.
"Martin Chuzzlewit — Fifty-nine Illustrations by Fred Barnard." Scenes and Characters from the Works of Charles Dickens, Being Eight Hundred and Sixty-six Drawings by Fred Barnard, Gordon Thomson, Hablot Knight Browne (Phiz), J. McL. Ralston, J. Mahoney, H. French, Charles Green, E. G. Dalziel, A. B. Frost, F. A. Fraser, and Sir Luke Fildes. London: Chapman and Hall, 1907.
Steig, Michael. Dickens and Phiz. Bloomington and London: Indiana U. P., 1978.
_____. "Martin Chuzzlewit's Progress by Dickens and Phiz." Dickens Studies Annual 2 (1972): 119-149.
Vann, J. Don. Victorian Novels in Serial. New York: Modern Language Association, 1985.
---

Victorian
Web

Visual
Arts

Illustra-
tion

Martin
Chuzzlewit

Harry
Furniss
Last modified 24 November 2015