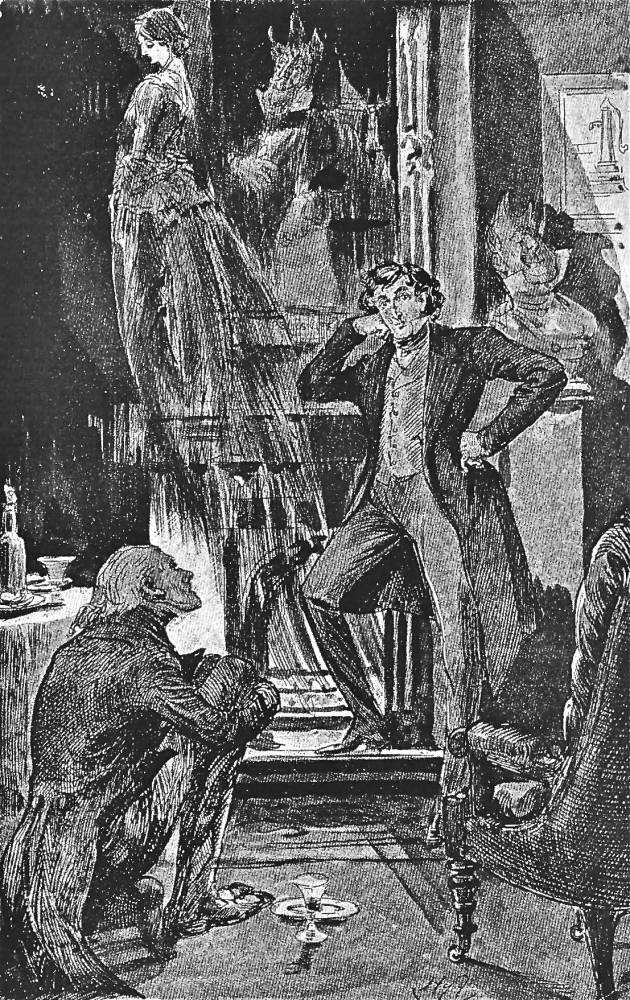 "It was she."
Harry Furniss
1910
14.8 cm high​ by 9.4 cm wide framed (lithograph)
Dickens's Martin Chuzzlewit, Vol. 7 of Charles Dickens Library Edition, frontispiece based on an incident in Chapter 6, "Comprises, among Other Important Matters, Pecksniffian and Architectural . . . ," facing the title-page.
Scanned image and text by Philip V. Allingham.
[You may use these images without prior permission for any scholarly or educational purpose as long as you (1) credit the photographer and (2) link your document to this URL in a web document or cite the Victorian Web in a print one.]
Passage Illustrated
"Pecksniff, of course, you had known before?"
"Only by name. No, I had never seen him, for my grandfather kept not only himself but me, aloof from all his relations. But our separation took place in a town in the adjoining country. From that place I came to Salisbury, and there I saw Pecksniff's advertisement, which I answered, having always had some natural taste, I believe, in the matters to which it referred, and thinking it might suit me. As soon as I found it to be his, I was doubly bent on coming to him if possible, on account of his being —"
"Such an excellent man," interposed Tom, rubbing his hands: "so he is. You were quite right."
"Why, not so much on that account, if the truth must be spoken," returned Martin, "as because my grandfather has an inveterate dislike to him, and after the old man's arbitrary treatment of me, I had a natural desire to run as directly counter to all his opinions as I could. Well! As I said before, here I am. My engagement with the young lady I have been telling you about is likely to be a tolerably long one; for neither her prospects nor mine are very bright; and of course I shall not think of marrying until I am well able to do so. It would never do, you know, for me to be plunging myself into poverty and shabbiness and love in one room up three pair of stairs, and all that sort of thing."
"To say nothing of her," remarked Tom Pinch, in a low voice.
"Exactly so," rejoined Martin, rising to warm his back, and leaning against the chimney-piece. 'To say nothing of her. At the same time, of course it's not very hard upon her to be obliged to yield to the necessity of the case; first, because she loves me very much; and secondly, because I have sacrificed a great deal on her account, and might have done much better, you know."
It was a very long time before Tom said "Certainly;" so long, that he might have taken a nap in the interval, but he did say it at last.
"Now, there is one odd coincidence connected with this love-story," said Martin, "which brings it to an end. You remember what you told me last night as we were coming here, about your pretty visitor in the church?"
"Surely I do," said Tom, rising from his stool, and seating himself in the chair from which the other had lately risen, that he might see his face. "Undoubtedly."
"That was she."
"I knew what you were going to say," cried Tom, looking fixedly at him, and speaking very softly. "You don't tell me so?"
"That was she," repeated the young man. "After what I have heard from Pecksniff, I have no doubt that she came and went with my grandfather. — Don't you drink too much of that sour wine, or you'll have a fit of some sort, Pinch, I see."
"It is not very wholesome, I am afraid," said Tom, setting down the empty glass he had for some time held. "So that was she, was it?"
"Martin nodded assent; and adding, with a restless impatience, that if he had been a few days earlier he would have seen her; and that now she might be, for anything he knew, hundreds of miles away; threw himself, after a few turns across the room, into a chair, and chafed like a spoilt child. — Chapter 6, "Comprises, among Other Important Matters, Pecksniffian and Architectural . . . ," p. 101-103.
Commentary: Self-Centred Martin and Melancholy Tom
This illustration anticipating a conversation in Chapter 6 effectively introduces young Martin Chuzzlewit as he meets his fellow architectural apprentice at Mr. Pecksniff's home-office-and-school in the sleepy Wiltshire village not far from Salisbury. The 1910 Furnissfrontispiece is his late Victorian re-interpretation of Hablot Knight Browne's March 1843 Mr. Pinch and The New Pupil on a Social Occasion for Chapter 6. However, whereas the scene in the 1843-44 serial plays out against the backdrop of Pecksniff's parlour, with a moody, discontented Martin studying the fire and brooding over his own suffering while Tom tries to cheer him up, Furniss presents the romantic figure of Mary Graham as an ideal to which both young men aspire, but which only Martin will attain, making Tom an isolate at the end of the story. Furniss has even borrowed some background details, including the bust of Pecksniff, from the Phiz engraving; however, his handling of the scene is less satirical — and reveals less of Martin's egotistical character than Phiz's serial illustration. The architectural study of a town-pump (upper right) anticipates both the benign Fountain Court in London and the spurious map of Eden as as a developed townsite rather than a pipe-dream on the banks of the Mississippi.
However, the direct source for Furniss's realisation of the two young men getting to know one another is Fred Barnard's Household Edition wood-engraving "You're a pair of Whittingtons, gents, without the cat; . . . My name is Tigg; how do you do?" (1872). Having, like Fred Barnard and other later illustrators, read the entire text in advance and therefore having realized the textual importance of both young men, Furniss utilizes the frontispiece as a keynote to show Martin and Tom as binary opposites: looking up wonderingly at the new pupil, Tom is cheerful, naieve, and easily impressed — a dreamy, prematurely balding romantic, whereas Martin is tall, slender, manly, physically attractive, and fashionably dressed — in short, a young bourgeois with great expectations and full head of curling hair. A horrid presence in the room, however, counterpointing the aetherial, floating image of feminine beauty before the fireplace is the leering, almost Satanic presence of the owner of the establishment, Seth Pecksniff, in the portrait bust and the oil painting above the mantel, so that the composition also prepares the reader for the arch humbug's attempt to woo Mary Graham in Mr. Pecksniff Makes Love (Chapter 30).
Relevant Illustrations, 1843-1872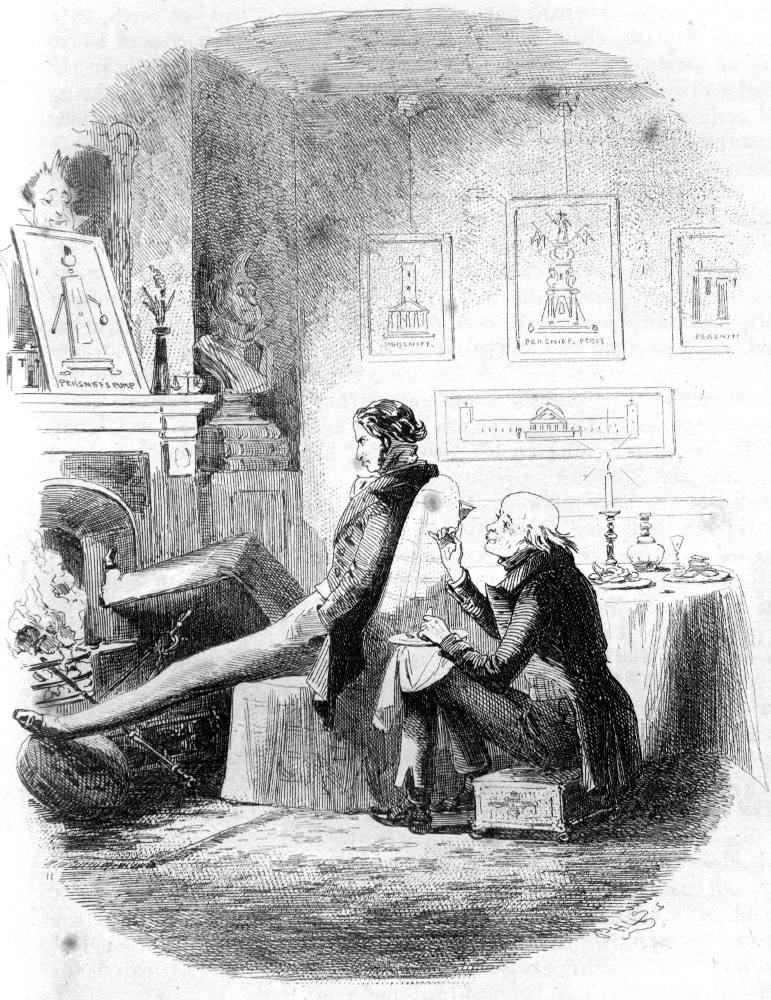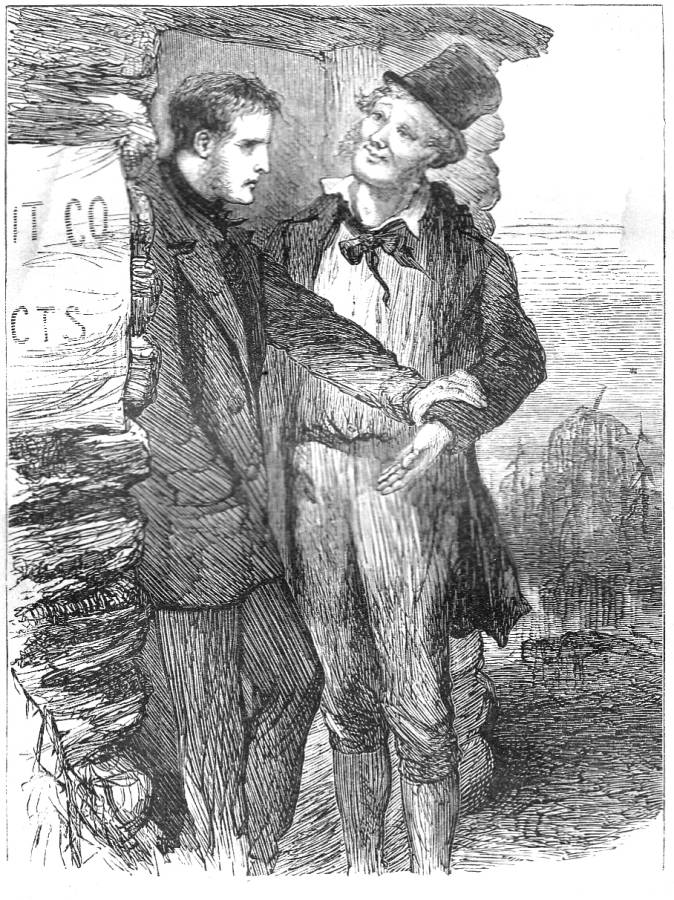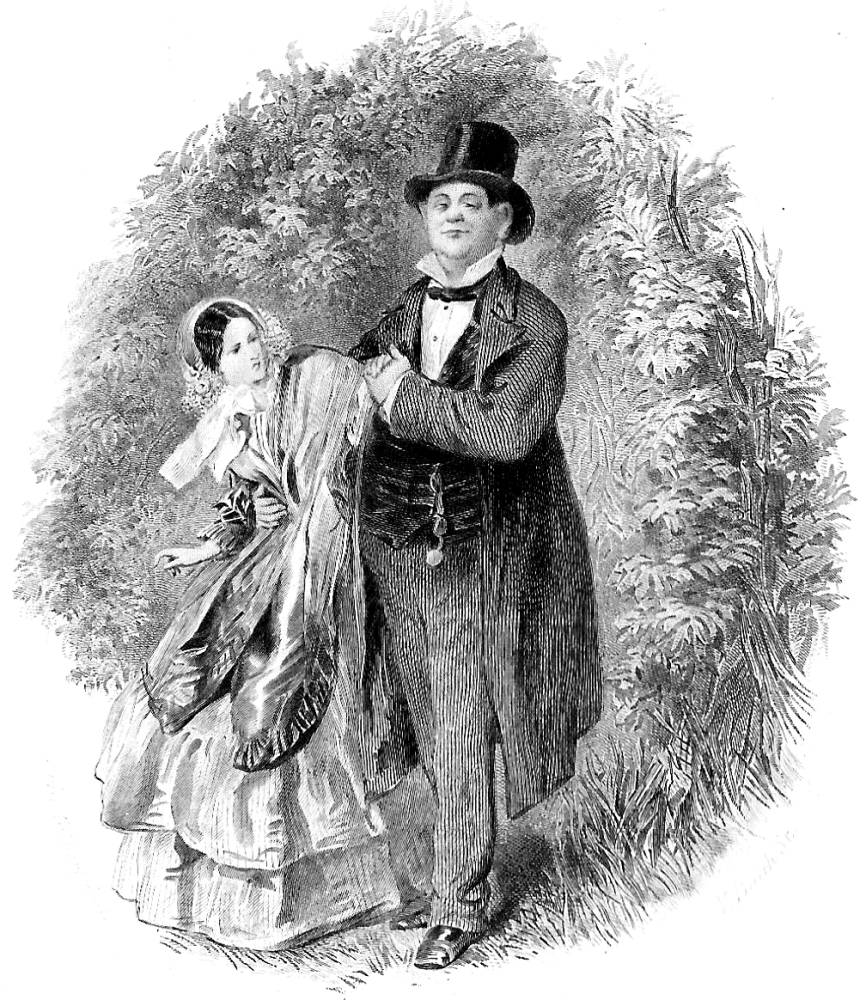 Left: Hablot Knight Browne's Mr. Pinch and The New Pupil on a Social Occasion (March 1843). Centre: Sol Eytinge, Jr.'s Martin Chuzzlewit and Mark Tapley (1867). Right: John Gilbert's rather more realistic study of Martin's beloved, Mr. Pecksniff's Courtship (1863). [Click on images to enlarge them.]
Above: Fred Barnard's portrait of the two apprentice-architects and the confidence man, Montague Tigg, "You're a pair of Whittingtons, gents, without the cat; . . . My name is Tigg; how do you do?" (1872). [Click on the image to enlarge it.]
References
Bentley, Nicolas, Michael Slater, and Nina Burgis. The Dickens Index. New York and Oxford: Oxford U. P., 1990.
Davis, Paul. Charles Dickens A to Z: The Essential Reference to His Life and Work. New York: Facts On File, 1998.
Dickens, Charles. The Life and Adventures of Martin Chuzzlewit. Illustrated by Hablot Knight Browne. London: Chapman and Hall, 1844.
Dickens, Charles. Martin Chuzzlewit. Works of Charles Dickens. Household Edition. 55 vols. Illustrated by F. O. C. Darley and John Gilbert. New York: Sheldon and Co., 1863. Vols. 1 to 4.
Dickens, Charles. The Life and Adventures of Martin Chuzzlewit. Illustrated by Sol Eytinge, Junior. The Diamond Edition. Boston: Ticknor and Fields, 1867.
Dickens, Charles. The Life and Adventures of Martin Chuzzlewit. Illustrated by Fred Barnard. The Household Edition. 22 vols. London: Chapman and Hall, 1872. Vol. 2.
Dickens, Charles. Life and Adventures of Martin Chuzzlewit. Illustrated by Harry Furniss. The Charles Dickens Library Edition. 18 vols. London: Educational Book, 1910. Vol. 7.
Guerard, Albert J. "Martin Chuzzlewit: The Novel as Comic Entertainment." The Triumph of the Novel: Dickens, Dostoevsky, Faulkner. Chicago & London: U. Chicago P., 1976. Pp. 235-260.
Hammerton, J. A. "Chapter 19: Little Dorrit." The Dickens Picture-Book. The Charles Dickens Library Edition. London: Educational Book, 1910. Vol. 17. Pp. 398-427.
Kyd [Clayton J. Clarke]. Characters from Dickens. Nottingham: John Player & Sons, 1910.
"Martin Chuzzlewit — Fifty-nine Illustrations by Fred Barnard." Scenes and Characters from the Works of Charles Dickens, Being Eight Hundred and Sixty-six Drawings by Fred Barnard, Gordon Thomson, Hablot Knight Browne (Phiz), J. McL. Ralston, J. Mahoney, H. French, Charles Green, E. G. Dalziel, A. B. Frost, F. A. Fraser, and Sir Luke Fildes. London: Chapman and Hall, 1907.
Steig, Michael. Dickens and Phiz. Bloomington and London: Indiana U. P., 1978.
_____. "Martin Chuzzlewit's Progress by Dickens and Phiz." Dickens Studies Annual 2 (1972): 119-149.
Vann, J. Don. Victorian Novels in Serial. New York: Modern Language Association, 1985.
---

Victorian
Web

Visual
Arts

Illustra-
tion

Martin
Chuzzlewit

Harry
Furniss

Next
Last modified 21 January 2016