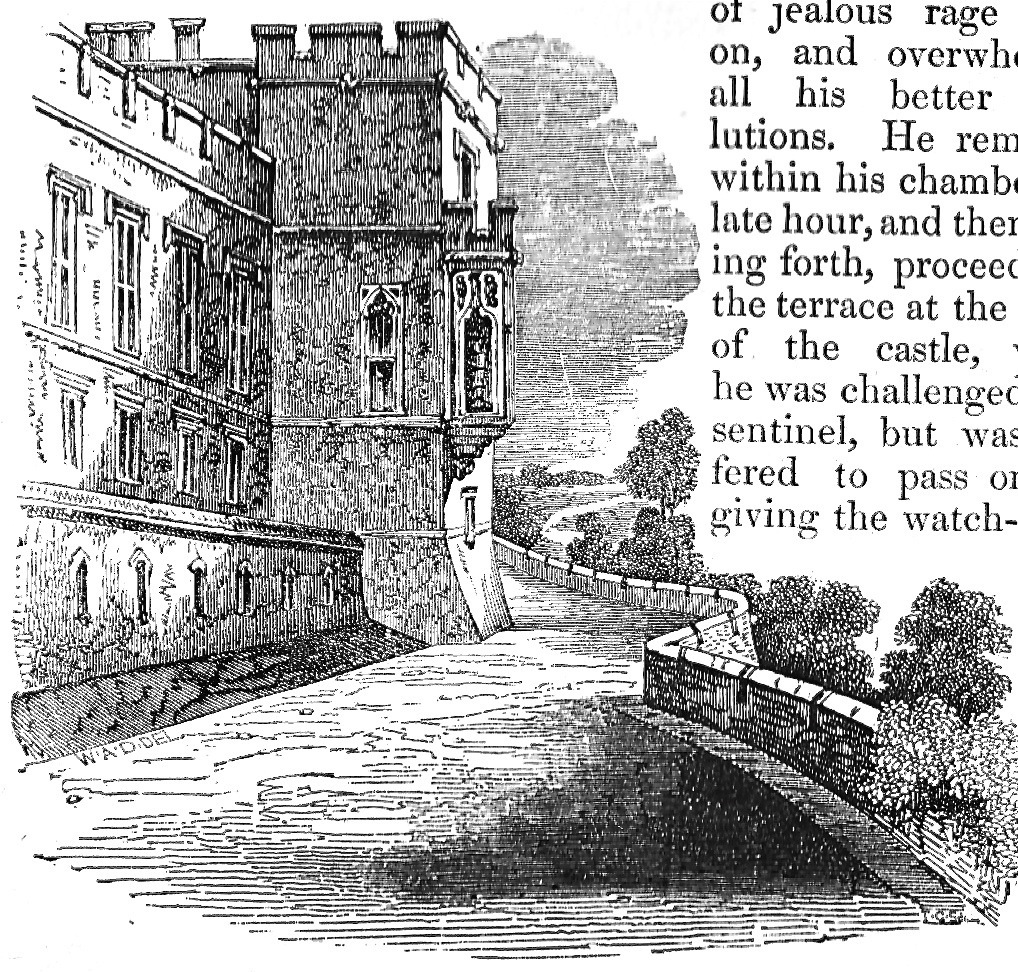 George the Fourth's Tower, from the Terrance in Windsor Castle, based on a sketch made by​ Sandhurst Military Academy drawing-master W. Alfred Delamotte​for the sixth instalment of W. Harrison Ainsworth's Windsor Castle. An Historical Romance for the January 1843 instalment in Ainsworth's Magazine. "Book the Second: Herne the Hunter," Chapter I, "Of the Compact between Sir Thomas Wyat and Herne the Hunter," p. 88:​7.9 cm high by 8.7 cm wide, vignetted. [Click on the image to enlarge it.]
Scanned image and text by Philip V. Allingham. [You may use this image without prior permission for any scholarly or educational purpose as long as you (1) credit the person who scanned the image and (2) link your document to this URL in a web document or cite the Victorian Web in a print one.]
Passage Complemented
Suddenly, however, the chamber was illumined, and he beheld Henry and​Anne Boleyn enter it, preceded by a band of attendants bearing tapers.​It needed not Wyat's jealousy-sharpened gaze to read, even at that​distance, the king's enamoured looks, or Anne Boleyn's responsive​glances. He saw that one of Henry's arms encircled her waist, while the​other caressed her yielding hand. They paused. Henry bent forward, and​Anne half averted her head, but not so much so as to prevent the king​from imprinting a long and fervid kiss upon her lips.
Terrible was its effect upon Wyat. An adder's bite would have been less painful. His hands convulsively clutched together; his hair stood erect upon his head; a shiver ran through his frame; and he tottered back several paces. When he recovered, Henry had bidden good-night to the object of his love, and, having nearly gained the door, turned and waved a tender valediction to her. As soon as he was gone, Anne looked round with a smile of ineffable pride and pleasure at her attendants, but a cloud of curtains dropping over the window shrouded her from the sight of her wretched lover. [Book 2, "Herne the Hunter," Chapter I, "Of the Compact between Sir Thomas Wyat and Herne the Hunter," p. 89]
Other Views and Related Material on Windsor Castle
References
Ainsworth, William Harrison. Windsor Castle. An Historical Romance. Illustrated by George Cruikshank and Tony Johannot. With designs on wood by W. Alfred Delamotte. London: Routledge, 1880. Based on the Henry Colburn edition of 1844.
Patten, Robert L. Chapter 30, "The 'Hoc' Goes Down." George Cruikshank's Life, Times, and Art, vol. 2: 1835-1878. Rutgers, NJ: Rutgers U. P., 1991; London: The Lutterworth Press, 1996. Pp. 153-186.
Worth, George J. William Harrison Ainsworth. New York: Twayne, 1972.
---
Last modified 15 December 2017