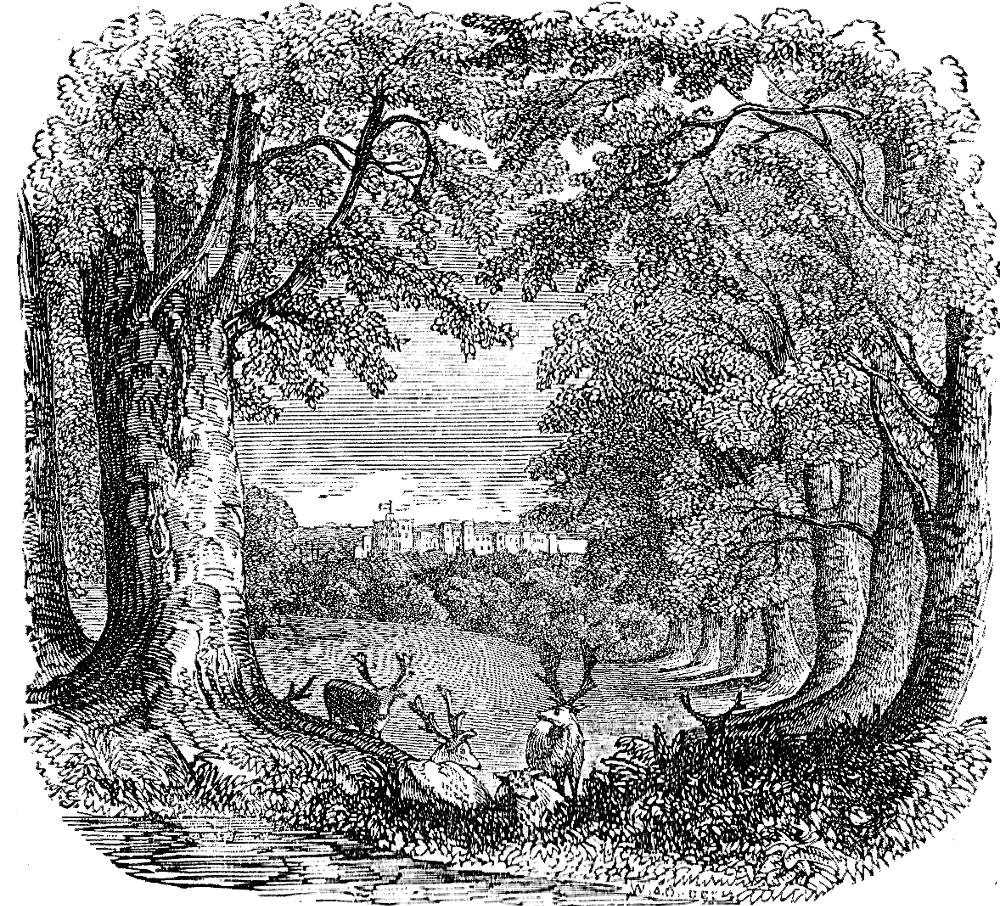 Forest Glade looking upon Cook's Hill in the grounds of Windsor Castle, based on a sketch made by​ Sandhurst Military Academy drawing-master W. Alfred Delamotte​for the sixth instalment of W. Harrison Ainsworth's Windsor Castle. An Historical Romance for the January 1843 (sixth) instalment in Ainsworth's Magazine. Book the Second: "Herne the Hunter," Chapter II, "In what manner Wolsey put his Scheme into Operation," p. 91:​9.1 cm high by 9.6 cm wide, vignetted. [Click on the image to enlarge it.]
Scanned image and text by Philip V. Allingham. [You may use this image without prior permission for any scholarly or educational purpose as long as you (1) credit the person who scanned the image and (2) link your document to this URL in a web document or cite the Victorian Web in a print one.]
Passage Complemented
Before executing the scheme, it was necessary to ascertain whether the damsel's beauty was as extraordinary as it had been represented; and with this view, Wolsey mounted his mule one morning, and, accompanied by Patch and another attendant, rode towards the forest.
It was a bright and beautiful morning, and preoccupied as he was, the plotting cardinal could not be wholly insensible to the loveliness of the scene around him. Crossing Spring Hill, he paused at the head of a long glade, skirted on the right by noble beech-trees whose silver stems sparkled in the sun shine, and extending down to the thicket now called Cooke's Hill Wood. From this point, as from every other eminence on the northern side of the forest, a magnificent view of the castle was obtained.
The sight of the kingly pile, towering above its vassal woods, kindled high and ambitious thoughts in his breast.
"The lord of that proud structure has been for years swayed by me," he mused, "and shall the royal puppet be at last wrested from me by a woman's hand? Not if I can hold my own."
Roused by the reflection, he quickened his pace, and shaping his course towards Black Nest, reached in a short time the borders of a wide swamp lying between the great lake and another pool of water of less extent situated in the heart of the forest. This wild and dreary marsh, the haunt of the bittern and the plover, contrasted forcibly and disagreeably with the rich sylvan district he had just quitted. [Book 2, "Herne the Hunter," Chapter II, "In what manner Wolsey put his Scheme into Operation," pp. 91-92]
Other Views and Related Material on Windsor Castle
References
Ainsworth, William Harrison. Windsor Castle. An Historical Romance. Illustrated by George Cruikshank and Tony Johannot. With designs on wood by W. Alfred Delamotte. London: Routledge, 1880. Based on the Henry Colburn edition of 1844.
Patten, Robert L. Chapter 30, "The 'Hoc' Goes Down." George Cruikshank's Life, Times, and Art, vol. 2: 1835-1878. Rutgers, NJ: Rutgers U. P., 1991; London: The Lutterworth Press, 1996. Pp. 153-186.
Worth, George J. William Harrison Ainsworth. New York: Twayne, 1972.
---
Last modified 15 December 2017