Newman had caught up by the nozzle an old pair of bellows. . .
Felix O. C. Darley
1861
9.6 x 8.3 cm vignetted
Photogravure
Frontispiece to the fourth volume of Dickens's The Life and Adventures of Nicholas Nickleby, in the W. A. Townsend (New York) Household Edition (1861-71).
Scanned image and text by Philip V. Allingham from his own collection.
[You may use these images without prior permission for any scholarly or educational purpose as long as you (1) credit the photographer and (2) link your document to this URL in a web document or cite the Victorian Web in a print one.]
​
Passage Illustrated
Of the stealthy comers, Frank Cheeryble was one, and Newman Noggs the other. Newman had caught up, by the rusty nozzle, an old pair of bellows, which were just undergoing a flourish in the air preparatory to a descent upon the head of Mr. Squeers, when Frank, with an earnest gesture, stayed his arm, and, taking another step in advance, came so close behind the schoolmaster that, by leaning slightly forward, he could plainly distinguish the writing which he held up to his eye. Mr. Squeers, not being remarkably erudite, appeared to be considerably puzzled by this first prize, which was in an engrossing hand, and not very legible except to a practised eye.
Having tried it by reading from left to right, and from right to left, and finding it equally clear both ways, he turned it upside down with no better success.
"Ha, ha, ha!" chuckled Peg, who, on her knees before the fire, was feeding it with fragments of the box, and grinning in most devilish exultation. "What's that writing about, eh?"
"Nothing particular," replied Squeers, tossing it towards her. "It's only an old lease, as well as I can make out. Throw it in the fire." — Volume 4, Chapter 57, "How Ralph Nickleby's Auxiliary Went About his Work, and How He Prospered With It," page 196.
Commentary
Since the chief comic character of the novel Nicholas Nickleby is the genial clerk Newman Noggs, Darley had a number of models in the original series by Phiz upon which to draw for this final frontispiece. In fact, he elected to re-draft a climactic illustration, Mr. Squeers and Mrs. Sliderskew Unconscious of Visitors (September 1839).
The passage realized occurs as the plot surrounding Madeline Bray's inheritance is about to be resolved. Squeers discovers the parchment than Newman brings the bellows done on his head, rendering him unconscious. Thus, in anticipation of this conclusion of the chapter, Darley has sketched the characters as Dickens describes them, with Arthur Gride's old house-keeper, Peg Sliderskew, on the floor, in front of the fireplace, burning the documents as directed by Squeers — "a short, thin, weazen, blear-eyed old woman, palsy-stricken and hideously ugly" (Ch. 51, p. 72). The witch-like Peg is the one who has stolen the documents pertaining to Madeline's inheritance, and ultimately she will be sentenced to transportation for her crimes. Conveniently for Newman Noggs (in the back, armed with the bellows) and Frank Cheeryble, immediately behind Squeers, Peg is deaf, and therefore oblivious to their entrance. Finally, Squeers, seated centre, is perusing legal documents by candle-light:
"Ah! 'Madeline Bray — come of age or marry — the said Madeline' — here, burn that!" [197]
This is actually an atmospheric redrafting of an original Phiz illustrations for Chapter 57, involving the sudden reversal of the plotting of Squeers and Gride. Even as Squeers and Arthur Gride's repulsive housekeeper, Peg Sliderskew, gloat over the legal documents she has stolen from her employer, Arthur Gride, including one relating to Madeline Bray's inheritance, Frank Cheeryble and Newman Noggs advance upon the schemers "with noiseless footsteps" in Chapter 57, "How Ralph Nickleby's Auxiliary went about his Work, and how he prospered with it " (Part 18).
The scene, as in the original Phiz illustration, ​​​​​occurs​ i​n​ an upstairs garret in a ramshackle house located in an obscure court in Lambeth, on the south side of the Thames. As in the letterpress, in the illustration, the "stealthy comers" have stolen by degrees to a position immediately behind Squeers (acting once again as Ralph Nickleby's agent) so that Frank can read by the light of the single candle (centre) whatever deeds Squeers picks up to inspect. Newman has snatched up a pair of bellows with which to knock Squeers unconscious at an opportune moment. The smoke from the stove (a fireplace in the Darley re-drafting) drifts left while the shadow cast by Noggs's hat points right, balancing the forces that intend to rescue the document against those that intend to destroy it and thereby deprive Madeline Bray of her inheritance. Documents intended for disposal lie strewn across the floor in the foreground of the Phiz illustration as in the letterpress, although the dingy ceiling does not contain "fantastic figures traced upon it by the wet and damp"; nevertheless, Phiz well communicates the gloomy, chaotic cell and the unfolding drama that will culminate with the bellows, extreme left, being brought down upon Squeers's head, centre.
Despite these many similarities in the two compositions, Phiz's is decidedly more farcical as only Frank Cheeryble is not a distorted caricature. Far more of a realist with a taste for the theatrical, Darley has revised the plate's perspective to avoid a purely linear structure; rather than having all four characters along the horizontal, the American illustrator has arranged the figures in a manner that draws the reader's eye from the two illuminated figures in the foreground to the mysterious figures in the background darkness, with Frank's face and hand in chiaroscuro and Newman's face a mere mask. Everything in the illustration compels the reader to look upward, towards the raised bellows. Thus, there is a dramatic tension and a high seriousness in the 1861 photogravure quite lacking in the 1839 steel-engraving.
The Relevant Illustration from the Original Serial, September 1839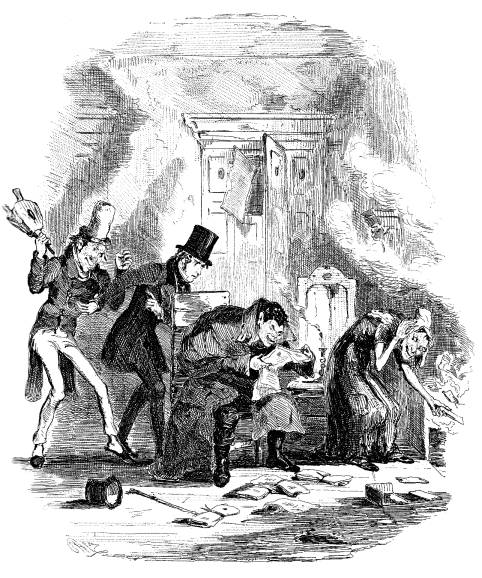 Above: Phiz's September 1839 engraving of the suspenseful moment, Mr. Squeers and Mrs. Sliderskew Unconscious of Visitors. [Click on the image to enlarge it.]
References
Bentley, Nicolas, Michael Slater, and Nina Burgis. The Dickens Index. New York and Oxford: Oxford U. P., 1990.
Darley, Felix Octavius Carr. Character Sketches from Dickens. Philadelphia: Porter and Coates, 1888.
Davis, Paul. Charles Dickens A to Z: The Essential Reference to His Life and Work. New York: Facts On File, 1998.
Dickens, Charles. Nicholas Nickleby. Illustrated by F. O. C. Darley and John Gilbert. The Works of Charles Dickens. The Household Edition. New York: W. A. Townsend, 1861. Vol. 1.
Dickens, Charles. Nicholas Nickleby. Illustrated by C. S. Reinhart [52 composite wood-block engravings]. The Works of Charles Dickens. The Household Edition. New York: Harper and Bros., 1873.
Hammerton, J. A. "Chapter 12: Nicholas Nickleby." The Dickens Picture-Book. The Charles Dickens Library Edition. London: Educational Book, 1910. Vol. 17. Pp. 147-170.
Matz, B. W., and Kate Perugini; illustrated by Harold Copping. Character Sketches from Dickens. London: Raphael Tuck, 1924. Copy in the Paterson Library, Lakehead University.
"Nicholas Nickleby — Fifty-nine Illustrations by Fred Barnard." Scenes and Characters from the Works of Charles Dickens, Being Eight Hundred and Sixty-six Drawings by Fred Barnard, Gordon Thomson, Hablot Knight Browne (Phiz), J. McL. Ralston, J. Mahoney, H. French, Charles Green,, E. G. Dalziel, A. B. Frost, F. A. Fraser, and Sir Luke Fildes. London: Chapman and Hall, 1907.
Vann, J. Don. Victorian Novels in Serial. New York: Modern Language Association, 1985.
---

Victorian
Web

Visual
Arts

Illustra-
tion

Nicholas
Nickleby

F. O. C.
Darley

Next
Last modified 3 November 2015