Captain Cuttle in Ambush
Felix O. C. Darley
1862
9.3 x 8 cm vignetted
Photogravure
Frontispiece to the first volume of Dickens's Dombey and Son, in the Sheldon and Company (New York) Household Edition (1861-71).
Scanned image and text by Philip V. Allingham from his own collection.
[You may use these images without prior permission for any scholarly or educational purpose as long as you (1) credit the photographer and (2) link your document to this URL in a web document or cite the Victorian Web in a print one.]
​
Passage Illustrated
The Captain was one of those timber-looking men, suits of oak as well as hearts, whom it is almost impossible for the liveliest imagination to separate from any part of their dress, however insignificant. Accordingly, when Walter knocked at the door, and the Captain instantly poked his head out of one of his little front windows, and hailed him, with the hard glared hat already on it, and the shirt-collar like a sail, and the wide suit of blue, all standing as usual, Walter was as fully persuaded that he was always in that state, as if the Captain had been a bird and those had been his feathers.
"Wal'r, my lad!" said Captain Cuttle. "Stand by and knock again. Hard! It's washing day."
Walter, in his impatience, gave a prodigious thump with the knocker.
"Hard it is!" said Captain Cuttle, and immediately drew in his head, as if he expected a squall.
Nor was he mistaken: for a widow lady, with her sleeves rolled up to her shoulders, and her arms frothy with soap-suds and smoking with hot water, replied to the summons with startling rapidity. Before she looked at Walter she looked at the knocker, and then, measuring him with her eyes from head to foot, said she wondered he had left any of it.
"Captain Cuttle's at home, I know," said Walter with a conciliatory smile.
"Is he?" replied the widow lady. "In-deed!"
"He has just been speaking to me," said Walter, in breathless explanation.
"Has he?" replied the widow lady. "Then p'raps you'll give him Mrs. MacStinger's respects, and say that the next time he lowers himself and his lodgings by talking out of the winder she'll thank him to come down and open the door too." Mrs. MacStinger spoke loud, and listened for any observations that might be offered from the first floor.
I'll mention it," said Walter, "if you'll have the goodness to let me in, Ma'am."
For he was repelled by a wooden fortification extending across the doorway, and put there to prevent the little MacStingers in their moments of recreation from tumbling down the steps.
"A boy that can knock my door down," said Mrs MacStinger, contemptuously, "can get over that, I should hope!" But Walter, taking this as a permission to enter, and getting over it, Mrs. MacStinger immediately demanded whether an Englishwoman's house was her castle or not; and whether she was to be broke in upon by 'raff.' On these subjects her thirst for information was still very importunate, when Walter, having made his way up the little staircase through an artificial fog occasioned by the washing, which covered the banisters with a clammy perspiration, entered Captain Cuttle's room, and found that gentleman in ambush behind the door.
"Never owed her a penny, Wal'r," said Captain Cuttle, in a low voice, and with visible marks of trepidation on his countenance. "Done her a world of good turns, and the children too. Vixen at times, though. Whew!"
"I should go away, Captain Cuttle," said Walter.
"Dursn't do it, Wal'r," returned the Captain. "She'd find me out, wherever I went. Sit down. How's Gills?" — Volume 1, Chapter 9, "In which the Wooden Midshipman gets into Trouble," pages 176-177.
Commentary
Although not one of the eponymous characters, Captain Cuttle is certainly one of the chief comic characters of the novel Dombey and Son, Walter Gay being the somewhat pallid romantic hero. For the crusty sailor introduced in Chapter 4 Darley had a number of models in the original series by Phiz upon which to draw for this initial frontispiece, although his most likely source is Profound Cogitation of Captain Cuttle (February 1847), although one of the December 1846 engravings offers a useful portrait of the pair.
Doubtless the business of the firm of Dombey and Son suggested by virtue of its functions of importation and exportation that there should be nautical personages introduced, such as the chandler Sol Gills; Mrs. MacStinger, the landlady of Brig Place; and her roomer, the stalwart Captain Cuttle. By showing the old sailor hiding behind his own door Darley at one stroke introduces the person and circumstances of an old friend of Walter's uncle, Captain Ned Cuttle, who, for all his gruff appearance and a hook instead of a hand, is thoroughly intimidated by his landlady. The frontispiece also introduces Walter Gay, Sol Gills's nephew, a "fair-faced, bright-eyed, and curly-haired" (Chapter 4) junior clerk in the house of Dombey whom the merchant sends to Barbados after a relationship develops between his daughter, Florence, and the young man. His return to London in Chapter 49 after surviving a shipwreck sets the stage for his marrying Florence Dombey in Chapter 57.
Although he is at best peripheral to this romantic plot, Captain Ned Cuttle is irresistible as a Dickensian original, as such later illustrators as Fred Barnard and Kyd (fin de siecle illustrator J. Clayton Clarke) realised, their later interpretations like Darley's here conditioned by Phiz's original images in the serial. In Darley's frontispiece for the first volume, an angry Mrs. MacStinger looks on from the bottom of the stairs (left) as Walter, attired appropriately as a clerk, curiously and cautiously enters the room. Signs of recent disturbance, including an overturned chair and open drawers, prepare the reader for Cuttle's admission that his landlady fills him with apprehension, even though such elements contradict the writer's assertion that Ned Cuttle keeps his quarters snug and shipshape. However, as in the text, Walter has arrived just as the old salt is about to enjoy a dinner of a "cold loin of mutton, porter, and some smoking hot potatoes" (177).
The comic irony of a stalwart sailor terrified of his landlady was something one might expect that a gifted visual satirist such as Phiz would exploit; however, Dickens's original visual interpreter, perhaps at the writer's instigation, chose to develop a more sentimental scene when, having been admitted to Ned Cuttle's rooms, Walter confesses his distress about his uncle's shop having been seized for non-payment of debt. The Darley illustration shifts the reader's attention away from Walter's dilemma towards Captain Cuttle's vassalage to a termagant, away from melodrama towards character comedy, brilliantly realising the figure of the old salt, and minimizing the figure of the young clerk. Perhaps regarding Phiz's choice of scene as too sentimental, the Household Edition illustrator Fred Barnard as both a humourist and a realist elected not to provide a composite wood-engraving for this chapter, although he does offer a number illustrations featuring the genial sailor.
The Relevant Illustrations of Capt. Cuttle and Walter from the Original Serial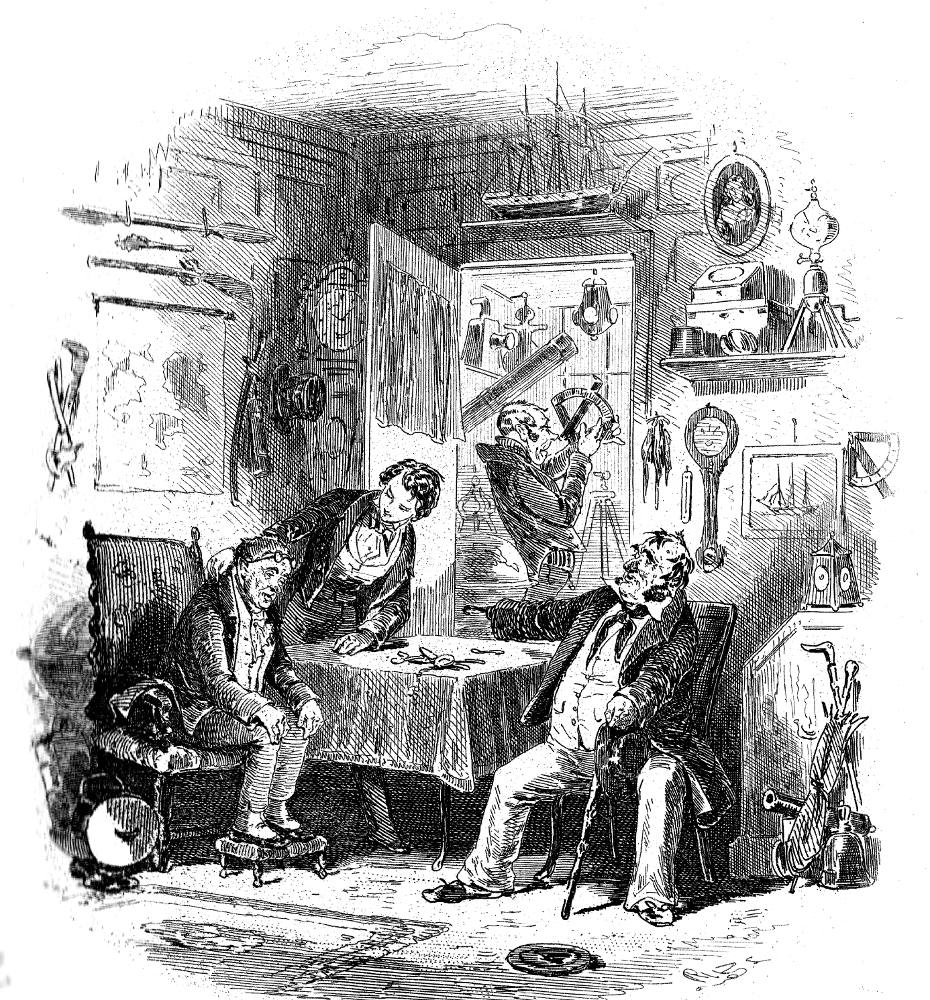 Left: Phiz's December 1846 introduction of Walter and Capt. Cuttle, Captain Cuttle Consoles His Friend. Centre: Phiz's September 1846 engraving of Walter Gay and the old salt, Profound Cogitation of Captain Cuttle. Right: Phiz's October 1847 comic scene The Midshipman is boarded by the enemy. [Click on the image to enlarge it.]
Later illustrations of Capt. Cuttle and his landlady influenced by Phiz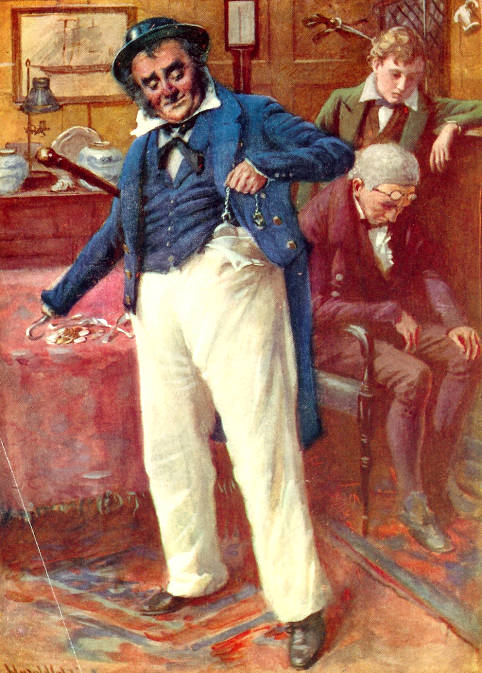 Left: Kyd's 1910​ ​cigarette card representing the waspish landlady, Mrs. MacStinger. Centre: Kyd's coloured lithograph Capt. Cuttle. Right: Harold Copping's 1924 coloured lithograph of the kindly seafarer, Captain Cuttle's Bright Idea. ​[Click on the images to enlarge them.]
References
Bentley, Nicolas, Michael Slater, and Nina Burgis. The Dickens Index. New York and Oxford: Oxford U. P., 1990.
Darley, Felix Octavius Carr. Character Sketches from Dickens. Philadelphia: Porter and Coates, 1888.
Davis, Paul. Charles Dickens A to Z: The Essential Reference to His Life and Work. New York: Facts On File, 1998.
Dickens, Charles. Dombey and Son. Illustrated by F. O. C. Darley and John Gilbert. The Works of Charles Dickens. The Household Edition. New York: Sheldon and Company, 1862. Vol. 1.
Dickens, Charles. Dombey and Son. Illustrated by W. L. Sheppard; [52 composite wood-block engravings]. The Works of Charles Dickens. The Household Edition. New York: Harper and Bros., 1873.
Dickens, Charles. Dombey and Son. Illustrated by Fred Barnard [62 composite wood-block engravings]. The Works of Charles Dickens. The Household Edition. London: Chapman and Hall, 1877.
Hammerton, J. A. "Chapter 16: Dombey and Son." The Dickens Picture-Book. The Charles Dickens Library Edition. London: Educational Book, 1910. Vol. 17. Pp. 295-338.
Matz, B. W., and Kate Perugini; illustrated by Harold Copping. Character Sketches from Dickens. London: Raphael Tuck, 1924. Copy in the Paterson Library, Lakehead University.
"Dealings with the Firm of Dombey and Son: Wholesale, Retail and for Exportation — Sixty-two Illustrations by Fred Barnard." Scenes and Characters from the Works of Charles Dickens, Being Eight Hundred and Sixty-six Drawings by Fred Barnard, Gordon Thomson, Hablot Knight Browne (Phiz), J. McL. Ralston, J. Mahoney, H. French, Charles Green,, E. G. Dalziel, A. B. Frost, F. A. Fraser, and Sir Luke Fildes. London: Chapman and Hall, 1907.
Vann, J. Don. Victorian Novels in Serial. New York: Modern Language Association, 1985.
---

Victorian
Web

Visual
Arts

Illustra-
tion

Dombey
& Son

F. O. C.
Darley

Next
Last modified 1 November 2015