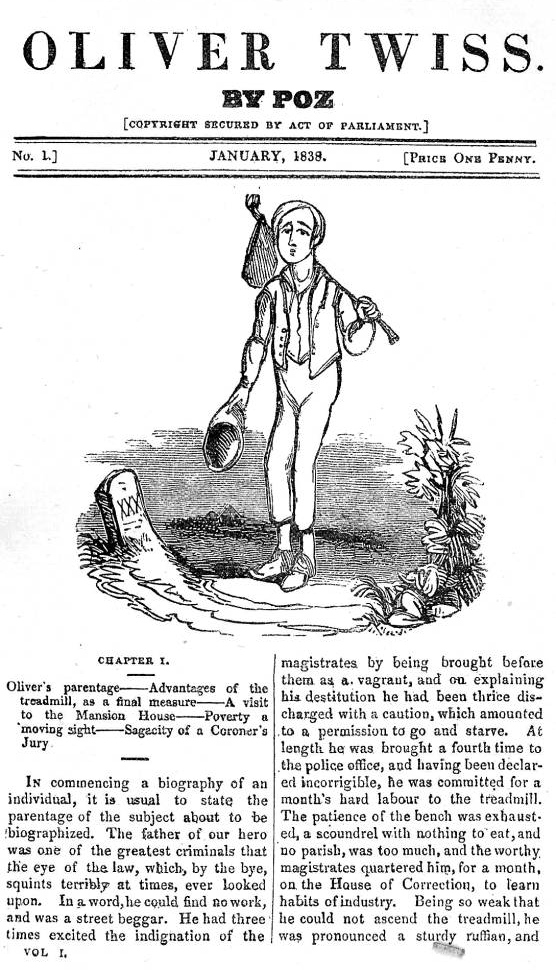 The opening page of the January 1838 piracy
Thomas Peckett Prest, 1810-1859
Part 1, January 1838
Wood-engraving composite block
For the first monthly instalment of Oliver Twiss, The Workhouse Boy. Edited by Pos.
Scanned image and text by Philip V. Allingham.
[You may use this image without prior permission for any scholarly or educational purpose as long as you (1) credit the person who scanned the image and (2) link your document to this URL in a web document or cite the Victorian Web in a print one.].
Commentary
As Oliver deals with unsavoury characters and decidedly unpleasant scenes, in sharp contrast to the genial Pickwick Papers, it attracted far fewer pirates. The most celebrated piracy of Dickens's Newgate novel was Oliver Twiss, The Workhouse Boy. Edited by Pos, a quasi-makeover of Dickens's novel issued in seventy-nine numbers between 1839 and 1841 by shady Bloomsbury publisher Edward Lloyd, pioneer of penny fiction for the labouring classes.
Instead of Dickens's monthly shilling numbers, Lloyd sold his serial weekly at a penny, exploiting the market further with fourpenny monthly issues. These were sold on Sunday, when working-class people had their leisure, and through tobacconists and small shops, so reaching a market of semi-literate readers outside the range of middle-class booksellers. [James, 452]
Apparently each penny number has two such illustrations as this Oliver at the Milestone. "Pos," the author of the plagiarized edition was none other than Thomas Peckett Prest (1810-1859), co-creator with James Malcolm Rymer of Sweeney Todd, The Demon Barber of Fleet Street in The String of Pearls: A Romance (1846). Judging by the illustration and the text on the opening page, one may surmise that Prest's piracy was equal parts parody and penny dreadful, of which he was a prolific generator. Having lampooned Boz's first novel in 1839 as The Penny Pickwick, Prest went to the Dickens well again in David Copperful and Nickelas Nicklebery in 1841.
Twiss ran for 78 weeks, with some success. It was closer to the original than The Penny Pickwick, for Twist told the story of Oliver's progress, and offered less scope for deviation. 'Bos' [i. e., "Pos"] exploited Oliver Twist's links with the popular traditions of Gothic melodrama, crime reporting, and stage comedy. Banks (Monks) is a complete Gothic villain, living in a ruined castle; a mysterious gypsy appears to tell Oliver's fortune. The melodramatic love of Polly (Nancy) for Jem Blount (Bill Sikes) is drawn out, and Poll goes to jail to save her lover. The comic element in Mumble (Bumble) courting Mrs. Stint'em (Mrs. Corney) is played up as a slapstick farce, although 'Bos' [Prest] also introduces more realistic elements, for Mumble marries because the Poorhouse Guardians want a married man for beadle (see Poor Relief).
Throughout, 'Bos' ["Pos"] adds more background about the criminal world than does Dickens, and the Jewish identity of Solomans (Fagin) is never disguised. 'Bos' evidently knew his criminal law. In Dickens's version Fagin hangs for being an accessory to Nancy's murder, though as he was absent at her actual death this was legally unlikely at the time. Solomans is hanged for the actual murder of a gypsy, dying with a flourish of a repentant broadsheet villain, acknowledging 'the fate I have been condemned to undergo has been richly merited'. Twiss retires to live out a happy life in a country mansion, with Mr. Beaumont (Brownlow). [James, 453]
The plagiarist, Prest, strikes both Newgate and picaresque chords as Oliver, like Tom Jones in Fielding's novel (and countless real-life young men), sets out for London on the high road as the first stage of a Hogarthian "progress."
As one might expect, Dickens, hardly amused by Prest's lampoon, attempted to terminate its publication by legal means — but, having failed in his suit, attacked such "dishonest dullards" as he reckoned Prest to be in his next novel, Nicholas Nickleby, which Prest again plagiarized, asserting that he was the wronged party and Dickens the plagiarist! Lloyd's ultimate pilfering of Dickens came in 1846 when he issued A Christmas Log, in imitation of the Christmas Books, a hackneyed tale of a benevolent uncle who in the finale forgives his grasping relatives.
References
Bentley, Nicolas, Michael Slater, and Nina Burgis. The Dickens Index. New York and Oxford: Oxford U. P., 1990.
Davis, Paul. Charles Dickens A to Z: The Essential Reference to His Life and Work. New York: Facts On File, 1998.
Dickens, Charles. The Adventures of Oliver Twist; or, The Parish Boy's Progress. Il. George Cruikshank. London: Bradbury and Evans; Chapman and Hall, 1846.
Dickens, Charles. The Adventures of Oliver Twist; or, The Parish Boy's Progress. Il. George Cruikshank. London & New York: Macmillan, 1892 [contains reproductions of the 1846 wrapper, of the first page of the 1838 Bentley volume, and of the first page of the Prest serial, Oliver Twiss].
James, Louis. "Plagiarisms of Dickens." Oxford Reader's Companion to Dickens. Ed. Paul Schlicke. Oxford and New York: Oxford U. P., 1999. Pp. 452-54.
Kitton, Frederic G. "George Cruikshank." Dickens and His Illustrators: Cruikshank, Seymour, Buss, "Phiz," Cattermole, Leech, Doyle, Stanfield, Maclise, Tenniel, Frank Stone, Topham, Marcus Stone, and Luke Fildes. 1899. Rpt. Honolulu: U. Press of the Pacific, 2004. Pp. 1-28.
---

Victorian
Web

Illus-
tration

Oliver
Twist

Next
Last modified 19 October 2014