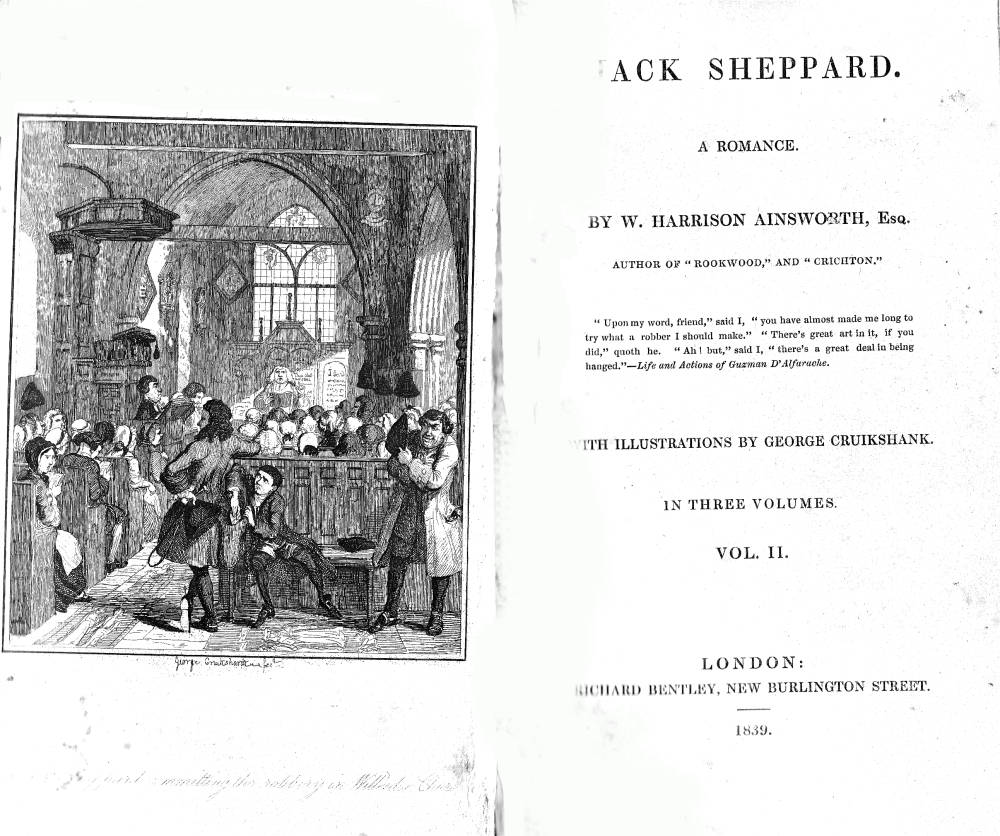 The title-page and frontispiece for volume two — tenth volume illustration for Jack Sheppard, originally in Bentley's Miscellany by William Harrison Ainsworth (the plate in the serial appeared in the May 1839, fifth weekly instalment). Each page 18.8 x 10.5 cm. [The frontispiece marks the point in the serialised novel in at which Jack Sheppard as a dissatisfied apprentice-carpenter takes up a life of crime. However, the illustration is misleading in that Jack is actually picking the draper's pocket to obtain some seditious, Jacobite letters in Kneebone's possession in the plate Jack Sheppard committing the Robbery in Willesden Church.]
Scanned image and text by Philip V. Allingham. [You may use this image without prior permission for any scholarly or educational purpose as long as you (1) credit the person who scanned the image and (2) link your document to this URL.]
Passage Anticipated by the Frontispiece
Every old country church is beautiful, but Willesden is the most beautiful country church we know; and in Mrs. Sheppard's time it was even more beautiful than at present, when the hand of improvement has proceeded a little too rashly with alterations and repairs. With one or two exceptions, there were no pews; and, as the intercourse with London was then but slight, the seats were occupied almost exclusively by the villagers. In one of these seats, at the end of the aisle farthest removed from the chancel, the widow took her place, and addressed herself fervently to her devotions.
The service had not proceeded far, when she was greatly disturbed by the entrance of a person who placed himself opposite her, and sought to attract her attention by a number of little arts, surveying her, as he did so, with a very impudent and offensive stare. With this person — who was no other than Mr. Kneebone — she was too well acquainted; having, more than once, been obliged to repel his advances; and, though his impertinence would have given her little concern at another season, it now added considerably to her distraction. But a far greater affliction was in store for her.
Just as the clergyman approached the altar, she perceived a boy steal quickly into the church, and ensconce himself behind the woollen-draper, who, in order to carry on his amatory pursuits with greater convenience, and at the same time display his figure (of which he was not a little vain) to the utmost advantage, preferred a standing to a sitting posture. Of this boy she had only caught a glimpse; — but that glimpse was sufficient to satisfy her it was her son, — and, if she could have questioned her own instinctive love, she could not question her antipathy, when she beheld, partly concealed by a pillar immediately in the rear of the woollen-draper, the dark figure and truculent features of Jonathan Wild. As she looked in this direction, the thief-taker raised his eyes — those gray, blood-thirsty eyes! — their glare froze the life-blood in her veins.
As she averted her gaze, a terrible idea crossed her. Why was he there? why did the tempter dare to invade that sacred spot! She could not answer her own questions, but vague fearful suspicions passed through her mind. Meanwhile, the service proceeded; and the awful command, "Thou shalt not steal!" was solemnly uttered by the preacher, when Mrs. Sheppard, who had again looked round towards her son, beheld a hand glance along the side of the woollen-draper. She could not see what occurred, though she guessed it; but she saw Jonathan's devilish triumphing glance, and read in it, — "Your son has committed a robbery — here — in these holy walls — he is mine — mine for ever!"
She uttered a loud scream, and fainted. — Vol. 2, Ch. 15, "The Robbery at Willesden Church," pp. 48-50.
Related Materials
Bibliography
Ainsworth, William Harrison. Jack Sheppard. A Romance. With 28 illustrations by George Cruikshank. In three volumes. London: Richard Bentley, 1839.
Ainsworth, William Harrison. Jack Sheppard. Edited by Edward Jacobs and Manuela Mourao. With 31 illustrations. Peterborough, ON: Broadview, 2007.
Sutherland, John. "Jack Sheppard" in The Stanford Companion to Victorian Fiction. Stanford: Stanford University Press, 19893. Pp. 323-324.
Vann, J. Don. "Jack Sheppard in Bentley's Miscellany, January 1839 — February 1840." Victorian Novels in Serial. New York: Modern Language Association, 1985. Page 19.
---
Last modified 3 January 2017