"Marley's Ghost and The Three Spirits"
Charles Edmund Brock
1906
16.6 x 10 cm. vignetted
Dickens's A Christmas Carol, illustrated title.
Scanned image and text by Philip V. Allingham.
[You may use this image without prior permission for any scholarly or educational purpose as long as you (1) credit the person who scanned the image and (2) link your document to this URL in a web document or cite the Victorian Web in a print one.].
Passage Illustrated
"That is no light part of my penance," pursued the Ghost. "I am here to-night to warn you, that you have yet a chance and hope of escaping my fate. A chance and hope of my procuring, Ebenezer."
"You were always a good friend to me," said Scrooge. "Thank 'ee!"
"You will be haunted," resumed the Ghost, "by Three Spirits."
Scrooge's countenance fell almost as low as the Ghost's had done.
"Is that the chance and hope you mentioned, Jacob?" he demanded, in a faltering voice.
"It is."
"I — I think I'd rather not," said Scrooge.
"Without their visits," said the Ghost, "you cannot hope to shun the path I tread. Expect the first tomorrow, when the bell tolls one."
"Couldn't I take 'em all at once, and have it over, Jacob?" hinted Scrooge.
"Expect the second on the next night at the same hour. The third upon the next night when the last stroke of twelve has ceased to vibrate. Look to see me no more; and look that, for your own sake, you remember what has passed between us.
[Stave One, "Marley's Ghost," p. 23]
Commentary
The idea of showing all of Scrooge's spirit "visitors" at once was not entirely novel, but it is unlikely that Brock would have seen the work of veteran Diamond Edition illustrator Sol Eytinge, Junior in an illustrated Carol published across the Atlantic some four decades earlier. Although the novella begins with the assertion that "Marley was dead: to begin with" (1906 edition, p. 3), the book's original illustrator, John Leech describes the celebrated meeting between the inveterate miser and his old partner — in essence, his psychological twin — not as the frontispiece to set the keynote (that position he assigns to Mr. Fezziwig's Ball), but as a visual complement to the textual description of that meeting, Marley's Ghost. The effect in Brock's ornamented title-page, as in Eytinge's 1868 composite woodblock frontispiece Scrooge's Christmas Visitors, is surrealistic in that Scrooge encounters these spirits or "geists" seriatim and not all at once, although such is his request, and such is his vow at the conclusion of the novella:
"I will honour Christmas in my heart, and try to keep it all the year. I will live in the Past, the Present, and the Future. The Spirit of all Three shall strive within me. I will not shut out the lessons that they teach. [Stave Four, "The Last of the Spirits," p. 92]
Whereas in the Eytinge frontispiece, one receives a sense of Scrooge's joyful and curious reaction to the multiple visitation as the spirits hover above his bed (a subtle indication that this is all a dream); one cannot assess Scrooge's reaction in Brock's full-page engraved print as Scrooge is absent, and the focal point of the composition is the diminutive Jacob Marley (copied from the title-page vignette) wrapped in chains attached to ledgers, money-bags, and cash-boxes, as in Dickens's initial description of him. The spirit who dominates the composition, occupying the entire right-hand register, is The Spirit of Christmas Present, holding aloft a small torch in his right hand as he points downward with his left to the abundance associated with the season. The Spirit of Christmas Yet-to-Come also points downward, towards (presumably) an unseen grave, a spectre in a black winding-sheet. The smallest spirit is that representing Scrooge's past, whom Leech did not even attempt and who, with its​ ​fusion of opposites (youth and age — "like a child: yet not so like a child as an old man" (28) in a gown decorated with holly and summer flowers), defies illustration. Although the spirit is described in both masculine and neuter terms in the text, Brock has made the face and form decidedly feminine, perhaps implying the softening effect of memory, and perhaps because in seasonal dramatic adaptations the part was usually taken by an actress. None of these metaphysical "visitors" is grim or foreboding, and the effect of the cramped and uncomfortable Marley is comic, a satire on the negative effects of cupidity and materialism.
Relevant Illustrations from the 1843 and later Editions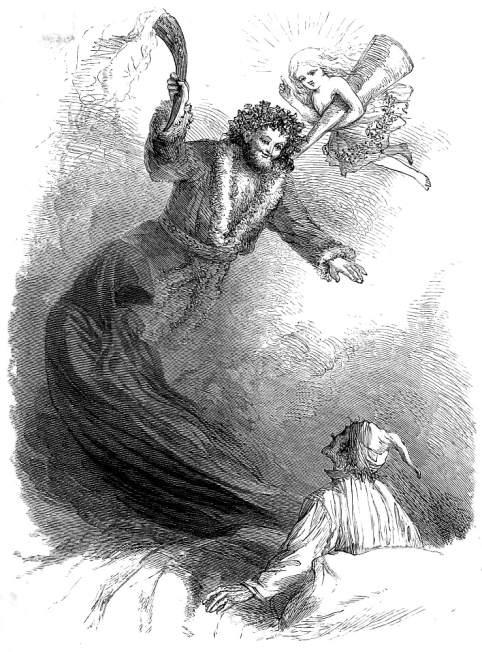 Left: John Leech's interpretation of the ghost and his former partner, Marley's Ghost. Right: Sol Eytinge, the dreamer gazing in wonder at the Spirits of Christmas, Scrooge's Christmas Visitors, frontispiece to the 1868 Ticknor-Fields volume. [Click on images to enlarge them.]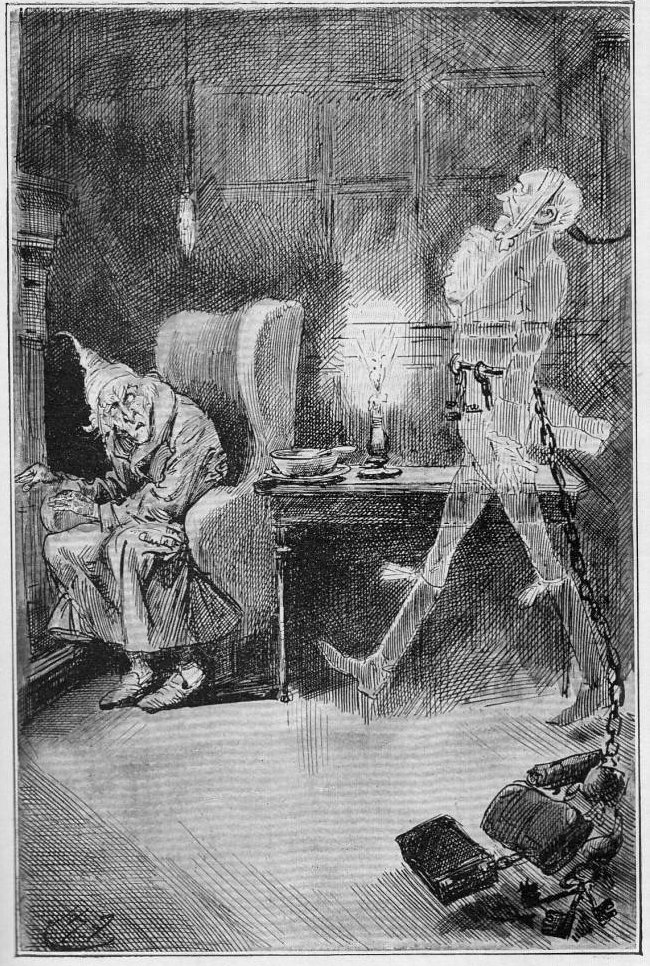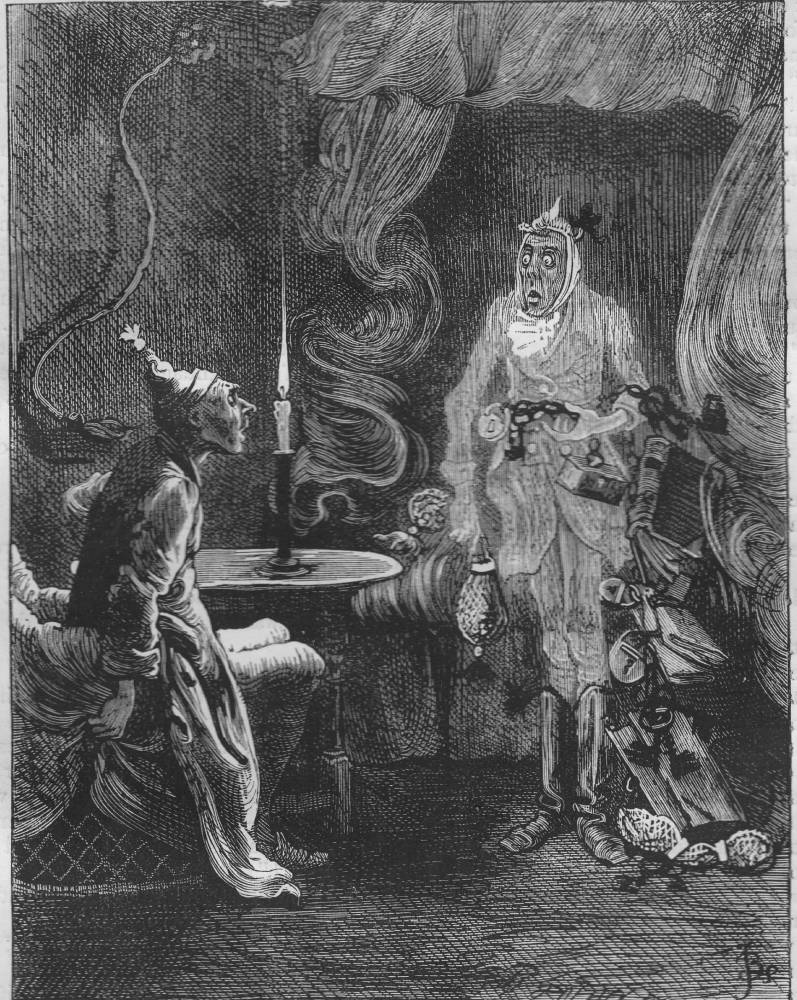 Left: Harry Furniss's composite scene in which a suspicious Scrooge scowls at the wandering spirit, Marley's Ghost (1910). Right: Fred Barnard's equally humorous rendering of the scene, Marley's Ghost. (1878)​​ [Click on images to enlarge them.]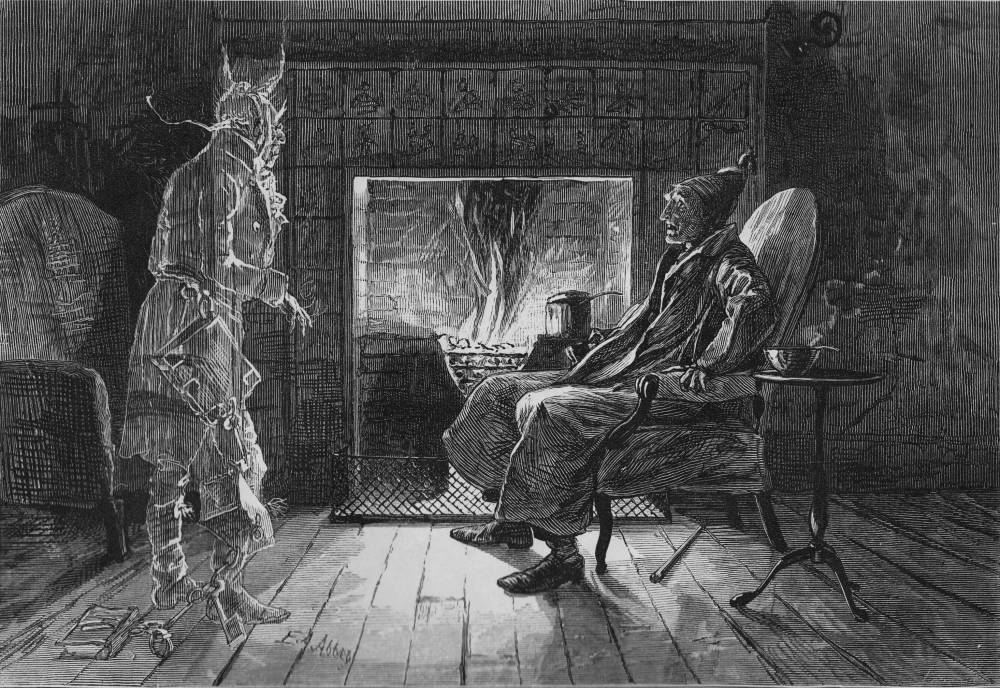 Above: E. A. Abbey's full-page rendering of the scene as a frontispiece for the entire series of Christmas Books and stories, "What do you want with me?" (1876).​[Click on image to enlarge it.]
References
Dickens, Charles. Christmas Books, illustrated by Sol Eytinge, Jr. The Diamond Edition. Boston: Ticknor and Fields, 1867.
___. Christmas Books, illustrated by Fred Barnard. Household Edition. London: Chapman and Hall, 1878.
___. Christmas Books, illustrated by A. A. Dixon. London & Glasgow: Collins' Clear-Type Press, 1906.
___. Christmas Books, illustrated by Harry Furniss. The Charles Dickens Library Edition. London: Educational Book, 1910.
___. A Christmas Carol in Prose, Being a Ghost Story of Christmas, illustrated by John Leech. London: Chapman and Hall,1843.
___. A Christmas Carol in Prose: Being a Ghost Story of Christmas, illustrated by Sol Eytinge, Jr. Boston: Ticknor & Fields, 1868.
___. A Christmas Carol in Prose, Being A Ghost Story of Christmas, illustrated by John Leech. (1843). Rpt. in Charles Dickens's Christmas Books, ed. Michael Slater. Harmondsworth: Penguin, 1971, rpt. 1978.
___. A Christmas Carol and The Cricket on the Hearth, illustrated by C. E. [Charles Edmund] Brock. London: J. M. Dent, 1905; New York: Dutton, rpt., 1963.
___. A Christmas Carol, illustrated by Charles Green, R. I. London: A. & F. Pears, 1912.
___. A Christmas Carol, illustrated by Arthur Rackham. London: William Heinemann, 1915.
___. Christmas Stories, illustrated by E. A. Abbey. The Household Edition. New York: Harper and Brothers, 1876.
Guiliano, Edward, and Philip Collins, eds. The Annotated Dickens. New York: Clarkson N. Potter, 1986. Vol. 1.
Hearn, Michael Patrick, ed. The Annotated Christmas Carol. New York: Avenel, 1976.
---

Victorian
Web

Illustration

A Christmas
Carol

Charles E.
Brock

A Christmas
Carol

Next
Last modified 15 September 2015