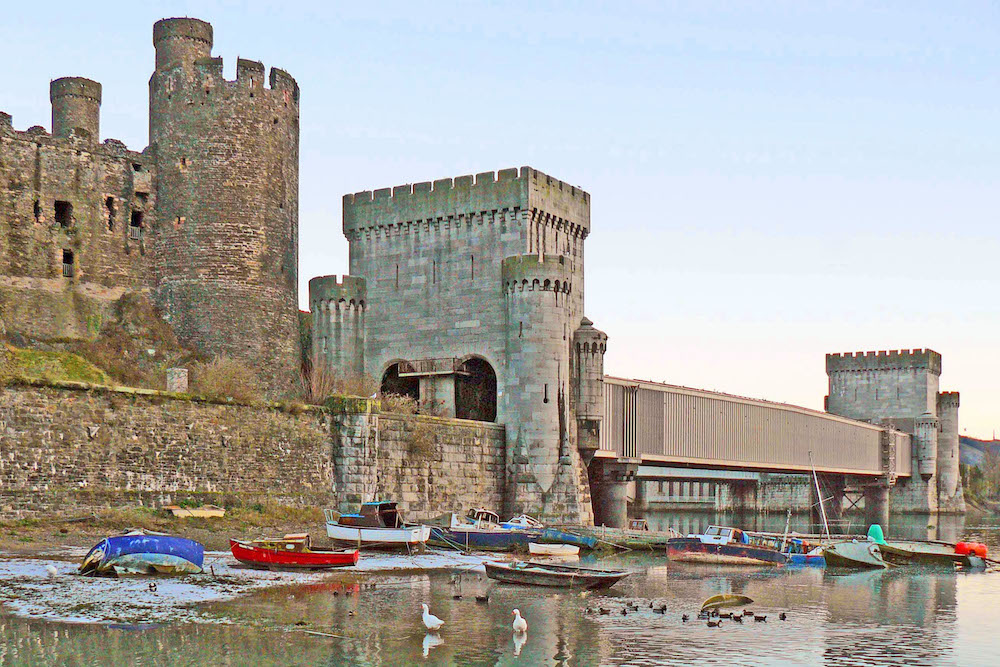 Conwy Railway Bridge, N. Wales. Robert Stephenson, with tubular design much due to William Fairbairn. Also involved was Eaton Hodgkinson (1789-1861), who thought, as Stephenson did for some time, that chains would be needed to support the bridge, with the result that the towers were actually built with provision for them (see "Eaton Hodgkinson"). If it looks grand, that is because the great stone piers were designed by Francis Thompson (1808-1895), who had returned after a spell in Montreal, Canada, where had helped design what is now the Canadian parliament house. William Evans of Cambridge was the building contractor. The design was meant to reflect the forms and outlines of the thirteenth-century Conwy Castle, although, as Simon Cooke says in discussing a contemporary etching of it, it does not do a very good job of it.
The bridge was completed in 1848, and opened in 1849, time being required to test the novel design, prototype for the Britannia Bridge over the Menai Strait. Intermediate piers, also in keeping with the castle-style architecture, were later erected by the Cleveland Bridge and Engineering Co of Darlington (in 1899). The bridge carries the Chester and Holyhead Railway Line from nearby Llandudno Junction across the tidal River Conwy, and is both "the first tubular bridge to be built" and "the only surviving example of this means of construction undertaken by Stephenson" ("Conwy Railway Bridge").
The revolutionary design was indeed "much due" to Fairbairn, as Colin Price says above. There seems to be some awkwardness about apportioning credit for it. Fairbairn is on record as having written to Stephenson on 16 August 1846:
I am drawing up an advertisement for giving publicity to our new patent girder. You are aware it has been taken out in my name; and although I have probably contributed much more than most others in determining its proportions, as regards strength, &c, I, nevertheless, am of opinion that your name should stand at the head of the invention; I do this from a conviction that you are entitled to precedence, not from having worked harder or done more for it than myself, but from the undeniable fact that I should never have thought of the experiments which led to the discovery but for the instructions which I received from you relative to the large tubes.
These experiments have, unquestionably, led to the developement of an entirely new era in the history of girders and bridges, particularly those of large span. On all these points you must endeavour to steal an hour from your other engagements, and let me know what are your wishes, and I will try to carry them into execution. [qtd. in Clark 814]
Clark goes on to say that Stephenson replied soon after: "your view of the matter seems to me just and honourable" (814). In other words, he readily accepted the greater credit.
All was not entirely well with Fairbairn though. He had tried to resign from the project a few months earlier, and did resign in May of the following year (1848). In the introduction to G. Drysdale Dempsey account of the two tubular bridges, the author says carefully, "It is seldom that the invention of works of new design and skilful mechanical arrangement is due entirely to one mind, any more than their construction is due to one pair of hands.... That these great works owe their design and construction to these joint labours is clearly evident, and, we respectfully submit, amply sufficient to justify the record of the two names of ROBERT STEPHENSON and WILLIAM FAIRBAIRN in an honoiirable and enduring association" (viii; original emphasis).
A Grade I listed structure, the bridge is still in use today by Network Rail. Many more technical details about it are available in the sources listed in the bibliography.
Links to related material
Photograph by Colin Price, and text by Price and Jacqueline Banerjee. You may use the image without prior permission for any scholarly or educational purpose as long as you (1) credit the photographer and (2) link your document to this URL in a web document or to the Victorian Web in a print document. [Click on the image to enlarge it.]
Bibliography
Clark, Edwin. The Britannia and Conway Tubular Bridges. Vol. II. London: Day and Son, 1850. Internet Archive. From the European Libraries Collection. Web. 10 March 2022.
"Conwy Railway Bridge." Grace's Guide to British Industrial History. Web. 10 March 2022.
"Conwy Tubular Bridge." Engineering Timelines. Web. 10 March 2022.
Dempsey, G. Drysdale. Tubular and other iron girder bridges, particularly describing the Britannia and Conway tubular bridges; with a sketch of iron bridges and illustrations of the application of malleable iron to the art of bridge-building. With wood engravings. London: John Weale, 1850. Internet Archive. Contributed by the University of Michigan. Web. 10 March 2022.
"Eaton Hodgkinson." Grace's Guide to British Industrial History. Web. 10 March 2022.
"Francis Thompson." Grace's Guide to British Industrial History. Web. 10 March 2022.
---
Created 10 March 2022