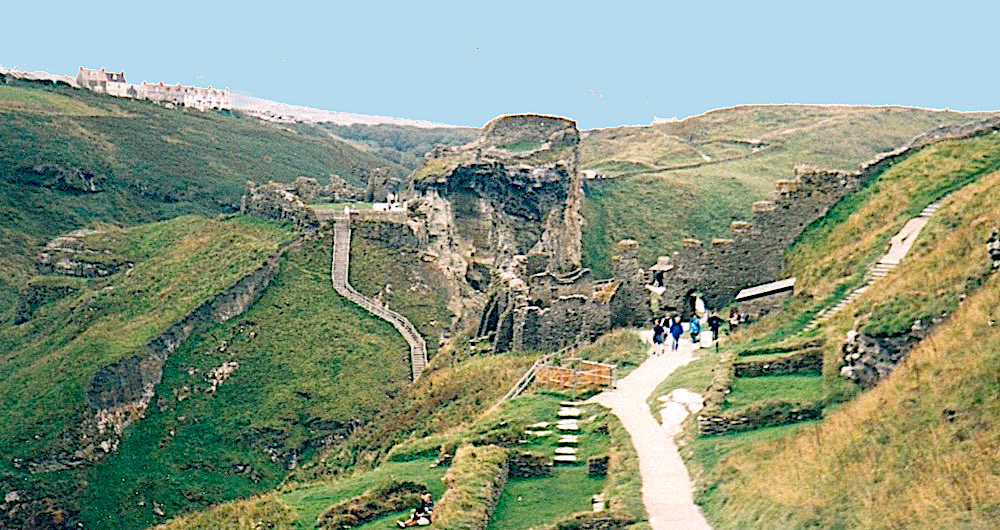 Thought to have been a trading post, first for the Romans, and then for the early kings of Cornwall, this rocky outcrop supports the ruins of a castle built here from 1227-33 by Richard, Earl of Cornwall. Remote as it is, the castle has even seen use as a prison (see Padel). But, thanks to the writings of Geoffrey of Monmouth in the twelfth century, the spot has long been associated with King Arthur. "In the mediaeval romances belonging to the cycle of Arthur the name of Tintagel frequently occurs — most frequently in the romances of Tristram," explains Arthur Salmon (325). For the Victorians, however, the most powerful influence was Tennyson, whose Guinevere learns only this much about the King's origins:
For there was no man knew from whence he came;
But after tempest, when the long wave broke
All down the thundering shores of Bude and Bos[castle],
There came a day as still as heaven, and then
They found a naked child upon the sands
Of dark Dundagil [the old name of Tintagel] by the Cornish sea;
And that was Arthur; and they foster'd him
Till he by miracle was approven king.... [Idylls of the King, 240]

When Tennyson revisited Cornwall in August 1860, he associated the ruins completely with Arthur, writing to his son Hallam, "Here are great black cliffs of slate-rock and deep black caves and the ruined castle of King Arthur and I wish that you and Lionel and mamma were here to see them" (263).
As G. E. Mitton says, "Arthur may never have set foot on the tufty grass of the cube-shaped island; there may never, for that matter, have been an Arthur at all...," but, "lying in the grass above the slaty ruins and looking through the serrated arch to the onyx-green sea, fretting the black rock, all these doubts seem simply silly.... The spirit of Arthur and his fighting men lives here still." In poetic vein, Mitton adds that this spirit "may possibly have been summoned up by the thoughts of the countless host of pilgrims who have come expectantly to the most beloved of all the shrines of British history. For thoughts if repeated may conjure up visions" (72).
The recent completion of an unobtrusive bridge, using local slate underfoot, has facilitated the passage from one part of the site to another and made for an exciting visitor experience, without taking away much from the atmosphere.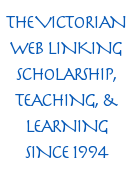 Related Material
Photograph from 1999, text and formatting by Jacqueline Banerjee. You may use this image without prior permission for any scholarly or educational purpose as long as you (1) credit the photographer and (2) link your document to this URL in a web project or cite it in a print one. [Click on the image to enlarge it.]
Bibliography
Mitton, G. E. Cornwall. London: A. & C. Black, 1915. Available on Project Gutenberg.
Padel, Oliver. "History of Tintagel Castle." English HeritageH. 4 January 2021.
Salmon, Arthur L. Cornwall. London: Methuen, 1903. Internet Archive. Contributed by University of California Libraries. Web. 4 January 2021.
Tennyson, Alfred Lord. Idylls of the King. New ed. London: Edward Moxon, 1862. Internet Archive. Contributed by University of California Libraries. Web. 4 January 2021.
Tennyson, Alfred Lord. The Letters of Alfred Lord Tennyson. Vol. II: 1851-1870 . Vol II. Eds. Cecil Y. Lang and Edgar F. Shannon, Jr. Cambridge, Mass.: Belknap Press of Harvard University Press, 1987.
---
Created 4 January 2021