Lady Clementina Hawarden – An Introduction (from the V&A Website)
Lady Hawarden is an enigmatic figure – much of her life remains a mystery. Most of what we do know about Hawarden has been pieced together from her photographs. She was born Clementina Elphinstone Fleming on 1 June 1822, in Cumbernauld, near Glasgow. Her father, Admiral Charles Elphinstone Fleeming, was well-known for his part in the Venezuelan and Colombian wars of liberation (about 1811 – 25). Little is known about her Spanish mother, Catalina Paulina Alessandro, an 'exotic beauty' 26 years younger than her husband.
Clementina married Cornwallis Maude, 4th Viscount Hawarden, in 1845 and lived in London until 1857, when she moved with her husband to the family estate in Dundrum, Co. Tipperary, Ireland. Here, she first started to experiment with photography, taking stereoscopic landscape photographs (capturing two slightly offset photographs to create a 3D effect) around the Dundrum estate.
Hawarden was absorbed in motherhood, having ten children – two boys and eight girls – and yet she found time to be a prolific photographer. In 1859 the family moved back to London, where Hawarden began to photograph her daughters, first making stereoscopic photographs, before moving to large-format, stand-alone portraits.
Her work records the domestic life of an upper-class mid-Victorian woman. While male photographers at that time often set off to explore faraway places, Hawarden had to work close to home. But by creating exquisite images of her adolescent daughters, she staked out new perimeters for art photography.
Hawarden made albumen prints from wet-collodion negatives. Introduced in 1851, wet-collodion negatives were widely used since the exposure time was relatively short. The negatives were made by coating a sheet of glass with a thin film of collodion (guncotton dissolved in ether). This was sensitised on location with silver nitrate to form light-sensitive silver salts. For maximum sensitivity, the plate had to be placed in the camera and exposed while still wet, and then developed and fixed immediately.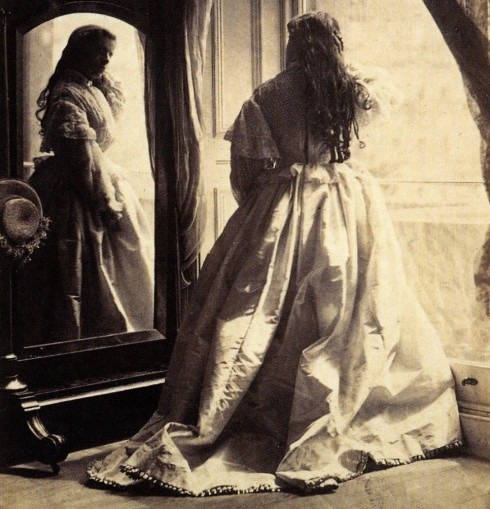 Full-Length Photographs of Her Daughters
Landscape or Outdoor Subjects
Miscellaneous
Bibliography
Dodier, Virginia. Lady Clementina Hawarden. Studies from Life, 1857-1864. London and New York: Aperture Books, 1999.
Mavor, Carole. Becoming. The Photography of Lady Clementina Hawarden. Durham, N.C.: Duke University Press 1999.
Exhibitions
The Golden Age of British Photography, 1839–1900. Victorian & Albert Museum. 1984.
Clementina, Viscountess Hawarden. Photography. Victorian & Albert Museum. September 1989 to January 1990.
Lady Hawarden, Photographe victorien. Musée d'Orsay, Museum of Modern Art in New York, and the Getty Museum in Malibu, California. 1991.
---
Last modified 30 September 2020