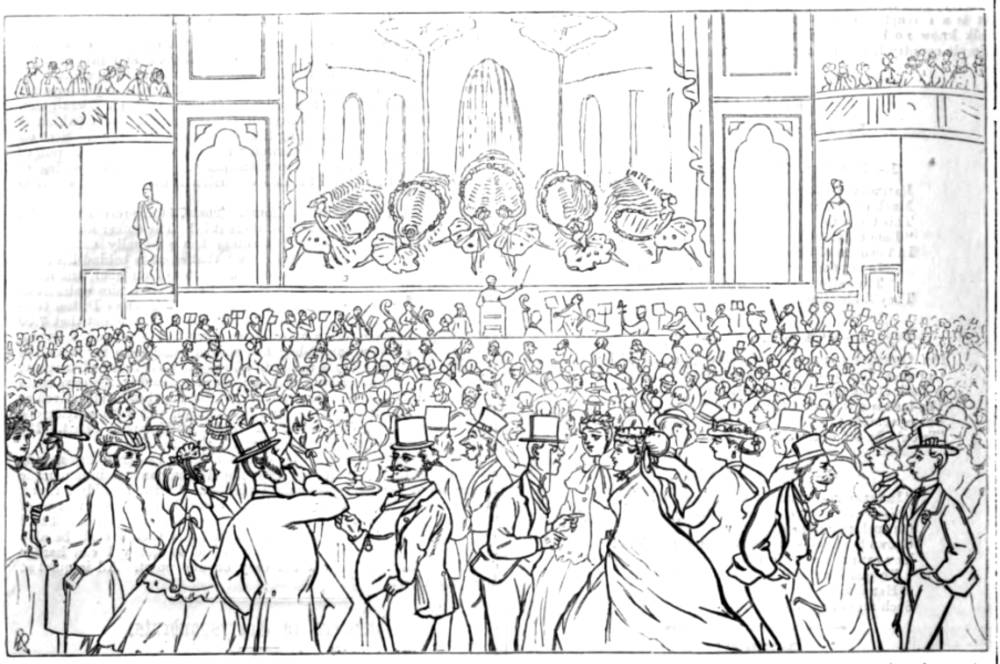 It is now several years, more or less, since BYRON wrote his mourn- ful ballad beginning,
"The Moorish King rode up and down,"
observing, in a dejected manner, "Woe is me. Alhambra!" or words to that effect. BYRON has since treated the subject in a more familiar manner in his burlesque of Little Don Giovanni, which is not strange. The famous palace to which he refers in both instances was built by the Moors, but was soon taken by the Lessees. It was originally called the Panopticon, which, as every schoolboy knows, means — Well! Come, we are not a schoolboy, so we shall not commit ourselves. The name was changed, of course, to its present title as soon as it was (S)payin'. At various times it has been invaded by Goths, theatrical managers, and other despots, but it still survives their attacks. At present it is devoted to music and the ballot. A Divertissement, which is called "Floral" to prove it is not a "stage" performance, and which succeeds several choruses and duets, is called, out of compliment to the danseuses engaged in it, the What-toes Fête! Of course, there are also sole-0s to the "feet," as the French (of Stratford atte Bowe) pronounce the word. Then come more singing, and some tumbling, and after these a "Water Ballet," entitled the Sports of Diana — a noble lady whom the Greeks called a "'Aughty-Miss." Diana, who was quite a lady (and no relation to Ana-Di-omene, otherwise called Venus, who wasn't), was much given to the chase, and sets out on a deer-stalking expedition, with her nymphs, who are clears tripping. Several Satyrs, who inhabit the sar-chasms of the surrounding rocks, come in slightly intoxicated, and endeavour to pass themselves off, by dint of an uncertain gait, as "staggers" in the same style as her train. The train, however, starts punctually on their appearance, but recovering from its surprise comes into collision with the poor buffers, and drives them out. A third ballet, of a comic character, succeeds more music, singing, and posturing, so that altogether the audience may he considered to get no slender entertainment, like the sandwiches of Vauxhall-ham-bra repute. Neither time nor money is ill-spent on a visit to the Alhambra. In the body of the hall, the audience, like its drinks, is mixed; but as the performances are unobjectionable, and decorum is preserved, the reserved seats, to which the most fastidious can go without fear of molestation, are not so reserved as not to answer.
We may mention another fact, in these cholera times, to prove that in this instance at least "what is fun to us is" anything but "death" to others. Durin the Sports of Diana the Titanic cascades play, and pour an immense body of water into the sewers, which, for the public benefit, are thus "flushed" by the triumph of private enterprise.
Click on image to enlarge it. [You may use these images without prior permission for any scholarly or educational purpose as long as you (1) credit the Hathi Digital Library Trust and the University of Minnesota library and (2) link your document to this URL in a web document or cite the Victorian Web in a print one. —  George P. Landow]
Bibliography
"A Visit to the Alhambra." Fun. 4 (22 September 1866): 24. Hathi Digital Library Trust version of a copy in the University of Minnesota library. Web. 31 January 2016.
---
Last modified 28 April 2016