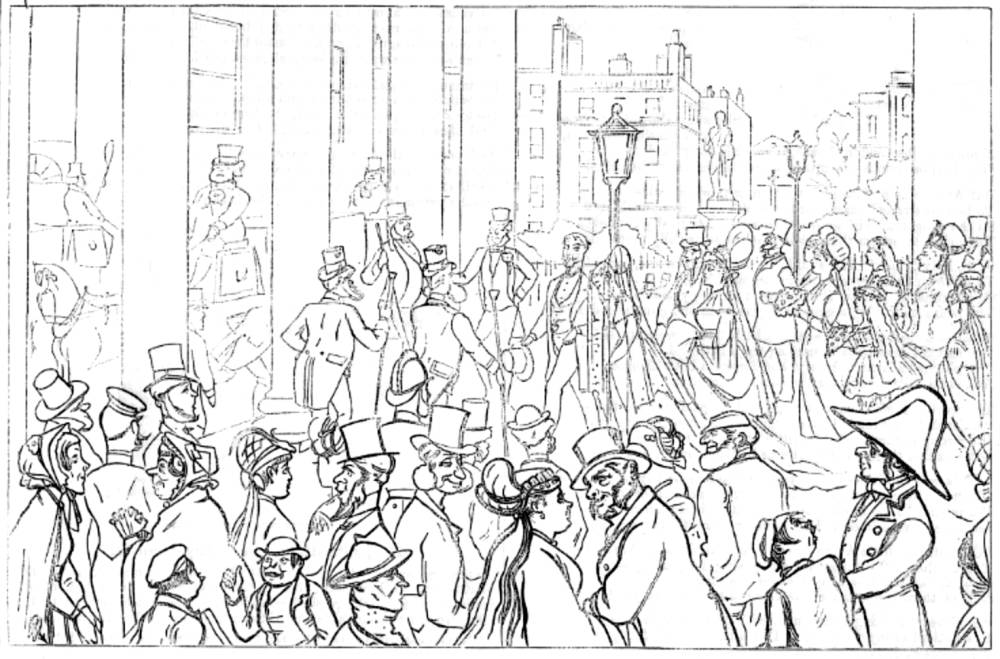 St. George's, Hanover Square. William S. Brunton (fl. 1859-71), artist; Dalziel, engraver. Fun (23 May 1868): 112. Courtesy of the Suzy Covey Comic Book Collection in the George A. Smathers Libraries, University of Florida. Click on image to enlarge it. I have transcribed the text using ABBY FineReader OCR software, adding paragraph breaks for easier reading.
By using the familiar satirical device of outsider as speaker, the author here manages to both mock crude, naive, and yet cunning Americans while at the same time looking askance at things British, such as the role of the established church and divorce laws. —  George P. Landow]
Dear Eb, —
The time has gone considerable quick since last I wrote to you a few observations on rank and fashion in this cheerful old cuss of a Royal Kingdom. But we've got through, Mrs. D. and self, and have been going it to the tune of Hail Columbia ever since we left that precious old dodrotted hotel, and soon after our own fixing at a Boarding House, which bning conducted on temperance principles we only breakfast and tea at, after each of which, I take a private swill out of my own flask in the sleeping-room. We dine and sup out, having, as Mr. Dickens says, made the discovery that if a native of the United States does not make himself at home in Great Britain it ain't for want of invites; and I can tell you that this is a people —  who though they're that pesky slow at their meals as I'm more than half through, and am mostly fit to bust, with twice to soup and three times to salmon, before they've reached the solids — certainly do eat and drink some, and clothe some, and marry and are given in marriage some; and if it wasn't for the Church bein' pairamount, and the empty husks and hulls and addled egg shells of Royalty and Rank, and cetera, lying all around to impcrlo their etarnal progression, this is a people that one might hitch one's own team to for an everlasting spell.
Wales is back — and we should have left another card upon him but that the whole rotten fabric of what's called society in this laughable I punkin-plot of an island is shored up with etiquette, so we've been observating men ard manners, from our own point of view round a fly-blown o'd thoroughfare known as Hanover-square. Now, you would not think that that frowsy dead cider sort of place was the resort of Rank and Fashion, but, sir, it is so; and why? The church there, such is the wry-necked servility of the Britisher, is named after George the Third, just as the Square is sponsored by the House of Hanover, and there's nothing for it the church being upon its hind legs always — but that Royal person that run his head agin the United States and proved that it wasn't quite so thick as he'd had reasons to guess, was sainted for the occasion. Yes, sir. George Three was in the calendar, as they say here, and what's more, he's made the patron saint of marriages where rank ind fashion concern themselves.
There's something to be biled out of that notion, too, for these Royalties are great at alliances, and a good deal comes of it, in the shape of provisions of grants for Princes and Princesses' pocket money. But that's nothing fo the free cosmopolite. Hero we are in Saint George the Third's Church, Hanover-square, and there's highfalutin' going on, I can tell you. I'm a fixture at present with my head under the book-board of a pew and the corner of a cushion in my mouth to keep me from laughing out, and so sacrileging the sacred fane or bringing the old she pew-opener with a bottle of nose-salts. It was the beadle that set me off, and I'm now squatting on a hassock with my eyes just over the edge, prospecting the whole claim. Mrs. D. she's more genteel — I tell her she's corrupted with these old mildewy notions that are called so-ciety, and she's forgot how to laugh. Between you and me, Eben, I think she's collecting for a book — and the way she calls on people — and catalogues their dresses — and takes notes of the tall talk under the edge of her plate at dinner-time and generally roots up things, beats an auctioneer's club in Broadway, and must level her to Mrs. Harriett B. Stowe, when she electrified Europe with her "Sunny Memories." But I must larf, so I keep well under, till the gals came in, — and I will any that they are worth looking at.
The British young female is about the only institute I can crack up in this worm-eaten old country, and she is julep, and I so say that it's worth the fees even of the three ministers — two of 'em is bishops — that it takes to marry in these parts if a feller can only be sure that their united locomotive power jines the knot tight. But, sir. it don't; there's a Court of Matrimonial Causes and Divorce — and these two things: the church rampant with its tail stuck out, and the church cowerant, with the aforesaid draggling and not a wag left in it ia what makes me laugh down here in the pew, while Mrs D. fans herself and finds a shilling for the pew-opener.
Yours, Ephraim P. Dodge.
[You may use the image above without prior permission for any scholarly or educational purpose as long as you (1) credit the University of Florida library and (2) link your document to this URL in a web document or cite the Victorian Web in a print one.]
---
Last modified 9 March 2016