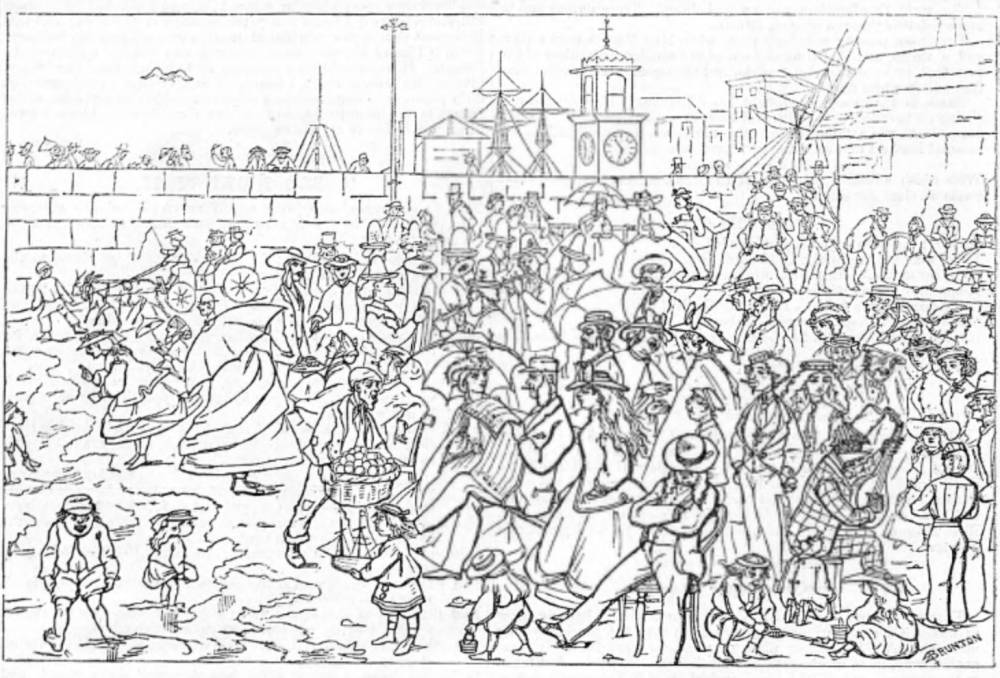 The People's Pleasures. No 2. Ramsgate Sands. William S. Brunton (fl. 1859-71) Signed lower right "Brunton" instead of his more common monogram that takes the form of two hearts pierced by an arrow. Fun (19 August 1865): 140. Courtesy of the Suzy Covey Comic Book Collection in the George A. Smathers Libraries, University of Florida. Click on image to enlarge it. [Two paragraphs in the online Smathers Library collection page=image are out of focus and difficult to decipher, but I have transcribed the remainder. —  George P. Landow]
I think Ramsgate's a stunning place. It's so jolly to take your shoes and stockings off, and paddle in the waves as they come in. And then there's Julia Larkins, and a lot of nice girls. Besides you can get such a heap of almond rock for a halfpenny at a shop I know. But I shan't tell you, or else you'd go there too.
I like the sea. I don't like being on it though, because you can't keep on eating, you feel so jolly ill. But I like the sea from the shore, I mean. It's very nice digging holes in the sand, only it would be nicer if the sand didn't got into your shoes. I am going to have a pair of boots next week. When I'm a man I mean to have several pairs of boots, and I won't go to Mr. Whopboy's academy. Catch me at it!
Did you ever bury anybody in the sand and run away? We did Charlie Podgers the other day, because he had a tart and eat it all himself. We haven't seen him since, and some of us think he was drowned and washed away. But don't you tell any one.
Julia Larkins just is a nice girl. She can chuck ducks and drakes beautiful, and her hair is gold-colour, and she has a clean muslin frock every day, and it curls natural, and her brother has a boat, and we all swim it, and nurse has found that the sailor who belongs to tho Lively Polly is her cousin, and it's all so jolly—and—and—I forget what I was going to say besides.
I like the sea very much. When I'm a man I'll be a Member of Parliament like the gentleman at the office where papa goes, and then I'll have London made seaside, it will he so jolly to go out of town without leaving London. If I'm not a Member of Parliament I should like to bo an Ethiopian serenador, only I shouldn't like to have my face quite so black, though I don't mind a little dirt, in fact I rather like it, nurse says. I shouldn't like to be a German band, should you? But I wouldn't mind being an artist, because I saw a dark gentleman with a beard on the beach, with a pencil and a little book the other day, and he stayed [?] there sketching. And it was very like Julia Larkins. He might as well have given it me, mightn't he?
I love Julia Larkin. [2 illegible paragraphs] . . . My uncle George come down yesterday, and he's very fond of Julia's sister Maria. And Maria's very fond of him, because Julia told me that she told her that she thought he thought she thought him a nice young man. And Julia says that's a sure sign they're in love with one another, if they think so much about each other. That makes me sure I love Julia, because I think about her at dinner sometimes.
Julia's brother and I are going partners in a limited company—he says his pa is always going partners in limited companies. We are going to dig a great lake in the sand, and then we shall get a lot of other boys to take shares, and they'll have to cut a canal down to the sea to let the water run in, and then Julia's brother and I shall be to able to sail our boat. Ain't it fun?
Related material
[You may use the image above without prior permission for any scholarly or educational purpose as long as you (1) credit the University of Florida library and (2) link your document to this URL in a web document or cite the Victorian Web in a print one.]
---
Last modified 23 February 2016