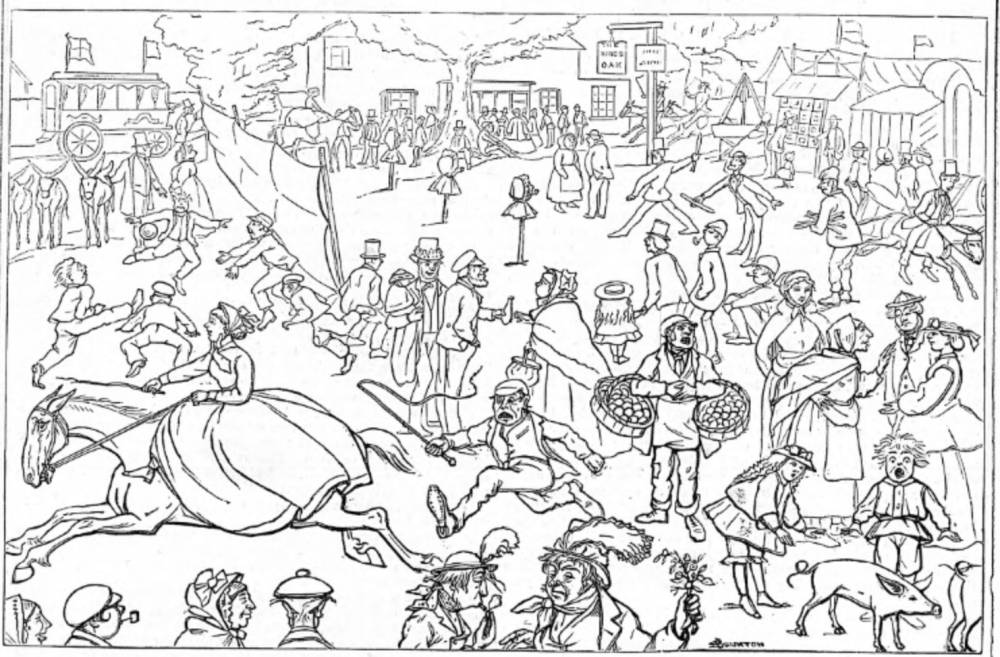 The People's Pleasures. No. III.—The Overland Route to High Beach. "(By Our Special Commissioner.)" William S. Brunton (fl. 1859-71). Signed "Brunton" lower left and engraved by one of the Dalziels.Fun (26 August 1865): 150. Courtesy of the Suzy Covey Comic Book Collection in the George A. Smathers Libraries, University of Florida. Click on image to enlarge it.]
Accompanying Text
I have ridden in a droshky through the snow-ruts right up the perspective street in St Petersburg; I have floated in a reed raft down the Hooghly with a jar of rice, and what Mr. Muntilini would have called a "dem'd moist unpleasant body." I have made one in a runaway ear in Sackville-strect; have been thrown by a mad mule on the Prado; have been run over in the Rue Rivoli; have rolled down Calton Hill; have chased a nigger along Broadway; but I have never known what a street was until last Monday, when, in obedience to your behest, I occupied the section of the knifeboard on a twopenny omnibus, which conveyed me through Shoreditch.
To say that you might have sent somebody else would be a remark altogether fruitless, since your conduct towards your Special Commissioner is apparently regulated by the avowed determination of the celebrated costermonger, to apply the ultimate test of corporal punishment to the animal who refused to proceed.
No, sir, as a cosmopolitan student of human nature, your Commissioner. referring to his mental resources, recalled the Maunder of his youthful days and the later experiences of his maturer but perhaps less happy years, and repeated to himself a string of aphorisms beginning with "Si non Possis quod velis, velis id quos Possis." brought him by easy gradations to "Quel ch' è fatto è fatto," and so to the Horatian maxim, "Levius fit Patientia quiquid corrigere est nefas," and to the good old German motto, "Glucklich idy ver vergisst was da nicht zu aendern ist."
I am scarcely capable in your allotted space to givo any description of the journey through Shoreditch to Club-row, where I was to meet a party of the name of "Noblitt," who had reserved a seat in a van for my especial convenience. Cheap tailors, shoe emporiums, golden teapots, little dustpans, whelks, water cresses, hot joints, oysters, ginger beer, pit entrances to theatres, all the fun of the fair, shilling umbrellas. dog's meat, eel pies, petroleum, the little warbler, gin shop bars, double shuffle, pigeons, prize-fighters, and "a penny-a-loL." This is the confused dream that I recall, in connection with the Eastern Counties Railway, where I alighted to enquire for Club-row. Four funerals and a drunken fight awaited me the moment I reached Bethnal-green, and as I stopped to ask for Mr. Noblitt, I was conscious of being in the worst neighbourhood in London; for the odour that awaited me was full of reminiscences of the main streets of Cologne, and the hotel at St. Goar. Otherwise Club-row was remark-able for nothing but pigeons, which fill all the shop windows and fiy over every roof, where men lie concealed for the instant appropriation of strays coming fair way.
Mr. Noblitt was, I learned, engaged in negotiating the sale of a piping bullfinch, but I was directed to "the wan," which was already half full, and I stood nt the door of a greengrocer's, and next to a public house, whence a remarkably small man was emerging with a remarkably large stone bottle sticking out of his pocket.
"Vell, mum, you won't never stop at home for want of legs to valk out upon!" It was Noblitt himself, in a very hard shiny hat, assisting a stout lady up the steps of the vehicle, and in this elegant manner calling general attention to a liberal display of cotton stocking. Another moment and I was by that stout Lady's side, and we went off with a dash and a scramble that for a moment jumbled us all together at one end and then flung us violently to the other by way of a change. I shall never forget the fatigues of that journey; not shall I ever be able to account for the fact that we all had flat stone bottles. I had one myself witheut the remotest notion where it came from. Then we all became suddenly possessed of paper headdresses, like the feathers of the Iroquois; then we rolled along a dusty road, and were at High Beach. The King's Oak, Old Port, kiss in a ring, cock-shies, sham gipsies; — and Home through the dust; "the wan," veering like a ship at sea to the tune of "Slap bang, here we are again."
Related material
[You may use the image above witheut prior permission for any scholarly or educational purpose as long as you (1) credit the University of Florida library and (2) link your document to this URL in a web document or cite the Victorian Web in a print one. — George P. Landow]
---
Last modified 7 June 2018