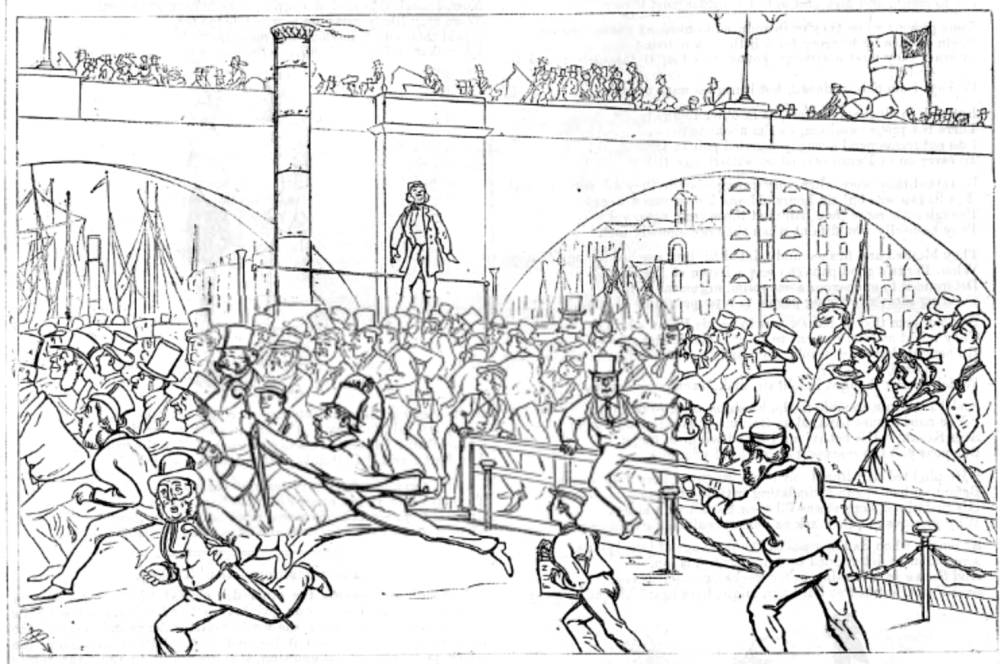 A Day's Work in the City by One of the Underpaid. No. II. — 11 o'clock A.M. "On the Broad and Bounding River". William S. Brunton (fl. 1859-71), artist. Fun (8 August 1868): 226. Signed with a monogram lower left. Engraved by the Dalziels. Courtesy of the Suzy Covey Comic Book Collection in the George A. Smathers Libraries, University of Florida. Click on image to enlarge it.
This artist has packed this cartoon with details, which include the loaded omnibuses on the bridge, the steam ferry's smokestack, top-hatted men rushing with umbrellas, including one who climbs over the fence in order to disembark more quickly, and, finally, the conductor, newsboy, and women all at right. The commentary that followers, however, has little directly to do with the cartoon, since its voice is that of a person who takes a crowded, sweaty omnibus to work, and that voice quickly leaves the steam boat passengers and details instead the grim life the working poor, emphasizing the effect it has upon the poor man's wife and children before ending with a diatribe on how modern employers "turn your old clerks into messengers and your messengers into happy and contented paupers. That's the suit of superannuation to suit the times." Fun published editorial cartoons, poems, and commentaries on poverty and starvation in England and here, sounding like Gissing, provides a picture of poverty and how it corrupts.
The accompanying text
I often envy the chaps that live West, and come in to business by the penny stenmers. It's we who come on the 'buses, and generally have to sit on the knifeboard, that ought to be called the threepenny steamers, and especially in damp, muggy weather, when them's a full flavour of gingham umbrellas and worm waterproofs. Now that the Thames is cloansed, and the water gets more and more sparkling every day, and the Embankment's partly finished, and little boys are beginning to make up their minds that when they're men they'll go and fish off the Temple Gardens, I often wish that I lodged at Battersea, for the express purpose of coming up every morning by the boat. It's like a recurring holiday, and the chaps in solicitors' office, that have to go backward and forward to Westminster, have a fine time of it. The only drawback to a man who wants undisturbed quiet—and I think I've observed before that we're precious selfish in the City—is, that there's such a precious lot of babies always on board.
There's plenty to meditate about on the penny steamers. First, how is it that there's something so particularly shabby genteel in the looks of the general compnuy; secondly, the way the bright light on the river accounts for it by bringing out the worst and most worn parts of your toggery into prominence, and showing up two seams where you've used a black reviver, and the false shininess of yo«r hat where you've looked to renovate it with stale beer and a soft brush, and the want of substance in your paper collar, — and the mosaicness of your scarf pin and the general bagginess of your trousers at the ankles. These are all against the enjoyments of tho penny steamers, but you have the satisfaction of seeing must of the people about you shown up equally. There are a good many of 'em pitiably broken down. They've been thrown under the wheels of Mammon all their lives, their day's work in the City's been going on for long dreary years and they are like the rest of us, perhaps, struggling for the bare life with the rent and taxes of a little house taking up about a quarter of their salary, and hungry children obliged to go half their time on bread-and-drippings and not too much of that, and a wife that began by being bright and hopeful and ended by growing into a weary, sharp-faced drudge with a temper soured with much nursing—perpetual confusion of a household like a littery rabbit-hutch, and a continual sense of having to make sevenpence--halfpenny look like a shilling. It's easy to ask why can't a man deny himself and how is it that he don't adopt this, that, and the other plan, but let your moralisers and your professed philanthropists try it, and too low they'll come out after about eleven years of that sort of striving. Eleven years of patched boots and threadbare clothes and half meals, and a wearing pain at the heart to know that the girl that was once so fresh and young and confiding had had to be the partner of so many sorrows and so few joys; and was now at home with only the worst end of a neck of mutton in the house to feed half a dozen hungry little mouths and still keep a little bit for your supper — going herself on the heel of a Dutch cheese and a slice of stale bread put into the oven to make it eat like a now loaf. I say that when five men out of eight have a chance, they'll begin to take a drop of some thing at somebody else's expense when they have a chance—and that by the time they're worn out old fellows, they'll be so shabby and so dull and dogged that there's little chance of a rise for them especially as the've dropped into the habit of taking as much as they can get: or even taking the half-pence from the mantel-piece at home tp spend in their quarterns of consolation. It's very dreadful, no doubt, and very selfish, and very immoral, but the City's not exactly the place for morals, where money is concerned. We don't expect you to notice trifles there. "Live and let live" is our motto, — which means, get as much as you can out of everybody you come across, and don't trouble your head with people's affairs. Mind your own business, and if you have to pay other people to mind it with you — get them on the cheap. There's a large supply of the human raw material. Work it up. Buy it in the cheapest market and use it in proportion to the price you pay for it. The figure's low enough, to make it. worth your while to have it fresh and fresh. Turn your old clerks into messengers and your messengers into happy and contented paupers. That's the suit of superannuation to suit the times. But there, I've been dawdling here at the steamboat-pier till I've forgotten all about the other passengers, the smart shop-girls and the costers, the Jew salesman, the Jewess crockery-dealers and the reeking fish-porters. I'm due at Capel-court at eleven, eo good-day!
[You may use this image without prior permission for any scholarly or educational purpose as long as you (1) credit the University of Florida library and (2) link your document to this URL in a web document or cite the Victorian Web in a print one.]
---
Last modified 2 June 2018